Conley learns valuable lesson vs. Nationals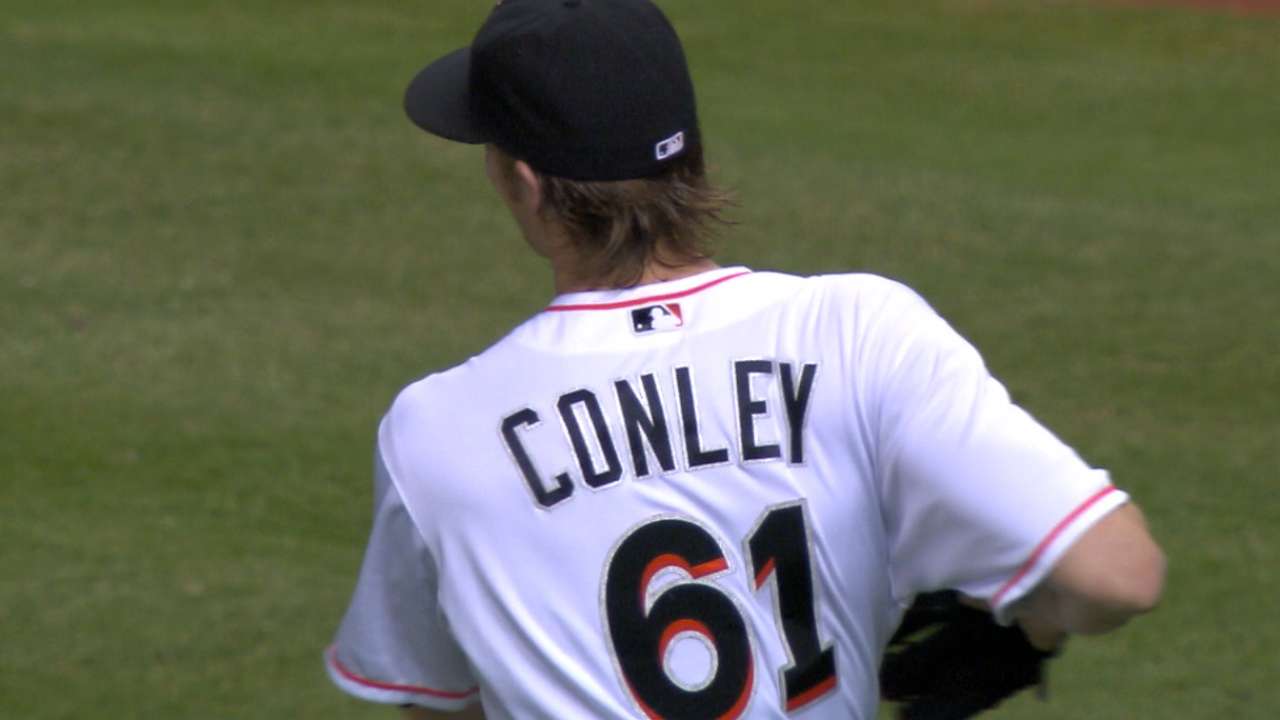 MIAMI -- The emergence of Adam Conley from obscure 25-year-old lefty to top-of-the-rotation fixture continued on Tuesday night in one of the strangest pitchers' duels you'll ever see.
Masterful for six innings, fanning eight batters in the process, Conley also learned a hard lesson about the fine line between winning and disaster in the Marlins' 7-0 loss to the Nationals at Marlins Park.
If you glance strictly at the final line, you'd completely miss what actually transpired on a night when the Nationals set a franchise record with four home runs in the seventh inning. For the Marlins, it was a dubious frame, as for the first time they surrendered four blasts in one inning.
"I think if you watch the game and see the score, you'd think it was a horrible game," manager Don Mattingly said. "It was really a well-pitched game, other than some pitches there in the seventh."
The Nationals broke things wide up with one out in the seventh. Conley surrendered back-to-back homers to Jayson Werth and Wilson Ramos.
More damage was on the way as Stephen Strasburg singled with two outs, and Michael Taylor doubled. Conley's night was done at 95 pitches. Bryce Harper belted a grand slam off Chris Narveson, and Ryan Zimmerman added a solo shot.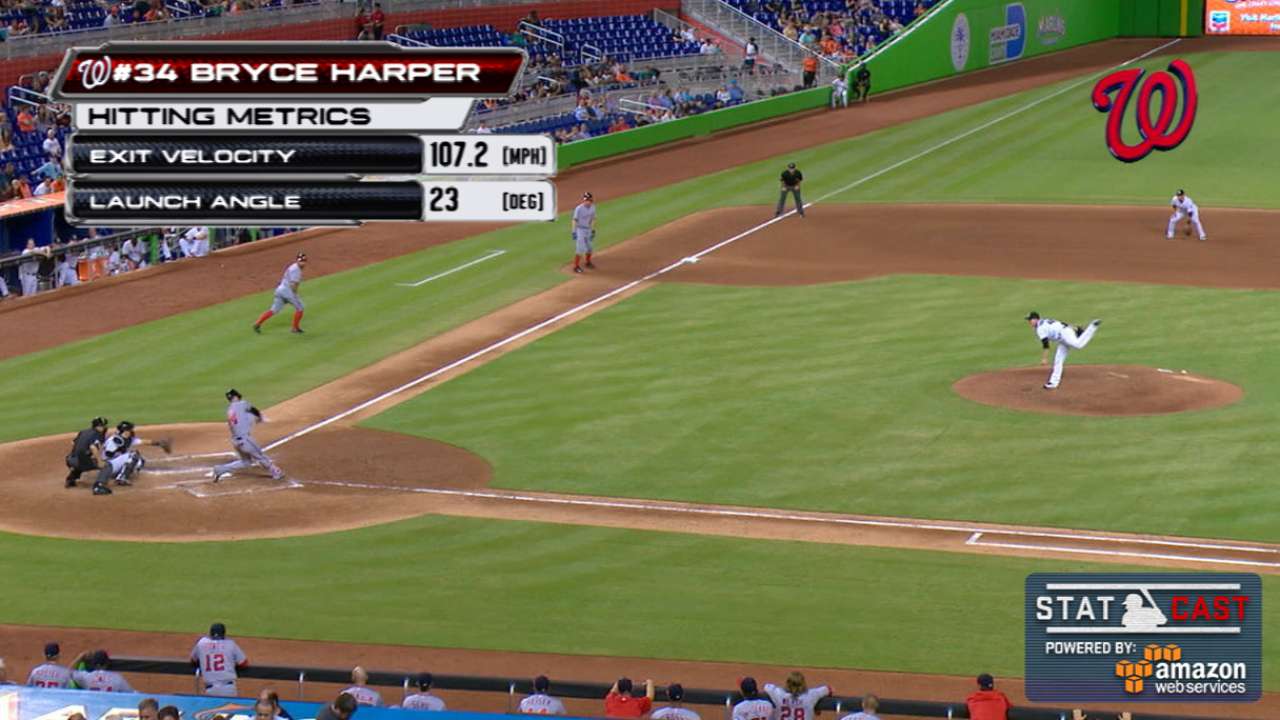 "I'm not fired up about what happened, that we lost the game and everything," Conley said. "But I'm encouraged. I feel like I found a piece of gold with what I learned through today's start. Sometimes you've got to get kicked in the teeth a little bit and learn the hard way. I feel like I did that today. To the absolute best of my ability, that's not going to happen again. I'm encouraged by that."
Conley was brilliant through six. In the first inning, he struck out Harper swinging through an 83-mph changeup, and in the fourth inning, he blew a 94 mph fastball past the 2015 National League MVP Award winner.
"This guy, he's pitching like your ace," Mattingly said. "He's attacking on the inside. He came after these guys like he had no fear of them. He got the ball in there. You could see how that set up his pitches later in the game.
"He just seemed to run out of gas a little bit. That's something we've got to watch, we've got to find out where that spot is. I thought he was really good tonight.
As well as he threw, Conley recognized a major flaw -- taking the late innings for granted.
"My process was really good up until I took a breath there in the seventh," Conley said. "Admittedly, I feel like zeros were going to keep coming. That kind of just goes to show my immaturity and how short a time I've been up here, and those guys just waiting around. Those guys are on the prowl all the time. When I let up, they took advantage."
Joe Frisaro is a reporter for MLB.com. He writes a blog, called The Fish Pond. Follow him on Twitter @JoeFrisaro and listen to his podcast. This story was not subject to the approval of Major League Baseball or its clubs.