Osuna gets final four outs for fifth save
Closer records first multi-inning save of this season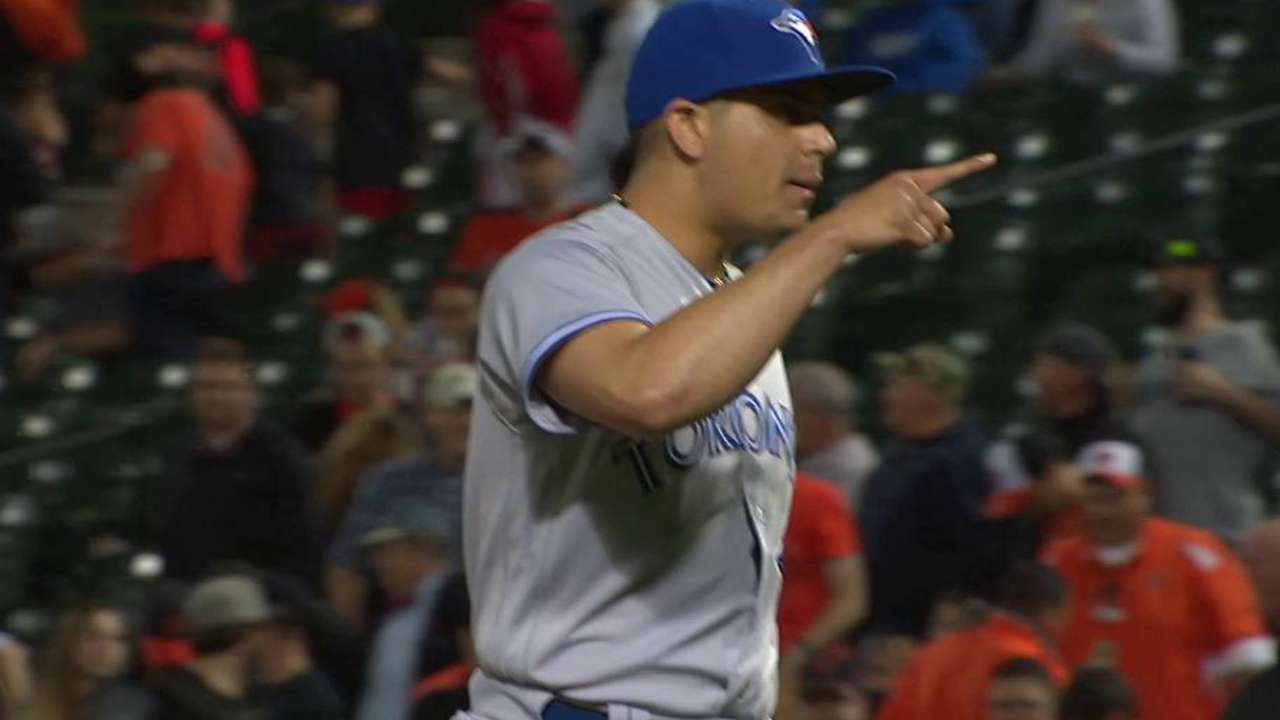 BALTIMORE -- The availability of Roberto Osuna was a big question mark heading into Tuesday's game against the Orioles. But when the Blue Jays needed their closer in the eighth inning, he was ready.
Osuna helped Toronto escape a two-out and two-runners-on situation in the eighth and proceeded to record four outs for his fifth save of the season. It was his first multi-inning save of the year, and it proved to be critcial in the Blue Jays' 4-3 victory over their division rival.
The 21-year-old was considered questionable for Tuesday's game because of a blister on his right index finger. That was enough to keep him out of Monday's series finale against the Red Sox, but when the Blue Jays desperately needed him because of an undermanned bullpen, Osuna came through.
"[Drew] Storen was down, they needed me, so obviously if I can pitch, I'll be able to do it," Osuna said. "I told Gibby 'If you want to use me tonight, I'll be there.'"
Toronto was attempting to survive without a pair of its key setup men. Storen was not available after he appeared on back-to-back days and threw 26 pitches against Boston on Monday. Right-hander Jesse Chavez was supposed to be available, but that changed when his back tightened up before the game, which left the Blue Jays with five men in the bullpen.
Osuna might not be 100 percent healthy yet, and he will likely need a little more time before his finger completely heals, but on this day, it was good enough. He was forced to stay away from his trademark slider because of the pressure it puts on the blister, but his fastball and changeup combination still got the job done.
With a pair of runners on in the eighth, Osuna got Mark Trumbo to hit a weak fly ball to center. In the ninth, Osuna struck out the first batter he faced and then got J.J. Hardy and Pedro Alvarez to fly out and end the game. In total, Osuna needed just 15 pitches to record the fifth multi-save game of his career.
"I didn't throw the slider, I didn't feel that good, that's why I opted to throw my fastball and changeup today," said Osuna, who dealt with a similar blister issue late last season. "I felt it on a couple of fastballs, but not too much.
"We'll see. It's kind of sore right now. The fastball, my arm action is very aggressive with that. So it's kind of sore right now, but we're going to do a couple of things with [trainers] George [Poulis] and Mike [Frostad] and see what happens tomorrow."
Gregor Chisholm is a reporter for MLB.com. Follow him on Twitter @gregorMLB and Facebook, and listen to his podcast. This story was not subject to the approval of Major League Baseball or its clubs.