Fired-up Padres overpower Pirates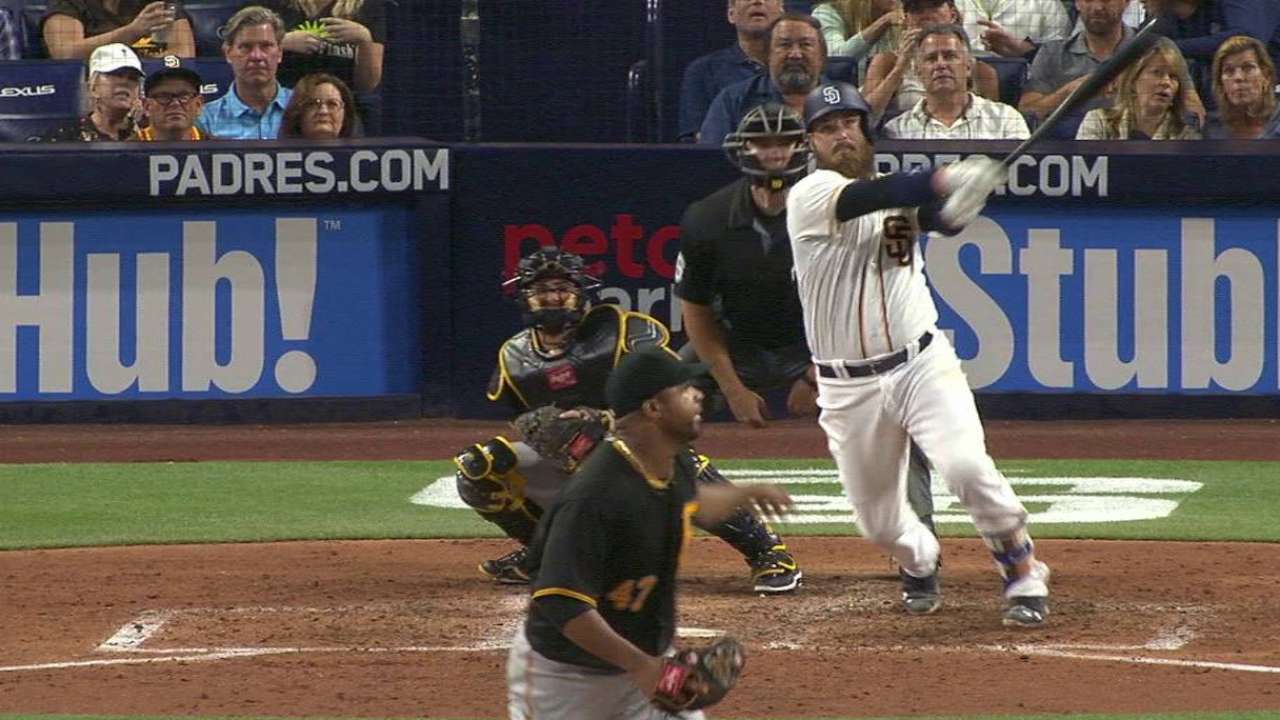 SAN DIEGO -- The Padres swatted three home runs in two innings to overcome an early three-run deficit and their manager's ejection to beat the Pirates, 5-4, on Tuesday night at Petco Park.
Down, 3-0, in the fourth, Wil Myers lined a full-count slider from Francisco Liriano into the left-field seats to pull San Diego within a run. Derek Norris chased Liriano in the fifth inning, launching a two-run homer to dead center field to give the Padres a 4-3 lead. The next batter, Adam Rosales, greeted Pirates reliever Arquimedes Caminero by crushing a homer that bounced high off the Western Metal Supply Co. building.
"I thought that was going to clear the building," Padres manager Andy Green said.
The Padres had 10 walks on the night and drew five of them against Liriano, who struggled in his first start since April 8. The veteran left-hander, who missed his scheduled start on April 13 due to a tight right hamstring, was charged with four runs on six hits and needed 100 pitches to get through 4 1/3 innings.
Liriano's fastball command came and went throughout the night, and his offspeed pitches lacked their usual bite. Liriano's leg wasn't the issue, he said; he was simply rushing his delivery. In three starts this season, the lefty has walked 14 batters in 15 1/3 innings.
"Just couldn't get anything going, couldn't get a good rhythm," Liriano said. "Sometimes I was missing way up. Sometimes I was just missing. I've got to keep working in the bullpen and get ready for my next start."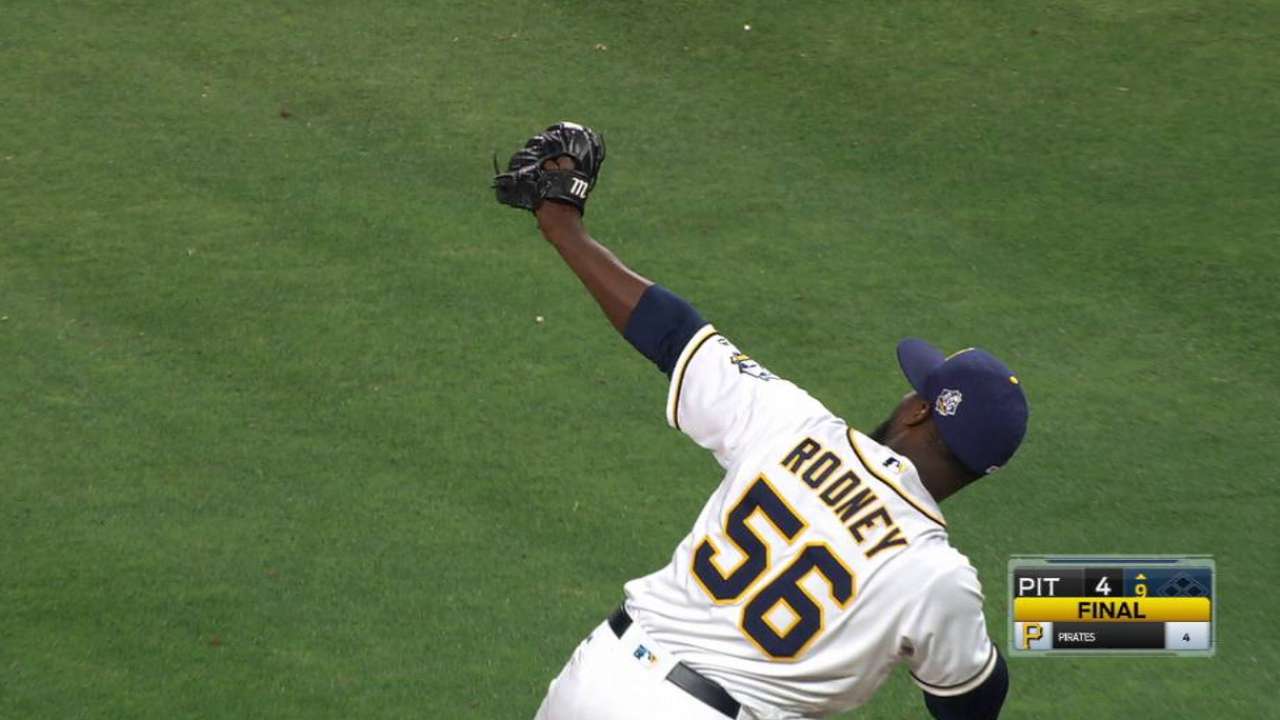 MOMENTS THAT MATTERED
Balk talk: The Padres' homer-fueled rally took the sting out of a deflating if not bizarre sequence in the third inning. With Pirates on second and third with two outs, Padres starting pitcher Colin Rea was charged with a balk. Andrew McCutchen was on third base with no one holding him close, so he broke toward the plate as Rae started his windup. The move prompted Rae to speed up his delivery in a manner that caused his right foot to briefly lose contact with the rubber. The umpires called a run-scoring balk, then reversed the call and ultimately -- after a strong argument from Pirates manager Clint Hurdle -- changed it back to a balk. Padres skipper Andy Green was subsequently ejected, and the Pirates had a 2-0 lead.
"I heard it was, then it wasn't, then it was. I was just like, 'All right. Touch third, touch home, I'm cool,'" McCutchen said. "Didn't need much of an explanation. Just happy we were able to get that run in." More >
Racing Rosales: Rosales, in the lineup because of Yangervis Solarte's strained hamstring, smacked a ball in the fifth inning that Statcast™ projected it to travel 397 feet as it ricocheted off the third deck of the Western Metal Supply Co. building. Rosales sprinted around the bases, recording the second-fastest home run trot in the Statcast™ era. More >
Wil the Thrill: Myers continued his hot hitting by stroking a two-run homer in the fourth, driving in pinch-runner Alexi Amarista and pulling the Padres to within 3-2. It was Myers' third home run in 11 games.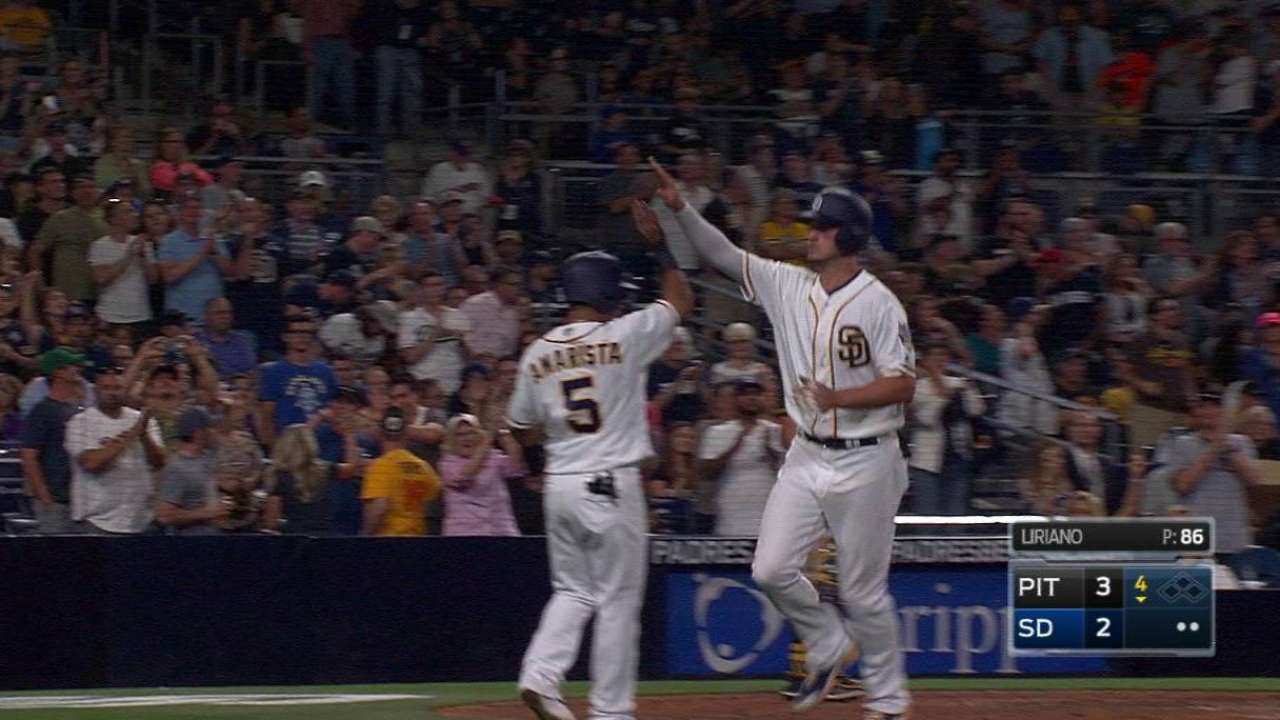 Frankie at the bat: Although Liriano struggled on the mound, he continued to rake in the batter's box. Liriano picked up his fourth hit and third RBI of the season, driving in Jordy Mercer with a fourth-inning single to left field. Over his last 16 starts, dating back to July 12, Liriano is hitting .361 (13-for-36) with three doubles, a home run and 10 RBIs.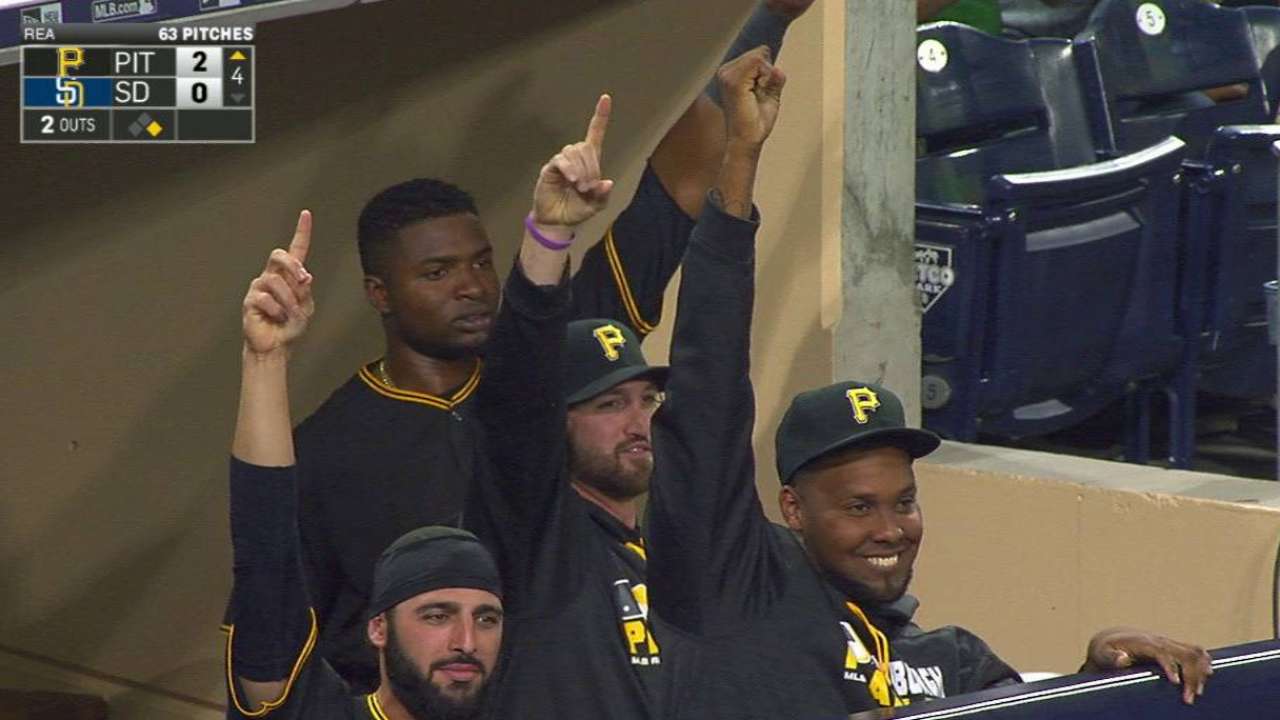 QUOTABLE
"We've got to pitch better. That's way too much traffic for us to push out there. Too many free 90s. Our guys understand that." --Hurdle
"I was done when he put his hand on me. That is a strong man." -- Green, on being escorted off the field by McGwire after being ejected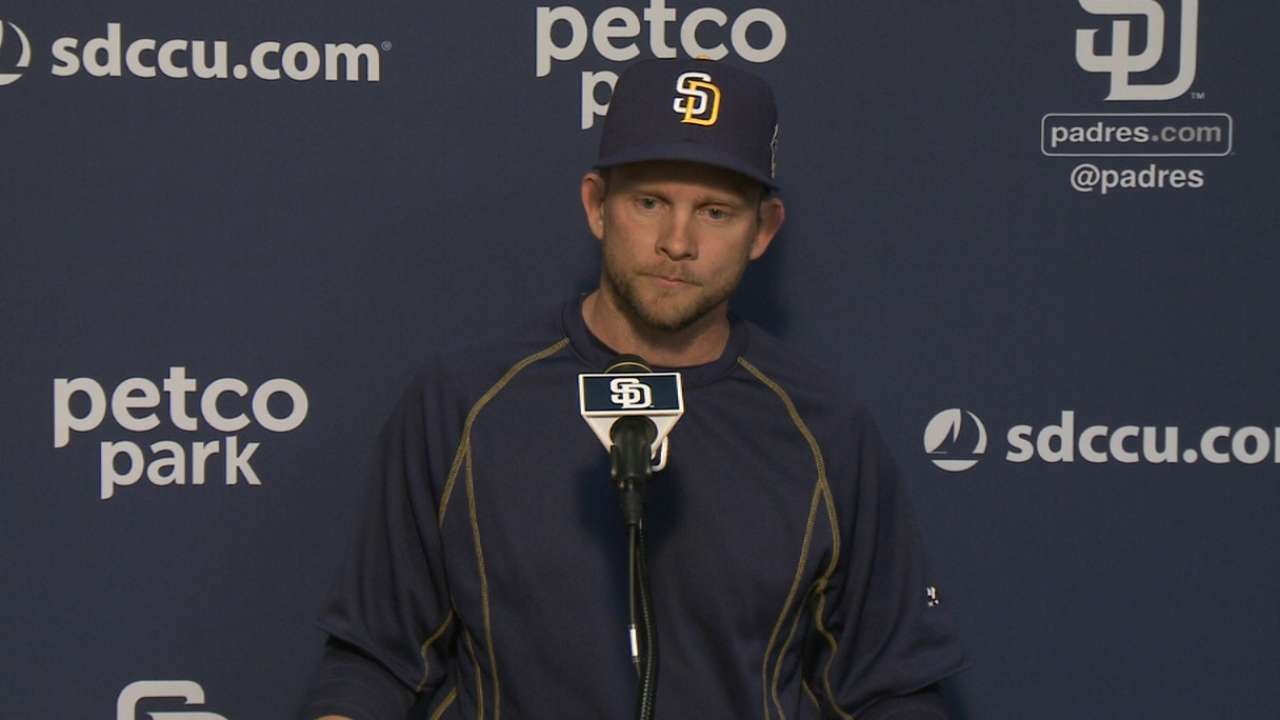 SOUND SMART WITH YOUR FRIENDS
Padres bench coach Mark McGwire's goal is to manage in the big leagues. On Tuesday, he made his debut as a manager in a regular-season game after Green's ejection. But it wasn't McGwire's first time on the top step this year. When the Padres went to Mexico City to play exhibition games during Spring Training, McGwire stayed with a split-squad in Arizona and ran three Cactus League games, going 0-3. More >
AFTER FURTHER REVIEW
Padres right fielder Matt Kemp's fourth-inning throw to get Gregory Polanco, trying to score from second on Mercy's single, was reviewed after Polanco was ruled safe to give the Pirates a 3-0 lead. But the call was overturned after a two-minute, 14-second review and the run was taken off the board. It was McGwire's first review as an acting manager.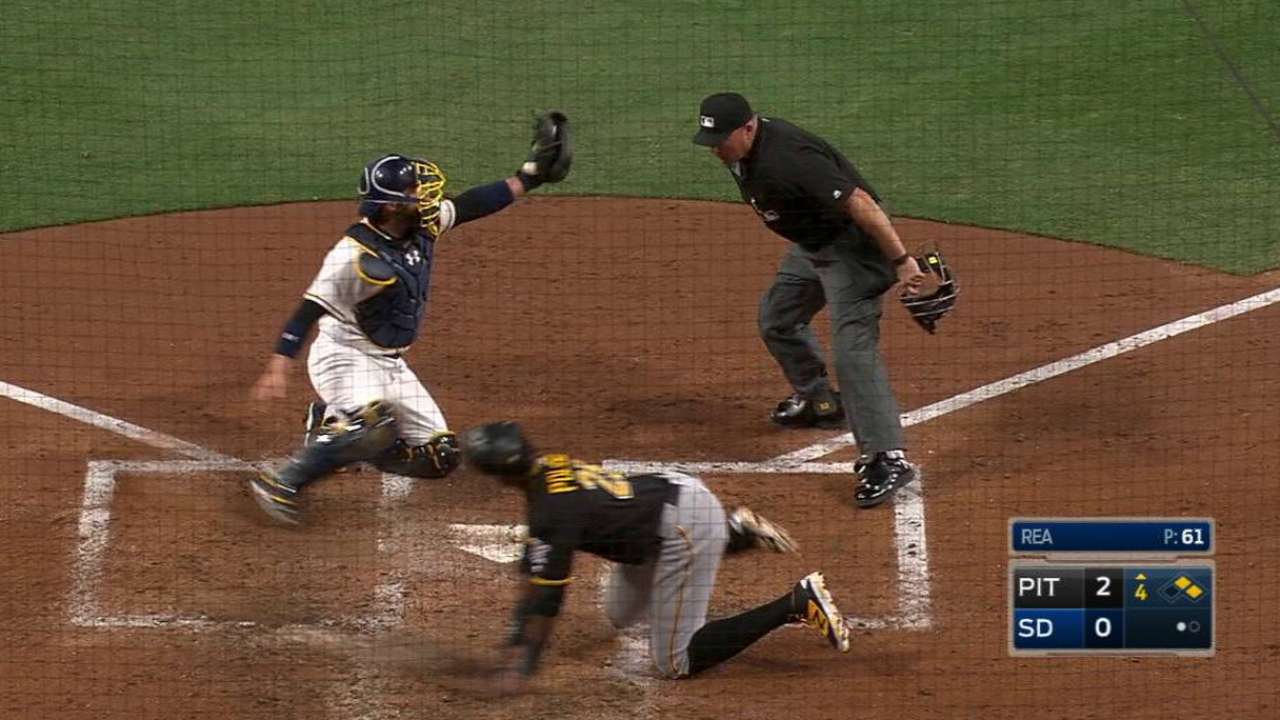 McGwire's luck turned on challenge No. 2. Amarista was erased trying to steal second base in the fifth inning. McGwire challenged the call, but it was confirmed after a review of only 45 seconds.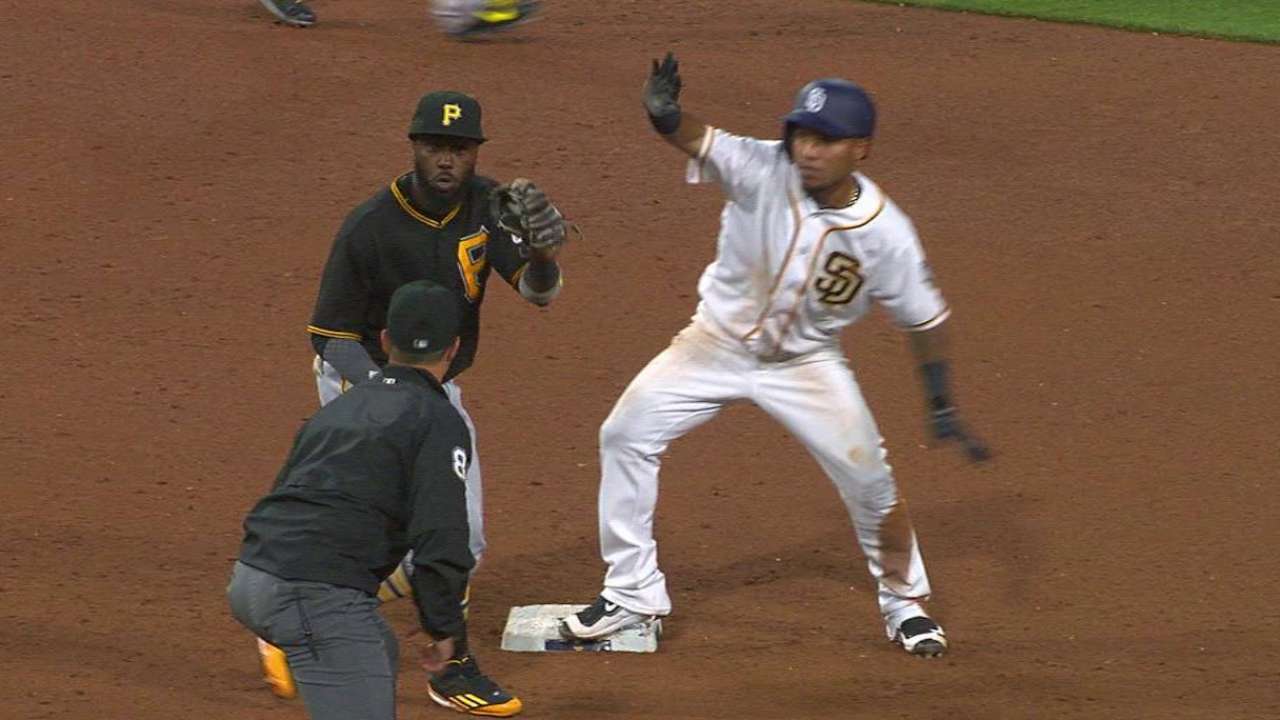 WHAT'S NEXT
Pirates: Left-hander Jeff Locke (0-1, 2.53 ERA) will try to bounce back from a seven-walk outing as he starts against the Padres at Petco Park on Wednesday at 10:10 p.m. ET. Locke is 0-2 with a 10.00 ERA in two career starts against San Diego. The Pirates will have to adjust their lineup as they face a left-handed starter, the Padres' Drew Pomeranz, for the first time this season.
Padres: Pomeranz (1-1, 3.27 ERA) makes his debut at Petco Park as a Padres pitcher on Wednesday vs. the Pirates, with first pitch at 7:10 p.m. PT. Pomeranz, whose previous two starts were on the road, came to the Padres from the A's in a deal that sent first baseman Yonder Alonso to Oakland.
Watch every out-of-market regular-season game live on MLB.TV.
Adam Berry is a reporter for MLB.com. Follow him on Twitter at @adamdberry. Jay Paris is a contributor to MLB.com. This story was not subject to the approval of Major League Baseball or its clubs.