Paulsen stays sharp despite lack of starts
Rockies' OF/1B hits first homer of 2016 in win vs. Reds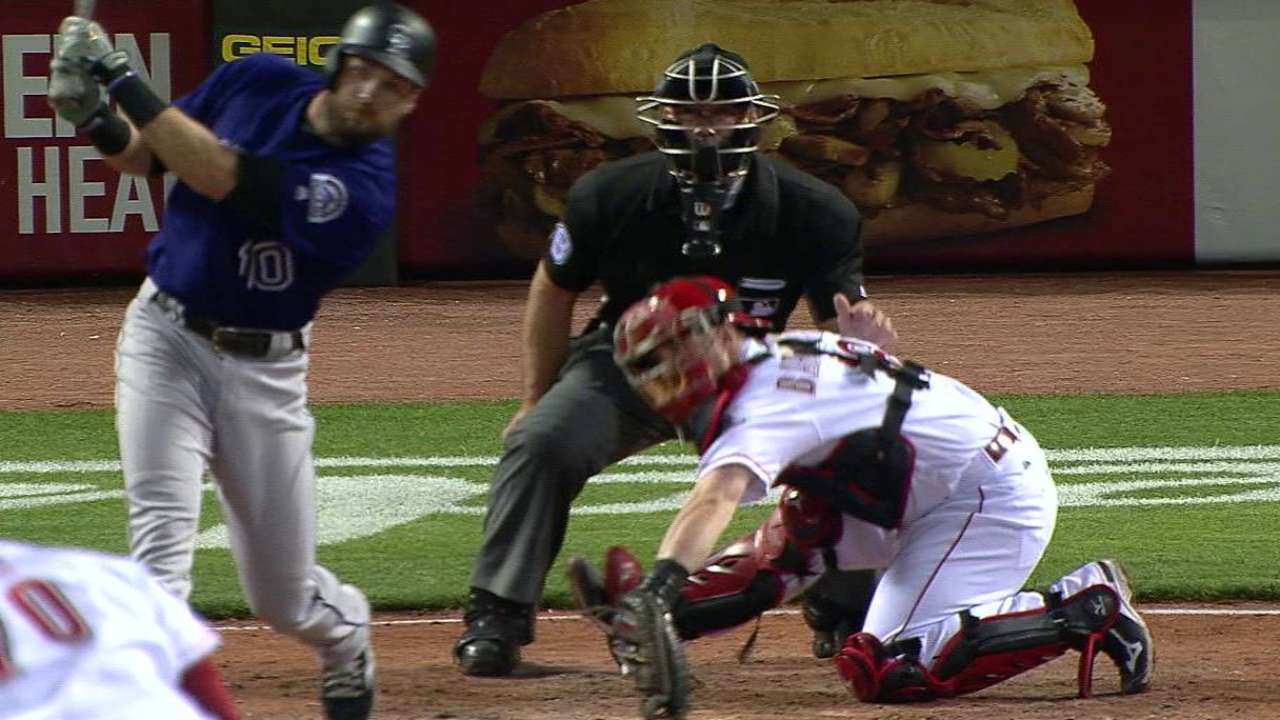 CINCINNATI -- The Rockies are benefitting from the low-maintenance left-handed bat of Ben Paulsen.
With his team up one run on Trevor Story's eighth-inning homer Monday night, Paulsen added three runs with a no-doubter off the Reds' Jumbo Diaz to provide cushion for a 5-1 victory. Monday was just Paulsen's sixth start and 11th appearance of the season, but he has produced -- .333 with four doubles and seven RBIs following Tuesday's 4-3 loss to the Reds, when manager Walt Weiss started him in left field.
Paulsen is also working in a first base tandem with Mark Reynolds. Weiss would like both to be productive. Paulsen's ability to stay ready even when at-bats aren't numerous allows the Rockies to let Reynolds, who started at first base Tuesday, to work toward a groove.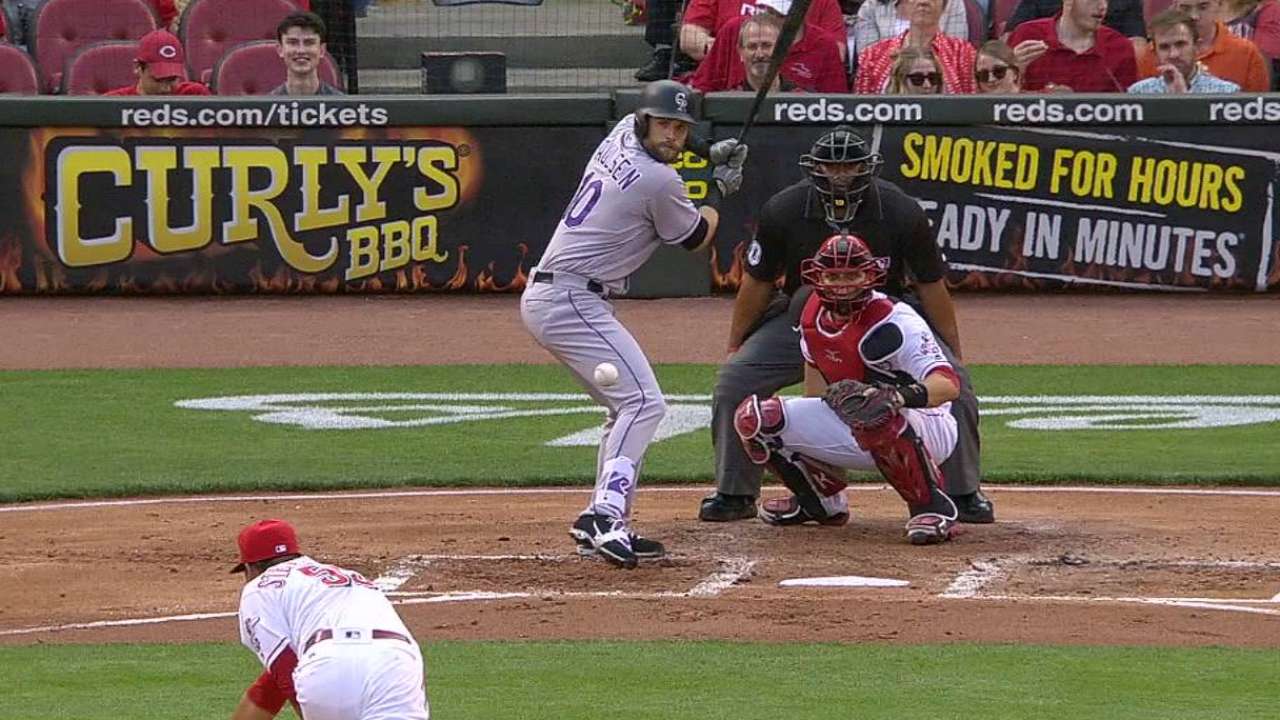 "Benny is one of those guys who may not be in there every day; he's going to be in there often," Weiss said. "It comes down to your routine and being able to stay sharp on days that you're not in there.
"Benny has worked a lot on his timing and his rhythm. He's got a plan that he feels good about. We talked about it this offseason. He was in a good place coming into Spring Training with his setup in the box and his rhythm. That's everything for a hitter. There's a lot of conviction in everything he's doing."
It helped that Diaz threw him a changeup down and in -- an area where Paulsen swings with appropriate persuasion.
Worth noting
• Rookie right-hander Jon Gray had to wait longer than planned, but all that has done is increase his eagerness for his 2016 debut. He is expected to start Friday night against the Dodgers at Coors Field, but Weiss has not announced it because he has to discuss roster moves.
During his nine-start dip into the Majors last season, Gray was 0-1 with an 8.27 ERA in five home starts, 0-2, 5.53 overall. But if a stint on the disabled list with an abdominal strain didn't dampen his anticipation of getting his career going -- with last year's tight innings and pitch counts behind him -- poor numbers in a small sample size aren't going to dissuade his joy.
Gray was happy not only with his fastball and changeup, his two best pitches, but also with his slider and curveball during two injury rehab starts at Class A Advanced Modesto.
"I threw a lot of changeups -- [I] like throwing it, and it's come along pretty well, because I have a consistent speed with it," Gray said. "I threw more sliders than curveballs. But the curveball is looking good, too, as long as I can get a consistent bounce on the plate. That's what I'm looking for.
Gray faced the Dodgers once, last Sept. 14, when he gave up two runs on two hits and struck out eight in 4 2/3 innings before reaching the prescribed pitch ceiling. The Dodgers used eight left-handed hitters in the game. There's no telling how the Dodgers will approach him this time, assuming he's the starter, since they have a new manager in Dave Roberts.
"I'm excited," Gray said. "And I'm not intimidated if I have to face a lot of lefties, especially if I get my off-speed working. I've been looking forward to pitching and trying to get deep in the game for a long time."
Thomas Harding is a reporter for MLB.com. Follow him on Twitter @harding_at_mlb, listen to podcasts and like his Facebook page. This story was not subject to the approval of Major League Baseball or its clubs.