Pirates feel well-equipped to play shorthanded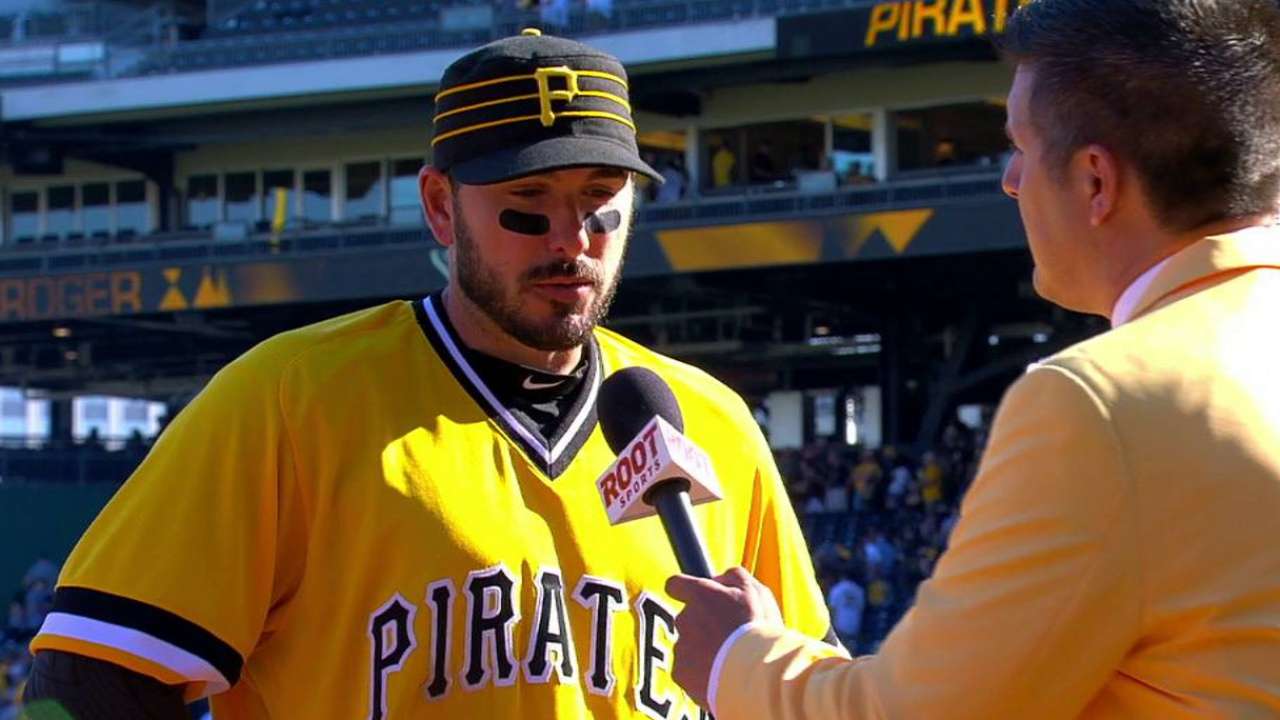 SAN DIEGO -- For almost a week, the Pirates' bench has been a man short. But with a group of versatile defenders, the Bucs feel they're well equipped to carry a pitching-heavy roster for the time being.
Last Wednesday, first baseman Michael Morse was designated for assignment and scheduled starter Francisco Liriano was scratched and replaced by Ryan Vogelsong, leaving the Bucs a man down in the bullpen. So up came right-hander A.J. Schugel from Triple-A Indianapolis.
On Thursday, left-hander Cory Luebke was placed on the disabled list, and the Pirates replaced him with righty Rob Scahill, another reliever. Pittsburgh had an off-day Monday, time to reset its pitching staff, but the club made no changes heading into Tuesday's series opener against the Padres at Petco Park.
"Why pare down again? Why not just carry the guy and see where this takes us?" manager Clint Hurdle said. "If [Liriano's] fine, he's fine and we can move accordingly at a later date."
Until then, the Bucs' bench will consist of catcher Chris Stewart, outfielder Matt Joyce and utility men Sean Rodriguez and Cole Figueroa. Rodriguez can play anywhere -- even behind the plate, if necessary. Figueroa has played all over the infield and spent time in left field this spring.
"If you're going to go short, you grab the most versatile guys and you take advantage of the versatility of the guys that you have," Hurdle said. "I think that's one concept we kept in play as we had to make the decision a week ago on what we were going to do when we pruned down.
"With Rodriguez and Figueroa, they cover all the positions on the field. ... They provide us maximum protection."
The Pirates did use their off-day to re-align their rotation, however. Left-hander Jeff Locke will start on Wednesday, right-hander Gerrit Cole will move back to pitch Thursday's series finale vs. the Padres and lefty Jonathon Niese will pitch Friday against the D-backs in Phoenix.
The last turn through the rotation, Cole pitched before Locke and Niese. With three lefties in their rotation, the Pirates can't separate all of them. But an off-day gave Pittsburgh a chance to split the two "somewhat similar left-handers," Hurdle said.
"Liriano's a wild card. There's not really another left-hander in the game like Liriano," Hurdle said. "That's not really a concern when you've got a left-hander throwing behind him. To reset, hopefully to calibrate, should help."
Adam Berry is a reporter for MLB.com. Follow him on Twitter at @adamdberry. This story was not subject to the approval of Major League Baseball or its clubs.