Cervelli showcases versatility at first base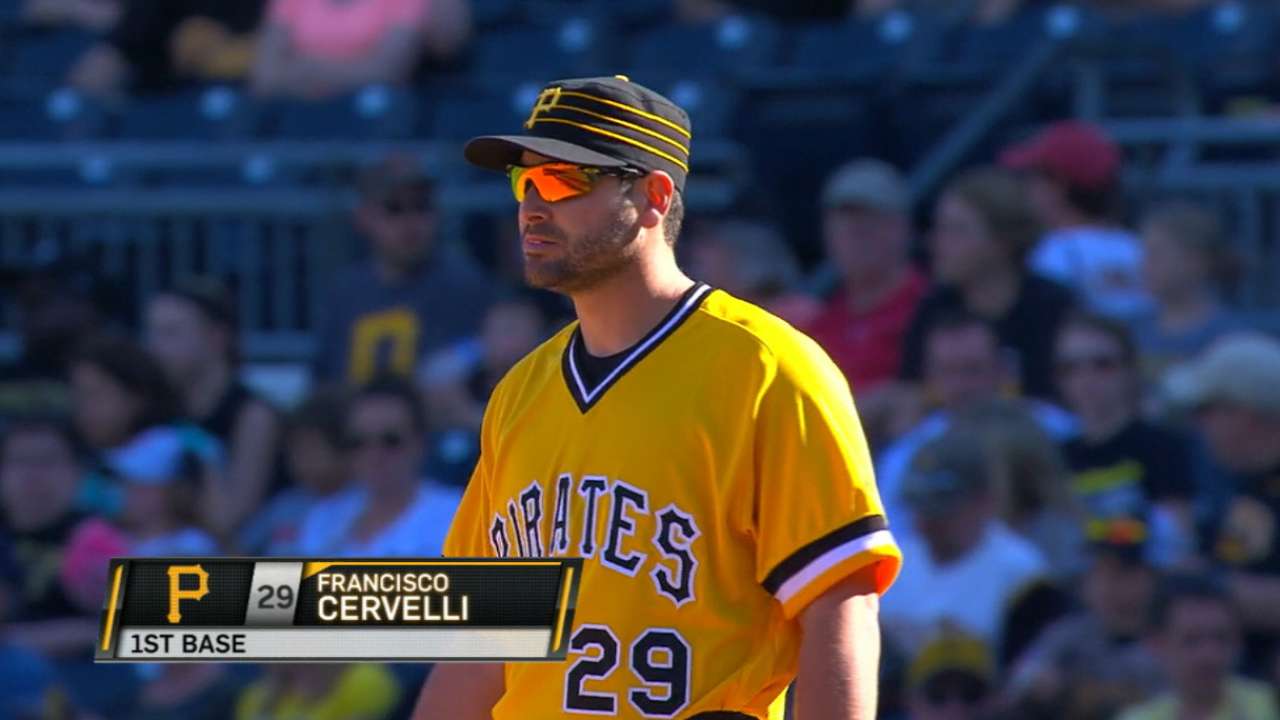 SAN DIEGO -- In the ninth inning of the Pirates' 9-3 win over the Brewers on Sunday, Francisco Cervelli traded in his catcher's gear for a first baseman's mitt. How did he feel about that?
"I like to catch," Cervelli said, smiling. "I'll do everything for my team. But I like to catch."
Pirates manager Clint Hurdle intended to give Cervelli a chance at first base during the last week of Spring Training, but minor injuries to other players kept Hurdle from following through on that plan.
Cervelli is a gifted defensive catcher, highly praised by his pitchers for his game-calling and one of the game's most highly regarded pitch-framers. But there is a scenario in which he moves over to first base while Chris Stewart plays behind the plate.
"We talked about using it as an option during the season, to get both bats in play, depending on the development of our first-base situation," Hurdle said. "Cervelli can flat go over and play first base. We all are aware of the fact that he likes to catch first, but he has gone over there, and he's given innings over there."
Indeed, Cervelli played 40 innings over five starts at first base for the Yankees in 2014. With Michael Morse gone, the Pirates lack experienced first-base options. John Jaso is playing well, but he's still learning the position. David Freese, a potential platoon partner when infielder Jung Ho Kang returns, is in the same situation. Sean Rodriguez is their best defender at first.
"[Cervelli has] good feet. He's got good hands," Hurdle said. "Whether it's a late-game move to stay strong defensively, whether it's a double-switch situation to get another right-handed bat against a left-handed bullpen or whether it's an opportunity to start both of them against a left-handed starter. It can play a couple different ways."
If Stewart were injured in that situation, Cervelli could slide back behind the plate since he would still be in the lineup. The Bucs' emergency catchers are Rodriguez and Jaso, although the latter has a concussion history that would make it "a little tricky," Hurdle admitted.
Hughes pushed back
Reliever Jared Hughes, once expected to begin his rehab assignment with Triple-A Indianapolis on Tuesday, likely will do so on Wednesday due to an illness. Hughes suffered a left lat strain during Spring Training.
Marte ready to go
Starling Marte was in Tuesday's lineup, batting fourth and playing left field. Marte was held out of Sunday's lineup after being hit in the right hand by a pitch Saturday night. He entered the game as a defensive replacement.
Quote of the day
Last May at Petco Park, Kang launched a home run into the second deck in left field -- an impressive blast in a place still known as a pitcher's park.
"Kang's ball is going to go out of Yellowstone Park," Hurdle said Tuesday, "let alone Petco Park."
Adam Berry is a reporter for MLB.com. Follow him on Twitter at @adamdberry. This story was not subject to the approval of Major League Baseball or its clubs.