Girardi not worried about Ellsbury's CF lapses
With two miscues over weekend, Yanks outfielder hasn't played up to Gold Glove potential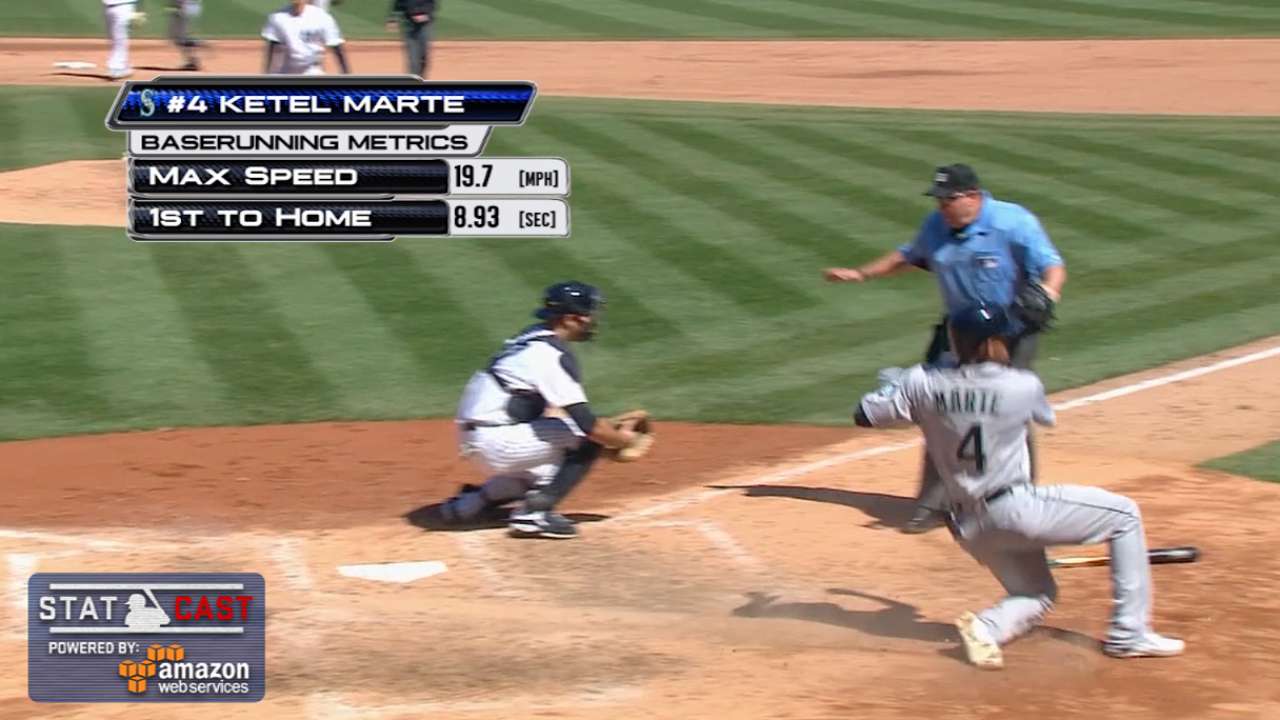 NEW YORK -- Jacoby Ellsbury isn't playing the caliber of defense fans are accustomed to. But Joe Girardi isn't concerned.
"I don't think he's played as well as he's capable of playing," the Yankees' manager said. "It just seems like he's misjudged the ball a couple times. Sometimes it's hard picking up the ball in day games with the wind, the way the ball is carrying and the weather. He's a good center fielder. He's going to play a good center field for us."
Ellsbury's track record as a Gold Glove winner with great speed and defensive range supports Girardi's assertion. But plays in each of the Yankees' last two games seem to contradict that notion.
Saturday against the Mariners, Ellsbury bobbled a ball that was grounded into center, allowing Ketel Marte to score from first on a single. The next day, also against Seattle, Ellsbury misplayed a sinking liner, timing his dive incorrectly and allowing the ball to roll all the way to the wall.
Whether you consider them explanations or excuses, Ellsbury has a rationale for both fielding decisions.
"I charged the ball hard," Ellsbury said of Saturday's bobble. "I knew he was running. When he hit second, he was getting after it. I think the throw was right there. If I didn't double clutch, we've got him easy."
And Sunday's ill-fated dive?
"You just try to block it if anything," Ellsbury said. "If I take the route to the wall, it's a triple for him anyway. So you just try to cut the ball off, and if you're not going to catch it, just block it."
Saturday he gripped the ball wrong. Sunday he took a gamble, and came out wrong. But the fact remains that in the small sample size of the early season, Ellsbury is having the worst season of his career according to Revised Zone Rating, a stat that looks at what percentage of balls hit in a player's direction results in outs; Ellsbury has missed on three balls hit his way that the average center fielder would not have, the two aforementioned mistakes not included.
Nick Suss is an associate reporter for MLB.com. This story was not subject to the approval of Major League Baseball or its clubs.