Pipeline preview: Rockies' Hoffman among elite arms in action
Fans hoping to get a look some of the top young arms in the Minor Leagues will have plenty of opportunities to do so on Tuesday with six Top 100 pitching prospects slated to take the mound.
The matchup between Braves No. 4 prospect (No. 54 overall) Aaron Blair (2-0, 2.25 ERA), who starts for Triple-A Gwinnett, and Rays No. 19 prospect Jaime Schultz (1-0, 1.74 ERA), who takes the ball for Triple-A Durham, has the potential to be a duel -- one that can be seen on MiLB.TV at 7:05 p.m. ET. Both right-handers were shaky in their season debuts but bounced to fire six scoreless innings in their second starts, respectively.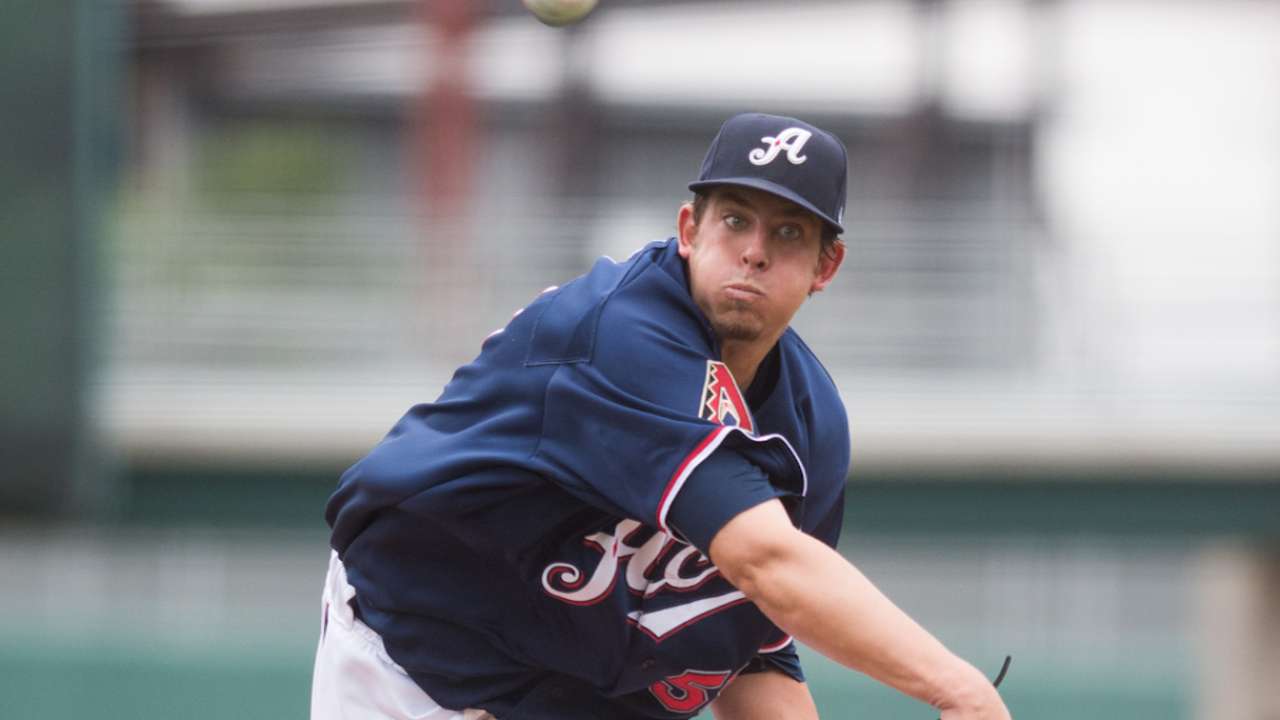 Also at the Triple-A level, Rockies No. 3 prospect (No. 50 overall) Jeff Hoffman (2-0, 1.38 ERA) will attempt to secure his third win for Triple-A Albuquerque when he toes the rubber against Reno (8:35 p.m. on MiLB.TV).
Elsewhere in the Minor Leagues, Braves' No. 2 prospect (No. 19 overall) Sean Newcomb (0-0, 1.80 ERA) is set to make his third start of the season for Double-A Mississippi after allowing exactly one earned run in five innings during his first two turns. The 2014 first-rounder will pitch against Chattanooga on MiLB.TV at 8 p.m. ET.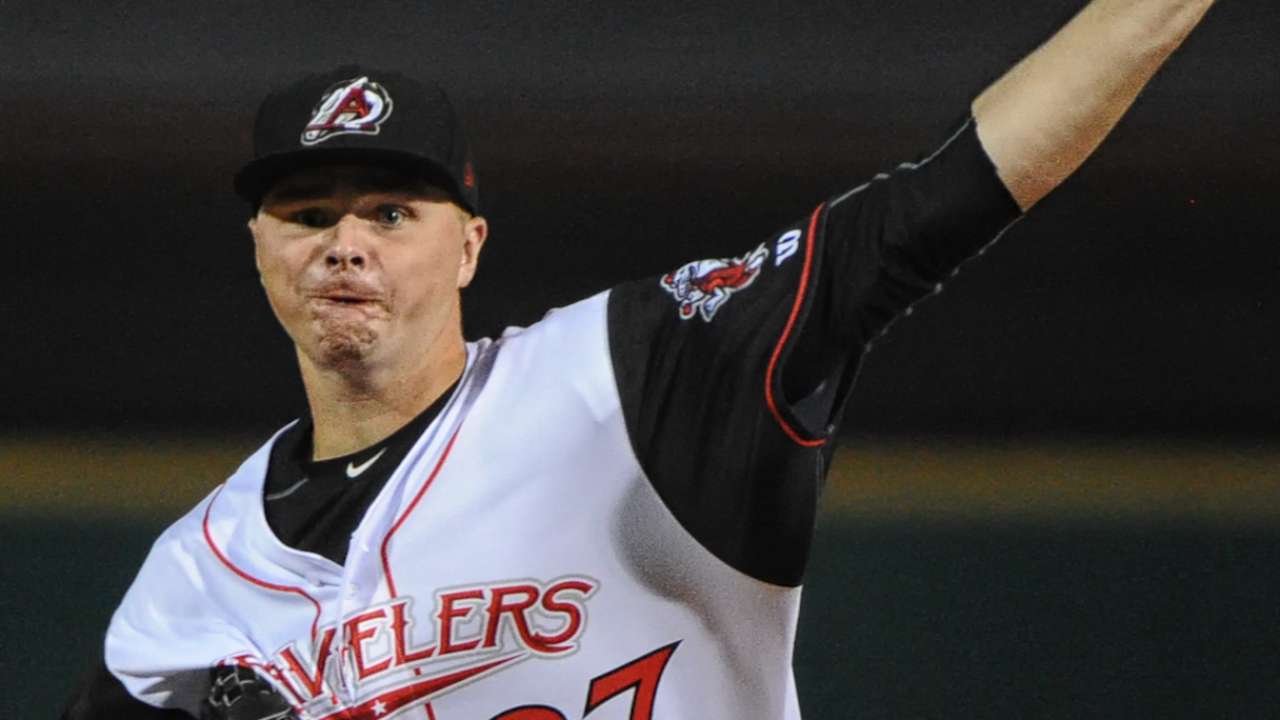 Rounding out the day's Top 100 pitching action are a pair of Class A Advanced hurlers in Cardinals No. 2 prospect (No. 78 overall) Jack Flaherty and Dodgers No. 3 prospect (No. 60 overall) Grant Holmes. Flaherty (0-0, 1.80 ERA), fresh off of five scoreless innings in his previous start, and Palm Beach will take on Bradenton at 6:30 p.m. ET, while Holmes (1-0, 0.00), who has yet to allow an earned run through 11 innings in 2016 for Rancho Cucamonga, will throw against Lancaster beginning at 9:35 p.m. ET.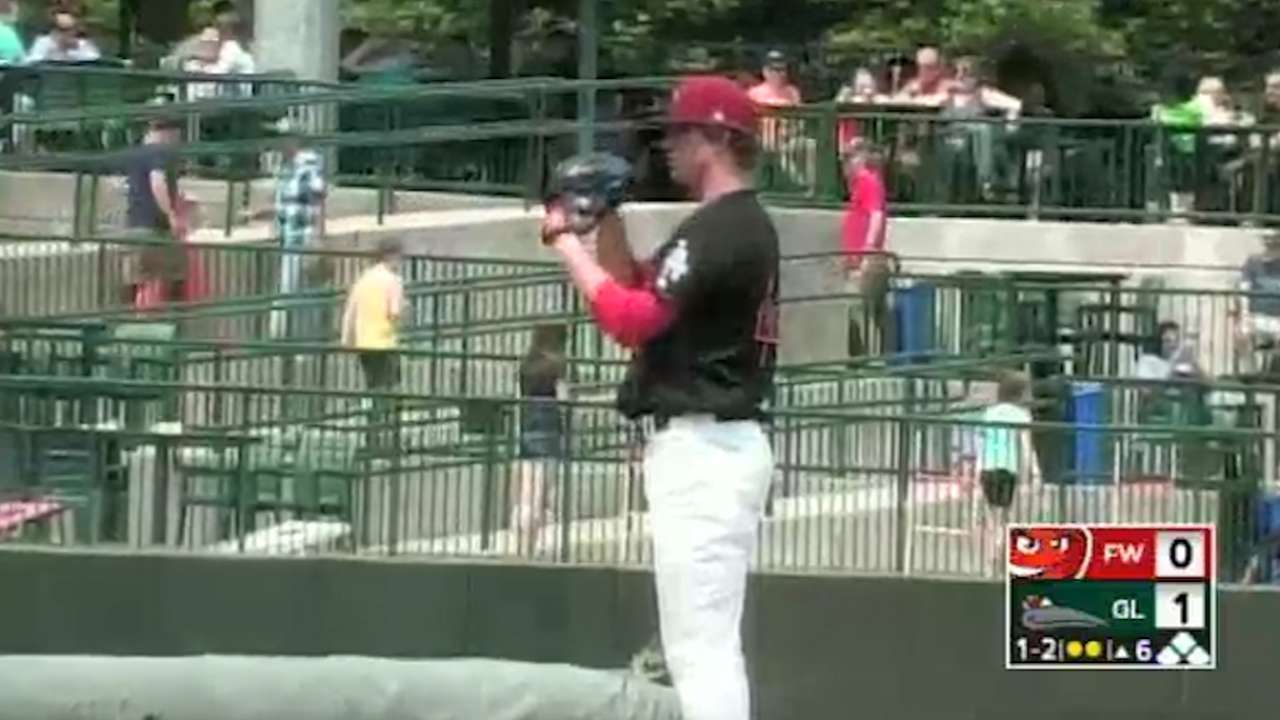 Tuesday's top prospect probables
Matt Strahm (Royals' No. 10), Raul Alcantara (A's No. 16); Northwest Arkansas at Midland (AA)
Victor Alcantara (Angels' No. 4), Arkansas at Frisco (AA)
Jaime Barria (Angels' No. 14), Burlington vs. Cedar Rapids (A)
Alex Young (D-backs No. 5), Kane County vs. Beloit
Kodi Medeiros (Brewers' No. 7), Jairo Labourt (Tigers' No. 11); Brevard County at Lakeland (A Adv)
Brett Martin (Rangers' No. 11), Hickory vs. Greenville (A)
Cale Coshow (Yankees' No. 22), Trenton at Portland (AA)
Clay Holmes (Pirates' No. 15), Altoona at Harrisburg (AA)
Shawn Morimando (Indians' No. 16), Akron vs. Binghamton (AA)
Franklyn Kilome (Phillies' No. 8), Lakewood vs. Hagerstown (A)
Nick Pivetta (Phillies' No. 19), Tyler Beede (Giants' No. 2); Reading at Richmond (AA)
Keury Mella (Reds' No. 6), Tom Eshelman (Phillies' No. 15); Daytona at Clearwater (A Adv)
Ryan Borucki (Blue Jays' No. 12), Chance Adams (Yankees' No. 21); Dunedin at Tampa (A Adv)
Thad Lowry (White Sox' No. 21), Winston-Salem vs. Myrtle Beach (A Adv)
Travis Lakins (Red Sox' No. 11), Salem at Carolina (A Adv)
Pedro Fernandez (Royals' No. 21), Wilmington at Frederick (A Adv)
Jose Mujica (Rays' No. 27), Bowling Green at South Bend (A)
Jonathan Harris (Blue Jays' No. 4), Lansing vs. Fort Wayne (A)
Michael Mader (Marlins' No. 25), Stephen Gonsalves (Twins' No. 6); Jupiter at Fort Myers (A Adv)
Luis Lugo (Indians' No. 26), Lynchburg at Potomac (A Adv)
Yoan Lopez (D-backs' No. 8), Austin Brice (Marlins No. 23); Mobile at Jacksonville (AA)
Taylor Guerrieri (Rays' No. 6), Brad Markey (Cubs' No. 29); Montgomery at Tennessee (AA)
Michael Santos (Giants' No. 22), Augusta vs. Rome (A)
Sal Romano (Reds' No. 15), Pensacola at Biloxi (AA)
Jordan Guerrero (White Sox' No. 6), Ryan Yarbrough (Mariners' No. 12); Birmingham at Jackson (AA)
Jharel Cotton (Dodgers' No. 8), Oklahoma City vs. Memphis (AAA)
Chris Anderson (Dodgers' No. 15), Tulsa vs. San Antonio (AA)
Jesus Tinoco (Rockies' No. 18), Modesto vs. Bakersfield (A Adv)
Yohander Mendez (Rangers' No. 14), High Desert at Inland Empire (A Adv)
Seth Lugo (Mets' No. 25), Chris Stratton (Giants' No. 27); Las Vegas at Sacramento (AAA)
Mike Rosenbaum is a reporter for MLB.com. Follow him on Twitter at @GoldenSombrero. This story was not subject to the approval of Major League Baseball or its clubs.