In attack mode, Santiago's velocity rising
Angels lefty hits 96 mph, matches career high of 10 whiffs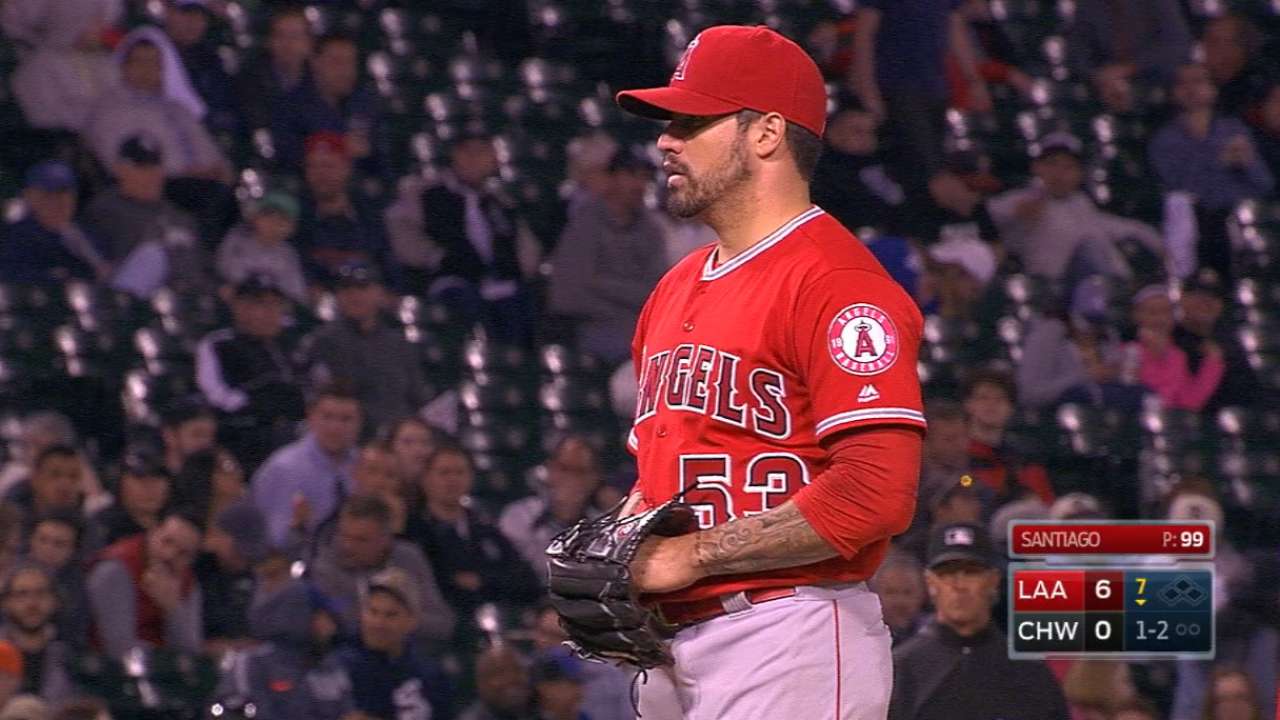 CHICAGO -- Angels starter Hector Santiago and his catcher, Geovany Soto, went into Monday's game against the White Sox with a rather intricate game plan, most of it specific to the opposing hitters. They were going to pitch backward, pound the inside part of the plate early in counts, rely heavily on breaking pitches late and mix in an assortment of changeups.
Then the White Sox started missing Santiago's four-seam fastball, either because they were late or because their swing paths took them just below it. So Santiago stayed with it, riding a fastball that is more consistently firm than ever in an outing Mike Scioscia considered "his best" since leaving the White Sox after the 2013 season.
"I saw swings, I saw approaches, and I kind of had the mindset that they were looking for something else," Santiago said after leading the Angels to a series-opening 7-0 victory at U.S. Cellular Field. "They kept swinging and missing, and I was like, 'Let's try it again.' If they were late on it, try it again."
Backed by five first-inning runs, Santiago pitched seven scoreless innings, striking out a career-high-tying 10 while giving up just two hits and issuing three walks. He retired seven consecutive batters on two separate occasions and put just two runners in scoring position, dropping his ERA to 2.61 through his first three starts.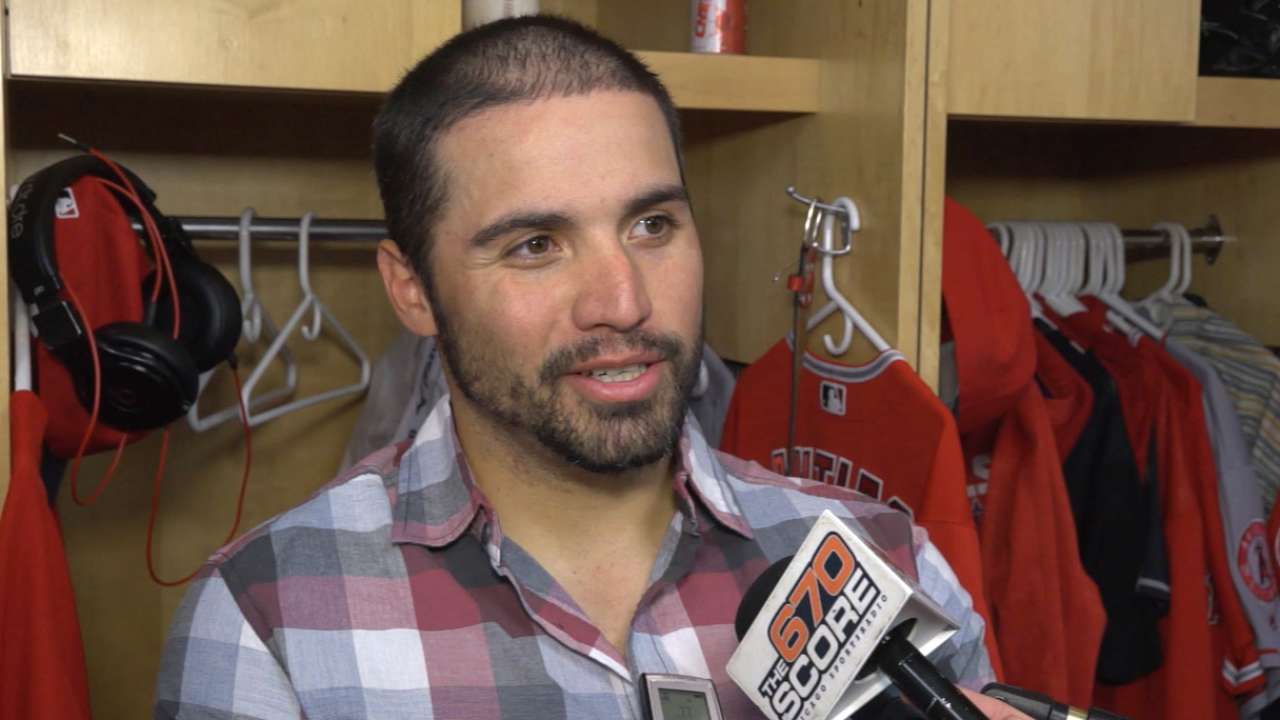 Santiago hit 95 mph with his fastball eight times and 96 mph twice, and he never stopped throwing it.
Of Santiago's 106 pitches, PITCHf/x identified 81 sinkers. Santiago said only one of those were actually sinkers, however. The rest were four-seam fastballs, nine of which resulted in strikeouts. He struck out Brett Lawrie three times, on a couple of 96-mph fastballs and another one at 93. He struck out Jose Abreu by hitting 95 in the sixth, and did the same to punch out Austin Jackson and Todd Frazier a little bit earlier.
It wasn't just the velocity, though.
It's how easy it came.
"I feel like when I was younger, I had to kind of do it," Santiago said. "I would give myself a little whiplash to try to somehow create it. Now it's kind of straight up, go towards the plate."
Santiago occasionally looked up at the JumboTron and saw his velocity readings at 94 and 95.
"Seeing it consistently like that," he said, "I haven't done that in a while."
The velocity was more pronounced when Santiago was pitching out of the bullpen with the White Sox, because the small sample sizes allowed him to exert more on each pitch. His average four-seam-fastball velocity with the Angels was 91.51 mph in 2014 and 90.9 mph in 15.
This year, it was 92.53 mph through his first two starts, then it climbed a little bit higher.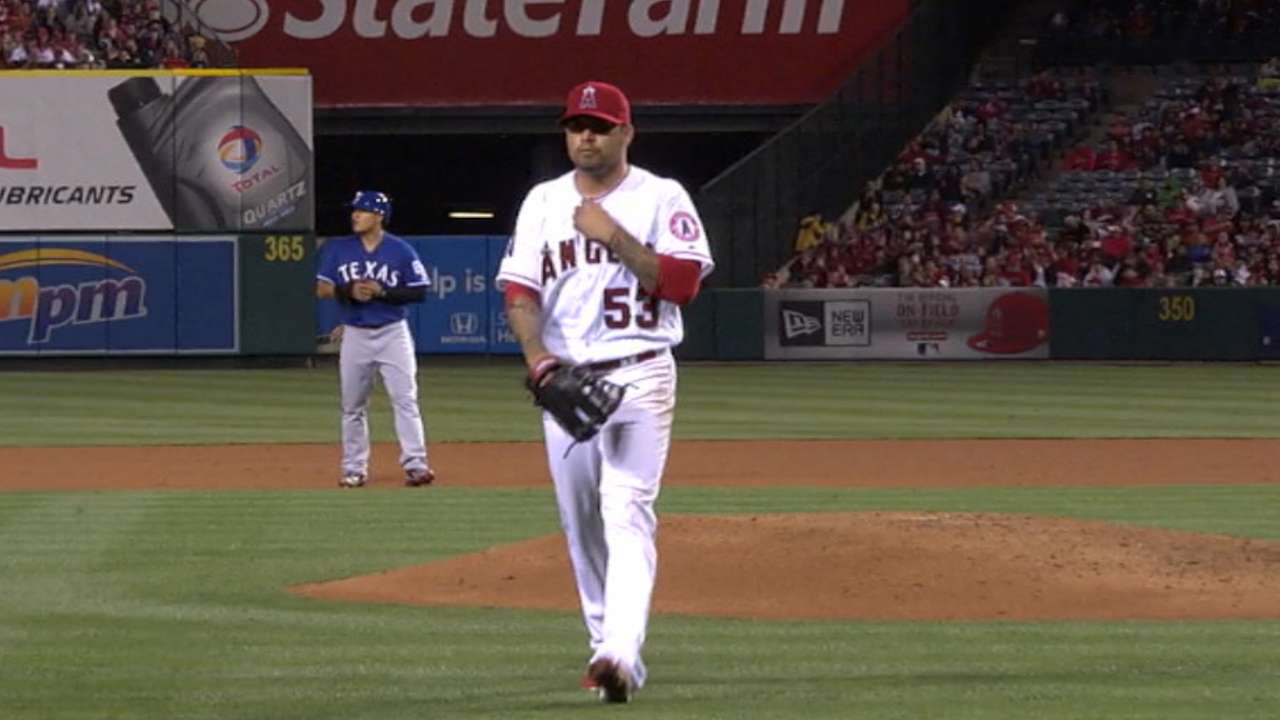 Santiago has given up just seven runs (six earned) on 13 hits and six walks in 20 2/3 innings, striking out 20. He credited his attack mentality, the kind he had as a reliever, and a more intense weight-lifting program, which had him maxing out during the offseason and includes an intense routine immediately after his starts.
The 28-year-old left-hander excelled in the first half last year, riding it to his first appearance in the All-Star Game.
But he never threw so hard, so consistently.
Said Scioscia: "That was the best stuff I've seen Hector have since he's been with us."
Alden Gonzalez is a reporter for MLB.com. Follow him on Twitter @Alden_Gonzalez and Facebook , and listen to his podcast. This story was not subject to the approval of Major League Baseball or its clubs.