Phils turn to basepaths to manufacture runs
Mackanin emphasizes stealing bases in midst of power drought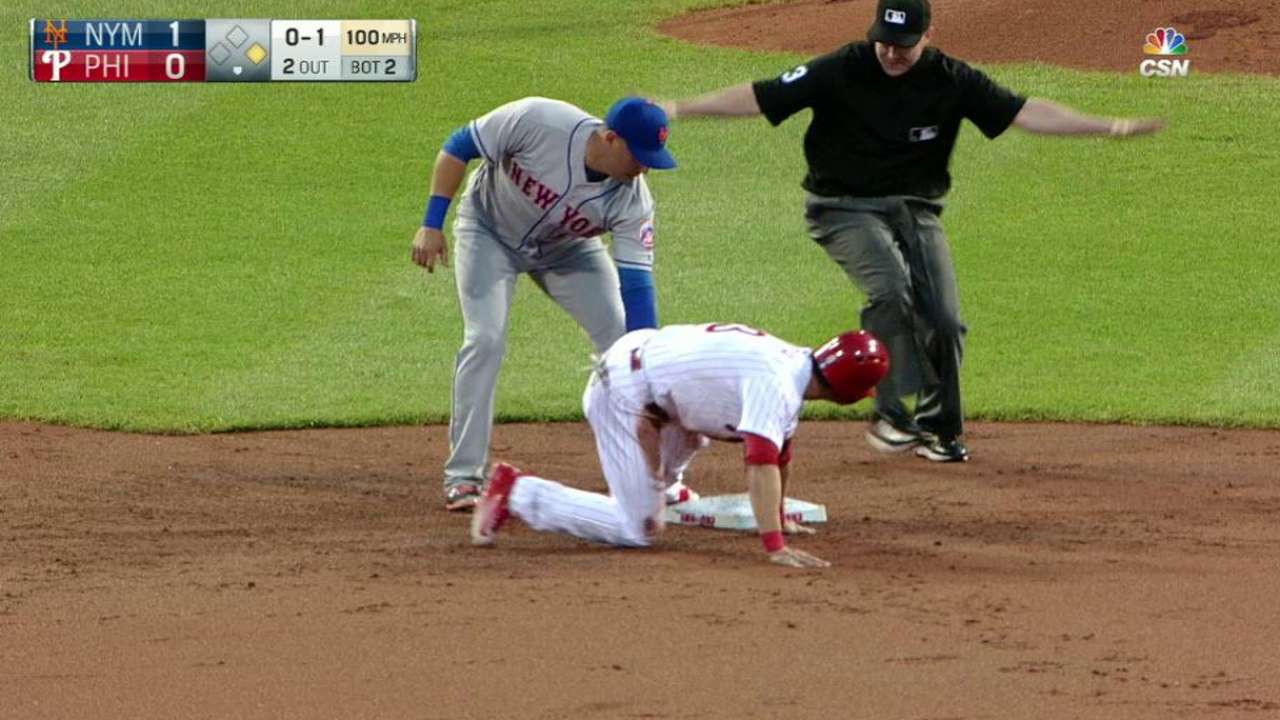 PHILADELPHIA -- With offensive struggles looming over their heads, the Phillies needed to find an edge wherever they could -- especially against Mets 23-year-old flamethrower Noah Syndergaard on Monday night.
Syndergaard doesn't have many weaknesses, but Phillies manager Pete Mackanin did his best to exploit one of them, despite it coming in a 5-2 losing effort.
While Syndergaard's pitches get to the plate with speeds in the triple digits, his delivery can be slow. Coming into the game, the Phillies had three stolen bases on the season. They swiped two in two attempts against Syndergaard and took one more against Antonio Bastardo in the eighth.
"We tried to take advantage of that," Mackanin said. "You try to steal off of him. He's slow to the plate. But we didn't really have enough baserunners to make that a big issue."
David Lough, starting in left field the day he was called up from Triple-A Lehigh Valley, reached base twice -- once by fielder's choice against Syndergaard in his first at-bat and again with a double in the ninth inning. He was the first Phillies culprit on the basepaths, taking second after his fielder's choice.
"[Syndergaard is] one of the slower guys, where you can take advantage of that," Lough said. "I think we did a good job of that. [Freddy] Galvis took one to third, I took one to second, I think [Odubel Herrera] took one to second. With the speed guys on base, we're definitely taking advantage of it."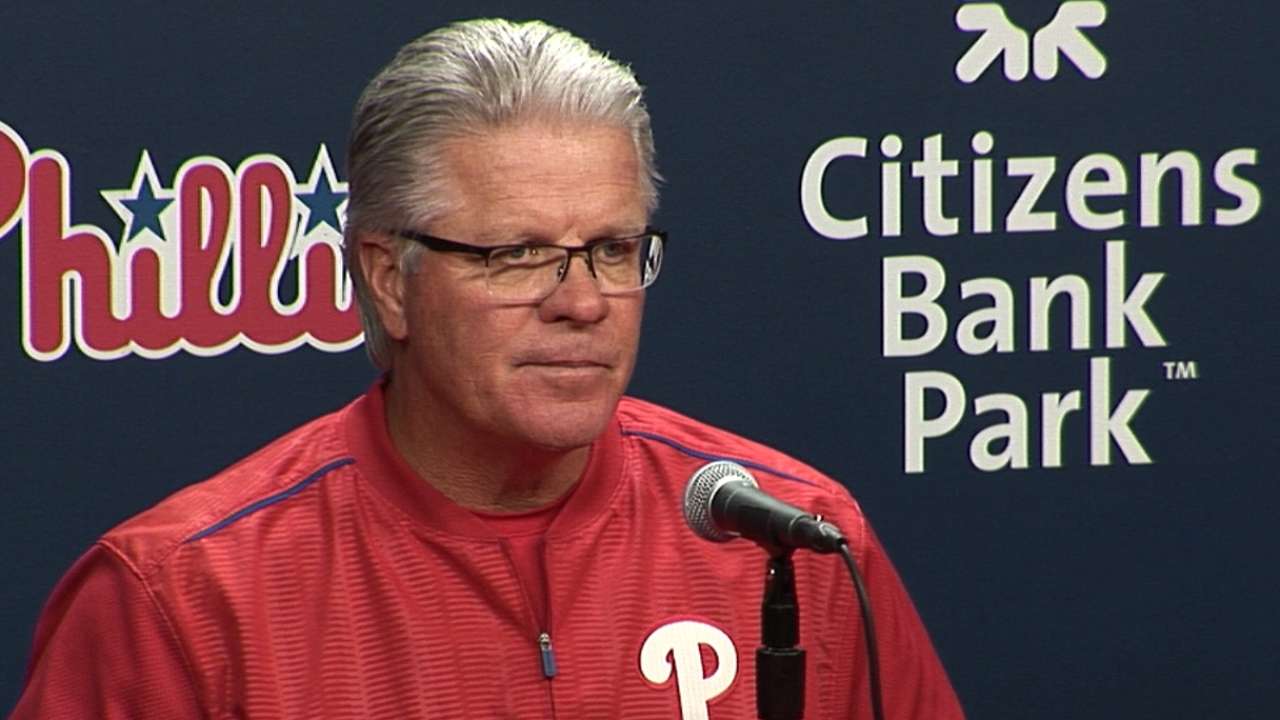 After Lough's callup, there's a handful of players who could be classified as "speed guys." Cesar Hernandez swiped 19 bags last season. Herrera took 16. Galvis had 10, but showed off his quickness on his steal of third on Monday. And Mackanin called Peter Bourjos, who only had five last year for the Cardinals but 22 in 2011, the fastest guy on the team.
Postgame, Mackanin continued to express frustration in the lack of offensive production. The Philies' 36 runs in their first 14 games is tied for third fewest in franchise history in that span.
"We're just not scoring enough runs," he said. "They hit four home runs, and we didn't hit any. We've gotta score more runs. We're in all the games we're playing, except a few. We just need to score."
Still, rather than try to run at will in an attempt to spark the offense, Mackanin said he's going to continue reading pitchers and relying on scouting reports.
"You run on pitchers who are slow to the plate," he said. "When they're quick to the plate, you don't run."
Even when they stole three bases, the Phillies managed only two runs. Granted, it was against Syndergaard. One steal, Galvis' of third, did help them muster one run across with Herrera's single the next play. The other runners, however, remained stranded on second. And the Phillies remain without an answer offensively.
Evan Webeck is an associate reporter for MLB.com. This story was not subject to the approval of Major League Baseball or its clubs.