Philly phenom leads MLB.TV slate of young arms
Velasquez, Strasburg, Stroman and Ventura among the pitchers set to take the mound today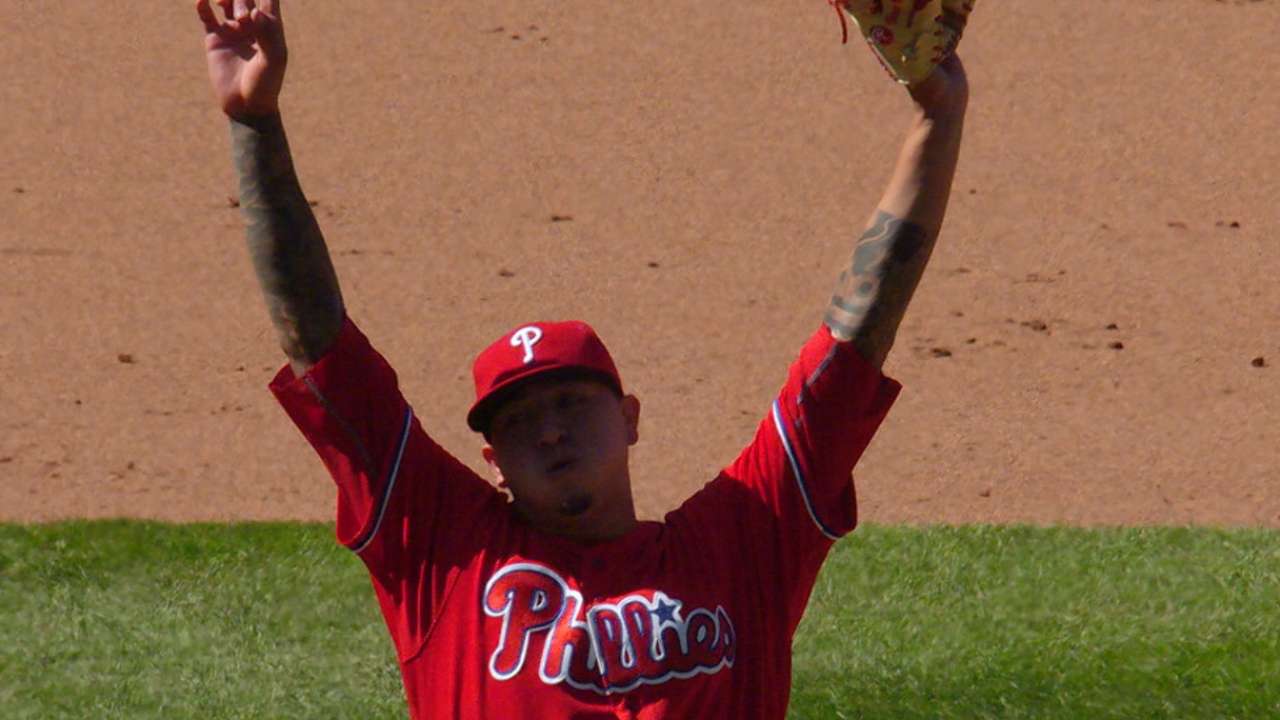 The last time Phillies right-hander Vince Velasquez took the mound, he turned in one of the most memorable pitching performances of the young season. The No. 5 starter has pitched like an ace in his first two outings, striking out 25 batters through 15 scoreless innings to begin his Phillies career.
Velasquez will look to keep his scoreless streak going when the Phils take on the Mets at Citizens Bank Park. His return to the mound is one of many intriguing matchups on tap for today's full slate of games, which also features starts by Washington's Stephen Strasburg, Toronto's Marcus Stroman and Kansas City's Yordano Ventura. Fans can catch all the action streaming live on MLB.TV.
MLB.TV Premium returns with the same features as last year, but at $109.99, it is a full 20 bucks cheaper than the 2015 cost. This package has the best value and provides access to more than 400 devices and a free subscription to the MLB.com At Bat Premium app (a $19.99 value). It offers the best picture quality ever -- a new 60 frames per second -- for supported devices. Monthly signups for MLB.TV Premium are now underway as well for $24.99.
The new MLB.TV Single Team package is also now available as an $84.99 yearly subscription. You can watch a single team's live out-of-market games in full HD.
Here's what to watch for throughout the day (all times in ET):
Velasquez looks to stay scoreless: NYM@PHI, 7:05 p.m.
Velasquez impressed in his Phillies debut earlier this month, striking out nine in six scoreless innings vs. the Mets. And yet somehow, he still topped that outing last week, becoming just the seventh pitcher to toss a shutout with 16 strikeouts and no walks.
Velasquez, who was acquired in the Ken Giles deal with Houston this offseason, enters today's start with a 15-inning scoreless streak.
"It looks like we made a pretty good trade," Phillies manager Pete Mackanin said.
For the Mets, right-hander Logan Verrett will take the ball in place of Jacob deGrom, who's still nursing a sore right lat muscle. Verrett was a fine substitute for deGrom last week, tossing six shutout frames in a no-decision vs. the Marlins.
Stat that matters: Opposing hitters have had no answer for Velasquez thus far. He's yet to have a ball hit hard against him through 51 at-bats, which ranks first among all qualified starting pitchers.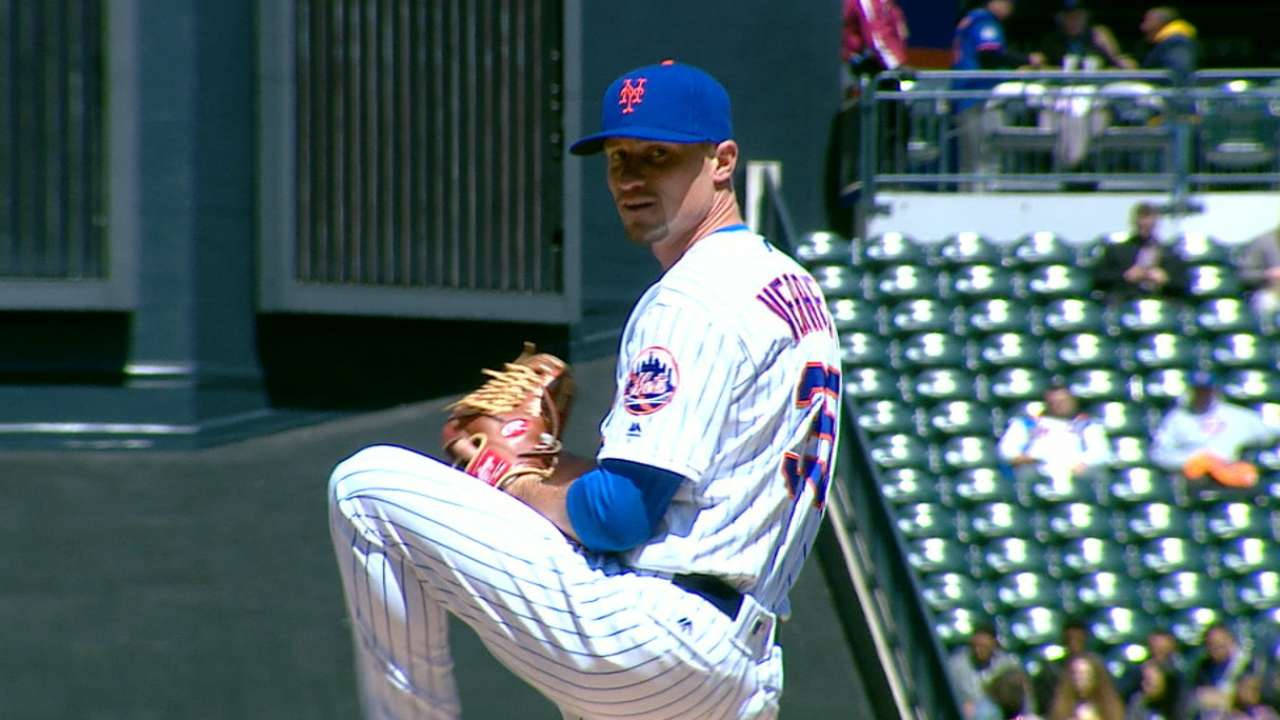 Strasburg takes the hill: WSH@MIA, 7:10 p.m.
Right-hander Strasburg will make his third appearance of the season when his Nationals face the Marlins in Miami. Still recovering from a flu-like illness, Strasburg pitched 7 2/3 innings and beat the Braves his last time out, allowing just four hits and two runs while striking out seven.
"Whatever I had in the tank, I was going to give it all to the guys," said Strasburg, who thought the illness was a reaction to migrating from a warm spring in Florida to cold weather in Washington.
The Marlins will counter with left-hander Adam Conley, who racked up a career-best nine strikeouts in his last start, a no-decision vs. the Mets. Conley draws the tough assignment of facing reigning National League Most Valuable Player Bryce Harper, who's off to a hot start -- .341 average with six home runs and 16 RBIs through 12 games.
Stat that matters: Entering Monday's games, Harper led the Majors in slugging percentage (.897) with 35 total bases in 39 at-bats. His 14 well-hit balls in play were also tops among full-time players.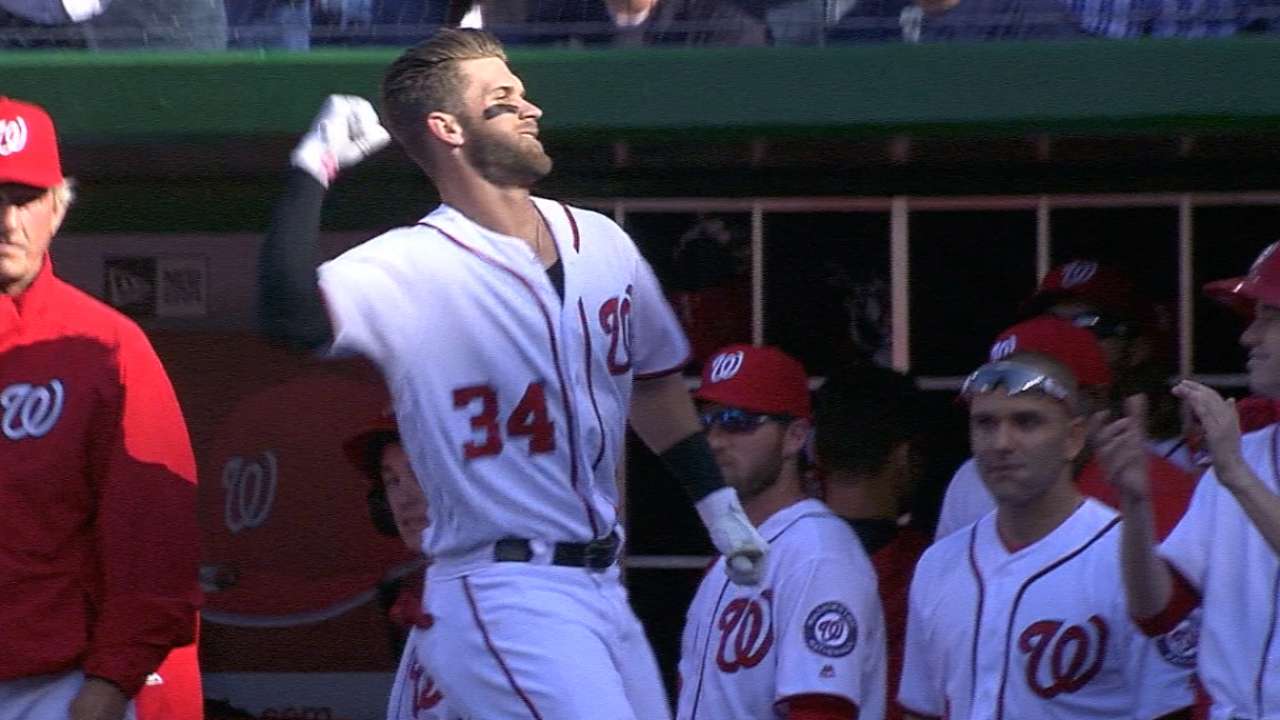 Tigers, Royals clash in first 2016 meeting: DET@KC, 7:15 p.m.
Ventura returns to the mound looking for his first decision of the season after allowing just three earned runs over 11 innings in his first two starts. Ventura has enjoyed success against the rival Tigers -- 4-0 in five career starts with a 3.86 ERA.
Meanwhile, Shane Greene will also make his third start for Detroit, looking to build off a strong performance last Wednesday in Pittsburgh. Greene overcame a 35-pitch first inning in which he allowed two runs before shutting the Pirates down through the sixth to pick up his first win. In two career starts against Kansas City, Greene is 0-1 despite allowing just one earned run over 13 innings.
The Royals held a 10-9 advantage in last year's season series with the Tigers, despite outscoring Detroit, 107-66. In fact, nine of Kansas City's 10 wins came by three runs or more, while all nine of the Tigers' wins came by three runs or fewer.
Stat that matters: When he debuted with the Royals in 2013, Ventura's fastball made headlines with an average velocity of 97.1 mph. Yet the right-hander is finding success when he takes a little off his heat. Despite seeing his fastball velocity drop to 95.0 mph so far in 2016, Ventura is averaging 9.8 strikeouts per game. Furthermore, he's making batters swing and miss on 11.7 percent of his pitches -- the highest rate of his career.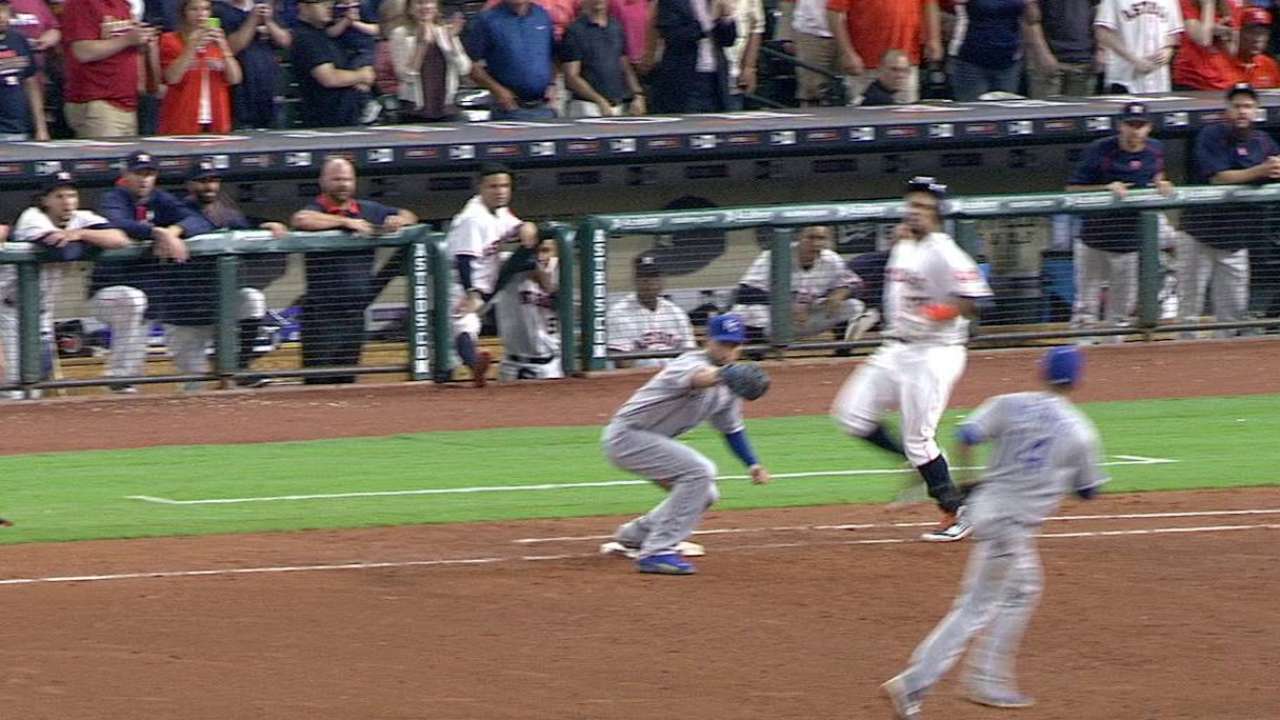 Stroman takes on hot-hitting O's: TOR@BAL, 7:05 p.m.
With 23 home runs in 11 games, the Orioles are homering at a pace (2.1 per game) that would shatter the all-time record of 264 by the Mariners in 1997. Stroman will be the latest pitcher to try to slow the Baltimore bats when he takes the mound for the Blue Jays tonight. Stroman has had success vs. the O's in the past -- Chris Davis, J.J. Hardy and Adam Jones are a combined 0-for-9 against him. Opposite Stroman will be right-hander Mike Wright, who's scheduled start on Sunday against the Rangers was rained out. It was the second time Wright has had a start postponed due to weather this season.
Stat that matters: Orioles batters are homering once every 16.3 at-bats, good for the most frequent rate in the American League. They've hit at least one home run in each of their last 10 games, which is the longest active streak in baseball.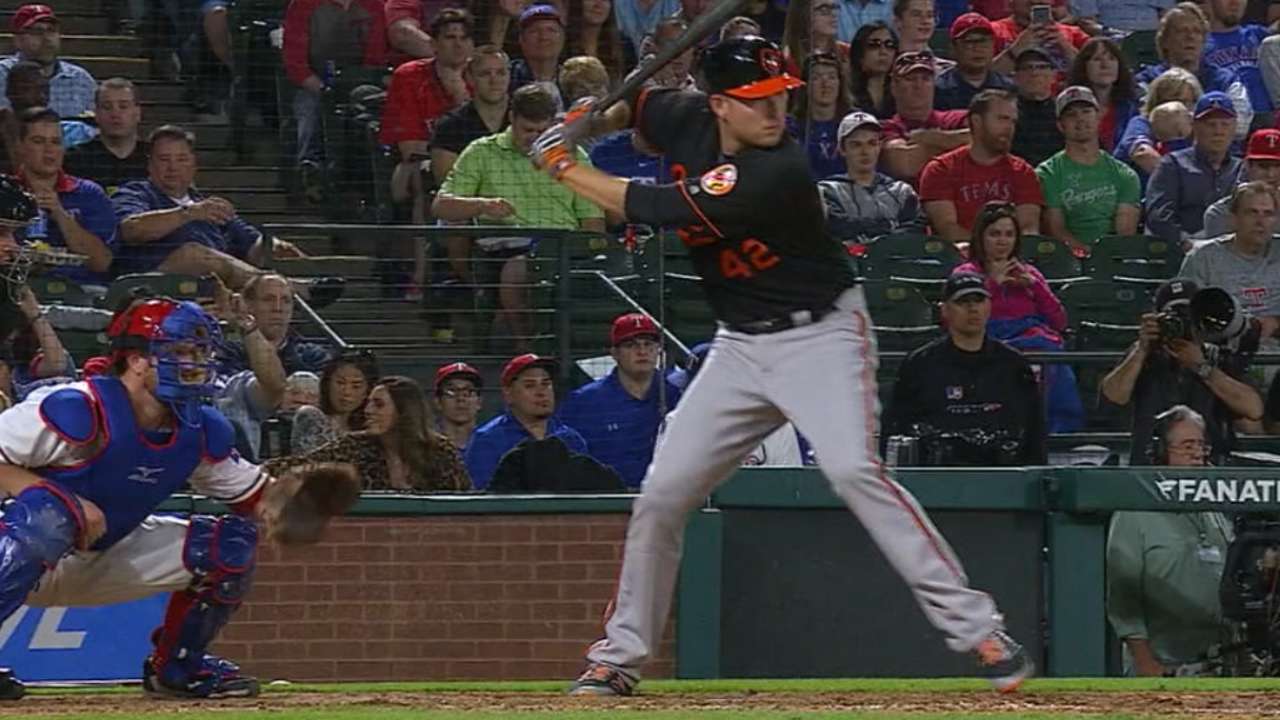 Latos, White Sox host the Angels: LAA@CHW, 8:10 p.m.
Mat Latos will look to continue his hot start, after allowing just one run on four hits and two walks in his first 12 innings of 2016. Latos, who signed a one-year, $3 million deal with the White Sox before the season, has a 2.84 ERA in two career starts against the Angels. He started 0-3 last year with the Marlins, but also began 6-0 during his 2013 campaign with the Reds.
Los Angeles will counter with Matt Shoemaker, who threw six scoreless innings to pick up the win in his last start in Oakland. Shoemaker posted a better record on the road (6-4) than at home (1-6) last year despite sporting a 5.04 ERA away from Angel Stadium. He is 0-1 with an 8.44 ERA in two career starts against the White Sox.
Stat that matters: While Mike Trout is hitting just .234 with one home run batting third in the lineup so far this year, manager Mike Scioscia has pledged to stick with his star in that spot for the time being. The numbers back up Scioscia's patience: In 141 games (prior to Monday's contest), Trout boasts a .993 OPS in the No. 3 spot -- his highest of any position in the lineup for his career.
MLB.TV Premium subscribers get the Mosaic View -- split screen or quad, available on PC or Mac only. That always comes in handy, especially when scoreboard-watching looms. MLB.TV Premium and MLB.TV Single Team subscribers both enjoy HD and both will get real-time highlights and player stats automatically loaded moments after they occur (only for the game you are watching with MLB.TV Single Team, and for all games with MLB.TV Premium).
Chad Thornburg is a reporter for MLB.com. Matt Kelly is a reporter for MLB.com. This story was not subject to the approval of Major League Baseball or its clubs.