Ortega gives Angels 'plus, plus, plus' arm in left
Former Rockies prospect filling in for injured Nava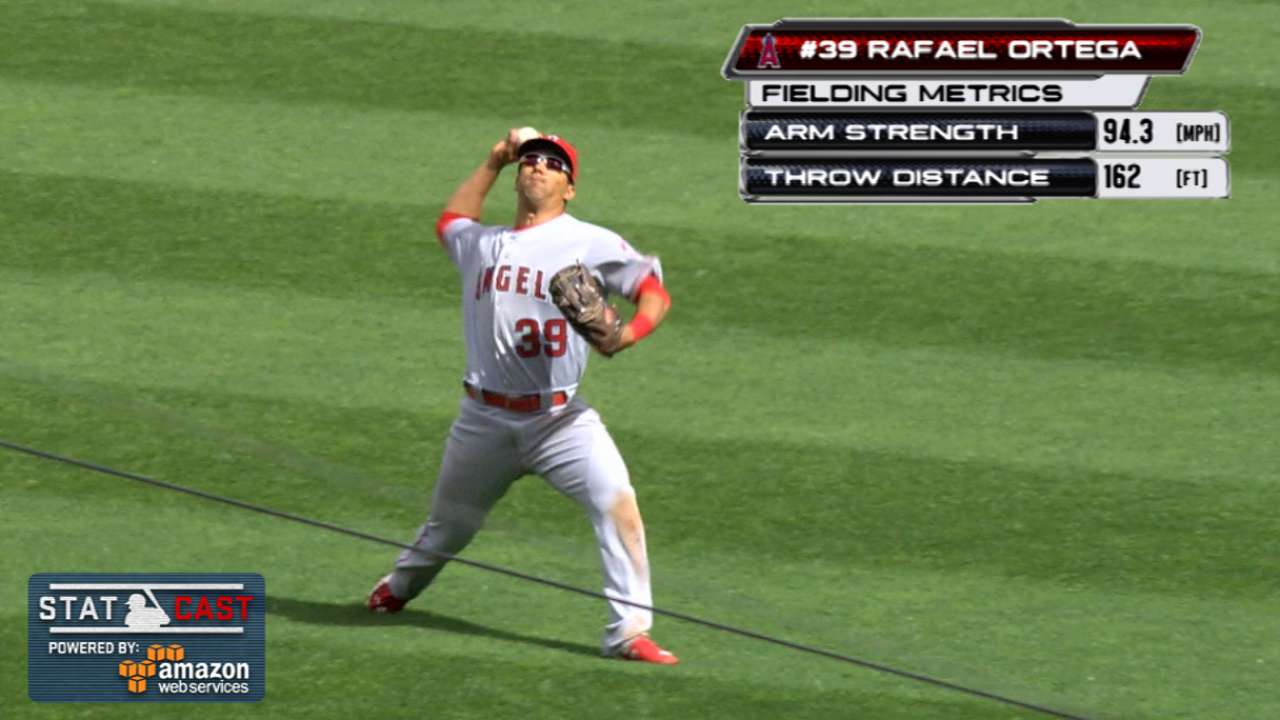 CHICAGO -- When Rafael Ortega signed his first professional contract with the Rockies, the local newspaper in Venezuela ran his picture. It showed a 16-year-old Ortega, with his glove positioned just below his face while standing on top of a mound.
"Everyone thought I had signed as a pitcher," Ortega said in Spanish. "I did a lot of that right before I signed -- pitch, pitch, pitch."
Ortega had an explosive arm, but scouts thought he was too small to pitch effectively, especially within the unforgiving confines of Coors Field. So the Rockies played Ortega exclusively in the outfield once he reached their Minor League system, and now the Angels are benefitting from his rocket arm in left field, a position that isn't well known for arm strength.
On Sunday, during an eventual loss in 12 innings, Ortega fired a near-perfect one-hop throw home to nail Eduardo Nunez, end the seventh inning and preserve the Angels' one-run lead. It covered 162 feet and, according to Statcast™, traveled up to 94.3 mph, making it the third-hardest throw from any left fielder to any base this season.
Angels bench coach Dino Ebel was awestruck when he heard that.
He called Ortega's arm "plus, plus, plus."
"It's a plus to have that kind of arm in left field," said Ebel, who works with the outfielders. "Usually the softer arm plays out in left, but to have him and Kole [Calhoun] in the corners, very good."
Ortega is filling in for an injured Daniel Nava, who was placed on the 15-day disabled list Saturday because of tendinitis in his left knee. It may give the Angels less on-base ability from the No. 2 spot against righties. But it'll definitely give them more speed and arm strength.
The 24-year-old left-handed hitter last appeared in the Major Leagues four years ago. That was in '12, when Ortega was still a top prospect in the Rockies' system. Then he hurt his tibia in '13, went through waivers twice the following offseason, struggled in '14 and bounced back to have a solid season for the Cardinals' Triple-A affiliate in '15, prompting the Angels to give him Major League money in December.
Ortega's wife and 5-year-old daughter will meet him in Southern California on Friday.
"It's not easy to get up here," Ortega said. "I have the opportunity, and I have to take advantage of it. The most important thing is to take advantage of the opportunity they give me, give the best of myself, and put it in God's hands."
Alden Gonzalez is a reporter for MLB.com. Follow him on Twitter @Alden_Gonzalez and Facebook , and listen to his podcast. This story was not subject to the approval of Major League Baseball or its clubs.