Wagner joins D-backs; Brito to Triple-A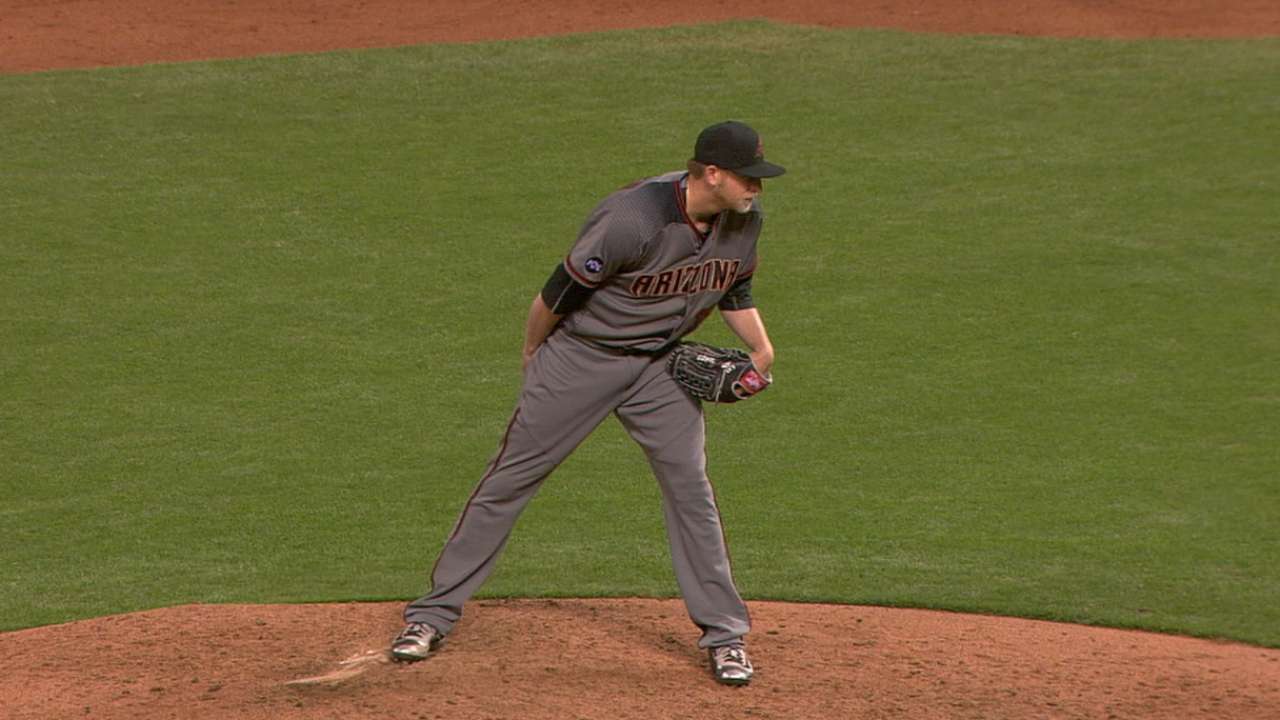 SAN FRANCISCO -- The D-backs' game of roster roulette continued on Monday, with right-hander Tyler Wagner, the club's No. 10 prospect, getting called up from Triple-A Reno and outfielder Socrates Brito getting optioned to Reno.
That move comes on the heels of a pair of Sunday transactions that brought pitchers Archie Bradley and Evan Marshall from Reno to the Majors.
The D-backs now have 13 pitchers and 12 position players after opening the season with the reverse. Short starts by the rotation, a 14-inning game on Saturday and a 20-day stretch without an off-day all contributed to the need for fresh arms.
"We knew at some point that we'd have to go to 13 pitchers," D-backs manager Chip Hale said before Monday's opener against the Giants. "Just felt like, with the weekend, the pitchers are tired. We wanted to add another one for length."
Wagner, who started two games for Reno this year and lost out in the battle for the No. 5 spot in the rotation this spring, will be used as a long reliever. He pitched the sixth and seventh innings of Monday's 9-7 win in 11 innings, blanking the Giants on two hits.
Bradley started on Monday and allowed five runs on seven hits and four walks in 4 1/3 innings. He had a big moment in the first inning when he stranded the bases loaded with a strikeout to keep the Giants off the scoreboard, but he threw 35 pitches in the inning, which contributed to his abreviated start.
Brito, 23, played in 10 games with the D-backs, hitting .226 (7-for-31) with a home run and two RBIs. Chris Owings will get the bulk of the starts in center field while Brito is in Reno, and right fielder David Peralta shifting over there at times.
"I think Brito was getting enough playing time up here, but he just wasn't swinging the bat like he was early in Spring Training," Hale said. "He has to be down 10 days unless somebody gets hurt. Let's say it's 10 days, he gets all those 40, 50, 60 at-bats, maybe it could snap him right back into a good streak. Sometimes it's good to send guys down and let them get at-bats or pitchers to get innings. We're going to do that early."
And, it appears, often.
Steve Gilbert is a reporter for MLB.com. Follow him on Twitter @SteveGilbertMLB. This story was not subject to the approval of Major League Baseball or its clubs.