Angels' seventh-inning relief remains in flux
Mahle, Morin, Alvarez and Salas have yet to grab reins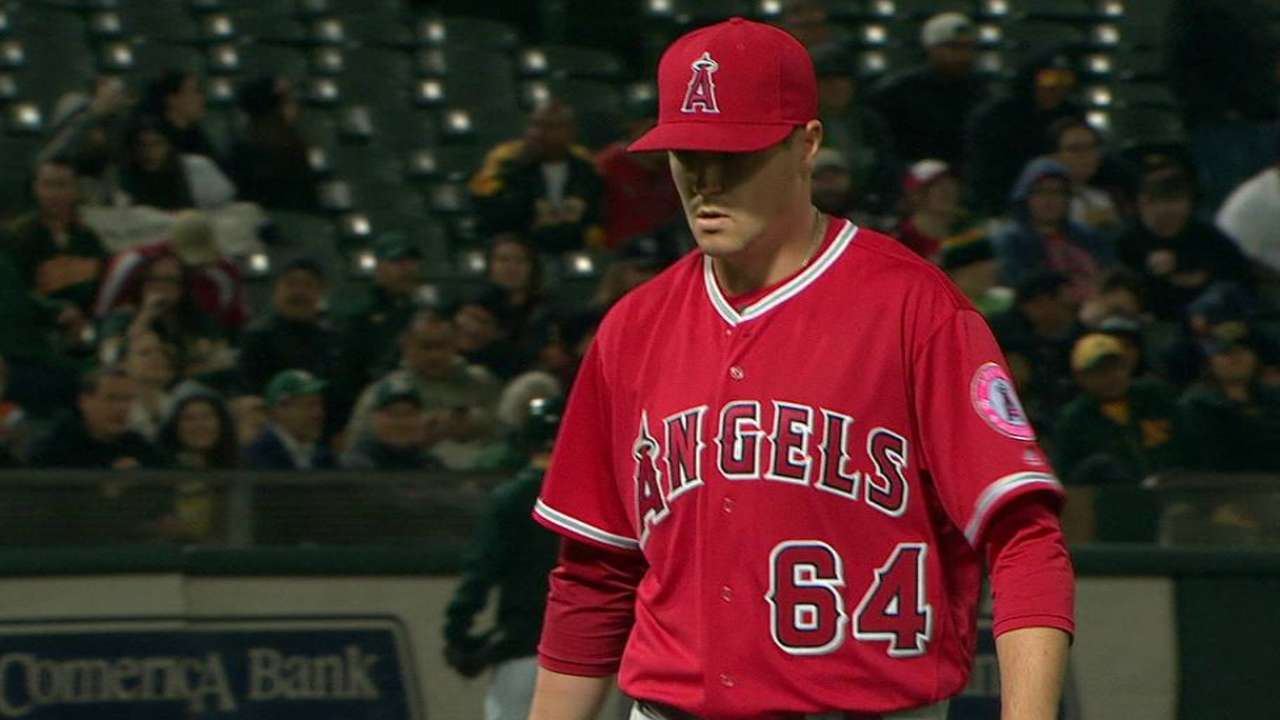 "They're going to let us know what direction," Scioscia said Monday, before a 7-0 victory in the opener of a four-game series against the White Sox at U.S. Cellular Field. "We don't have to guess at it. The bottom line is to hold leads."
The Angels' bullpen is coming off a rough, taxing weekend in Minnesota, one that saw relievers suffer all three losses, absorb 11 2/3 innings -- six of them alone Sunday -- and surrender seven runs.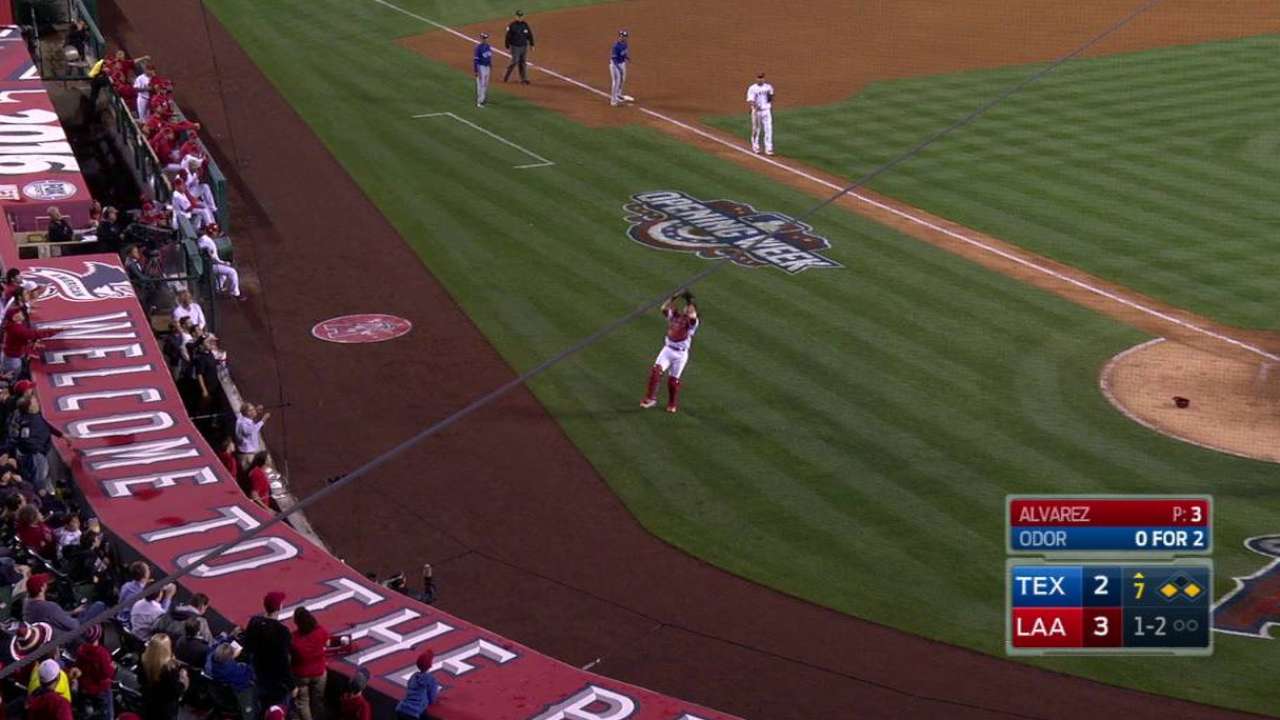 Holding onto a one-run lead Sunday, Scioscia used Mahle, Morin and Alvarez in the seventh, before Smith allowed the Twins to tie it in the eighth. On Friday, four relievers were used -- Mahle, Morin, Alvarez and Salas -- in a seventh inning that saw the Twins score twice.
Lefties Alvarez and Mahle and righties Morin and Salas have been used mostly to attack same-side hitters. Scioscia noted that all four can be effective against righties and lefties. But they haven't shown it, and so the Angels keep searching.
The last time they benefitted from a solidified seventh-inning reliever was the stretch run of the 2014 season, when Street came over in late July and pushed Kevin Jepsen into the role, giving the Angels one of the game's best bullpens over the last two months.
"It might morph into less of a matchup inning and more of a depth thing," Scioscia said of this group, "where you have three guys you're comfortable with getting to the back end of your bullpen, and whatever given day, whoever's fresh, you can go with it. There's a couple ways to go with it."
In Monday's victory, Mahle pitched the eighth and allowed one hit, and Morin followed with a 1-2-3 ninth.
Cron still searching
C.J. Cron arrived in Chicago with only four hits in 40 at-bats and was dropped to the No. 8 spot, even though the Angels were facing a lefty in Carlos Rodon. Cron has already drawn four walks, more than doubling his career walk rate, but Scioscia chalked it up to the volatility of small sample sizes.
Speaking before Monday's game, which saw Cron go 3-for-4 with two RBIs, Scioscia said the real issue is "the timing of his swing."
"I think you're seeing some fastballs that he's maybe a little bit behind and he isn't quite barreling up," Scioscia added. "He's certainly been in front of some breaking pitches. When he's been getting pitches to hit, he's been fouling them off."
Of the 32 fastballs within the strike zone that Cron has swung at this season, only three have resulted in hits. Five have been whiffs, nine have been outs in play and 15 have been foul balls.
In moving Cron down, Scioscia said he's "just trying to get him in a grouping where there's not as much on his plate to have to hit behind the middle of order, or be part of the middle of our order. Our plan is for him, when he's swinging the bat well, to be there."
Odds and ends
• Mike Trout will remain in the No. 2 spot of the lineup for the foreseeable future, even though Daniel Nava's recent knee injury seemingly hinders the Angels' ability to get runners on base for Trout when he bats third.
• Albert Pujols made his third start at first base Monday. His starts are largely dictated by the proximity of the indoor batting cage. If it's nearby, it makes it easier for him to stay sharp between plate appearances and start at designated hitter. If it's far, he'd rather get in the flow of the game by playing the field.
• Tyler Skaggs is scheduled to pitch four innings when he makes his next start for Triple-A Salt Lake on Wednesday. Skaggs, easing his way back from August 2014 Tommy John surgery, went three innings in back-to-back outings.
• Bullpen coach Scott Radinsky, recently hospitalized with chest pain, is awaiting the results of follow-up tests and will meet the team when it returns to Southern California on Friday. Scioscia isn't sure if Radinsky will be working by then.
Alden Gonzalez is a reporter for MLB.com. Follow him on Twitter @Alden_Gonzalez and Facebook , and listen to his podcast. This story was not subject to the approval of Major League Baseball or its clubs.