Castellanos isn't dwelling over red-hot start
Third baseman doing damage at the plate with two-strike approach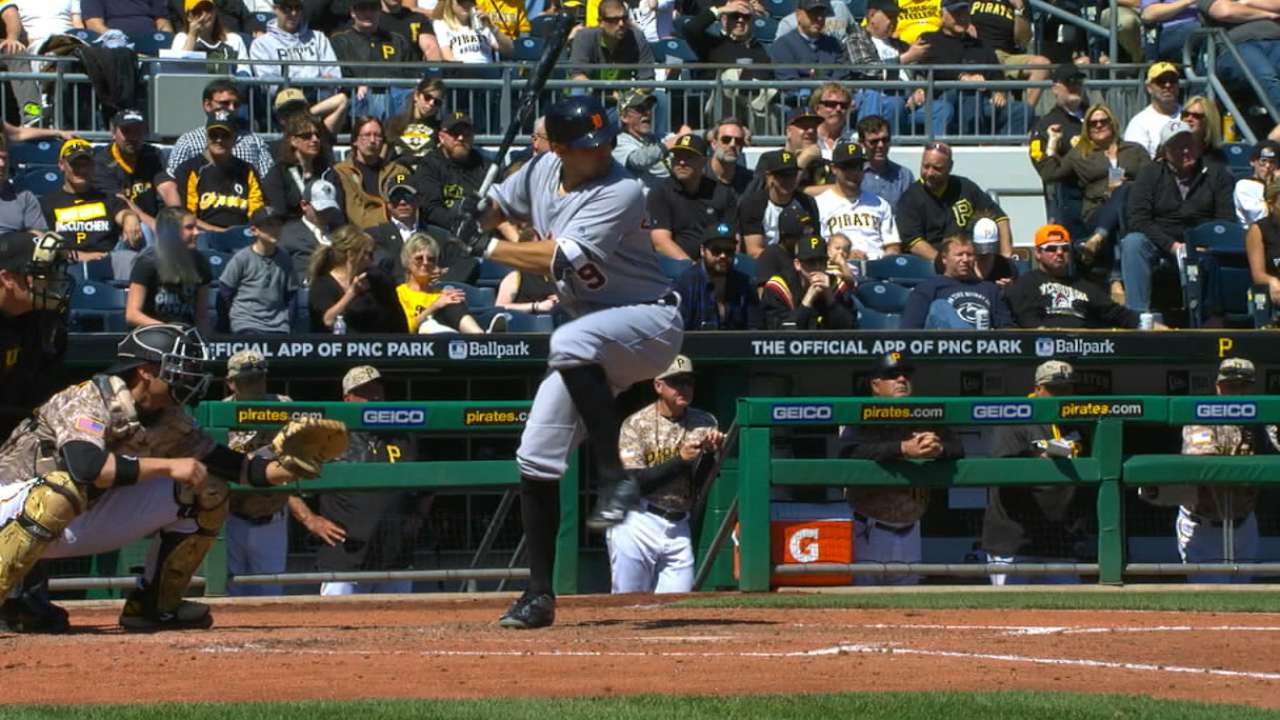 DETROIT -- Tigers third baseman Nick Castellanos doesn't make much of it yet.
"I'm seeing the ball well," he said after a three-hit, four-RBI game in Pittsburgh last Thursday continued his hot start.
Manager Brad Ausmus believes it's neither a revelation nor a confidence boost.
"I don't think Nick's ever lacked confidence when it comes to offense," Ausmus said. "I think he knows he can hit. When he concentrates and he makes the pitcher throw in the zone, doesn't chase outside of the zone too much, he's a very good hitter."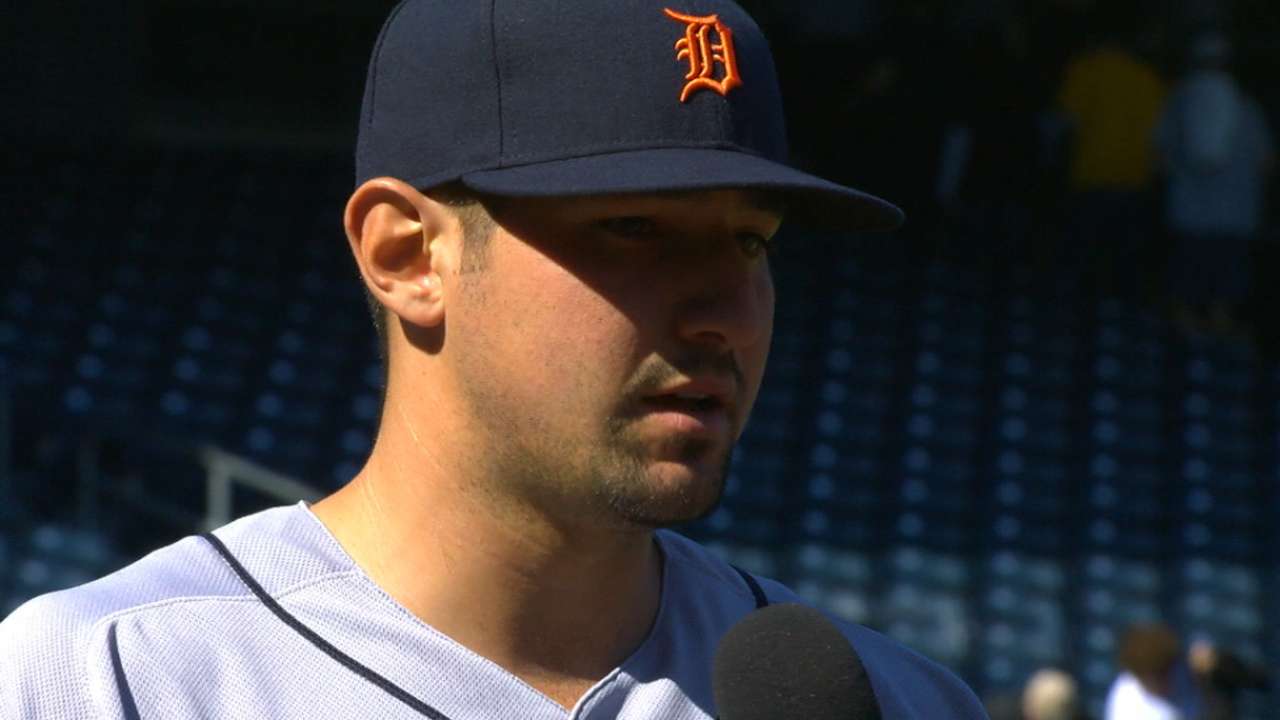 Through two weeks, Castellanos has been that hitter many saw as his potential when the Tigers selected him with their top Draft pick in 2010. On a team that boasts proven stars up and down the lineup, Castellanos is showing he's capable of a breakout campaign that would provide another run producer in the middle of the order.
The 24-year-old enters Detroit's series at Kansas City on Tuesday just two hits behind Ian Kinsler for the team lead. Castellanos' .357 average trails only J.D. Martinez (.372) among Tigers regulars, and his .920 OPS has him on pace with Victor Martinez and just ahead of Miguel Cabrera.
It's still mid-April, of course. Other numbers suggest Castellanos will have challenges ahead, from an unsustainable .464 average on balls in play to a 13-to-0 strikeout-to-walk ratio. Still, the adjustments he has made so far are forcing pitchers to do the same.
Castellanos hit a sacrifice fly on Opening Day out of an 0-2 count against Marlins lefty Wei-Yin Chen, then fouled off back-to-back Jose Fernandez fastballs the next day to stay alive for the curveball Castellanos slashed into the gap for an RBI double. A two-strike single against Luis Severino a couple days later helped fuel a rally for a win in the home opener.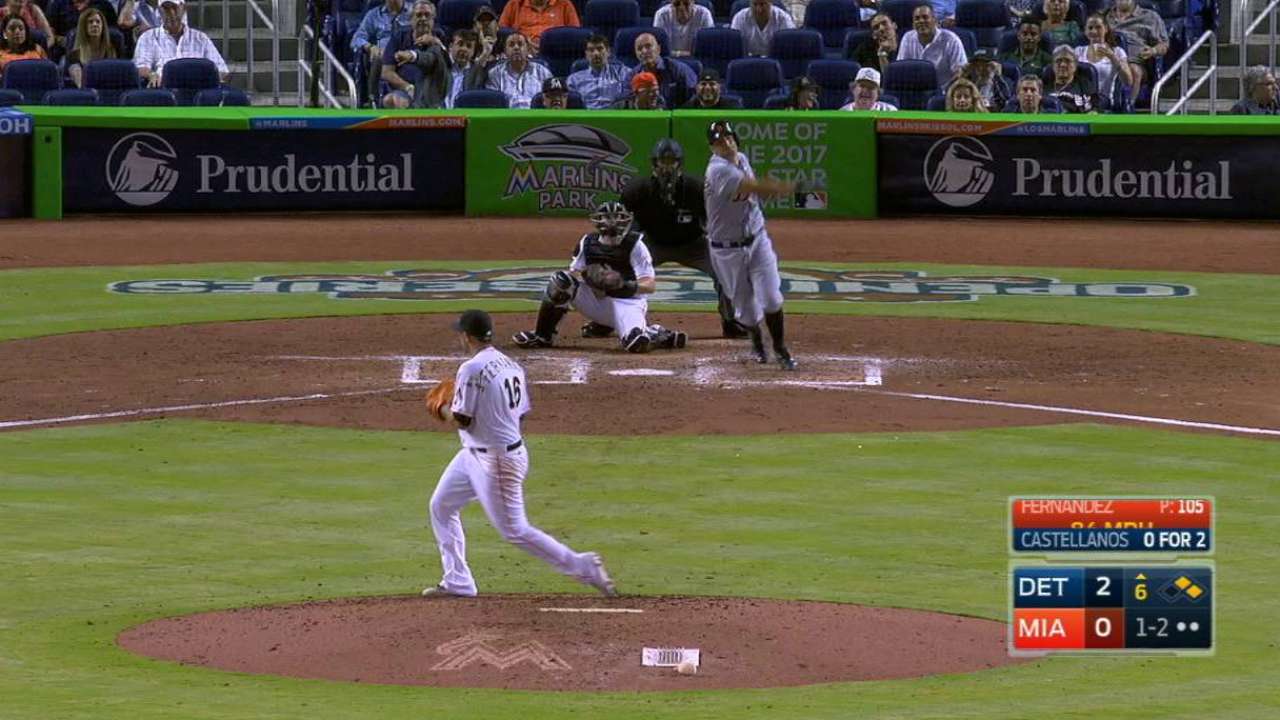 Just when two-strike counts seemed like a comfort zone, Castellanos didn't give pitchers a chance to get to strike two often last week. His solo homer last Monday off Jonathon Niese, and his two-out rally-continuing single on Wednesday off hard-throwing Arquimedes Caminero, both came on the first pitch. So did all three of his hits on Thursday, off three different varieties of first pitches.
"He's been driving in runs lately on the first pitch," Ausmus said. "The first pitch is often the best pitch to hit."
Castellanos went back to two-strike hitting for his three-hit game on Saturday in Houston, then hit a first-pitch fastball from Ken Giles for a double on Sunday.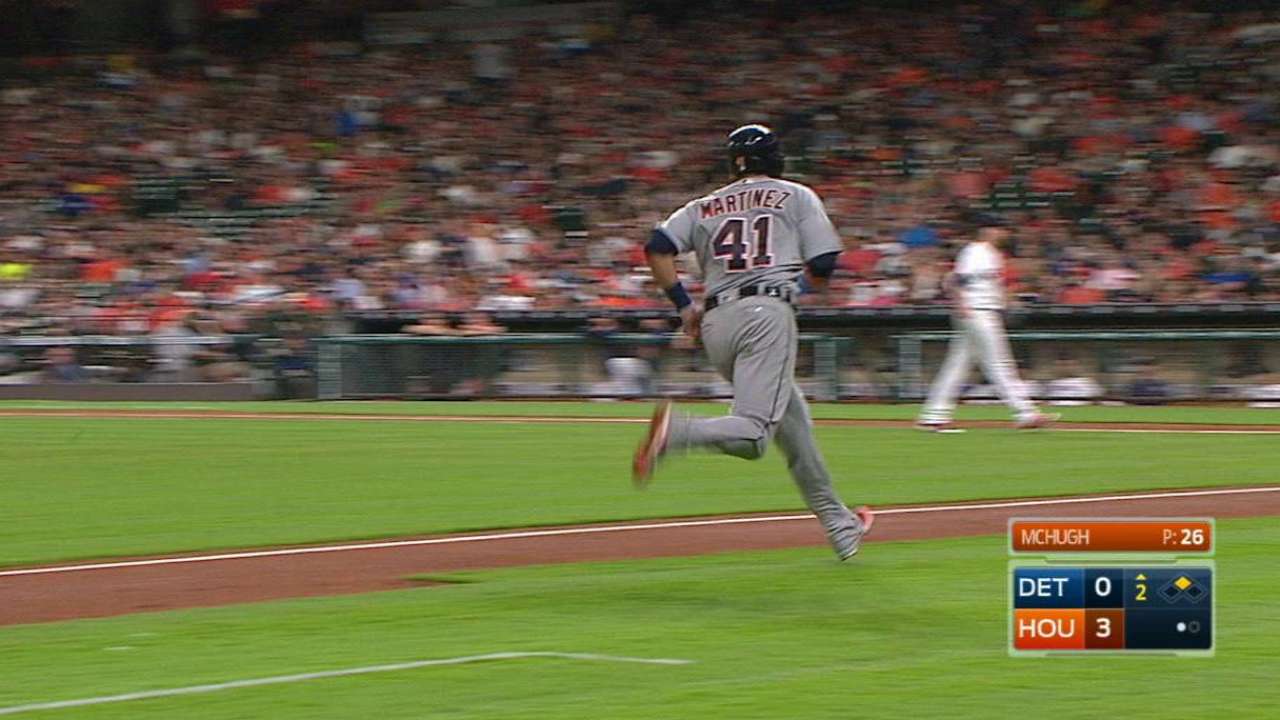 Castellanos showed signs of maneuvering the learning curve last year with a .269 average and .800 OPS after the All-Star break. He was also much more selective swinging at pitches outside the strike zone, according to Fangraphs. So far this season, Castellanos is aggressive on everything, swinging at 46.5 percent of his first pitches compared to 35.2 percent last year according to baseball-reference, 60 percent of all pitches according to Fangraphs, and nearly half of pitches outside the strike zone. But he's also making contact at career-best rates, both in and out of the zone.
"I'm still sometimes expanding, but it's still early," Castellanos said. "The only thing I can do is continue to try to get better."
He's on that path.
Jason Beck is a reporter for MLB.com. Read Beck's Blog, follow him on Twitter @beckjason and listen to his podcast. This story was not subject to the approval of Major League Baseball or its clubs.