Rodney embracing life as closer in San Diego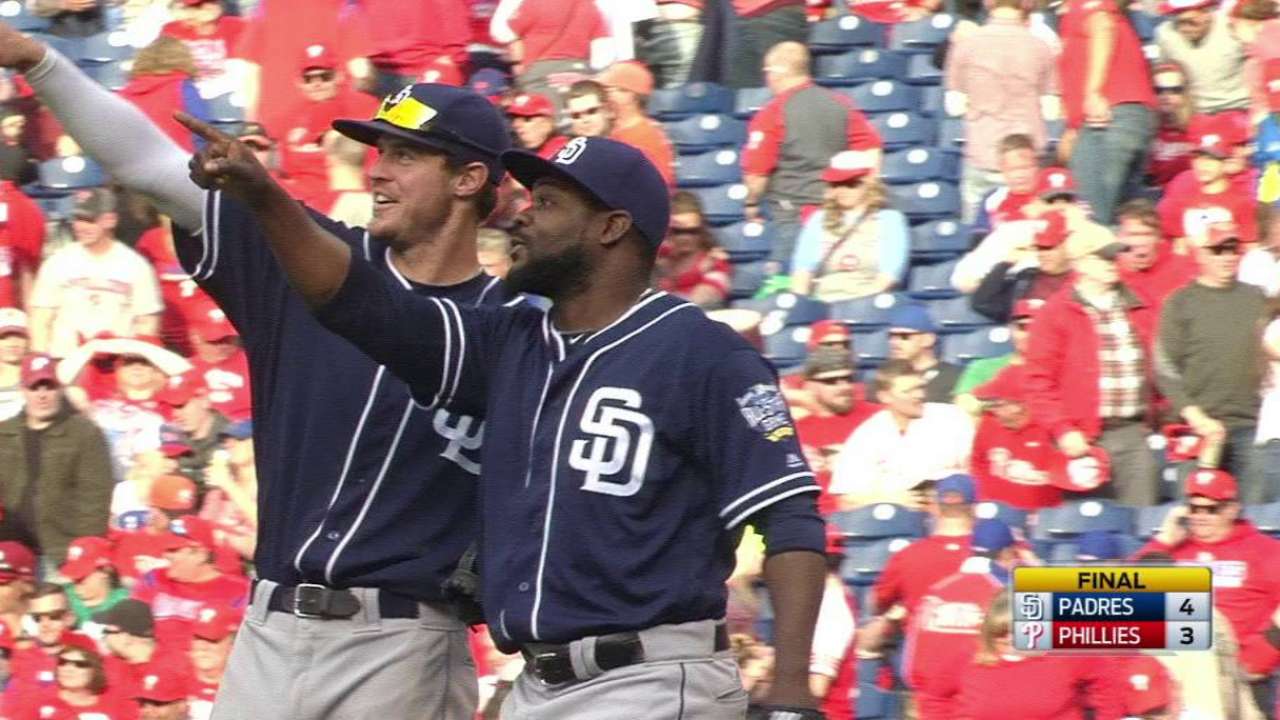 SAN DIEGO -- It didn't take long for San Diego to embrace Fernando Rodney's archery routine. Already, the Padres' closer says he has been greeted on the streets of his new city by fans who nock imaginary arrows and pull on imaginary bowstrings.
The bow-and-arrow celebration has long been a staple for Rodney, who signed with the Padres during the offseason. He began the routine in 2012 and said fans have mimicked it as form of greeting him ever since.
For Rodney, that's the whole point. Shooting an imaginary arrow -- like so many other things he does in the clubhouse, in the bullpen and on the field -- is simply a way of sharing his frivolity with the people around him. He may be 39, but nobody has as much fun playing baseball.
"The key is: Have fun and love it," Rodney said. "If you don't love baseball, you're not going to have fun, you're probably not going to play very long. Sometimes you see [players act like], 'I don't want to do this today, I don't want to do that today.' No! Have fun. Love it. You have to feel like a kid playing with your toys."
If there's anyone who exemplifies that mindset, it's Rodney, who still plays winter ball in his native Dominican Republic -- mostly because there's nowhere he'd rather be than on a pitching rubber.
Rodney grew up playing the sport year-round, and he sees no reason to stop now.
"Where I live in the Dominican, it's baseball, baseball, baseball, everywhere you go," Rodney said. "Growing up, I loved it, and I take that feeling when I play now."
If the arrow routine is Rodney's claim to fame, his crooked cap is a close second. For almost 15 years, Rodney has worn his hat skewed to the left at nearly a quarter turn.
But the sideways cap is not merely a Rodney-like quirk; there's a story behind it. Rodney's father, Ulise, was a fisherman, who blocked out the sun by similarly turning his cap. Ulise died in 2002, Rodney's first year in the Majors. To honor his father, Rodney turned his own hat, recreating those afternoons the two spent fishing in the Dominican sun.
Fifteen years later, Rodney's cap is still askew. In that time, he has amassed 237 career saves, fourth most among active players.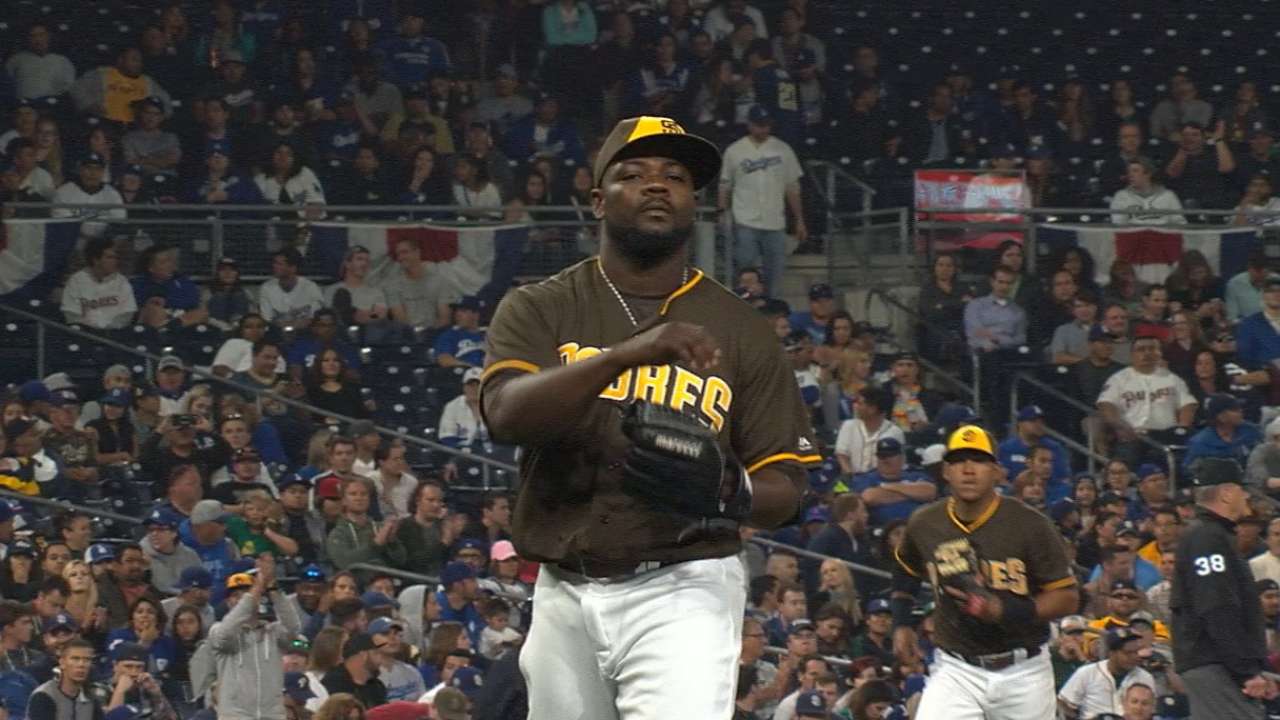 "He's got the personality to be who he is -- to be the closer, to be in the big leagues for 15 years," said fellow Padres reliever Carlos Villanueva. "Everybody loves him. When he comes in a room -- it feels like there's a fog machine, and he just glides in."
Despite Rodney's larger-than-life persona, he mostly keeps to himself when he's working. Teammates describe him as quiet during meetings and intensely focused during workouts.
In the eyes of manager Andy Green, Rodney's longevity is a direct result of that.
"The fun and the work ethic," Green said. "If you want to play deep into your 30s -- all those guys, they love it, they're passionate about it, and they work their tails off."
Added Villanueva: "I think I'm a hard worker, but watching him, you think, 'How old is this guy? He's been around how long? This guy can't be outworking me.' He motivates you to give it a little more."
In February, the Padres signed Rodney to a one-year deal with an option for 2017. Thus far, he hasn't disappointed, tossing 4 1/3 innings without allowing an earned run.
Rodney's clubhouse presence has been equally positive. Most notably, he has taken 22-year-old Dominican pitcher Luis Perdomo under his wing to great success.
"He's a great teammate and an off-the-charts person," said Green, who, like Rodney, was born in 1977. "I felt a little convicted today, because I'm a couple months younger than him, and he was in there with fruits and eggs and I was eating a doughnut. This is why I'm managing and you're playing. He gets after it."
Rodney is well aware that he's in the twilight of his career. That doesn't necessarily mean he's mulling retirement. Rodney says he'd like to play for a "couple more years."
And -- given the way his eyes light up when he talks about pitching -- it's easy to believe him.
"Every morning I prepare myself, I say, 'Thank you, God, for my chance, my opportunity,'" Rodney said. "I feel great. I want to keep going as long as I can. When my body feels like I can go no more, then I'll stop. ... But right now, I'll keep working hard, like it's my first day."
AJ Cassavell is a reporter for MLB.com. Follow him on Twitter @ajcassavell. This story was not subject to the approval of Major League Baseball or its clubs.