Twins bring back Gardenhire in front-office role
Former manager hired as special assistant to GM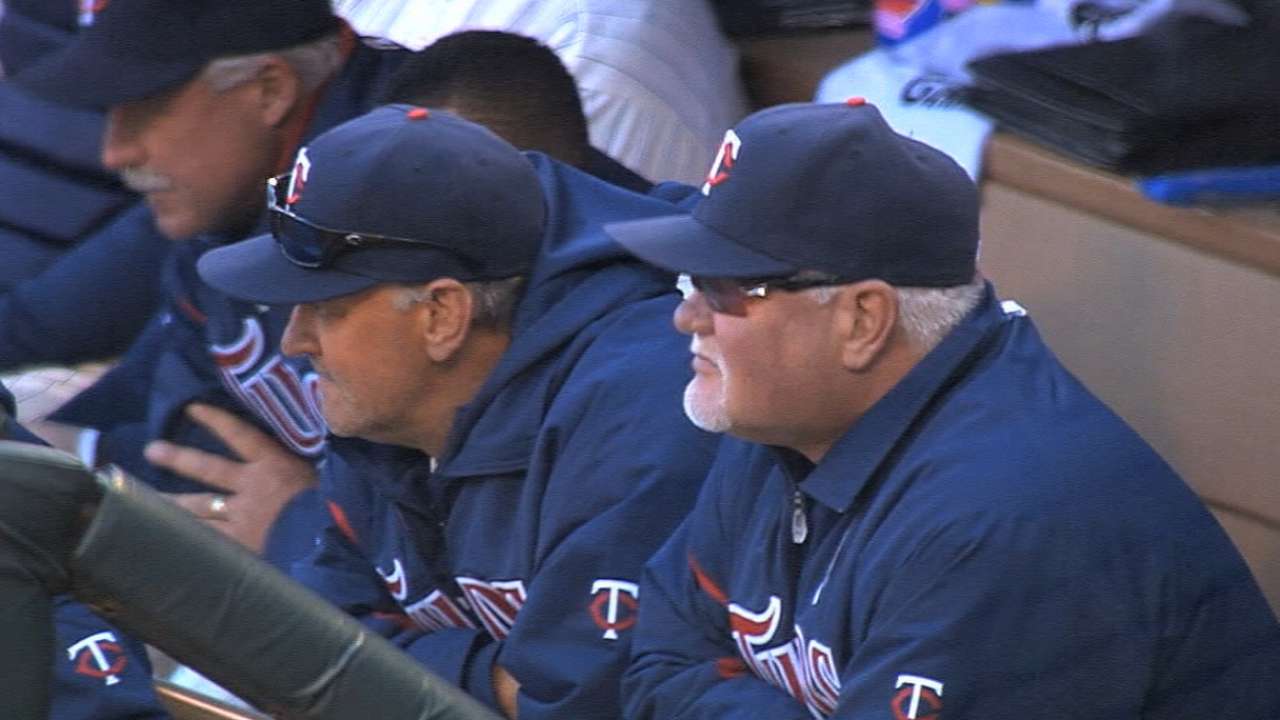 MINNEAPOLIS -- Former Twins manager Ron Gardenhire is rejoining the organization, as he was hired as a special assistant to general manager Terry Ryan, the club announced Monday.
Gardenhire, who managed the Twins from 2002-14, will serve as a roving Minor League instructor and evaluator and will also take on special assignments such as scouting at the Major League level. It's a similar role former manager Tom Kelly had with the organization after stepping down as manager following the '01 season.
"Terry had talked to me over the winter and told me he really wanted me to come back here," Gardenhire said in a teleconference. "I was biding my time and had other offers from other teams. But in Spring Training, Terry called me a couple of times and told me I really needed to do this, they wanted me back and it was a good fit and that I could help out."
Ryan said he's excited to have Gardenhire around, and that he finalized a one-year contract with him about two weeks ago.
"There are some days he'll be in uniform, there are some days he'll be behind the plate," Ryan said. "Whatever needs to be done. He has a lot of experience evaluating and teaching. He certainly can mentor the managers and coaches. He has a lot of value and has done just everything you can do in the game."
Gardenhire, 58, led the Twins to six division titles and was the American League Manager of the Year in '10. He finished as runner-up in '03, '04, '06, '08 and '09. Gardenhire was dismissed after the Twins finished four straight seasons with at least 90 losses, and he was replaced by Hall of Famer Paul Molitor last season.
Molitor, though, said he has a good relationship with Gardenhire and was happy to have him back on board.
"I think everyone is elated he chose to come back and help us out," Molitor said. "Gardy and I go back to when I came over here in '96. We coached together and he brought me back in '14. He's really smart. He knows just about everything about this game."
Gardenhire, whose main residence is in Fort Myers, Fla., where the Twins hold Spring Training, has already been helping out at the club's Class A Advanced affiliate there. He said it's a mix of instruction, especially infield defense, as well as evaluating prospects, and even other club's prospects. He said he'll head to every affiliate this summer and will also be able to give managerial advice, if needed.
"I'm going to see each club and I've already worked with some of the rookie kids here," Gardenhire said. "It's basically seeing all of our clubs in our system for at least five to six days for the first few months. And because I'm in Florida, I can work with extended Spring Training, the GCL and Rookie league. So it's a good situation. And in the summer, even the Major League teams."
Gardenhire served in a variety of roles with the Twins since joining the organization in 1987. He was a manager in the Minor Leagues before becoming the club's third-base coach in 1991. He eventually became the 12th manager in club history in '02, replacing Kelly. Gardenhire went 1,068-1,039 (.507) as Twins manager.
"I'm happy," third baseman Trevor Plouffe said. "Gardy is a guy who has a long, winning history with the organization. He took about a year and a half off from baseball, but that was probably a good thing for him. We're happy to have him back. He'll be a tremendous help here and in the Minor Leagues."
Gardenhire was a candidate for both the Padres' and Nationals' managerial openings this offseason. He said he was close to joining San Diego as a bench coach or in a front-office role but thought returning to Minnesota was a better fit.
Ryan said he's excited to have Gardenhire around, and that he finalized a one-year contract with him about two weeks ago.
"I'd rather have seen him get a managerial position, which would've been the first preference for everyone," Ryan said. "But he didn't get a managerial job or a position he felt comfortable with, so I re-upped the conversation. It's just a good fit."
Rhett Bollinger is a reporter for MLB.com. Read his blog, Bollinger Beat, follow him on Twitter @RhettBollinger and listen to his podcast. This story was not subject to the approval of Major League Baseball or its clubs.