Have Merce-y: Jordy impressing Pirates
Shortstop becoming leader in infield with dependable defense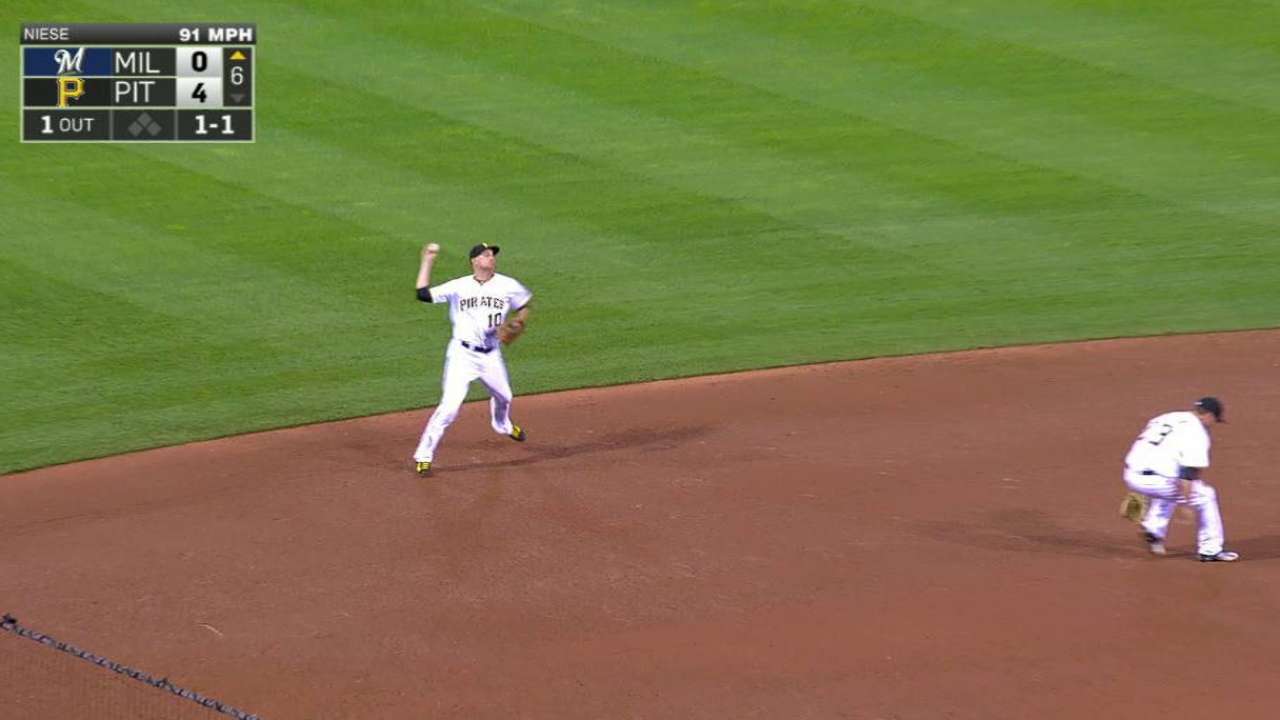 PITTSBURGH -- Look at a screen full of advanced metrics evaluating Jordy Mercer's defense, and you might think he's just an average shortstop.
Think again, says manager Clint Hurdle.
Mercer has continued to impress the Pirates with his consistently solid defense -- and he may have taken another step forward this year.
"He has grown in experience. He's grown in maturity as far as confidence in the infield, the dependability to take ownership of the infield," Hurdle said. "It's been fun to watch him grow up in the middle of the diamond."
Since the start of last season, Mercer ranks fifth among qualified shortstops with a .984 fielding percentage, but he's 10th in Defensive Runs Saved (zero) and Ultimate Zone Rating (1.5). What might the advanced metrics be missing? And does it matter?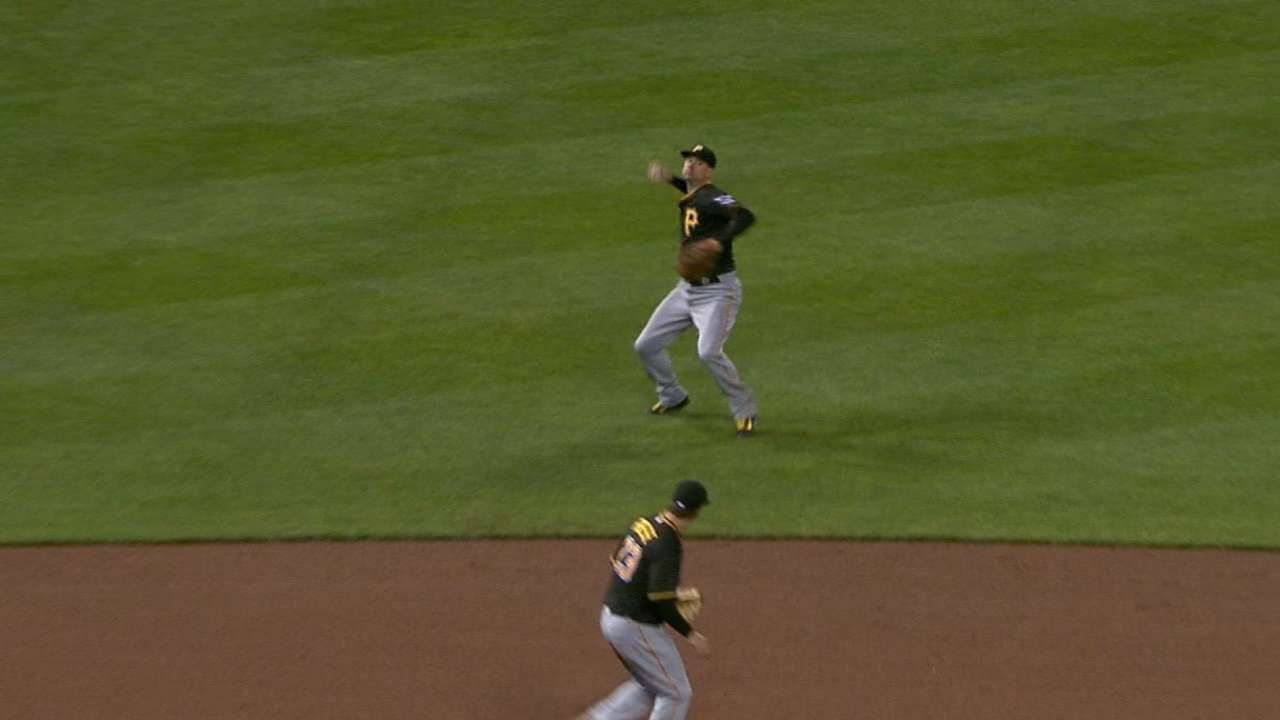 "Our pitchers will tell you what they think about him," Hurdle said. "That's probably the best litmus test you can get, more valuable than anybody else's opinion."
And what do they say about their sure-handed shortstop?
"I don't think I've ever come across anybody in my lifetime that plays the kind of shortstop that he plays," left-hander Jeff Locke said.
"He's a great leader out there," added Jonathon Niese. "He can go make a lot of plays."
The leadership role is new for the 29-year-old Mercer. This was the first time he reported to Spring Training with a guaranteed role, much less as the most experienced member of Pittsburgh's infield.
David Freese is new to the Pirates. John Jaso is learning first base. This will be Jung Ho Kang's second season. Josh Harrison is an experienced infielder, but this is his first season as the Bucs' everyday second baseman.
"It's different for me," Mercer said. "I've been there and done it a little bit. I've got to keep the ball rolling."
For proof of Mercer's value, look at the fifth inning of the Pirates' 5-0 win over the Brewers on Saturday. With two on, nobody out and Pittsburgh up by three, Ramon Flores sent a sharp grounder to the left side of the infield.
Mercer ranged to his right, scooped up the ball and made a tough throw to Freese, forcing out the lead runner. As impressive as the play itself? Right before Niese's pitch, Mercer told Freese what he'd do in that exact situation.
"No one thinks of that," Locke said.
That play by Jordy had Freese like... pic.twitter.com/ZgMjplP8bp

— Pittsburgh Pirates (@Pirates) April 17, 2016
"When the ball's hit, in your mind is, 'How's he going to get it to first?'" said Hurdle. "'Wait a minute! He threw it to third! We got an out! Way to go!'"
Locke has watched Mercer's maturation since they shared neighboring lockers in Class A, and he echoed a familiar refrain about the shortstop: You won't fully appreciate his defense if you watch him play only one game or one series, nor by looking at his numbers.
"I've been fortunate enough to come up through the system and watch him play every day," Locke said. "There's not a lot of guys who can play the defense he plays at shortstop."
Adam Berry is a reporter for MLB.com. Follow him on Twitter at @adamdberry. This story was not subject to the approval of Major League Baseball or its clubs.