5 players to target in fantasy right now
Kluber, Archer, Dozier have star power to rebound from slow starts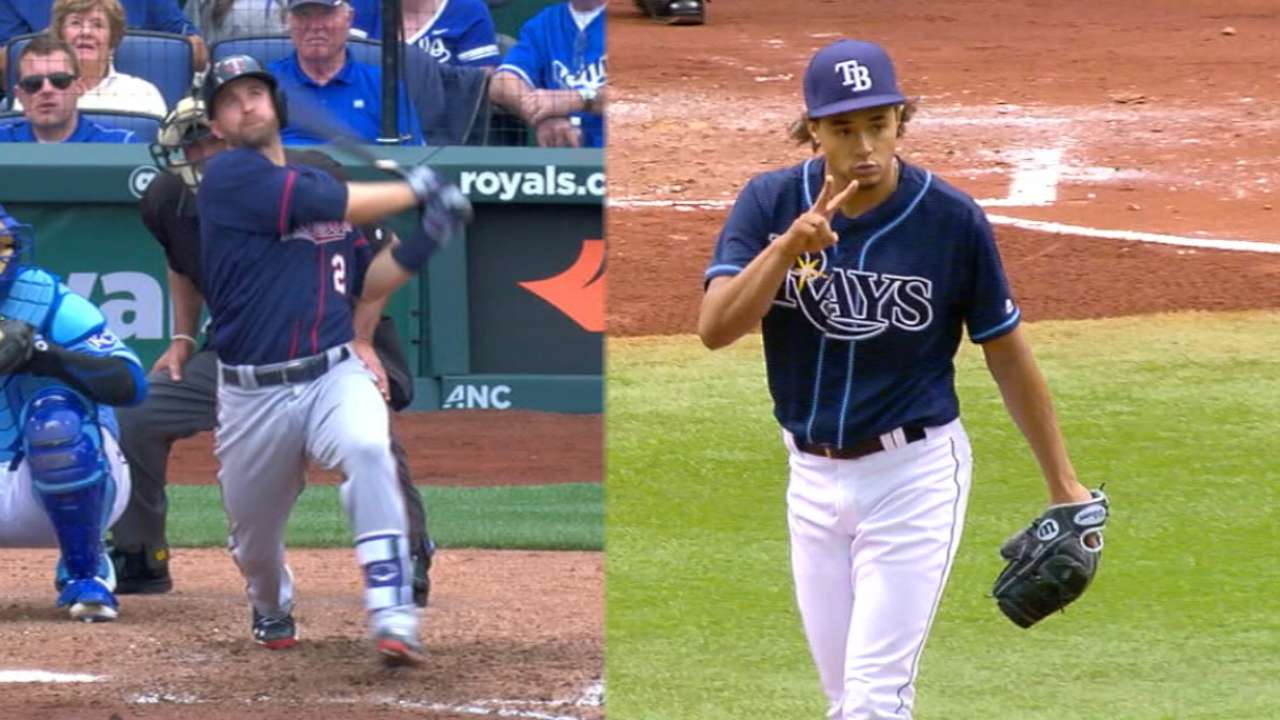 It has been only two weeks. It's also never too soon to consider making a move to improve your fantasy roster, whether your squad is off to a good start -- or a not-so-good one.
If your team has been performing at or above expectations, then you can look to make sure it stays that way by bringing aboard even more talent. And if it's been underperforming, well, you always can try to shake things up a bit.
Either way, these five players make for good gets if you're buying low.
Corey Kluber, SP:
Fantasy owners tend to get frustrated when their supposed stud starters get off to bad beginnings, simply because pitchers offer only 30 or so outings over which to generate production. Two or three subpar efforts? Not necessarily the end of the world. But four or five? That can turn frustration into full-on freak out.
After Kluber authored another unimpressive showing Sunday night against the Mets (six runs on nine hits over six innings), the Indians ace now has been knocked around in two of his first three games -- and owns a record of 0-3 with a 6.16 ERA and 1.42 WHIP. Not only is that not good, it also may be evoking memories of his rough 2015 start (0-5, 5.04 ERA, 1.39 WHIP) for those who own him.
So why, exactly, does the 30-year-old right-hander qualify as a buy-low candidate? Well, he's still a recent Cy Young winner who wound up whiffing 245 total batters -- fifth-most in MLB -- and pitching brilliantly over his final 25 starts last season (3.10 ERA, 0.97 WHIP). Plus, Kluber is still striking out a batter per inning against only five walks over his first 19 frames. The 22 hits he's surrendered is an unlucky product of a .357 BABIP that is going to drop, much like his ERA and WHIP soon will.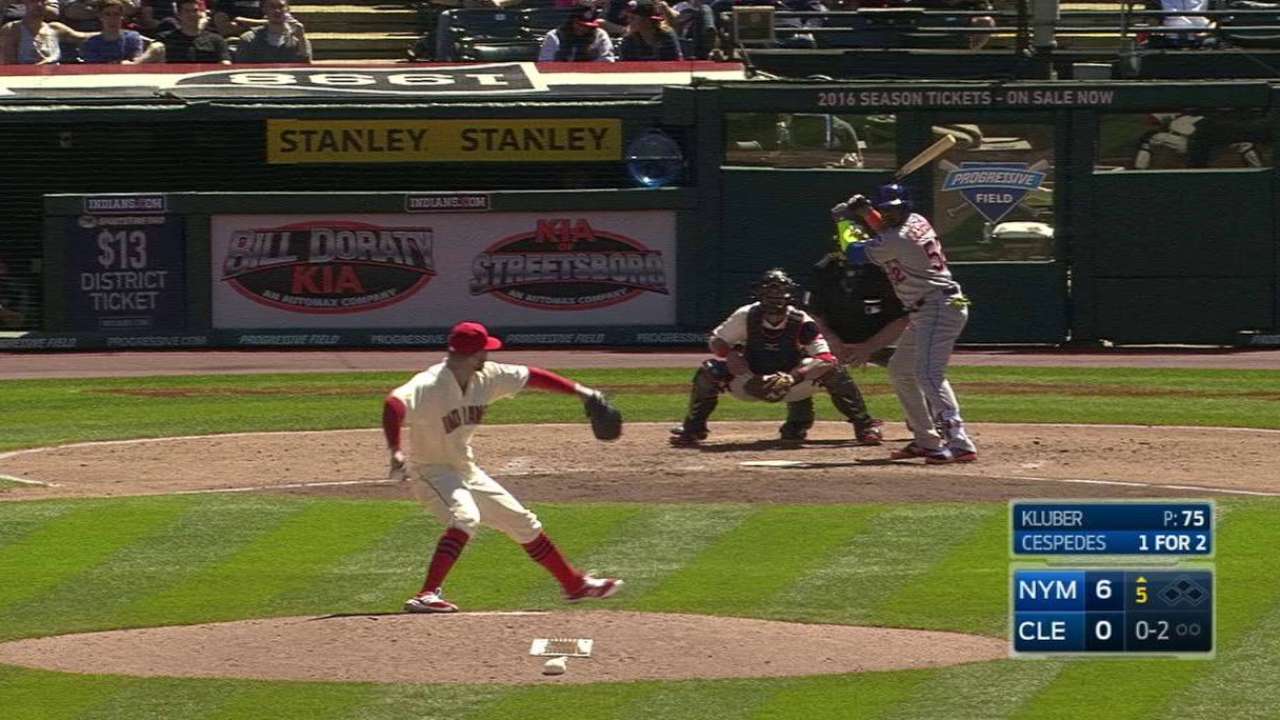 Chris Archer, SP:
Remember that whole discussion about worrying too much about pitchers off to shaky starts? Chances are, owners who drafted Archer did so not only with an early-round pick but also with designs on the 27-year-old being a fantasy ace.
So far, that hasn't been the case. The Rays righty is 0-3 with a 5.87 ERA -- and a WHIP that looks like an owner's pie-in-the-sky hope for an ERA (1.96).While Archer's 4.7 BB/9 rate is elevated, the main culprits for his high ERA and WHIP are an unsustainable .436 BABIP and five homers allowed in just 15 1/3 innings. Those will calm down, because Archer's electric stuff remains, as evidenced by the 23 strikeouts he's racked up. Go get him while you still can.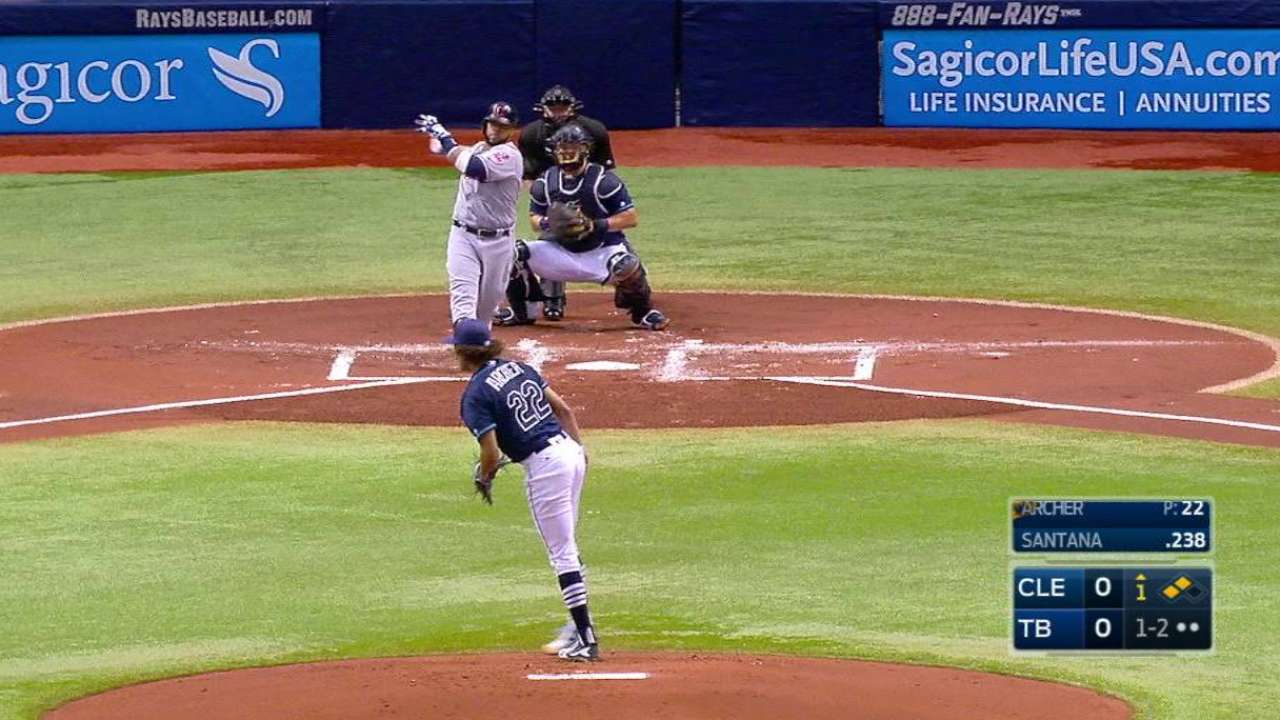 Kyle Seager, 3B:
Look, it has not been pretty for Seager, who is hitting .119 with a homer and five RBIs. That's not gonna cut it for a starting third baseman in fantasy.
But this is a 28-year-old who has hit between .259 and .268 in each of the past four seasons, while also averaging 23 long balls, 81 RBIs and 74 runs per year in that time. In other words, it's going to get better. Quite a lot better.
One sign? Seager is not going to maintain an unsustainably low .129 BABIP, which is the fourth-worst in the entire sport. Another sign? His 12.2 percent walk rate currently is a career high, so his plate discipline hasn't vanished.
Brian Dozier, 2B:
Sometimes the perception of a player gets caught up with that of his team, knocking down or building up the fantasy narrative of said player even more. This is what's happening with Dozier, who has had the not-so-good fortune of struggling for the first two weeks (.167 BA, 2 R, 1 HR, 2 RBIs, 2 SB) on a team that lost its first nine games.
Thing is, Dozier -- and the Twins -- are better than this. Yes, the 28-year-old is a batting-average risk who might not hit .250, but he's also coming off a career-high 28 homers in 2015 -- and his 70 since the start of 2013 lead all second basemen. He'll even chip in 12-15 stolen bases, to boot.
One glance at Dozier's .194 BABIP should be enough to make you feel good about going after him in a trade. But if you need any extra incentive, just peek at his walk (10.2) and whiff (20.4) rates, both of which are right in line with his career numbers. Throw in his perch at or near the top of a Twins lineup that only can get better, and the bright side becomes evident quite quickly. This is a proven player who'll have plenty of opportunities to hit, reach base and cause havoc once he does. But by the way things have gone so far, merely inquiring about Dozier may be all you need to do to acquire him.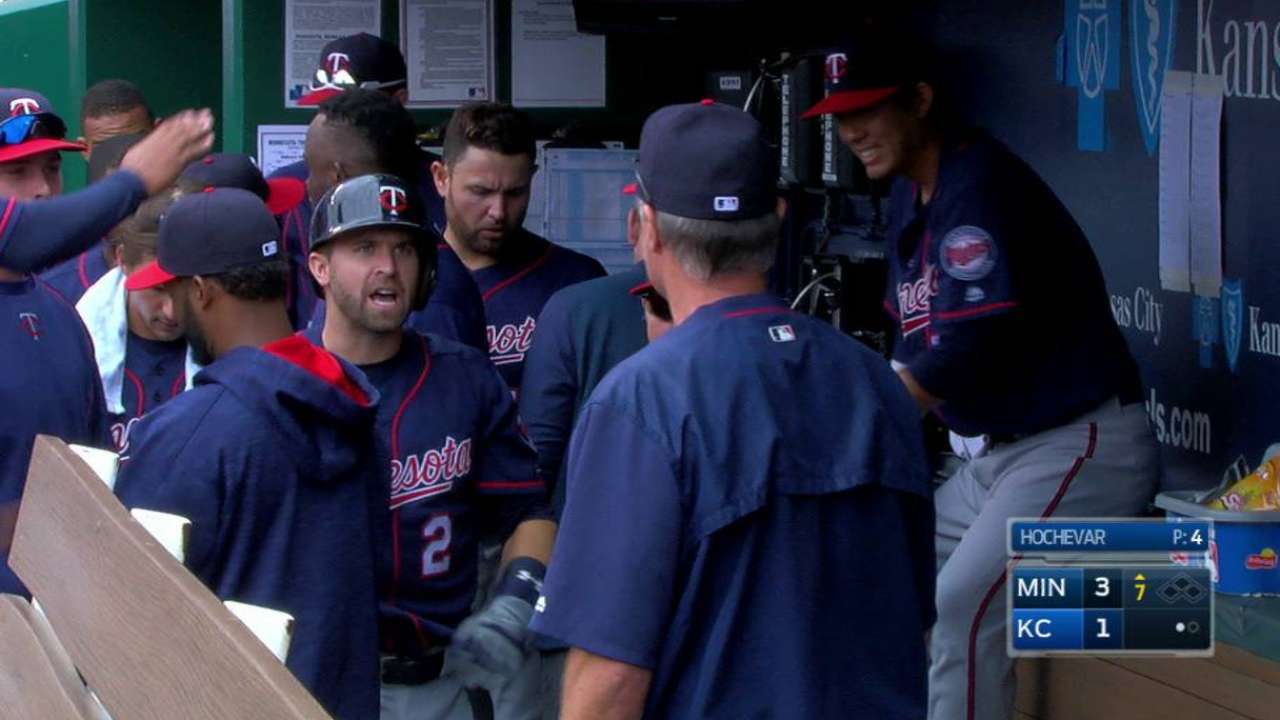 Jorge Soler , OF:
As unfortunate as Kyle Schwarber's season-ending knee injury was for just about everyone -- from the Cubs to baseball fans in general to his fantasy owners to the young man himself -- it does open the door for someone else. That player is Soler, who seemed to have been squeezed out of guaranteed playing time at the outset of the season, what with the arrival of Jason Heyward and return of Dexter Fowler, in addition to Schwarber's rapid ascension.
Although Soler has yet to seize the chance (.235 BA, 7 R, 2 HR, 5 RBIs, 0 SB), he's now in position to, well, have a regular position again: left field.
Despite all the preseason hype surrounding the Cubs' offense, the unit actually hasn't quite gotten on track just yet, at least from a power-hitting perspective. The club's 13 homers and .406 slugging percentage rank tied for 11th and 13th, respectively, in baseball through Sunday's games. (Don't worry: Anthony Rizzo and Kris Bryant will be just fine, folks.)
The fact that the Cubs still rank second in the sport with 71 runs scored, then, is a testament to their .356 team on-base percentage (No. 3 overall). That's just the sort of lineup Soler could thrive in, given his power potential. Remember: A year ago at this time, he was one of the most sought-after rookies in fantasy. And despite the fact that it seems like Soler has been around forever since he left Cuba, signed with Chicago and broke out in the Minors, he only just turned 24 in February. He's still finding himself in the big leagues, but he's shown flashes -- including his monster postseason last October. If you don't mind a little risk, this is the buy-low chance for you to take.
Jason Catania is a fantasy writer for MLB.com. This story was not subject to the approval of Major League Baseball or its clubs.