MLB.com Columnist
Jonathan Mayo
Frazier, Zimmer provide hope for Indians' future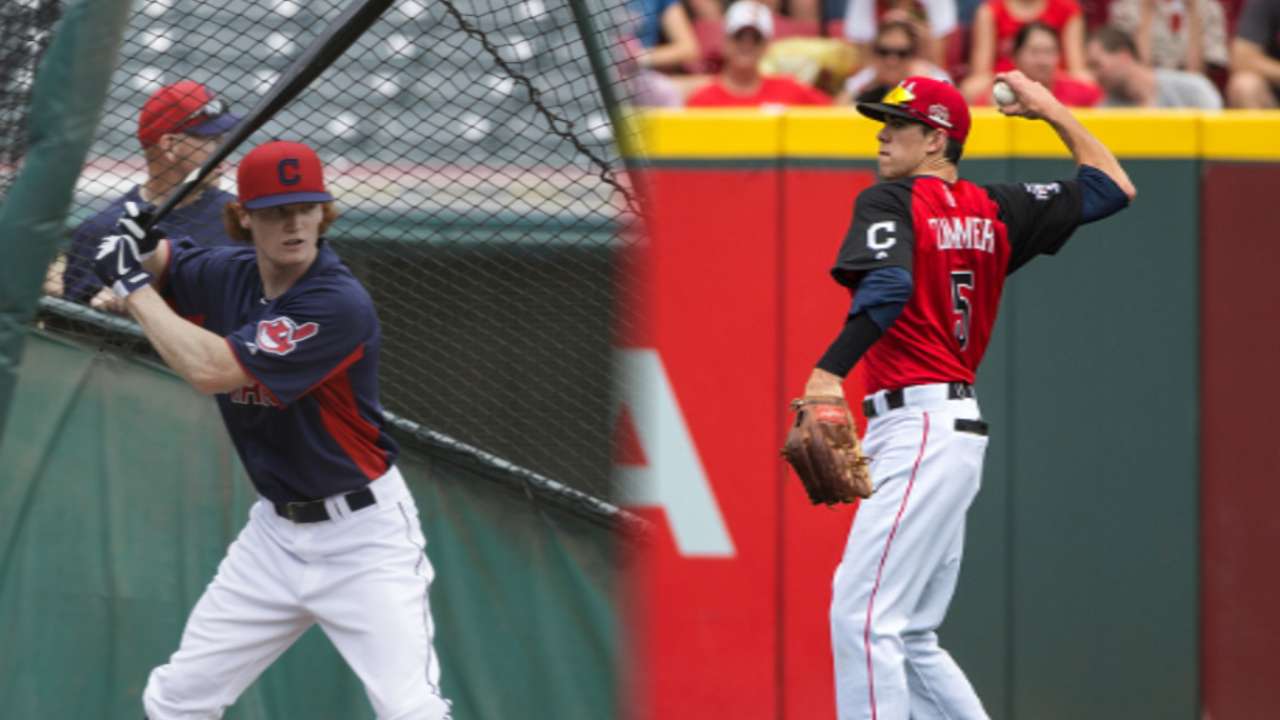 AKRON, Ohio -- The future of the Indians' outfield is roughly 40 miles south of Progressive Field and two levels away.
For now, the grass at the Double-A Akron RubberDucks' Canal Park is where Bradley Zimmer and Clint Frazier roam, but it's likely to be a temporary stop on the duo's path up to the big leagues. And lest one think this is a Cain and Abel kind of rivalry, with one trying to do anything to get to Cleveland ahead of -- or instead of -- the other, it appears that there actually is interest in each being his brother's keeper.
"I think we definitely push each other on a daily basis, which is good for our careers going forward," Zimmer said. "Hopefully we'll be playing together for a long time, so I think it's good that we're meshing together moving up through the Minors, building the chemistry as we're coming up all the way to the Majors."
"Bradley and I kind of hit it off right away," Frazier said. "I'm able to pick his brain and utilize some of the tools he has, try to take them into the game. Him being older, it's easier for me to look to him for some pointers since he's a little more experienced. I'm just glad to be sitting here with him.
"Big brother, little brother. You can decide who is the big brother."
Zimmer is two years older than Frazier, though it is Frazier with an extra year's pro experience under his belt. They will likely always be lumped together as back-to-back first-round picks, Frazier going No. 5 overall in 2013, Zimmer being taken with the 21st pick of the 2014 Draft. Zimmer and Frazier are the top two prospects in MLBPipeline.com's Indians' Top 30.
Both have played center field over the course of their time in the Indians organization, but until a new defensive shift calls for two up-the-middle players in the outfield, one has to make way for the other. In Akron, it has been Zimmer in center and Frazier in right. Bruised egos? Not so much.
"Just to be in the lineup is something I'm happy to be in," Frazier said. "It doesn't matter where I'm playing as long as I get to play. Whether I'm in center, left or right, I'm happy to just be out there and I'm happy to be with these guys."
This isn't the first time the duo has shared an outfield. They spent the first half of the 2015 season in the Carolina League together until Zimmer got bumped up right after appearing in the Futures Game in Cincinnati. After a stellar first half, Zimmer struggled in the Eastern League, largely because he tried to play with what turned out to be a fractured right foot and because he tried to show he deserved the promotion just a bit too much. That's a lesson he has brought into this season for himself, as well as passing it along to his outfield teammate.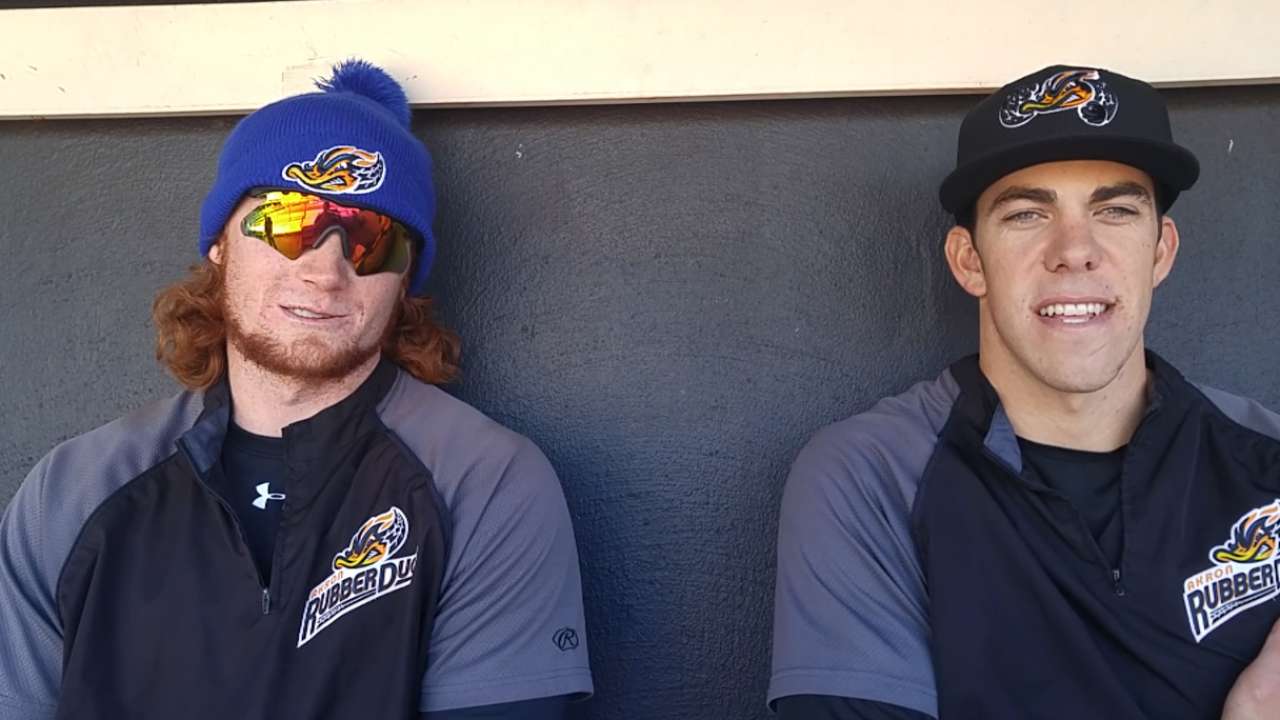 "I think just knowing yourself as a player, not trying to be someone you're not," Zimmer said. "Jumping up a level, you don't have to do something different to try and impress anyone. Just go out there and do yourself, play the game and have fun."
This is another instance where there could be some jealousy, with Zimmer moving up in his first full year while Frazier stayed down in the Carolina League. Instead, Frazier used it as fuel to have a huge second half and to continue to hit well in the Arizona Fall League so he'd be ready to rejoin Zimmer in Double-A this year.
"I was happy for him," Frazier said. "It obviously motivated me to want to catch back up to him and continue to develop on the same team as him. When he went up, I kind of had to take on the role that he's not here to push me anymore, so I had to find a way to go out there and find it within myself to come out there every day and compete."
On the surface, Zimmer and Frazier are very different. Frazier is compact and powerful, with long red hair, using tremendous bat speed from the right side of the plate. Zimmer is tall and lean, a left-handed hitter with a smooth stroke. Despite these differences, both bring a power-speed dynamic to the table. Both had double digits in home runs and steals in 2015, with perhaps 20-20 potential. And both glean things from each other.
"I think we're similar players, so just getting to watch each other [is helpful]," Zimmer said. "We play side by side so we can bounce ideas off each other. Getting to watch him hit, that's definitely beneficial to me to see his approach at the plate."
"He has the ability to impact the game in a lot of ways," Frazier said. "One thing I've tried to emulate is when he gets on base, he goes right away. That's something I want to build up, the confidence and [having] the ability to impact the game in the ways that he does."
Both hope to impact the game in Cleveland before long. They see what fellow outfield prospect Tyler Naquin is doing in the big leagues and are eager to be the next in line.
"Tyler was here not too long ago, so for him to be up in the Major Leagues right now is a good taste to have," Frazier said. "I'm supporting him, and I hope to be up there with him soon."
"I'm having a great time watching him play so far," Zimmer said. "I think it definitely does motivate us. It goes to show if you work hard, continue to grind it out and do good things, we'll be there with him."
Jonathan Mayo is a reporter for MLBPipeline.com. Follow him on Twitter @JonathanMayo and Facebook, and listen to him on the weekly Pipeline Podcast. This story was not subject to the approval of Major League Baseball or its clubs.