Andrus won't let one inning define him
Rangers shortstop moves past last year's ALDS Game 5, starts 2016 strong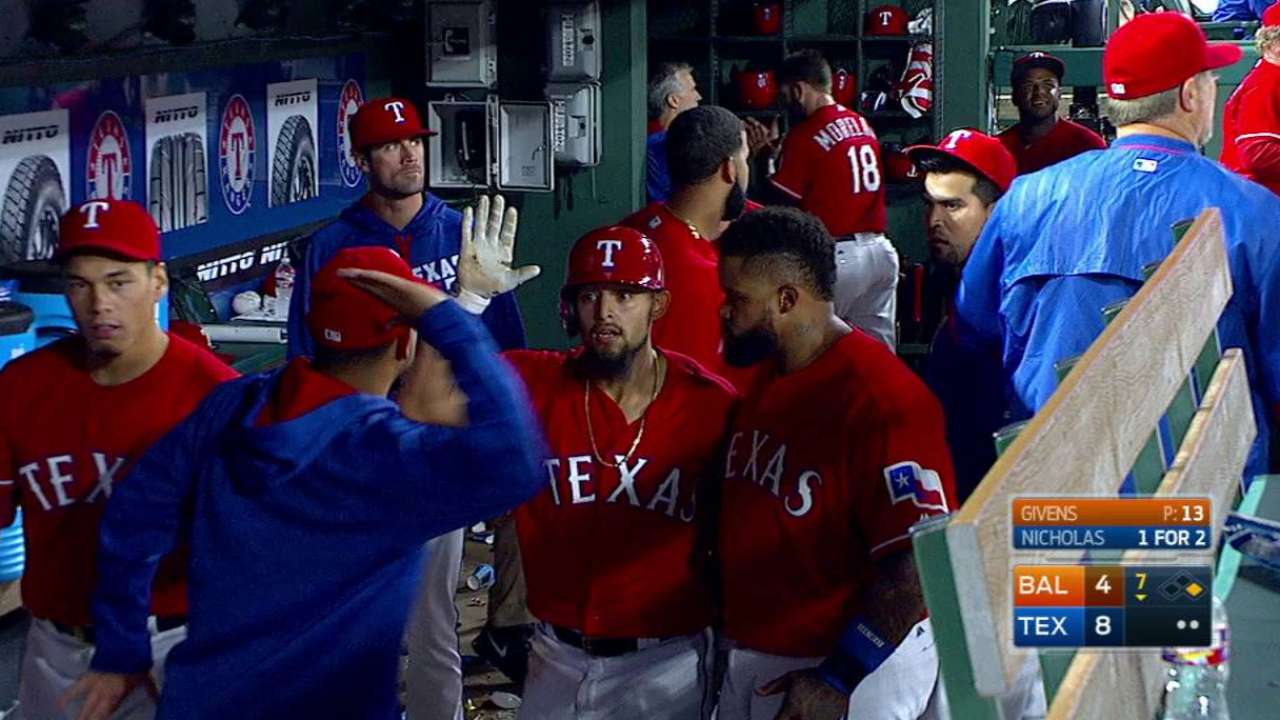 ARLINGTON -- Rangers shortstop Elvis Andrus can be a goofball. He loves to talk incessantly, dump buckets of ice water over his teammates and torment third baseman Adrian Beltre.
But, through the first two weeks of the season, Andrus is reinforcing another side of his personality. Andrus is showing his mental toughness. He is hitting .351, making all the routine plays in the field and helping the Rangers lead the league in double plays.
The speculation on how Andrus would recover from Game 5 of the American League Division Series, when he made two key errors, appears to be much ado about nothing. Andrus marches on in his eighth season with the Rangers, trying to stay on top of his game with the advancement of age at a young-man's position and increased competition from young players behind him.
"Basically, from what I have seen and how he handled it, if you are not mentally tough, you don't handle it the way he handled it," Rangers manager Jeff Banister said. "The entire winter the guy came to work showing what he is and what he wants to be. I believe he is a very strong person mentally. He has the ability to wash off things that don't play out perfectly.
"He loves to play the game. He has great joy playing the game. Even though players show frustration in tough times, they still post up and play the game with great enthusiasm and joy."
The tough times came in the seventh inning of Game 5 in Toronto. The Rangers led, 3-2, but Andrus committed two errors on routine plays behind Cole Hamels. The Blue Jays rallied for a 6-3 victory and the Rangers' season was over. All that was left was to wonder how Andrus would respond to the debacle.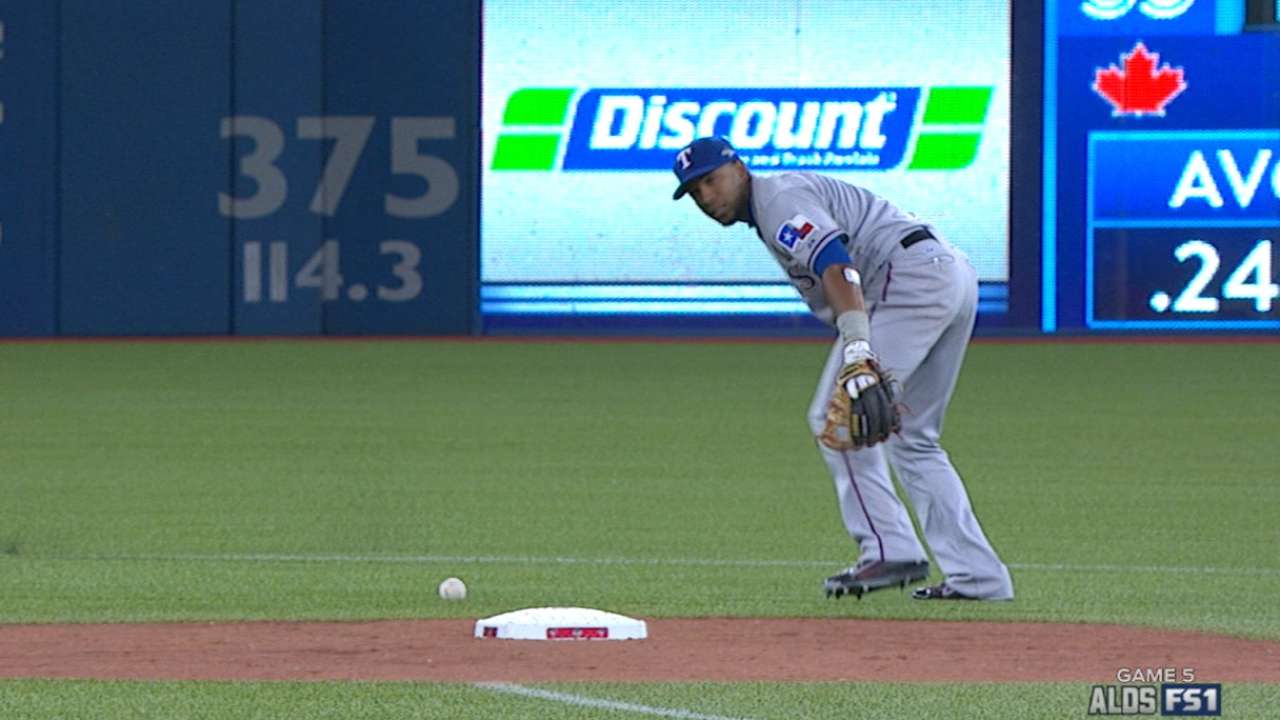 He responded by becoming the leader of the Rangers' daily offseason workouts in Arlington, determined to not let one inning bring him down.
"It was in my mind for a little while for sure, but I think through a career, a moment like that happens to a player," Andrus said. "Like I always said, I'm not going to let that define who I am as a player. Tried to use it as motivation and that's what I did all offseason. I want to use that to continue to get better.
"I am really hard on myself all the time. I have a lot of pride as a player and I want to win. I wanted the season to start the next day. But right now I am having fun: play baseball, try to be a pain the rear again, get on base and play good defense."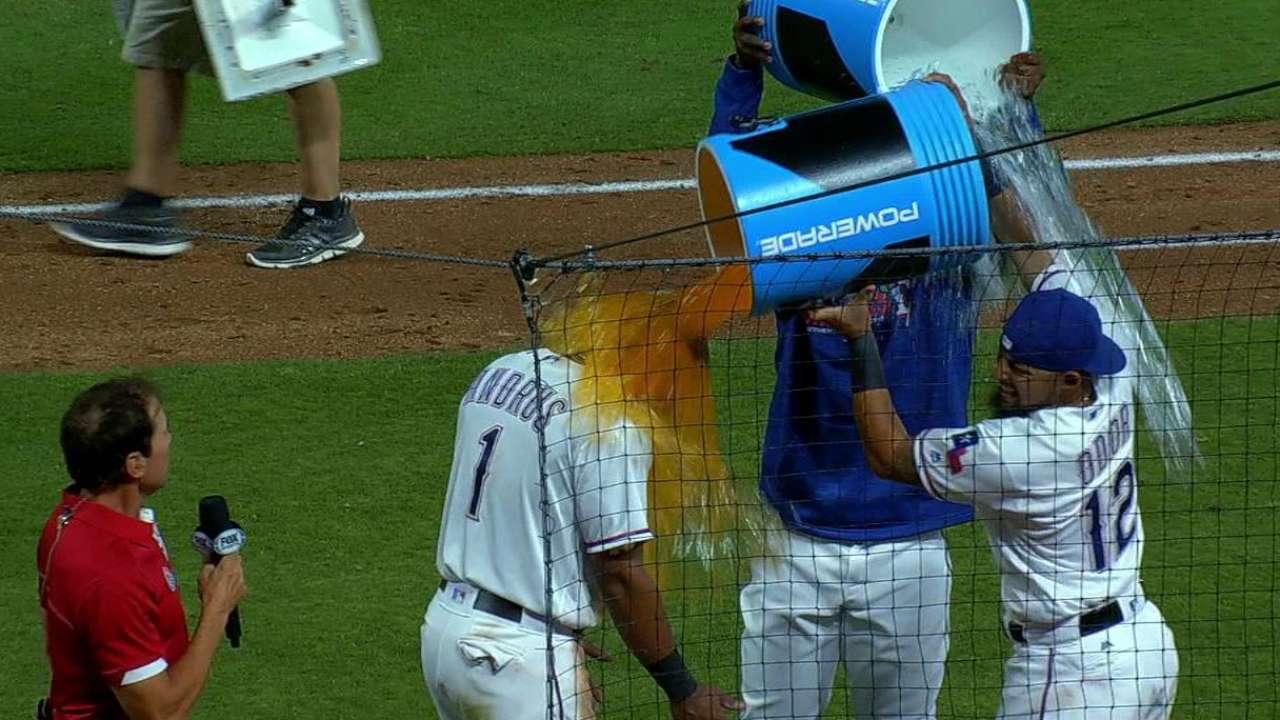 A .351 batting average in 13 games may be a small sample. But Andrus hit .230 in April in each of the last two years.
"I am feeling good, man," Andrus said. "I think what I have been trying to work on in the offseason, staying back and stay inside the ball, don't try to do too much, let everything come to me. I'm not trying to think too much. Just see as many pitches as I can and try to get on base as much as I can."
It's easy to forget that Andrus was the starting shortstop on two AL pennant winners, but that was five years ago. He is 27 and now in his eighth season with the Rangers. The challenge is to stay being Elvis Andrus.
His complicated defense metrics aren't as high as they were in the two World Series years. He had the highest Range Factor among shortstops in the AL last year with 4.9 chances per nine innings, but also with the second-most (22) errors. His 25 stolen bases were the second fewest of his career.
Sometimes unaccounted factors contribute. Defensively, the Rangers shift much more than earlier in Andrus' career, which allows him to get to more balls but also puts him in unfamiliar territory.
Part of the decline in stolen bases is Andrus has become an unforeseen victim of the replay reviews because of his head-first slide. More than a few stolen bases that would have been unchallenged in the past have turned into outs when revealed those who come head-first have a tendency to disengage the bag in the middle of the slide.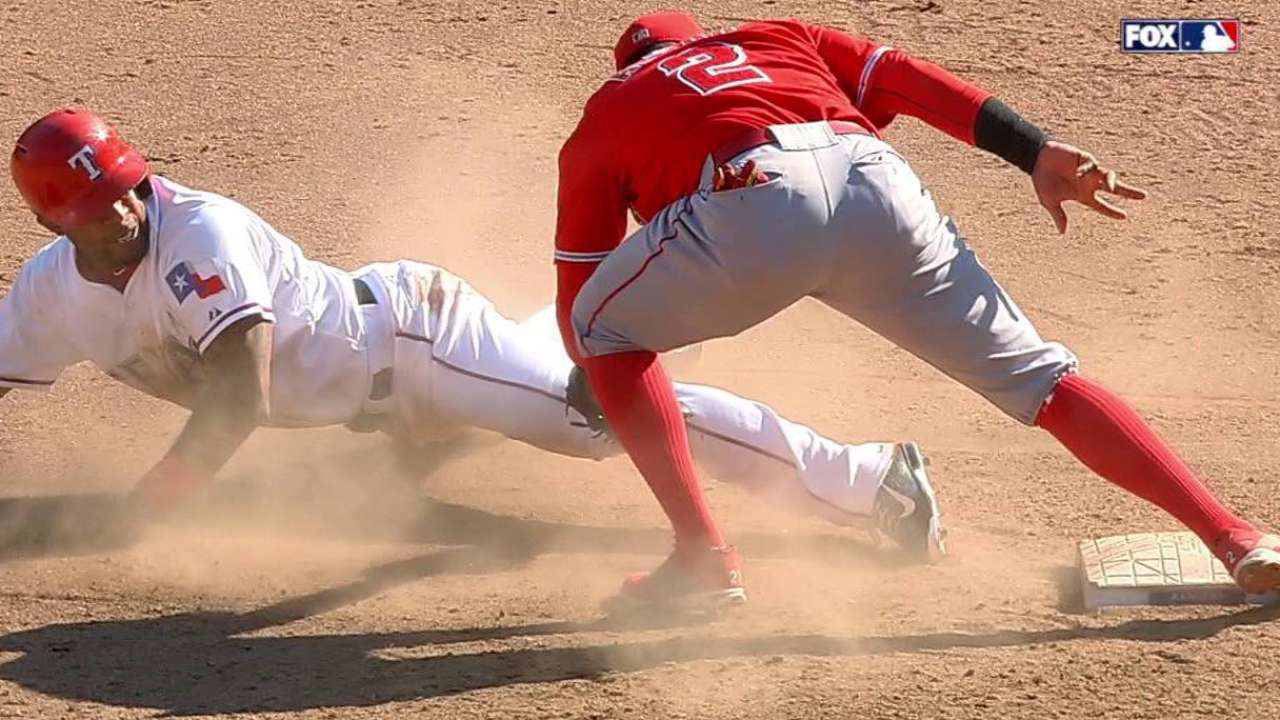 "I learn," Andrus said. "I have way more experience now. I don't think I have changed too much. I am trying to simplify and not try to do too much or do things different. That's when you get mixed up. One thing I learned, get better at my strengths and work on my weaknesses to let them become strengths.
"Right now I am in a good place mentally, physically."
The Rangers need him at the top of his game because he is only beginning the second year of his eight-year contract extension. Andrus is locked in through 2022.
He also has players lined up eager to take his job. His backup is Hanser Alberto, and Jurickson Profar is playing at Triple-A. Three of the Rangers' top 30 prospects -- Josh Morgan, Yeyson Yrizarri and Michael De Leon -- are shortstops.
They all want to be Andrus.
"I was there too," Andrus said. "There is nothing wrong with that. It's a sport -- every year gets tougher. There is a lot more young talent out there. They are young, but I'm still young. That's good. I just want to enjoy the game right now. Don't think about what happened last year, just use it to my advantage.
"So far, so good."
T.R. Sullivan is a reporter for MLB.com. Follow him on Twitter @Sullivan_Ranger and listen to his podcast. This story was not subject to the approval of Major League Baseball or its clubs.