MLB.com Columnist
Fred Zinkie
Rox, O's, 'Stros enjoy Mile High fantasy start
Story, Trumbo, Kershaw, White off to white-hot beginnings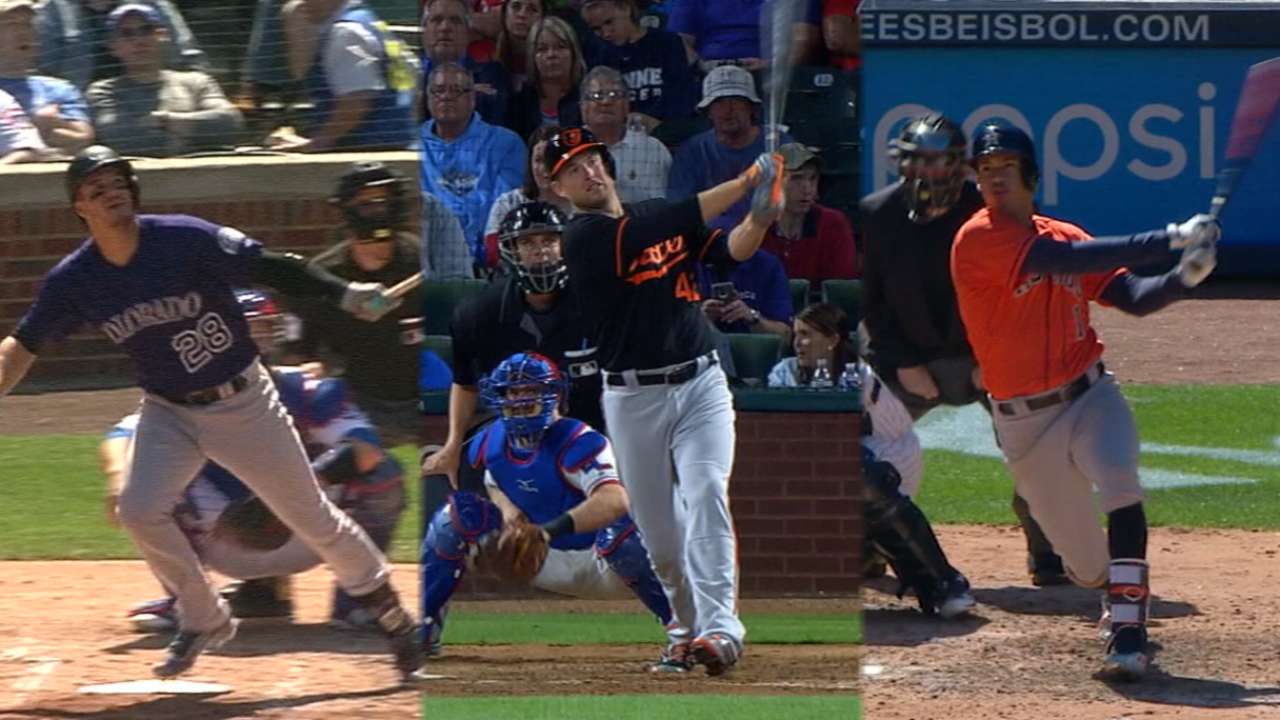 You've grown accustomed to MLB.com's regular Power Rankings series. Well, get ready for a fantasy-slanted spin-off. There undoubtedly will be some correlation between the "real life" and "fantasy" lists, but differences should abound.
Below, you will find the top big league clubs to date from a fantasy angle. The rankings were decided by a committee of MLB.com fantasy experts and influenced by each team's performance in the standard 5x5 rotisserie categories.
For hitters we used batting average, homers, runs, RBIs, stolen bases. For pitchers we used wins, ERA, WHIP, strikeouts and saves.
Since the typical 12-team fantasy league has only 276 active players at any time, the Fantasy Power Rankings focus primarily on starting pitchers, key relievers and starting lineups. So while your club may have the best bench in all of MLB, such matters less for fantasy purposes. Without further ado, let's look at the top teams through Fantasy Week 2.
1. Rockies: With almost all of their early-season games coming in extreme hitter-friendly venues, the Rockies have produced several elite fantasy sluggers and a serviceable starter.
How they got here: With seven homers, Trevor Story has been arguably the top fantasy story to this point in the season. Nolan Arenado, DJ LeMahieu and Carlos Gonzalez have also been elite hitters, and Chad Bettis has been a useful starter. Because their ranking is almost entirely driven by offense, the Rockies may struggle to hold the top Fantasy Power Rankings spot when they eventually play a string of games at pitcher-friendly parks.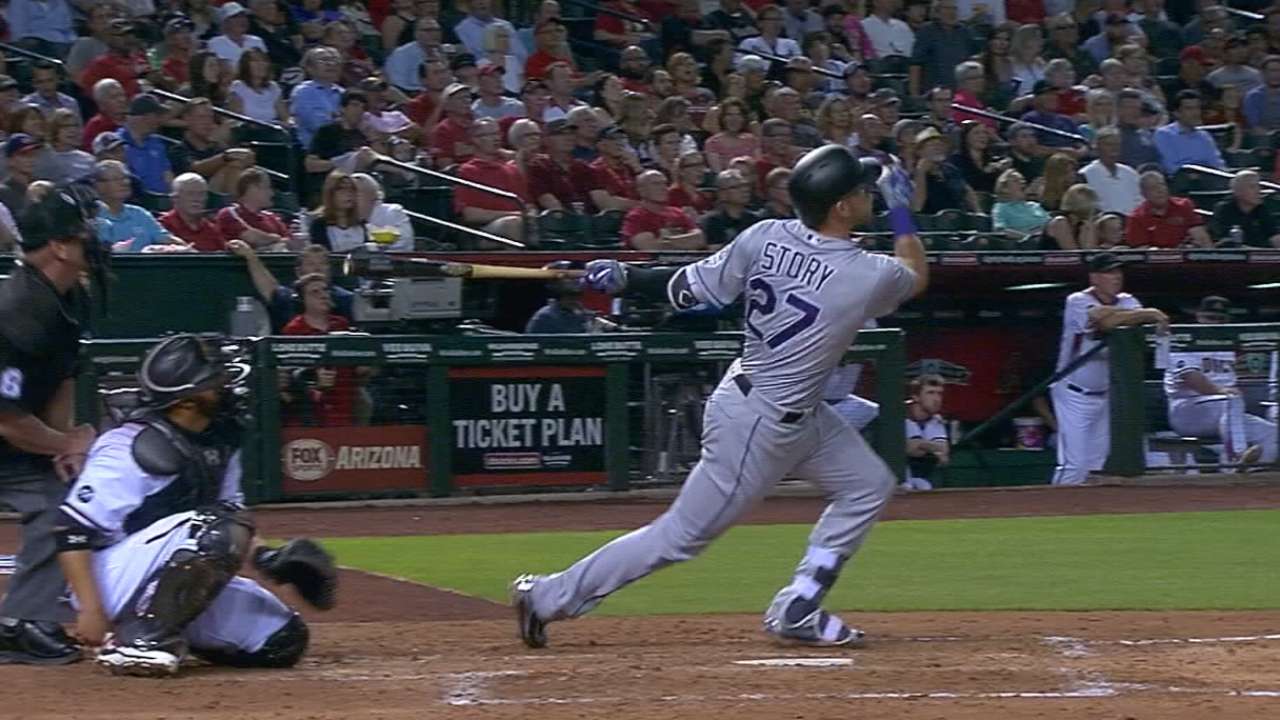 2. Orioles: Tied for the Major League lead in homers (23) and armed with a shutdown bullpen, the Orioles have produced some of the early year's best sluggers and relievers.
How they got here : With five long balls, Mark Trumbo has teamed up with Manny Machado and Chris Davis to give Baltimore three premier power bats. Out in the bullpen, closer Zach Britton continues to rank among the game's most reliable closers, and Brad Brach has been one of the few middle relievers to produce shallow-league value.
3. Astros Fantasy owners who picked the best Astros on draft day have not been disappointed, with the club's stars impressing a great deal in the early going.
How they got here: First-round picks in many drafts this spring, Carlos Correa and Jose Altuve have so far justified their owners' confidence. On the mound, reigning American League Cy Young Award winner Dallas Keuchel has delivered ace-level production despite some control woes. However, the biggest surprise to date has been the play of first baseman Tyler White, who opened his big league career by taking home AL Player of the Week honors.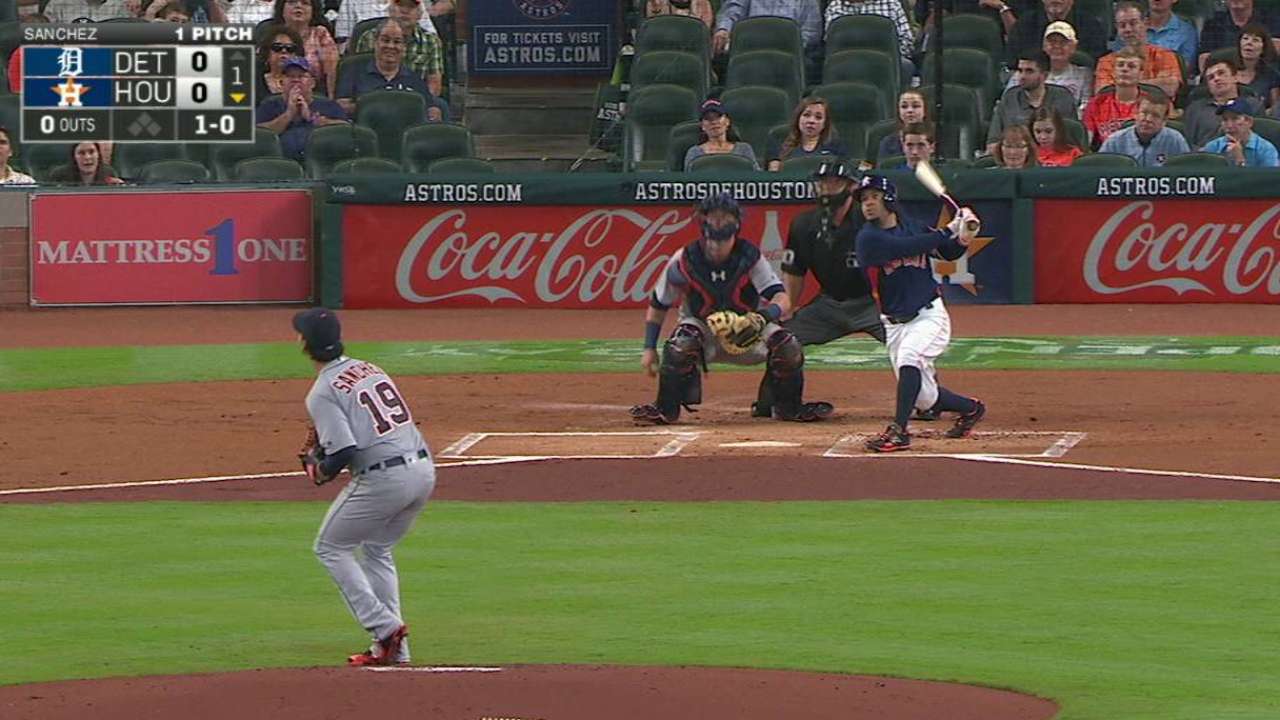 4. Cardinals: On a veteran-laden squad, a pair of previously unknown players have spurred the Cardinals out of the gate.
How they got here: Who knew that Jeremy Hazelbaker and Aledmys Diaz would be the Cardinals' top fantasy assets through Week 2? Anyone who raises their hand is lying. They have not been alone, though, as Randal Grichuk turned around a brief slump to return to his power-hitting ways, while Brandon Moss has been surprisingly productive. On the mound, Jaime Garcia and Carlos Martinez have led a rotation that should only improve once Adam Wainwright gets on track.
5. Dodgers: Led by (who else?) Clayton Kershaw, the Dodgers have ridden a trio of impact arms to a top-5 spot in this week's rankings.
How they got here: Kershaw so far has been baseball's best fantasy starter, a designation he will likely hold all year. The three-time NL Cy Young Award winner has not been a one-man show, though, as fellow starter Kenta Maeda and closer Kenley Jansen having also impressed. On offense, Yasiel Puig and Adrian Gonzalez have been quite productive.
6. Nationals: Anchored by reigning NL MVP Bryce Harper, the Nationals may rise to the top of this list at some point in '16 if their star-studded rotation finds its top form.
How they got here: Harper has been arguably the top fantasy player so far, hitting .359 with six homers, 15 RBIs, 10 runs and three steals. He's been supported, of course, most notably by offseason acquisition Daniel Murphy. Joe Ross has been the Nats' best starter to date, with stud Stephen Strasburg thriving as well. This rotation could be scary good once ace Max Scherzer finds his top form.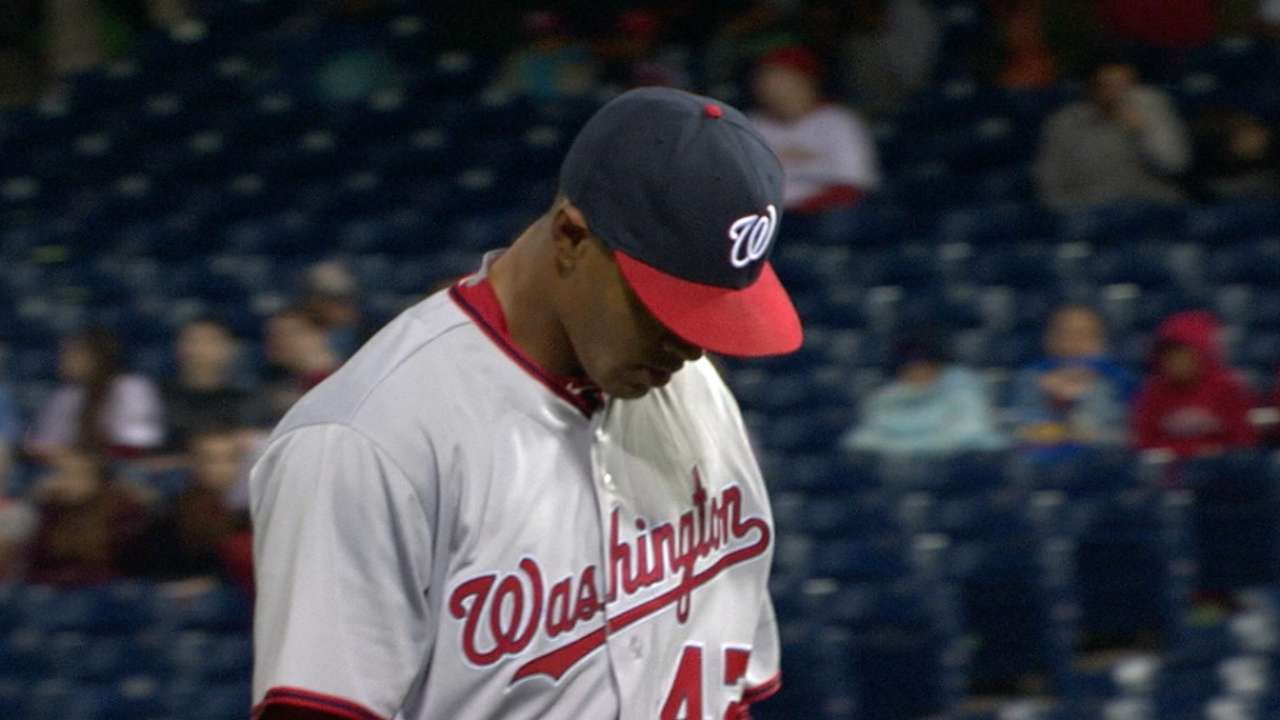 7. Giants: San Francisco's two fantasy studs have not produced in stud fashion … yet. But the club's deep lineup picked up the slack during early-season road trips to hitter-friendly Milwaukee and Colorado.
How they got here: Despite being bumped from his top-of-the-order role, Angel Pagan has been the unexpected leader of this team's offense. He's been joined by Hunter Pence, Brandon Belt and new leadoff man Denard Span to give the team a deep group of mixed-league-worthy bats. On the mound, Johnny Cueto is off to a strong start with his new club. Just you wait until Buster Posey and Madison Bumgarner turn it on.
8. Red Sox: The Red Sox have been led by a pair of big-name sluggers, who have made up for a slightly disappointing start from their superstar ace.
How they got here: David Ortiz and Mookie Betts have been the offensive stars in Boston, and the duo has been supported by three-hole-hitter Xander Bogaerts and Brock Holt. Rick Porcello has been a useful fantasy starter, but David Price will need to earn a positive mention in this space for the club to retain a top-10 ranking.
9. Blue Jays: With a lineup that has struggled somewhat after leading the Majors by a wide margin in runs scored last season, the Blue Jays could rise higher on this list in the coming weeks.
How they got here: Reigning AL MVP Josh Donaldson continues to produce first-round value, Roberto Osuna has been a reliable closer and Marcus Stroman has anchored a consistent rotation. Longtime fantasy cornerstones Jose Bautista and Edwin Encarnacion have also contributed, albeit below their potential. Meanwhile, longtime fantasy darling Troy Tulowitzki has struggled mightily.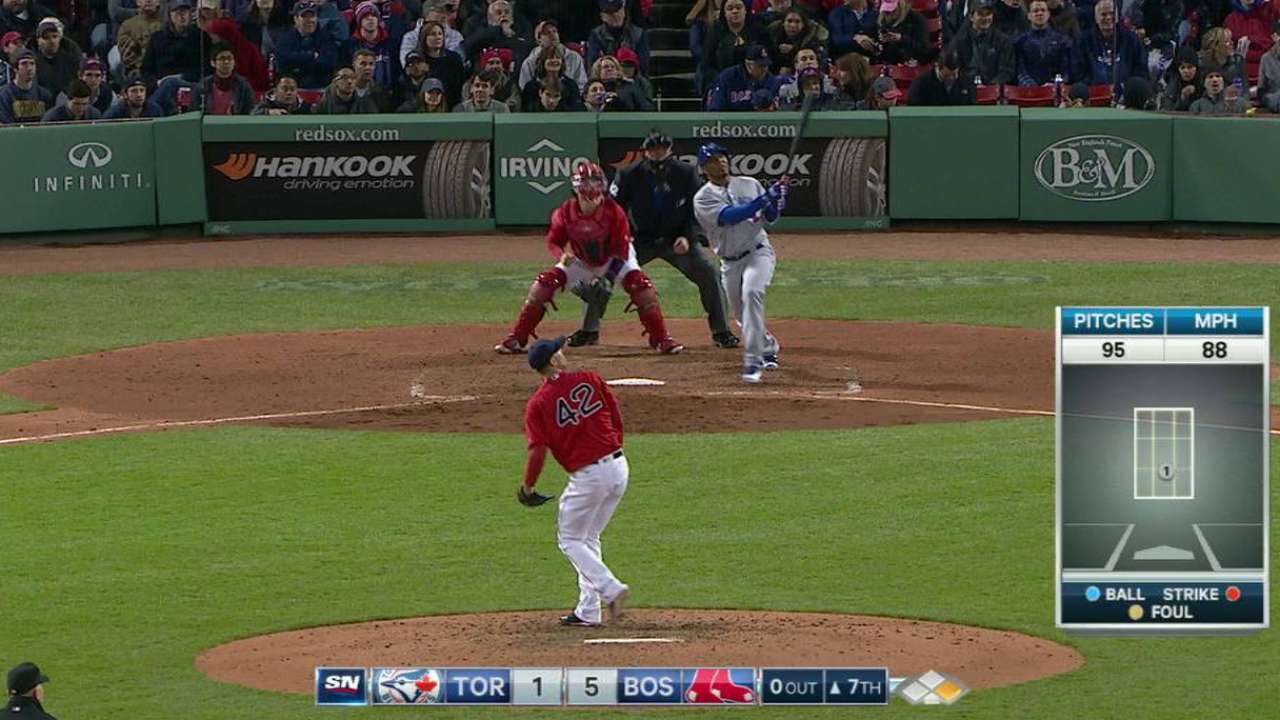 10. Cubs: With one of baseball's best records so far, the Cubs round out this list and have a great chance to rise higher in the next rendition.
How they got here: For starters, reigning NL Cy Young Award winner Jake Arrieta has picked up right where he left off last year, no small feat given his sub-1.00 ERA after the '15 All-Star break. Offensively, Anthony Rizzo and Dexter Fowler are off to strong starts. A quick ascension in this space could come when Kris Bryant, Jason Heyward and Jon Lester recapture their peak form.
All statistics are accurate through the completion of Sunday's games.
Fred Zinkie is the lead fantasy baseball writer for MLB.com. Follow him on Twitter at @FredZinkieMLB This story was not subject to the approval of Major League Baseball or its clubs.