MLB.com Columnist
Richard Justice
Plenty of good vibes in baseball's opening weeks
Dodgers' rotation, Yankees' bullpen among April highlights
Nothing gets cleared up these first two weeks. We think we know and then we don't. Every game has more importance than it should. That said, there are definite positive vibes in at least a few places.
1. The Dodgers have pitching depth.
Not just pitching depth, but scary good pitching depth. Dodgers president of baseball operations Andrew Friedman said it during Spring Training: Pitching, pitching and more pitching.
Friedman just never figured he'd have to cash in all those insurance policies so early. Brett Anderson, Hyun-Jin Ryu, Mike Bolsinger and Brandon McCarthy have yet to throw a pitch. Neither has top prospect Frankie Montas.
No sweat. Dodgers starters are 6-2 with a 2.69 ERA. Only the Nationals (1.87) and Cubs (2.37) have had better starting pitching. Meanwhile, the Dodgers' bullpen hasn't been too shabby, either. They'll open a series in Atlanta on Tuesday with 14 consecutive innings of shutout baseball.
Back to the rotation. Clayton Kershaw (2-0, 1.64) has been his usual brilliant self. Two rookies -- Kenta Maeda and Ross Stripling -- have combined to allow four runs in five starts.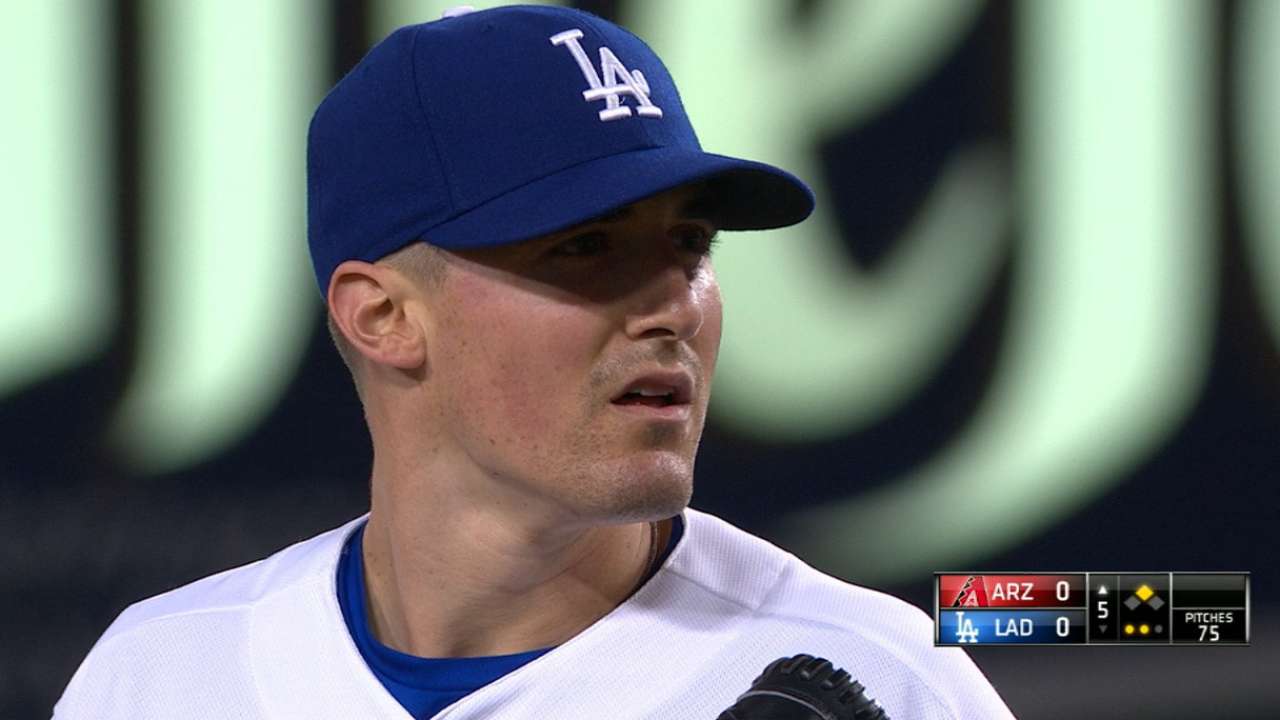 Maeda, the Japanese signee, is 2-0 with a 0.47 ERA and has surpassed even the Dodgers' wildest expectations. Stripling, buried on the depth chart at the beginning of Spring Training, has been a life-saver, allowing three runs in 13 1/3 innings (2.03 ERA).
Stripling was a 2012 fifth-round Draft pick out of Texas A&M, where he was Michael Wacha's roommate. He throws four pitches for strikes, has a tremendous pitching aptitude and is one of the pleasant surprises of this young season.
2. The Cardinals might just be OK after all.
One of the things we love about St. Louis is that every game matters. That means every loss is fretted over and dissected for meaning. When the Cardinals opened the season by being swept in a three-game series in Pittsburgh, plenty of fans sounded the alarm bells.
The Cardinals have won seven of nine since then, as they begin the litmus test of a three-game series at Busch Stadium. That offense, the one that has caused so much worry, is leading the Majors in runs. The bullpen has a 2.23 ERA, which is tops in the National League entering play Monday. Rookie outfielder Jeremy Hazelbaker is hitting .394, and Cards shortstops are atop the Majors with a .367 batting average. Once Adam Wainwright (0-2, 8.27) and Mike Leake (0-1, 6.97) get straightened out -- and they will -- the Redbirds will be fine.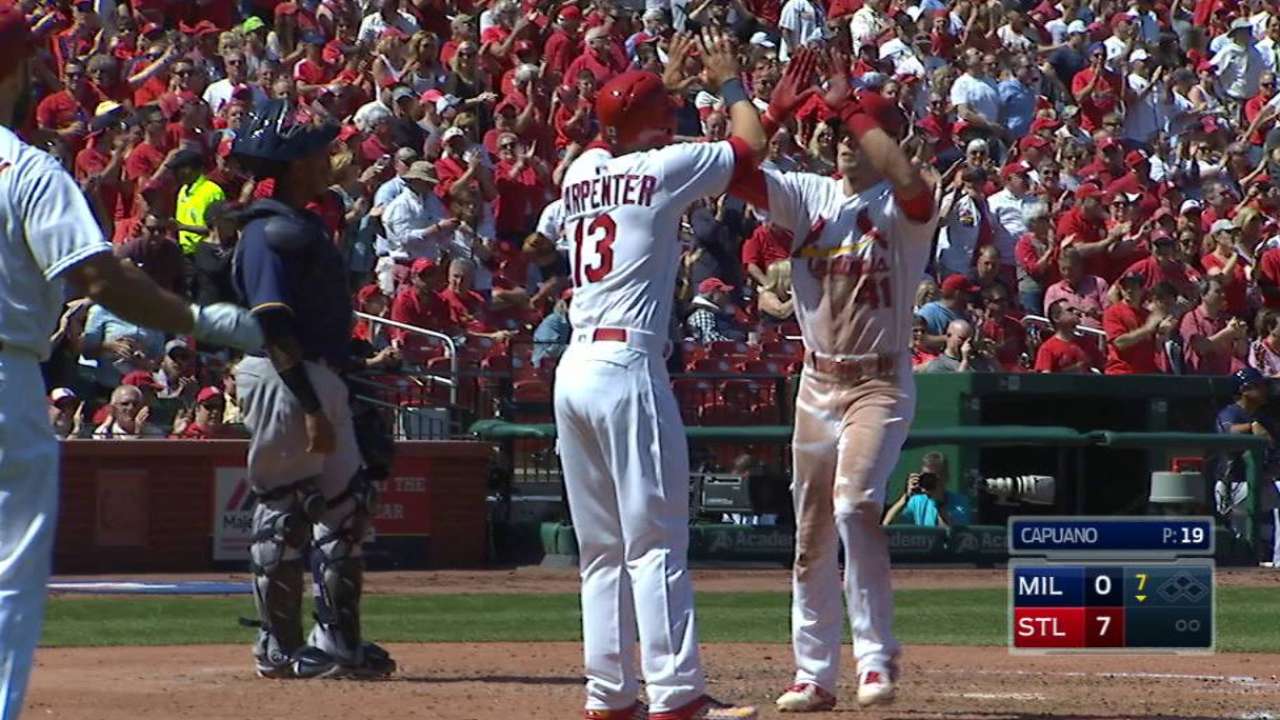 3. This is precisely the start the Nationals needed.
Only the Cardinals and Pirates have won more regular-season games than the Nationals in the past four seasons. Unfortunately, October hadn't been kind -- three playoff victories in two appearances.
This start was important to set a new tone and to get the expectations in sync with the performance on the field. The Nationals have the best record in baseball at 9-2. Their 2.06 team ERA is tops in the Majors. The starting rotation is 7-1, and general manager Mike Rizzo's overhauled bullpen has a solid 2.54 ERA, despite Jonathan Papelbon's blown save against the Phillies on Sunday. The Nats and Mets don't play the first of their 19 games until May 17, and we'll know plenty more by then.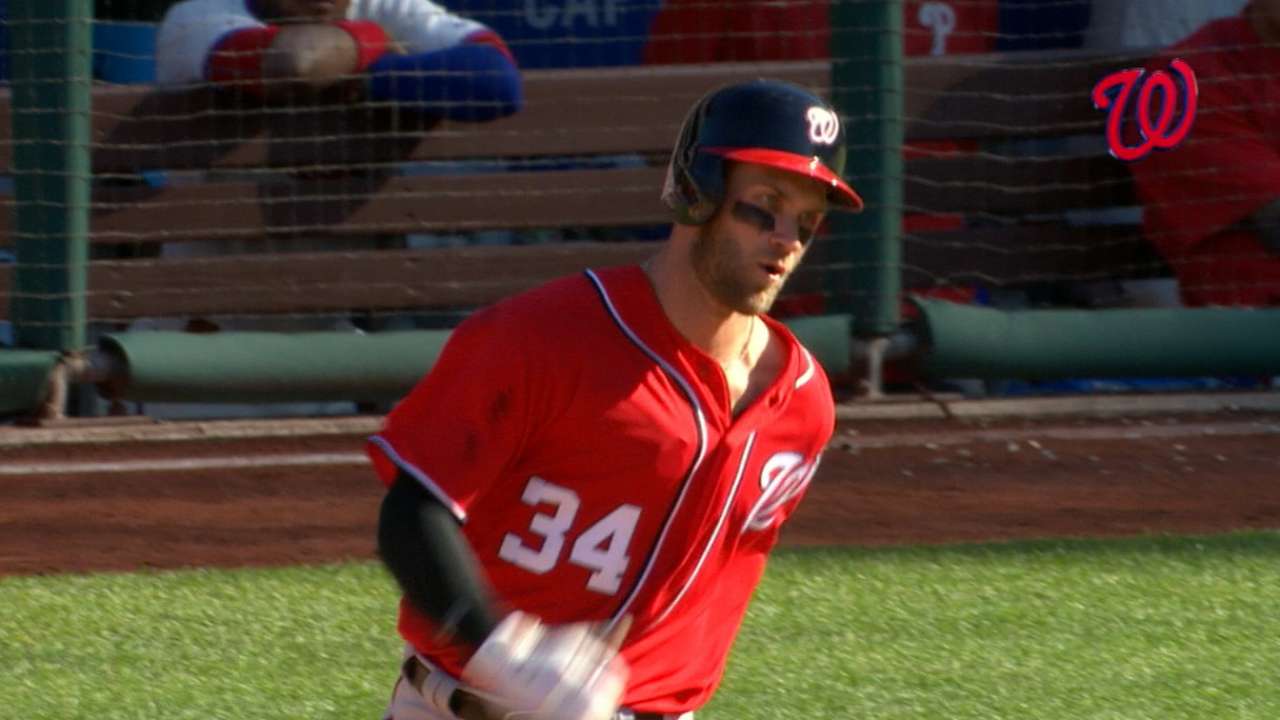 4. The Yankees' bullpen is a monster.
And some of us thought Aroldis Chapman's 30-day suspension was going to weaken what figured to be one of baseball's best bullpens. Dellin Betances and Andrew Miller haven't allowed a run in 11 appearances. Chasen Shreve and rookie Johnny Barbato, who pitched his way onto the club in Spring Training, are also unscored upon in 10 appearances.
Yes, there are questions about the Yankees' rotation and their ages and all that. But manager Joe Girard's bullpen is so deep that it changes the math for the entire club. If the Yanks get through five innings with a lead, Girardi has the arms to get the final 12 outs plenty of nights.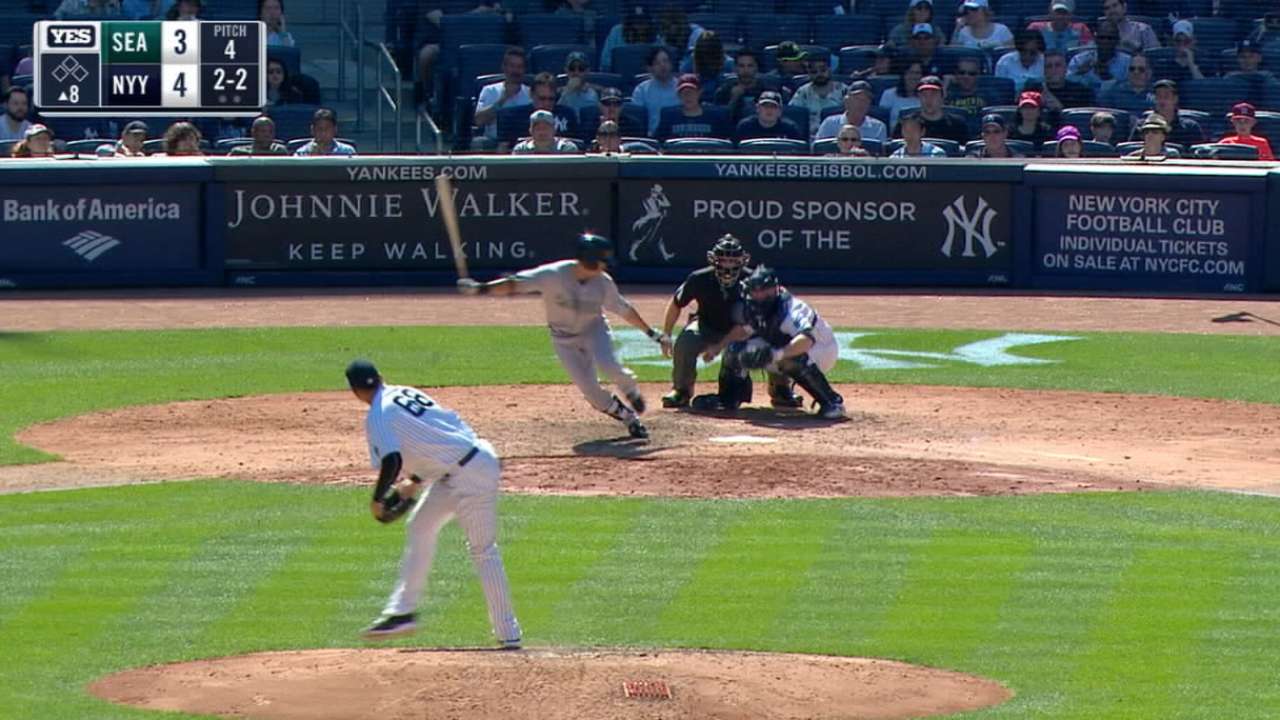 5. Mat Latos has given the White Sox the American League's best rotation.
We figured the White Sox would have a good rotation. How can a group led by Chris Sale, Carlos Rodon and Jose Quintana not be? And they've been as good as advertised.
As for Latos, who saw this coming? He's 2-0 with a 0.75 ERA and has made a solid rotation potentially special (7-4, 2.81 ERA combined). In the past 18 months, Latos has been traded twice, released once and shown the door by the Angels. He pitched for three teams in 2015 and had finished with a 4.95 ERA.
Latos is still only 28 and maybe a light of some kind has clicked on. Or maybe White Sox pitching coach Don Cooper has worked his magic again. Latos' fastball is sitting around 89 mph most nights, but he has improved his curve and added a splitter. No declarations should be made after two starts, but it's a nice beginning for both him and the White Sox, who are 8-4 and tied with the Royals atop the AL Central, entering play Monday.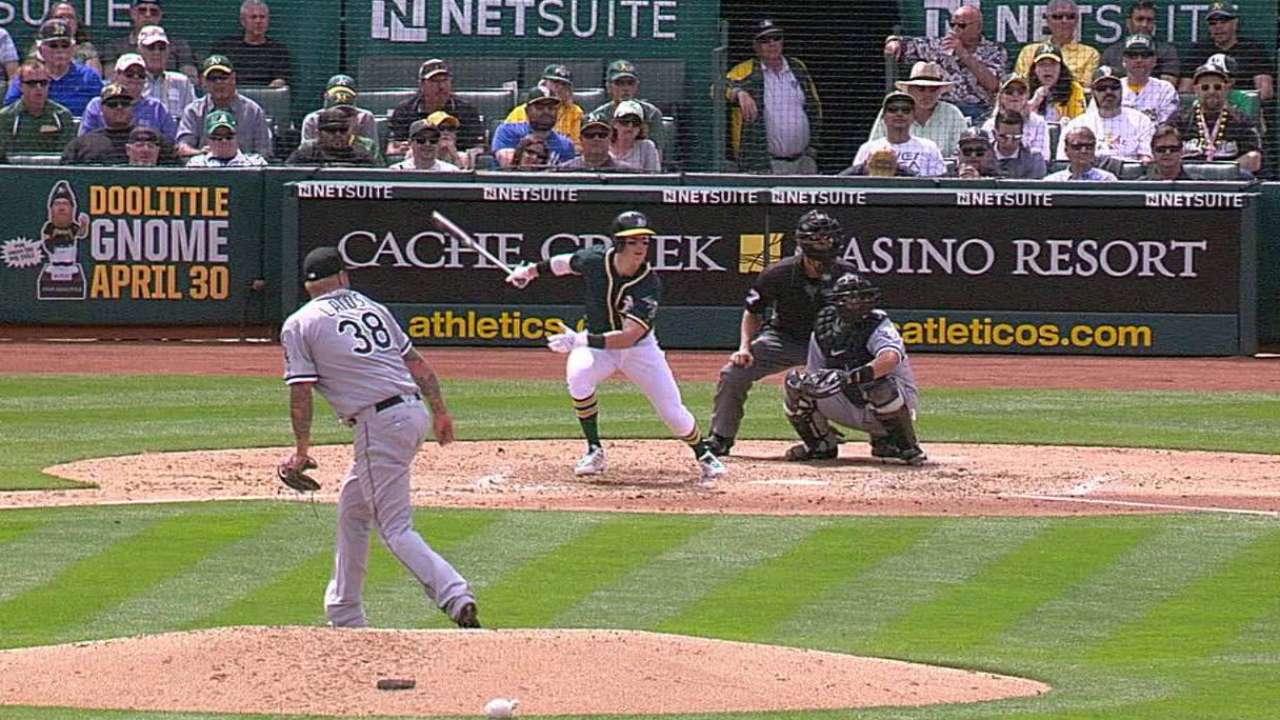 Richard Justice is a columnist for MLB.com. Read his blog, Justice4U. This story was not subject to the approval of Major League Baseball or its clubs.