How to get away with SBs: Yanks swiping more
New York leads league with 13 thefts early in 2016 season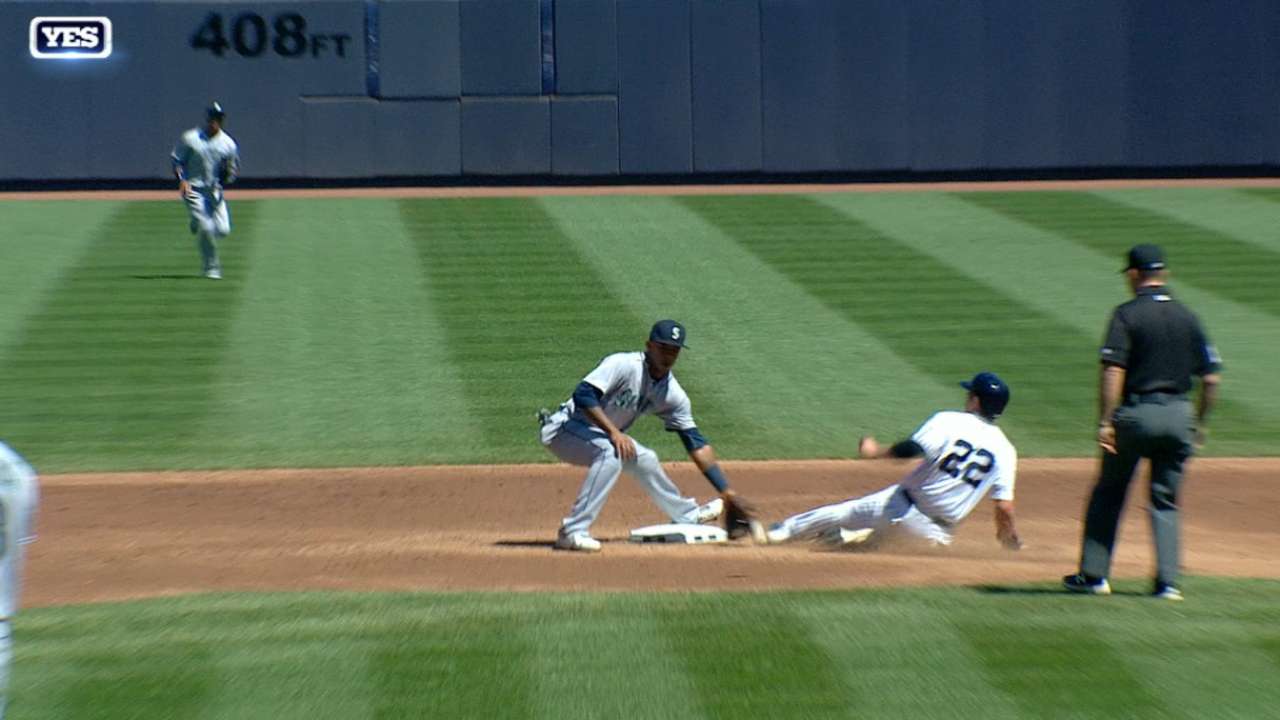 Teams that have almost as many players in their 40s as players in their 20s starting every day aren't often known for their prowess on the basepaths. But 11 games into the 2016 season, the Yankees are showing not just a marked improvement in stealing bases from last year, they're showing the league up.
Two weeks into the season, the Yankees have stolen a league-leading 13 bases on 15 attempts. Only two teams attempted more steals than the Yanks, and only the Indians and A's have been more efficient in their attempts, albeit in four and nine fewer tries.
Compared to last year, this seems like a new trend. The 2015 Yankees ranked 25th in the Majors in stolen bases with 63 and succeeded only 72 percent of the time. This year's Yankees are already more than 20 percent of the way to last season's mark, and are 15 percent more efficient in doing so.
With such a stark improvement in both aggression and efficiency, the natural inclination would be to assume that there has been a drastic philosophy change on the basepaths. But outfielder Brett Gardner, who has two steals so far, indicated otherwise.
"I wouldn't say any necessarily kind of a philosophy change," Gardner said. "I just think we're trying to take advantage of opportunities that have been presented to us."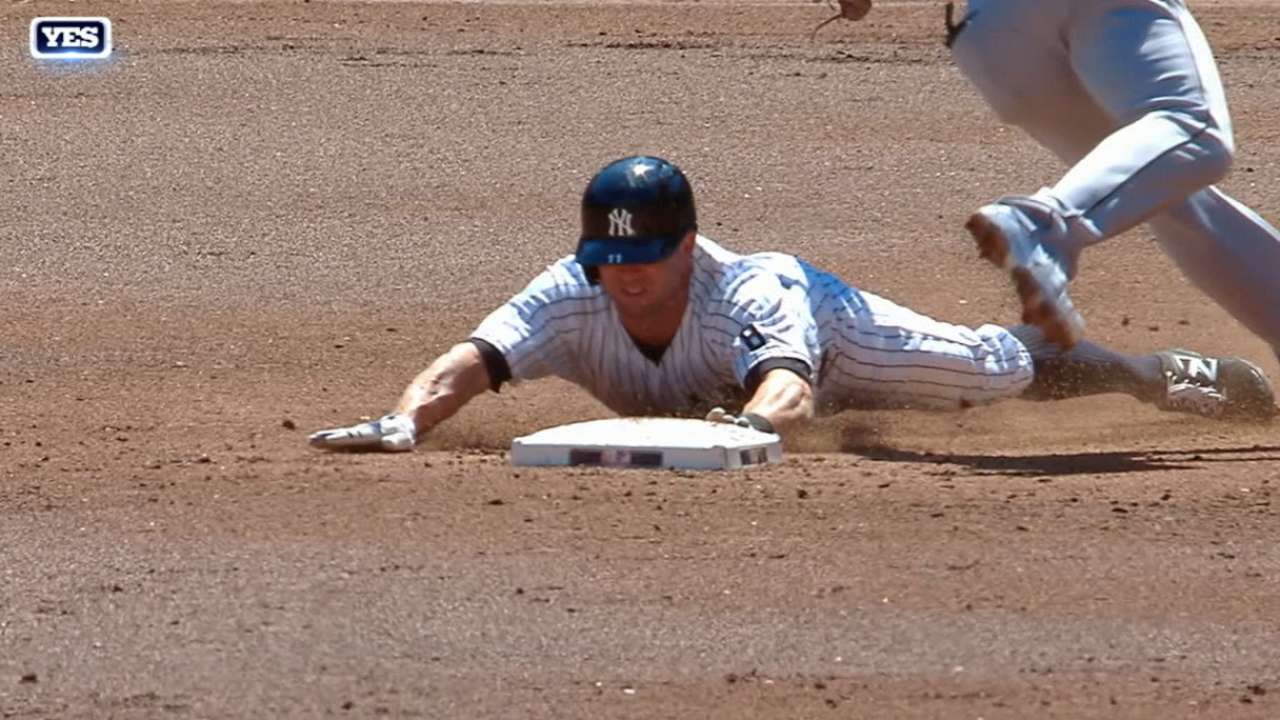 Manager Joe Girardi agreed, explaining what a correctly presented opportunity may be.
After Saturday's loss to the Mariners, Girardi was asked why Jacoby Ellsbury, who leads the Yankees with four steals, didn't attempt to swipe an extra base against Mariners relief pitcher Joaquin Benoit. To Girardi, the non-steal was defensible, as he estimates Benoit's delivery time to home is a quick 1.15 seconds -- a huge spread from the average delivery time of approximately 1.4 seconds. In situations such as that one, Girardi doesn't want his speedsters running. But against nearly every other battery of pitchers and catchers, the Yankees have been in motion.
Six Yankees have steals on the season: Ellsbury, Gardner, Didi Gregorius, Starlin Castro, Chase Headley and even Alex Rodriguez, who stole second Opening Day vs. Dallas Keuchel and the Astros. Of the 13 steals, six have come on pitches 89 mph or faster, just one came on a pitch slower than 80 mph and only two have come on balls in the dirt, illustrating just how good the Yankees' jumps have been.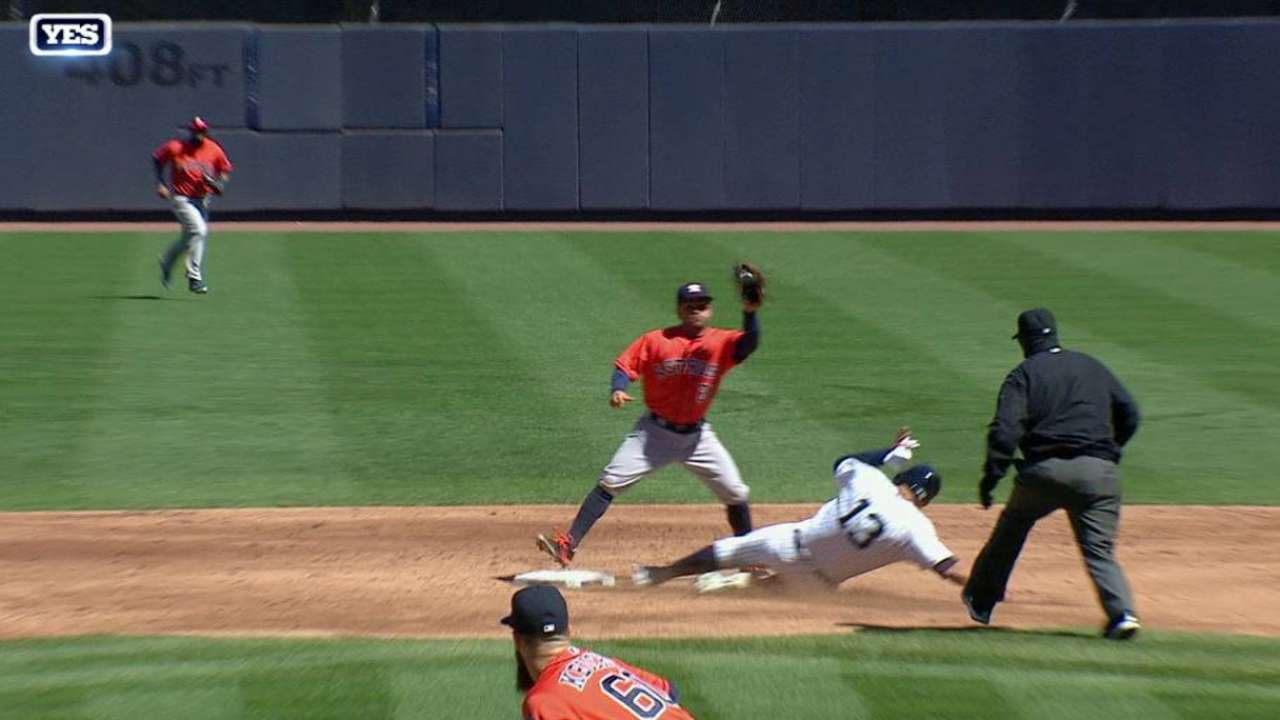 Perhaps the most surprising recurring thief of the season has been Headley, who didn't steal a single base in 2015 but is already 3-for-3 in attempts through nine games. Headley, who did concede that coaches have been far more liberal in giving him a green light this season than they were last year, attributed his base-stealing renaissance to awareness on the part of the coaching staff.
"They're paying a lot of attention to who is behind the plate and stuff like that," Headley said. "If the numbers are right, I think they trust me to make a good decision."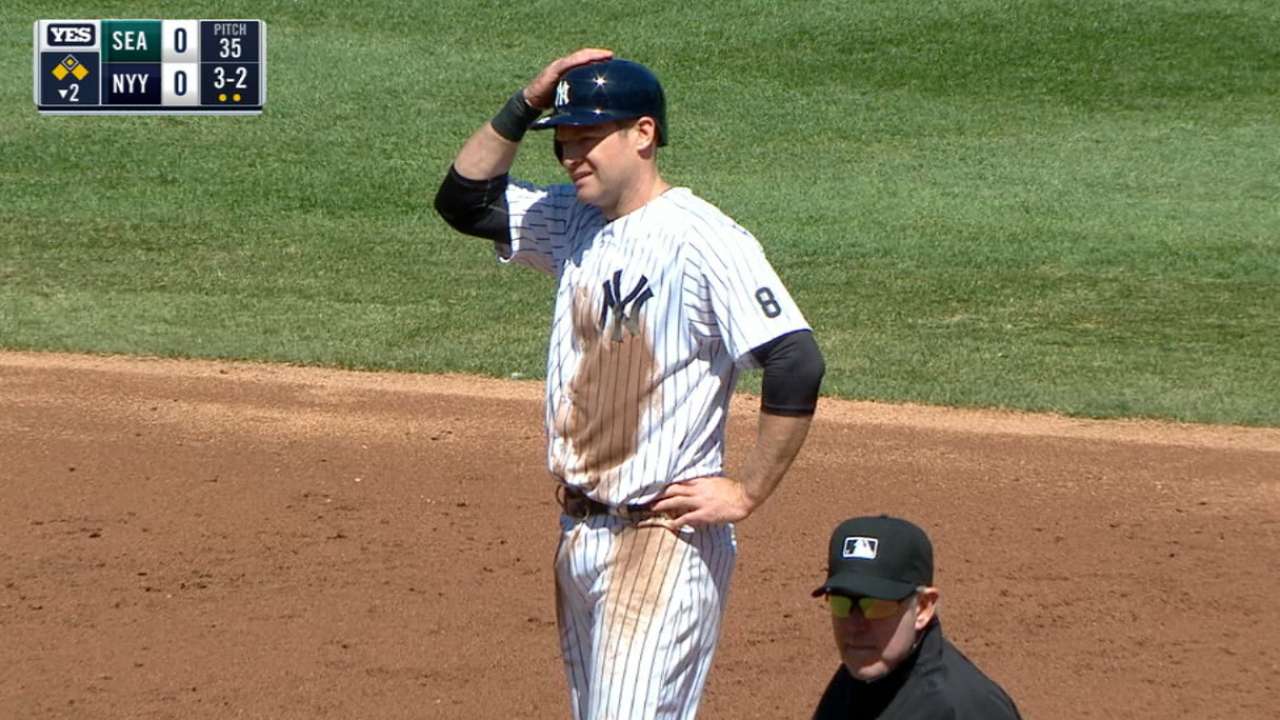 Oddly enough, very few of the catchers the Yankees have faced this season were below average at preventing steals last season. Jason Castro, Erik Kratz, James McCann and Russell Martin, against whom the Yankees racked up their first seven steals, were a combined 28 percent better than average at catching runners last year, and Martin led the American League with a 44 percent caught-stealing rate. But it was against Mariners Chris Iannetta and Steve Clevenger -- two catchers who were 7 and 12 percent below average in 2015 -- that the Yankees truly shined. The Yanks were 6-for-6 in three games against those two backstops.
By Ellsbury's assessment, stealing at a high rate as the Yankees are is a good way to take pressure off the bats in the middle of the lineup and put it on to the defense. He used an example from Sunday's win to make his point. Ellsbury led off the bottom of the third inning with a single into right field. With Gardner at the plate for the next at-bat, Ellsbury darted for second. Clevenger's throw was off line and bounced into the outfield. Ellsbury made it to third easily on the error and scored a couple of pitches later when Gardner smacked a ground-rule double into left-center field -- something he couldn't have done had it not been for the two-base theft.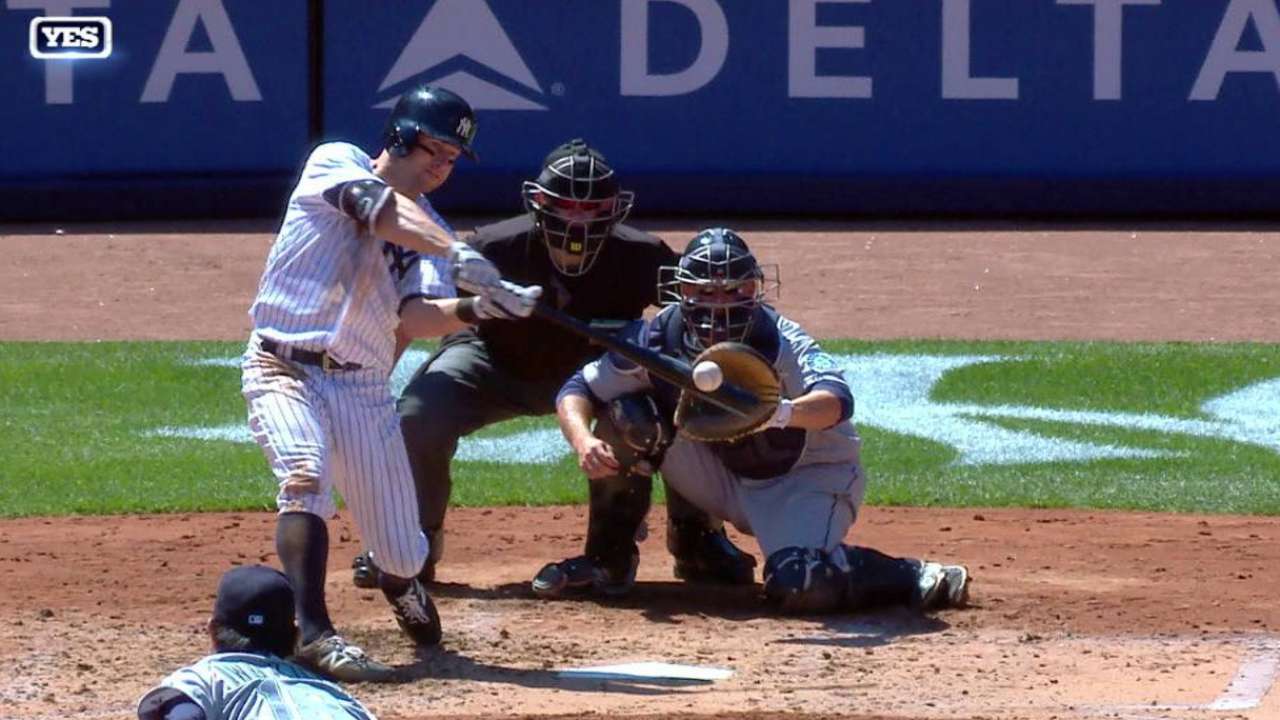 "That's how you win games is getting into scoring position and putting as much pressure on the defense as possible," Ellsbury said. "I think mine today, I stole second, but he threw the ball into the outfield. So it's basically almost like me hitting a triple."
And while both Gardner and Ellsbury were coy about whether or not they have a permanent green light to run, Gardner did say that running is their responsibility.
"Me and Jacoby at the top, that's our job -- try get on base and try to get over into scoring position when possible," he said. "We'll continue to do that, continue to be aggressive and try to get into scoring position for those big guys in the middle of the lineup."
Nick Suss is an associate reporter for MLB.com. This story was not subject to the approval of Major League Baseball or its clubs.