Pipeline preview: Elite pitching prospects toe rubber
Phillies' Appel, Reds' Garrett, Brewers' Hader and White Sox Fulmer set to start
Monday's card of Minor League games is loaded with must-watch pitching matchups, many of which can be seen on MiLB.TV.
Phillies No. 4 prospect Mark Appel (No. 68 overall) and Nationals No. 9 prospect Austin Voth will square off as they make their second starts for Triple-A Lehigh Valley and Syracuse, respectively, in a game that can be seen on MiLB.TV at 7:05 p.m. ET. In their season debuts, Appel threw 5 2/3 scoreless innings in a win against Rochester, while Voth allowed just three hits in six scoreless innings in a no-decision versus Buffalo.
In a matchup of Top 100 prospects, Reds No. 4 prospect Amir Garrett (No. 67 overall) and Brewers No. 4 prospect Josh Hader (No. 59 overall) are set to duel as Double-A Biloxi takes on Pensacola at 7:40 p.m. ET on MiLB.TV. Though both left-handers have been sharp to begin the season, they enter Monday in search of their first win of 2016.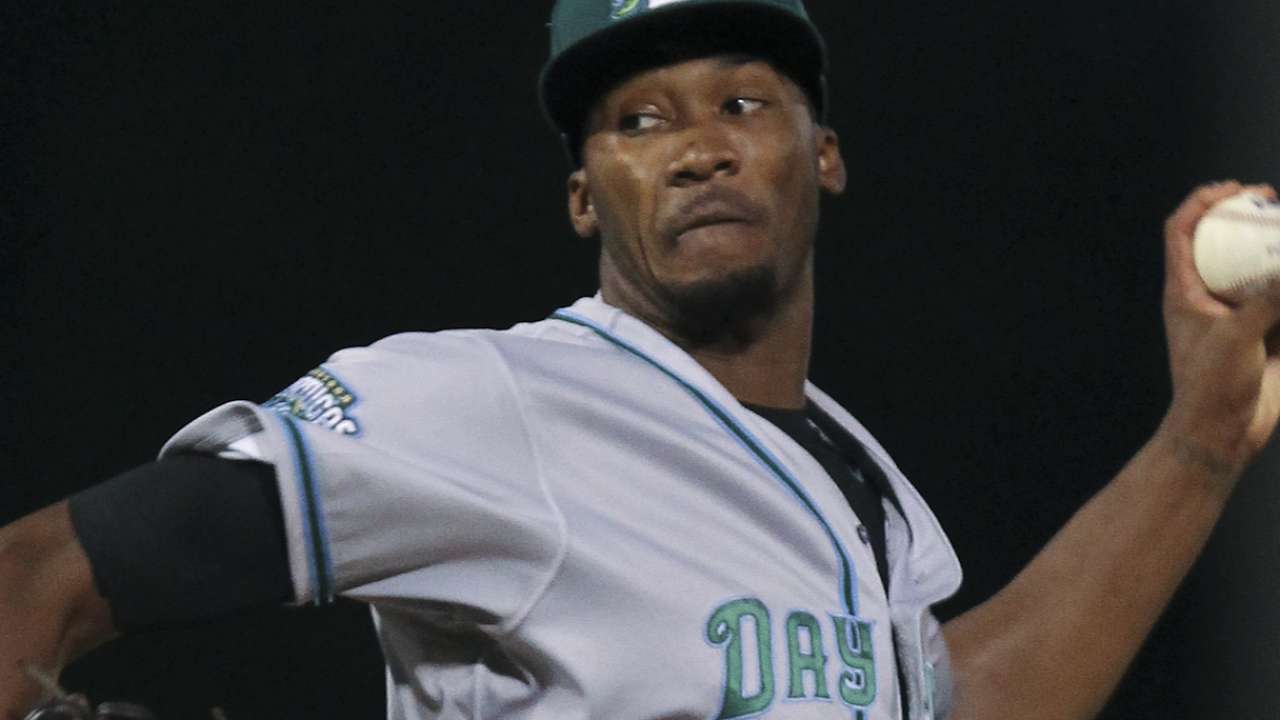 White Sox No. 1 prospect Carson Fulmer (No. 36 overall) has struggled in his first two starts for Double-A Birmingham, going 0-2 with a 10.57 ERA and eight strikeouts, but he'll look to get back on track on the road against Jackson at 8:05 p.m. on MiLB.TV. Scheduled to take the mound for the Generals is Mariners No. 2 prospect Edwin Diaz, who's posted a 1.64 ERA with 16 strikeouts across 11 innings in his first two starts.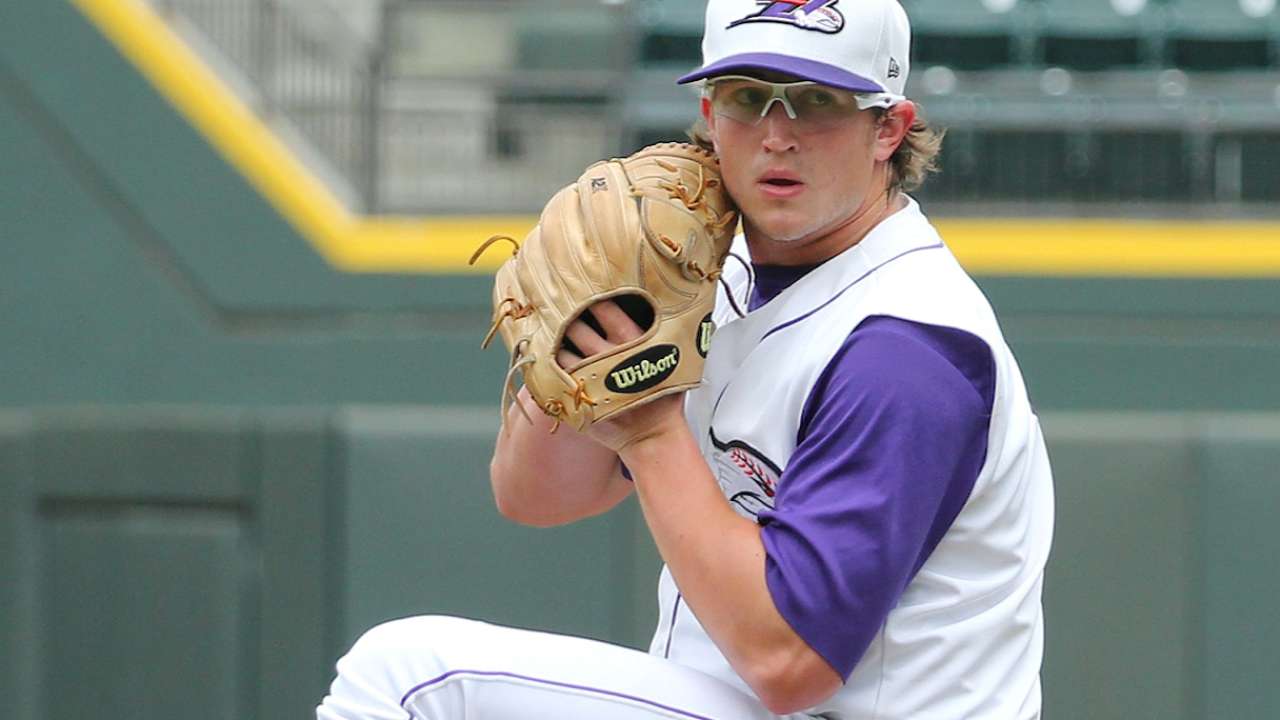 Monday's top prospect probables
Chase De Jong (Dodgers' No. 18), Tulsa vs. San Antonio (AA)
Ty Blach (Giants' No. 23), Sacramento vs. Salt Lakes (AAA)
Anderson Espinoza (Red Sox' No. 4), Greenville at Hickory (A)
Brady Lail (Yankees' No. 19), Trenton at Portland (AA)
Austen Williams (Nationals' No. 20), Harrisburg vs. Altoona (AA)
Tyler Alexander (Tigers' No. 15), Lakeland at Bradenton (A Adv)
Tom Robson (Blue Jays' No. 22), Dunedin vs. Palm Beach (A Adv)
Jose Leclerc (Rangers' No. 25), Frisco vs. Arkansas (AA)
Adam Plutko (Indians' No. 15), Akron vs. Binghamton (AA)
Jason Garcia (Orioles' No. 12), Bowie at Erie (AA)
Casey Shane (Indians' No. 29), Lake County at West Michigan (A)
Kyle Crick (Giants' No. 17), Richmond vs. Reading (AA)
Ian Clarkin (Yankees' No. 10), Tampa at Charlotte (A Adv)
Carson Sands (Cubs' No. 23), South Bend vs. Bowling Green (A)
Ryan Merritt (Indians' No. 27), Columbus at Louisville (AAA)
Tyler Mahle (Reds' No. 11), Daytona vs. Fort Myers (A Adv)
Austin Smith (Padres' No. 8), Fort Wayne at Lansing (A)
Cody Poteet (Marlins' No. 19), Greensboro at Delmarva (A)
Foster Griffin (Royals' No. 9), Lexington at Asheville (A)
Mitch Brown (Indians' No. 30), Lynchburg at Potomac (A Adv)
Anthony Banda (D-backs' No. 16), Jarlin Garcia (Marlins' No. 3); Mobile at Jacksonville (AA)
Jacob Faria (Rays' No. 9), Montgomery at Tennessee (AA)
Mike Soroka (Braves' No. 13), Rome at Augusta (A)
Jameson Taillon (Pirates' No. 4), Indianapolis vs. Toledo (AAA)
Joe Gatto (Angels' No. 6), Burlington vs. Cedar Rapids (A)
Alec Mills (Royals' No. 14), Northwest Arkansas at Midland (AA)
Marcos Diplan (Brewers' No. 20), Wisconsin vs. Quad Cities (A)
Chris Ellis (Braves' No. 14), Mississippi vs. Chattanooga (AA)
Ryan Williams (Cubs' No. 19), Iowa at Round Rock (AAA)
Zach Lee (Dodgers' No. 22), Oklahoma City vs. Nashville (AAA)
Jordan Johnson (Giants' No. 15), Dinelson Lamet (Padres' No. 13); San Jose at Lake Elsinore (A Adv)
Mike Rosenbaum is a reporter for MLB.com. Follow him on Twitter at @GoldenSombrero. This story was not subject to the approval of Major League Baseball or its clubs.