Giants' expectations remain high after rocky trip
LOS ANGELES -- The calendar and common sense eased Sunday's sting for the Giants, who dropped their series finale to the Los Angeles Dodgers, 3-1.
Mid-April is far too early for the Giants to dwell on what they just endured -- a 2-4, two-city trip that ended with them mustering five hits off Dodgers starter Kenta Maeda and two relievers. The best way for the Giants to absorb this defeat was to separate the good from the bad and ponder the lessons from each category.
For example, after facing Maeda for the first time, the Giants at least have a better idea of how they must succeed against the right-hander, who they'll surely face again during their remaining four series against Los Angeles.
"You can kind of build an approach after that," said second baseman Joe Panik, whose third-inning homer accounted for the Giants' lone run and their short-lived lead.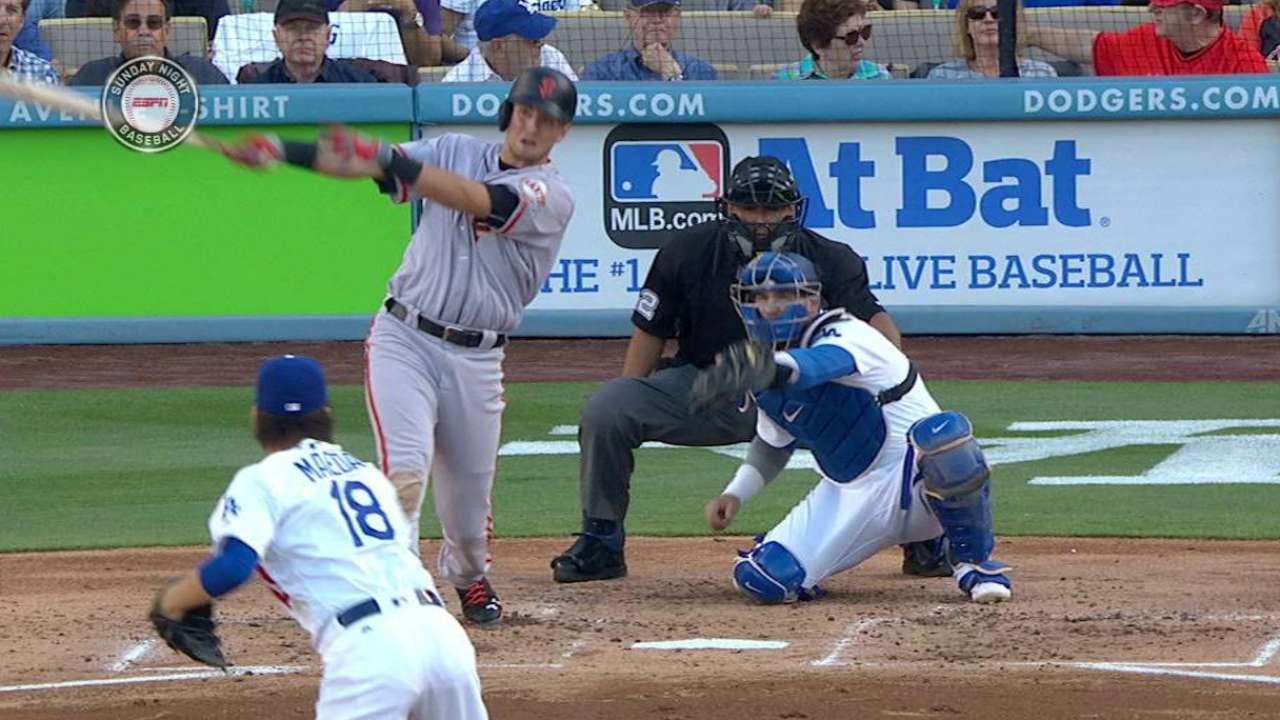 The Giants appeared on the verge of challenging Maeda early. He walked Panik and Hunter Pence in the first inning, when he initially struggled to find the strike zone. At one juncture, Maeda had thrown 13 strikes and nine balls. "I felt like we would get to him," Giants manager Bruce Bochy said. Maeda ultimately coaxed Brandon Belt's harmless inning-ending fly to center field, then regained his equilibrium.
Jeff Samardzija continued to look like a starter who the Giants can rely upon, as he blanked the Dodgers until Joc Pederson socked a two-run homer with two outs in the fifth. Samardzija's most critical mistake all evening was the 2-2 pitch he made to Pederson, who connected with a sinker that didn't sink.
"I thought it was really close to being a day we could be proud of. Unfortunately, it took a different turn," Samardzija said.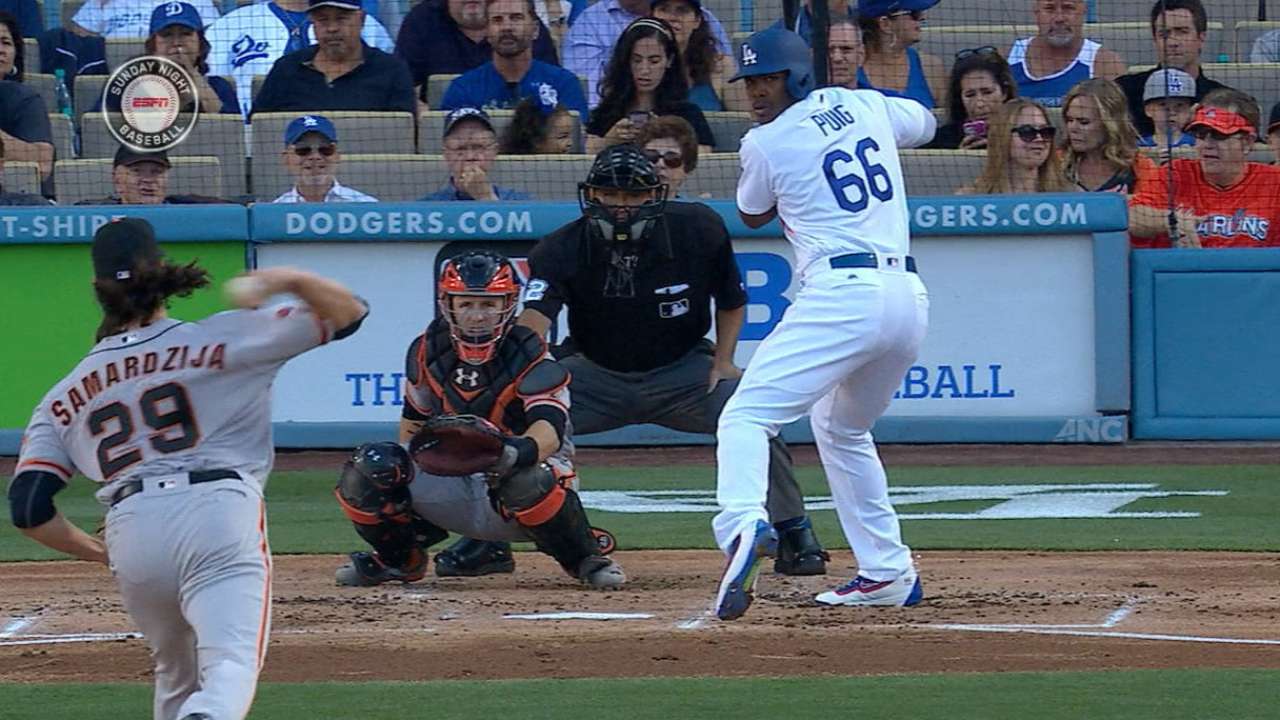 In fact, catcher Buster Posey still derived encouragement from Samardzija's effort. "I'm looking forward to more of that, for sure," Posey said.
Speaking of Posey, he ended an 0-for-18 skid with a sharp ninth-inning single off Dodgers closer Kenley Jansen. Other Giants couldn't break their slumps, including third baseman Matt Duffy. His .173 batting average clashes with the .295 figure he posted last season, when he finished as the runner-up in the National League Rookie of the Year balloting.
"While you're in stretches like this, it's not easy," Duffy said. He added that he's striving to "stay calm and stay patient and I guess keep your head about you. That's the hardest thing, keeping your confidence high."
Duffy, who seemed to take at least one good swing during each plate appearance last year, continues to search for that consistency. "I think that's the thing that I'm most disapponted at right now. I'm not putting, I think, my most aggressive swing that I can on the ball," he said. "I'm doing a lot more checked-swinging than I usually do."
At this early stage, the season is simply one big checked swing. The Giants own the potential for excellence. But Sunday's game provided a reminder that unrealized or squandered potential means nothing.
It's generally agreed that the Giants' everyday lineup outshines those that won the World Series in 2010, '12 and '14. Their starting rotation, composed entirely of former aces, has the skill to pitch them into the postseason. They have yet to prove the legitimacy of their pedigrees.
"We're as good as the other clubs that won championships," Bochy said. "But we gotta go out and do it."
Chris Haft is a reporter for MLB.com. Read his blog, Haft-Baked Ideas, follow him on Twitter at @sfgiantsbeat and listen to his podcast. This story was not subject to the approval of Major League Baseball or its clubs.