Pederson's clutch HR reward of new approach
Dodgers OF 'shows growth mentally as a player,' Roberts says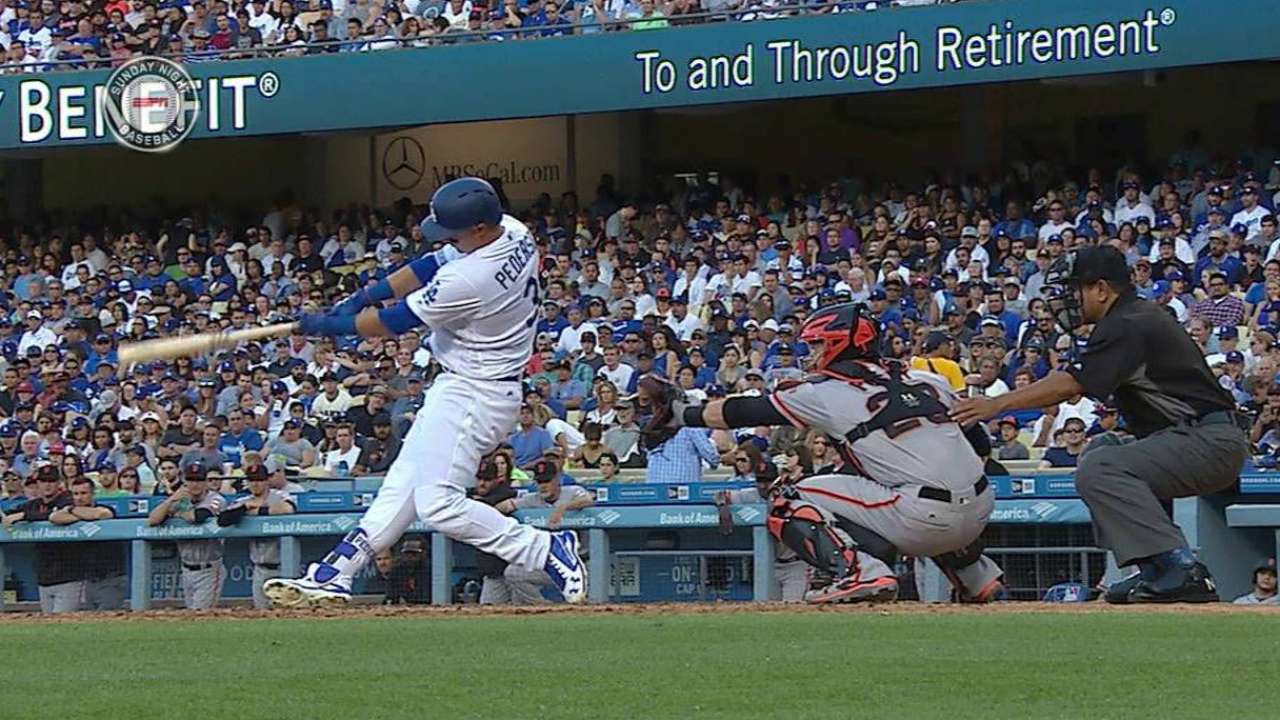 LOS ANGELES -- Joc Pederson's two-run homer provided the cushion in the Dodgers' 3-1 victory over the Giants, and one of the people most surprised was Pederson himself.
Pederson's home run came with two strikes against Jeff Samardzija, a situation in which the outfielder worked last offseason to improve his contact ability, but not his power.
"That was the last thing on my mind right there, to hit a home run," Pederson said. "I guess it worked out well. I was just trying to choke up and put a good swing on it."
Pederson's performance dropped after a hot start in 2015. He hit .178/.317/.300 in the second half of the season, with his two-strike approach and ability to make contact receiving much of the blame. He subsequently worked on his approach in the winter and in Spring Training, adjusting his mechanics to find a way to better recognize pitches.
Manager Dave Roberts has noticed a change with Pederson since he took over the clubhouse and is hoping to see continued improvement.
"Certain players have a certain DNA, but you're always trying to get better.," Roberts said. "It's a grind, it's tough, and for him to respond the way he did today shows growth mentally as a player. Hopefully, he can continue to get better."
Pederson is now hitting .257/.316/.514 in 38 plate appearances in '16, a greater batting average than any post-April month in '15. While the strikeouts have remained a problem -- he's struck out 36.8 percent of the time -- his line-drive rate has considerably improved.
"Mechanically, I was doing a lot of stuff wrong last year, in the second half and end of the first half, that was causing me to swing at bad pitches," Pederson said. "Slowing it down, I made some mechanical adjustments this offseason that put me in a better hitting position to be able to recognize pitches better."
Jack Baer is an associate reporter for MLB.com. This story was not subject to the approval of Major League Baseball or its clubs.