Jays-Red Sox: Heaven at 11 this morning
Fenway Park fans will honor victims of the 2013 attacks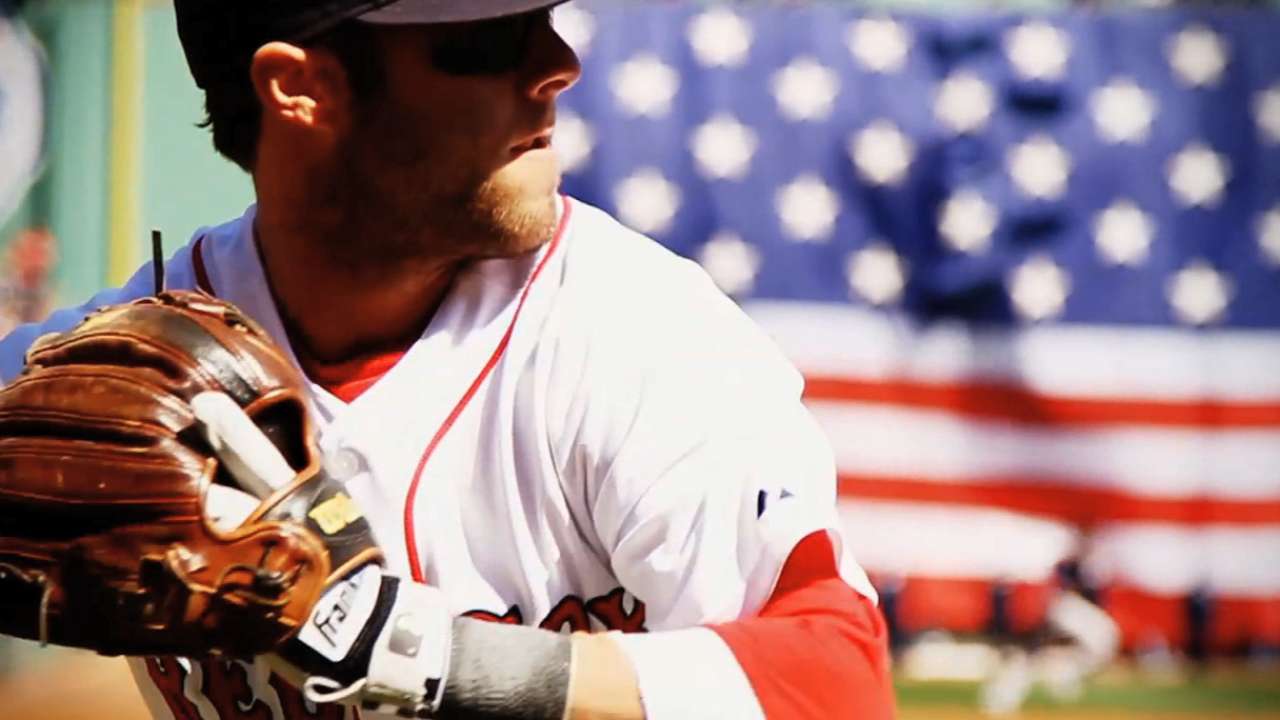 They will gather at the now-hallowed finish line on Boylston Street, on the storied field and in the timeless stands of Fenway Park. They will stand together and honor their own together.
And a baseball game will be played, because that's an indelible part of the tradition of Patriots' Day and that's how much the Red Sox mean to the city, still as Boston Strong as ever.
MLB.TV is back, better than ever
A magnificent Marathon Monday around the Major Leagues that will begin with remembrance and conclude with rousing rivalries gets its customary start at Yawkey Way, with the 11:05 a.m. ET first pitch, while the fleet of foot and the courageous of heart strive to complete the 26.2 miles of the Boston Marathon.
Once again, as has been the case since the horrific bombings and tragic aftermath of the famous race in 2013, the game, in which the Red Sox host their American League East rival Blue Jays, will take on greater meaning in light of the solemn reflection on the city's loss and its heroism and forged defiance in the face of evil.
"I think the first and foremost thing is that you can't forget the victims and those that were impacted most directly," Red Sox manager John Farrell said. "Not only the individuals themselves, but certainly their families."
Today the pregame ceremonies from Fenway will be streamed live on MLB.com, and the game will be broadcast live on MLB.TV and MLB Network.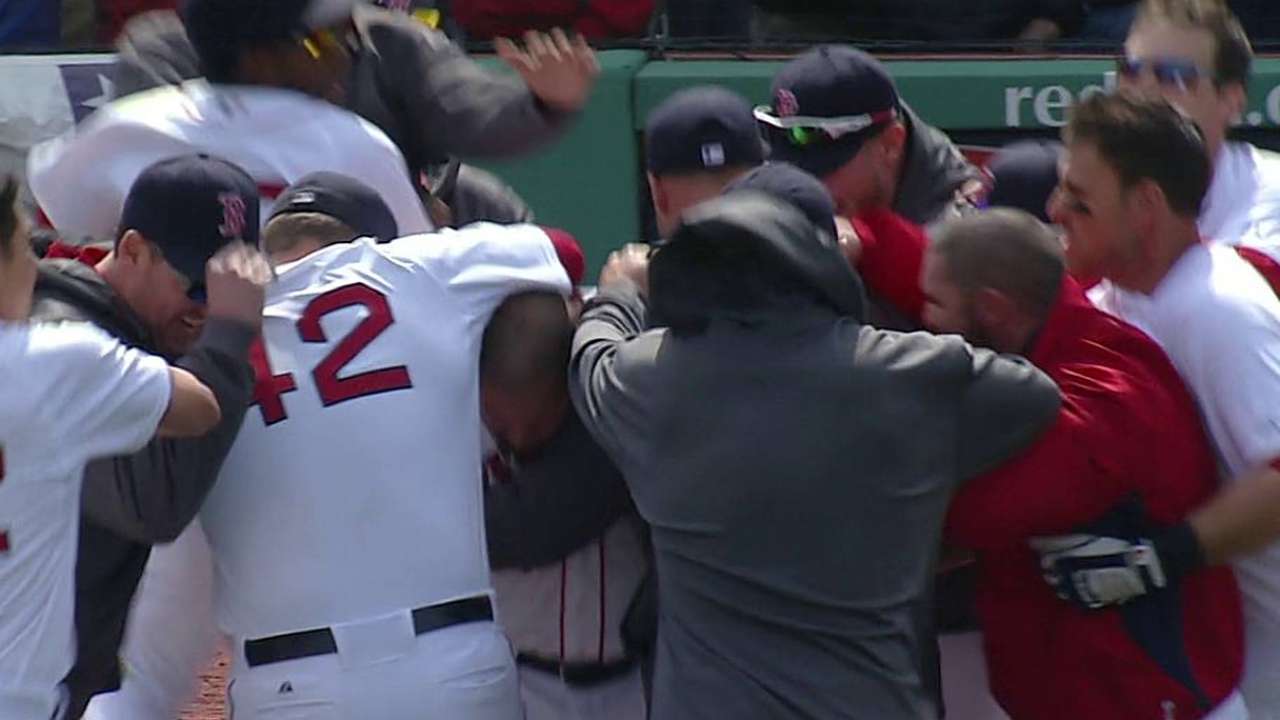 The first pitch will be thrown by bombing survivor Jeff Bauman and actor Jake Gyllenhaal, who will play Bauman in a movie about his life. Red Sox designated hitter, icon and spokesman David Ortiz will be "Boston Strong" in his final Patriots' Day game.
It was Ortiz who grabbed the microphone at Fenway five days after the April 15, 2013, tragedy and rallied the town around a theme of unbreakable will and fortitude. Everyone took notice, including President Barack Obama, who commented on Ortiz's colorfully chosen words while on ESPN during the recent MLB trip to Cuba.
"When Ortiz went out and said [that], it was probably the only time that America didn't have a problem with somebody cursing on live TV ... when he talked about Boston and how strong it was and that it was not going to be intimidated," Obama said.
"And that is the kind of resilience and the kind of strength that we have to continually show in the face of these terrorists."
Boston keeps showing it and will show it again today. The American flag will unfurl down the gloriously dented face of the Green Monster during the national anthem. The Red Sox and Blue Jays will play ball.
But they won't be the only ones.
Tonight also brings us the first 2016 installment of one of the great all-time and recent rivalries in the game. It's the classic Cubs-Cardinals renewal at Busch Stadium, with pitchers new to these storied franchises but no stranger to the National League Central.
John Lackey, who pitched for St. Louis last year, takes the hill for Chicago in the 7:09 CT start. Mike Leake, who broke in with the Reds, goes for St. Louis. And let's not forget outfielder Jason Heyward, who's now on the Cubs but makes his first trip back to the city and fan base for which he played last year.
Meanwhile, in Philadelphia, the baseball world will again be able to tune into one of the most electrifying displays of pitching talent in the sport. Mets right-hander Noah Syndergaard, he of the 100 mph fastball and 95 mph slider, will face the Phillies at 7:05 p.m. ET.
Syndergaard has allowed a total of 12 batters to reach base in two starts this year, and he has struck out 21 batters in 13 innings. Last Tuesday, he topped out at 101 mph against the Marlins while striking out 12.
"My gosh almighty, he was tremendous," Mets manager Terry Collins said after that outing. "He did exactly what you wanted. He got us to the eighth inning. We just couldn't put anything on the board for him to work with, but he was outstanding."
Syndergaard's opponent that night, Miami's young ace Jose Fernandez, will be in action tonight, too, and he'll have to go up against one of the hottest hitters on the planet in Nationals slugger Bryce Harper. The 7:10 ET game at Marlins Park is just another facet of a do-not-miss day.
"I just want to win," said Harper, who has homered in four straight games. "I want to have good at-bats and do the things we can to get runs on the board. I try to take my at-bats one at a time and know that I could get up in a big spot and something may happen."
Plenty will happen on a marvelous day in baseball. The world will be watching.
Doug Miller is a reporter for MLB.com. Follow him on Twitter @DougMillerMLB. This story was not subject to the approval of Major League Baseball or its clubs.