Myers' bat starting to come to life for Padres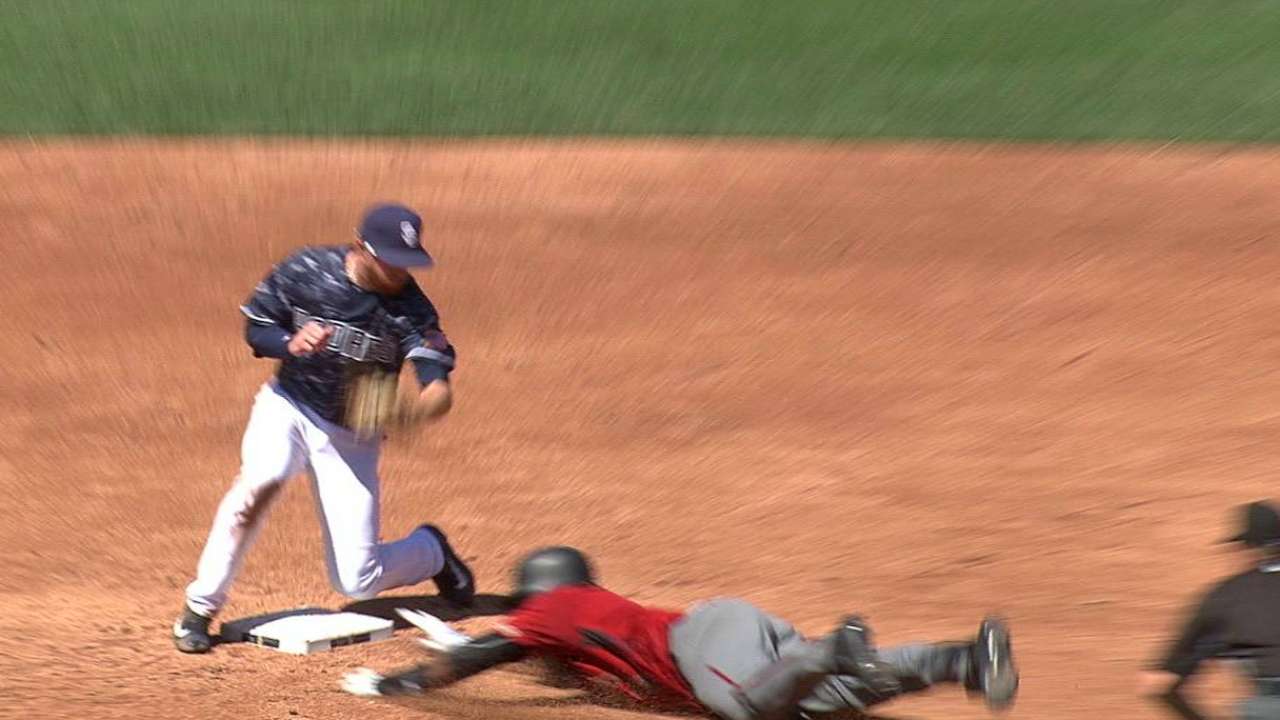 SAN DIEGO -- The Padres cooled off on Sunday but Wil Myers continues to sprint the opposite way.
Myers had two more hits and reached on a walk in San Diego's 7-3 loss to the D-backs. The win gave the series to Arizona but also served notice that Myers is awakening.
After returning home on Friday with a .211 average, manager Andy Green summoned Myers. The two met for early batting practice where Green, from close range, rifled fastballs to Myers. The goal was to get Myers more aggressive and the lesson seems to have been absorbed.
"We worked on some things and it carried over into the games,'' Myers said.
From going 0-for-4 in Thursday's series finale against the Phillies, Myers has collected seven hits in three games. Myers' average has zoomed to .288 and just maybe the worm has turned with his hitting.
Since smacking off a double of Arizona's Zack Greinke on Friday, Myers' bat has shown new life.
"In this game, things can turn with one at-bat,'' Myers said. "I was telling [hitting coach Alan Zinter] the other day that I am one pitch away and was able to get that good pitch the other day against Greinke and I've felt good since.''
Which doesn't surprise Green.
"Wil is a very good batter and he didn't give away any at-bats all weekend,'' Green said. "That's how I want him to be from day one all the way through the last day of the season.''
But it wasn't all smiles and giggles for Myers on Sunday. He was picked off first in the third when shifting his feet after already returning to the bag.
"I kind of hit the first baseman [Phil Gosselin] when I went back, which threw me off and he got me,'' Myers said.
He also allowed a run to score when mishandling a ground out at first.
"On the transfer I fumbled it getting it out,'' Myers said.
But there's optimism with Myers inside the batter's box. A challenged offense embraces the notion it could be getting a key contributor on track.
And Myers is doing it in different spots, batting leadoff on Sunday after being in the No. 2 hole on Saturday. Earlier in the year Myers was batting clean-up, serving as protection for Matt Kemp.
"I like hitting anywhere,'' Myers said. "I like to hit where the coach puts me."
Jay Paris is contributor for MLB.com. This story was not subject to the approval of Major League Baseball or its clubs.