Sanchez showing more confidence, poise
Blue Jays right-hander picks up first win with seven innings of one-run ball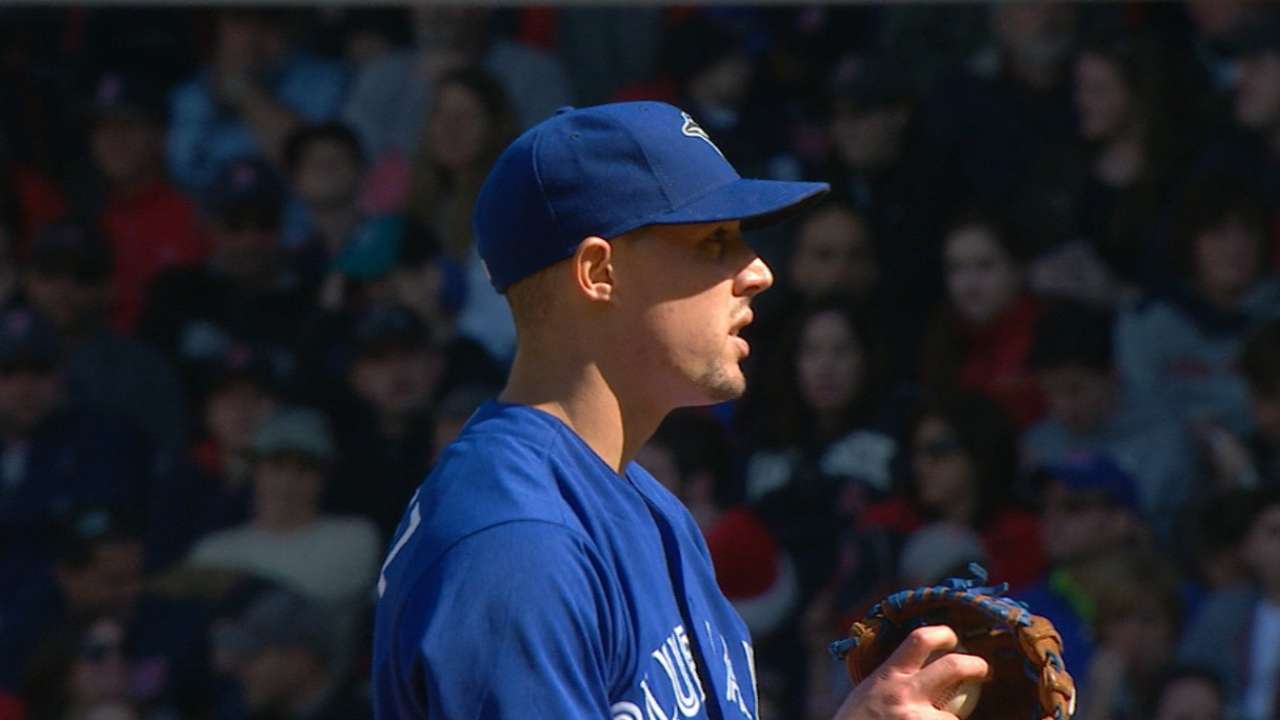 BOSTON -- His offense gave him a two-run lead in the first inning, and Blue Jays right-hander Aaron Sanchez made the most of it on the way to a 5-3 win over the Red Sox on Sunday afternoon at Fenway Park.
Sanchez went seven innings, allowing one run on two hits and four walks with seven strikeouts. He earned his first win -- his first decision -- in his third start of the season, lowering his ERA to 1.35.
"For the most part we stuck to the game plan early in the game," Sanchez said. "It's nice to go out there with two runs on the board, not really feeling like I have to be too fine, just kind of fill up the strike zone and work on the things I need to work on."
Sanchez kept the Red Sox hitless until a two-out single in the fifth by Marco Hernandez, who was making his Major League debut. Hernandez stole second base, took third on a throwing error on the play by catcher Russell Martin and scored on Mookie Betts' single to center.
Sanchez handed over a 4-1 lead to Drew Storen, who pitched a perfect eighth. The Blue Jays tacked on a run in the ninth. Roberto Osuna took over in the bottom of the frame and gave up a leadoff single to Hanley Ramirez and Travis Shaw's first home run of the season before closing the door.
Manager John Gibbons sensed early in the day that Sanchez, who earned a rotation spot in Spring Training, might have something special. Sanchez confirmed his manager's observations when he didn't allow a busted no-hitter to casue him to unravel.
"I saw him warming up in that first inning. I thought, 'He really looks relaxed. He's confident today,'" Gibbons said. "He's a young guy. He's battled some emotions. But what you don't see is in the past, when he was starting, when he was falling into ruts he just started scattering and it was tough to regroup sometimes. Now he gets it back in the zone. To me he looks like a totally different guy -- command, confident, poised. He's come along way and he's just going to get better and better."
The win stopped a two-game slide for the Blue Jays (6-7) and a four-game skid on the road.
"The pitching did a helluva job today to give us a chance," said Gibbons. "So it was really a good all-around, well-played game."
Sanchez is 2-0 with a 1.83 ERA in three career starts against the Red Sox, allowing four earned runs in 19 2/3 innings.
"It's got a lot of movement on it," said Red Sox shortstop Xander Bogaerts, who went hitless. "When you hit it, it's going under the barrel and you're hitting over it. If he was up you could get a better swing, but he was down in the strike zone. What can you do? You just beat it in the ground."
Maureen Mullen is a contributor to MLB.com. This story was not subject to the approval of Major League Baseball or its clubs.