Cubs' offense takes luster off Lester's day
Lefty fans 10, rips double but bats go cold against Rockies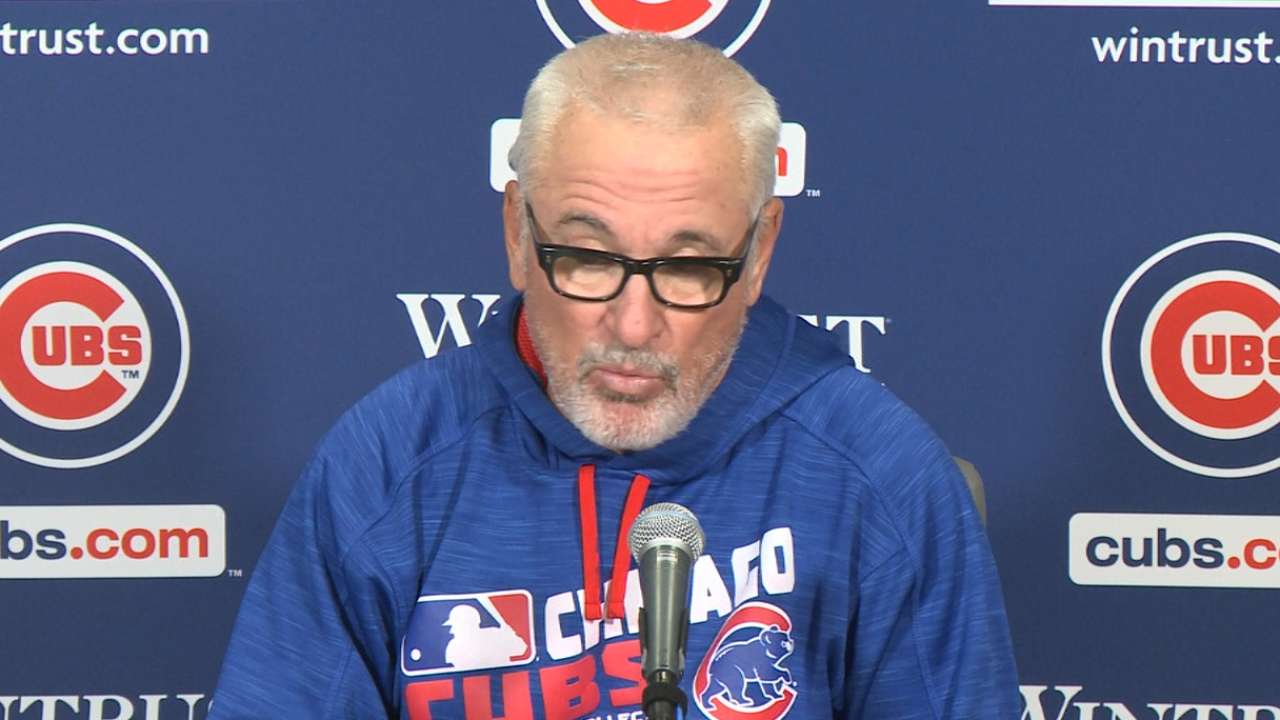 CHICAGO -- Kris Bryant came to bat in the bottom of the ninth with a chance to celebrate the one-year anniversary of his Major League debut in style -- two outs, two on, Cubs down by two.
But like the rest of the Cubs' lineup for most of Sunday afternoon, Bryant couldn't come through, striking out swinging to end the game and giving the Rockies a 2-0 victory and the series win.
The tough offensive performance took the spotlight from Cubs starter Jon Lester, who went 7 1/3 innings, striking out 10 and giving up his lone run on one of two home runs from Nolan Arenado.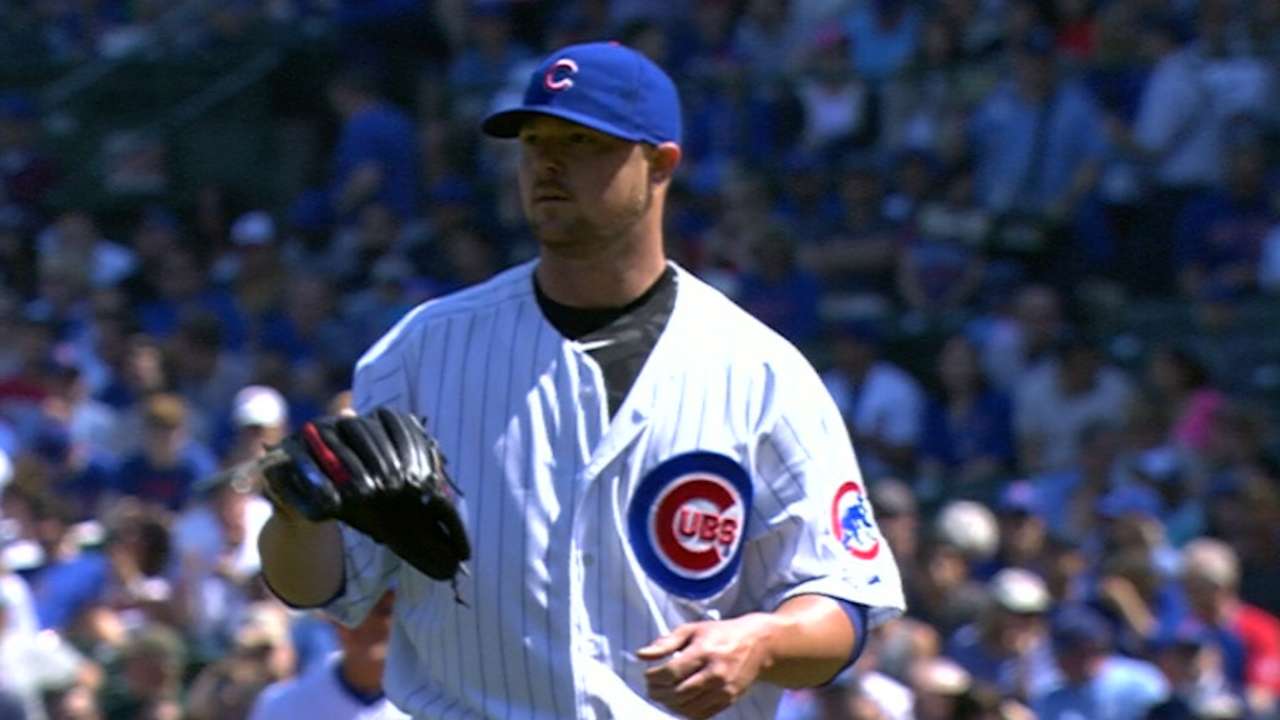 Tyler Chatwood got the better end of the pitchers' duel after tossing seven scoreless, using his tailing sinker to disrupt Cubs hitters all game. It was the first time the Cubs have been shut out in the regular season since Sept. 26 against the Pirates.
"He didn't give us anything to drive," catcher David Ross said. "And when we did drive the ball, it was either at somebody or we weren't able to capitalize on getting the guy to third with less than two outs."
The Cubs' bats were quiet for the second time in three games against the Rockies, with the only three hits Sunday coming from Javier Baez, Jason Heyward and Lester. But that doesn't mean the Cubs went back to the dugout easily.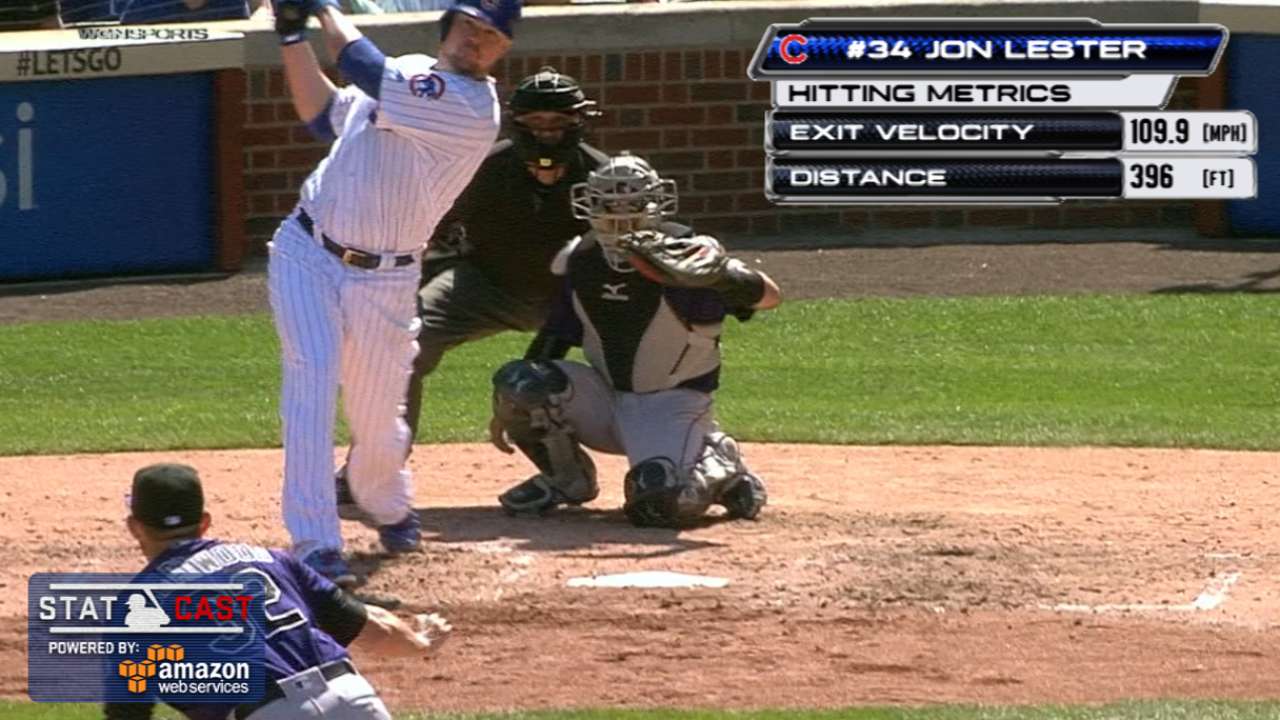 No better example than the ninth, when Dexter Fowler led off with a hard-hit ball that shortstop Trevor Story turned into an out. Heyward doubled, then Ben Zobrist flied out on a ball to the left-field warning track. Anthony Rizzo was hit by a pitch before Bryant struck out.
Although the rally attempt failed, Heyward said it's a good example of why the Cubs have plenty of faith in their lineup.
"We're capable of putting up multiple runs in the blink of an eye," Heyward said. "You just got to hang in there until the end of the game until the last out is made. We want to be in a spot to help the team to win, and we were right there in one."
Through 12 games, Fowler has a .375 average, but many of his teammates are searching for their groove.
Bryant is hitting .229, Zobrist is at .214, Heyward at .205 and Anthony Rizzo at .186. But the Cubs are 9-3, and it's easy to believe their best offensive days are yet to come.
"We pitched extremely well," manager Joe Maddon said. "Except for one game, we've caught the ball extremely well. We're working some good at-bats. Some guys have not hit their stride on the offensive side, but they will."
Cody Stavenhagen is an associate reporter for MLB.com. This story was not subject to the approval of Major League Baseball or its clubs.