Green hopes first Petco win kick-starts Padres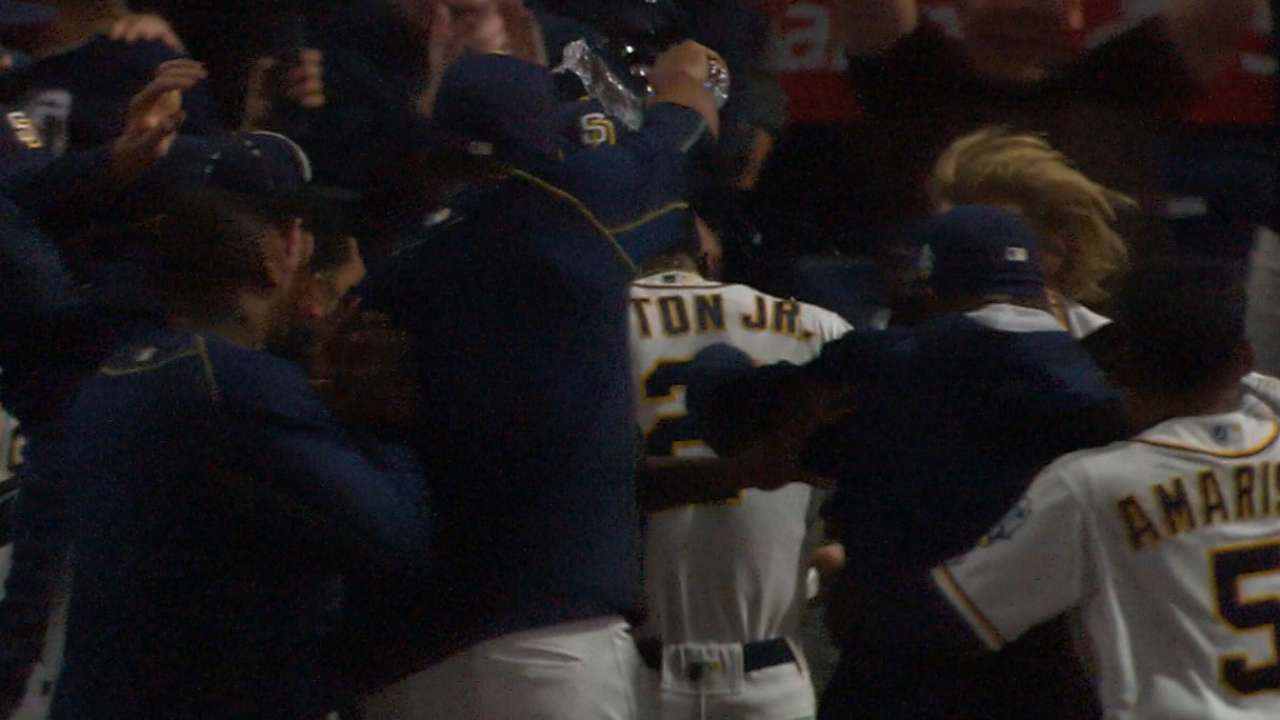 SAN DIEGO -- If it's Sunday, it's fun day, and that's just how they roll in San Diego.
Even the sleepy-eyed Padres.
It was the morning after Saturday's 4-3 win over the Arizona Diamondbacks, a little ditty that went 14 innings and lasted nearly 5 1/2 hours.
"I think there is a boost to it,'' manager Andy Green said.
Green was peppy as usual, despite punching out late Saturday night. The hope is Melvin Upton Jr.'s walk-off haymaker, a home run, revitalizes a scuffling club.
Upton's center-field blast provided goose bumps for the locals, the Padres' first Petco Park win this year. But the feel-good can't erase the sad fact that the Padres again were challenged offensively.
The team that leads the big leagues by being shut out five times went 10 consecutive scoreless innings in Saturday's thriller.
But that's in the past, like Green thinking he was going to catch up on sleep with Saturday's early start.
Still, could the dramatic win be a catalyst for a club that's lost eight of 12?
"I think it can be, but I don't think it has to be,'' Green said. "I think if you look back at every moment in a season, you can kind of point back in hindsight and say, 'What was the moment that got a team to click?'
"Moments like [Upton's] are often the moment. They can be that kind of seismic shift for a team on occasion.''
At least the Padres rose with squinty eyes and the echo of blaring music from their joyous clubhouse. In a season where success has been sporadic, Saturday's triumph just might linger.
"That swing was a big swing for us,'' Green said.
It capped a team win, one that sprinkles confidence throughout a 25-man roster because of the numerous contributions. Starter Andrew Cashner was solid for six innings, the bullpen went eight innings and allowed two runs and the defense included a spectacular diving catch by Travis Jankowski.
Then there was Upton's game-winner which came with a flare and possibly a spark.
"It was a big win,'' Green said. "And we didn't shy away from that.''
Jay Paris is a contributor for MLB.com. This story was not subject to the approval of Major League Baseball or its clubs.