With bullpen at breaking point, new arms arriving
D-backs use all 7 relievers in 14-inning loss, will call up reinforcements on Sunday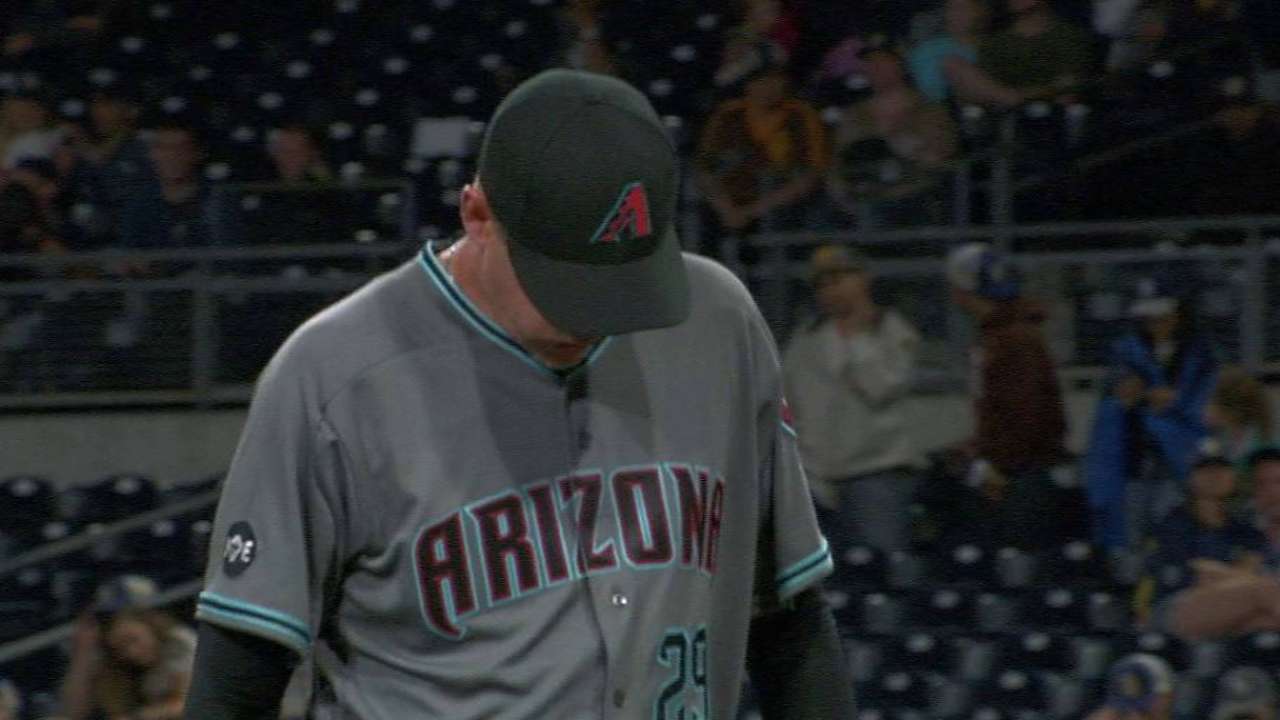 SAN DIEGO -- The D-backs' already-depleted bullpen, which was going to be taxed further after Shelby Miller was forced to leave his start in the second inning after banging his hand on the pitcher's mound, reached a breaking point when Saturday night's game went to the 14th inning.
As a result, the D-backs plan to make a pair of pitching moves prior to Sunday's series finale against the Padres.
"We're going to make a couple of moves tomorrow, but we haven't talked to the players we're going to have to send out," said D-backs manager Chip Hale after his team lost to the Padres, 5-3 in 14. "We're going to have to make some moves. We're just killing the pitching staff. Our relievers are overused as it is, so we're going to have to make a couple of moves. It's unfortunate for the guys who have pitched fairly well. It's just the way the game is and the timing of it."
Following the game, Hale met with senior vice president of baseball operations De Jon Watson in his office and the pair got general manager Dave Stewart and chief baseball officer Tony La Russa on the phone.
The D-backs used all seven of their relievers Saturday as well as Monday's scheduled starter, Rubby De La Rosa, who also pitched in relief before his last start.
"That's the second time he's come on in relief for us, so we'll have to evaluate whether he can make his start on Monday also," Hale said. "That's another question that we'll answer [Sunday]. We're not sure yet."
The D-backs opened the season with 12 pitchers on the staff, including seven relievers. They toyed with carrying 13 pitchers and eight relievers, but figured that the rotation would give them enough innings so they wouldn't need an extra bullpen arm.
Five games into a 20-games-in-20-days stretch, the D-backs were already thinking of adding a 13th pitcher. Now they will likely do that Sunday as they look to bring up a pair of fresh arms from the Minor Leagues.
"It could be one of those things where this whole week is flip-flopping people," Hale said. "It might be time … to go down to 12 position players too at some point, which we've talked about doing during this stretch of games."
Steve Gilbert is a reporter for MLB.com. Follow him on Twitter @SteveGilbertMLB. This story was not subject to the approval of Major League Baseball or its clubs.