Santana's walk begins turnaround for Tribe
Cleveland's first baserunner Saturday provides 'opening' as offense jumps on Harvey out of stretch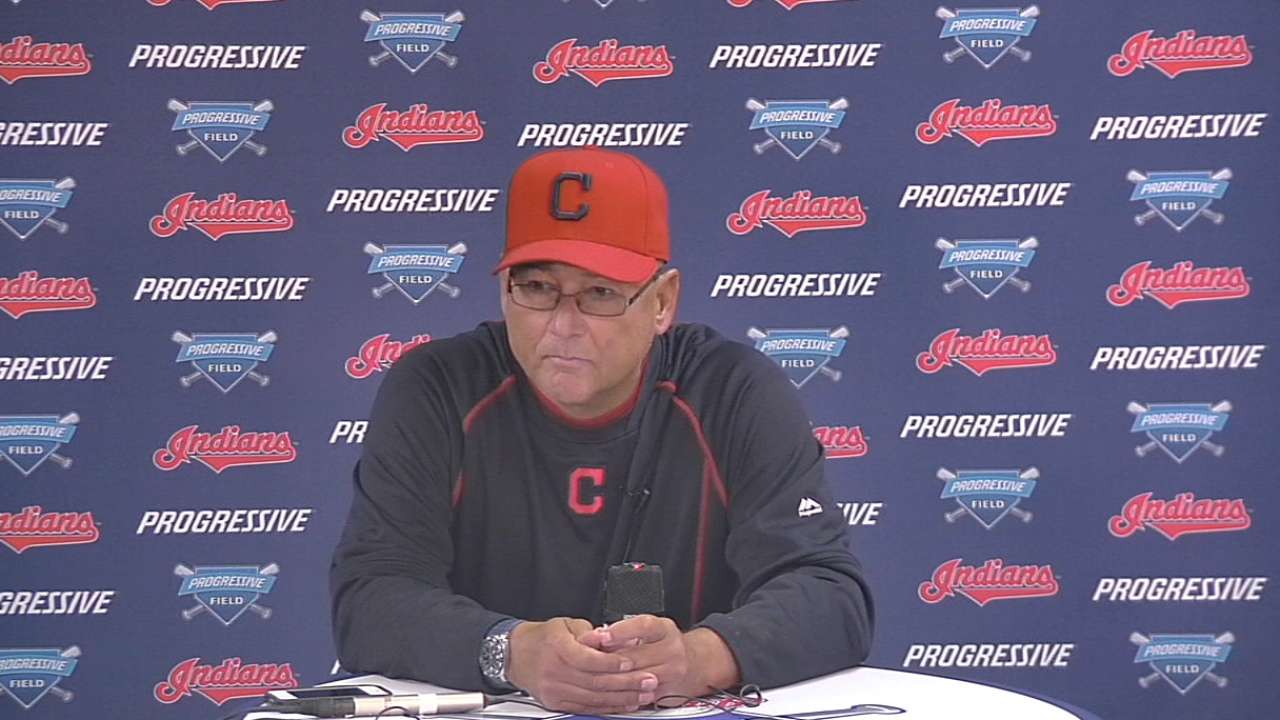 CLEVELAND -- The plate appearance that changed the Indians' fortunes on Saturday did not include a single swing. Carlos Santana watched five pitches from Mets starter Matt Harvey in the fifth inning, tossed away his bat after drawing a walk and altered the game.
"He was very effective in the windup," Indians outfielder Rajai Davis said of Harvey following Cleveland's 7-5 victory over New York at Progressive Field. "Getting him in the stretch, he's a different pitcher."
Harvey was in vintage Dark Knight mode in the early going, slicing his way through the Tribe's lineup seemingly with ease. The right-hander struck out Davis, Jason Kipnis and Francisco Lindor in order, and on only 10 pitches, in the first inning. Harvey continued to cruise, carrying a no-hitter through the first 15 batters he faced on the afternoon.
"To me, all he did was throw fastballs," Lindor said. "That first at-bat: strike one, strike two, strike three. That's all he did to me. Second at-bat, I was looking for a fastball. He went changeup. Then, he made me roll over. He was throwing strikes, putting the ball where he wanted and was very efficient."
Indians manager Terry Francona was a little more succinct in his evaluation.
"That guy was carving us up," he said.
That changed after Santana's walk.
"It was like an opening for us," Davis said. "And our guys did a good job of taking care of that."
Indians today vs. Harvey...
In windup: 1-for-14, 3 K, 5 GO, 0 R
Out of stretch: 5-for-8, 3 BB, 2 SB, 2 2B, 5 R

— Jordan Bastian (@MLBastian) April 17, 2016
What Santana's free pass did was throw off Harvey's rhythm. As Davis noted, the walk forced the righty to shift his footing on the pitching rubber, moving into the stretch rather than staying within the comfortable flow of his windup. It gave Cleveland's hitters a different look at his mix of four-seamers, sliders, changeups and curves.
Two batters later, Jose Ramirez sliced an 85-mph changeup to center field, where it dropped in just short of the 19-foot wall for a run-scoring double. When the ball sailed beyond the reach of Mets center fielder Alejandro De Aza, there was a collective gasp of relief among the Tribe's players.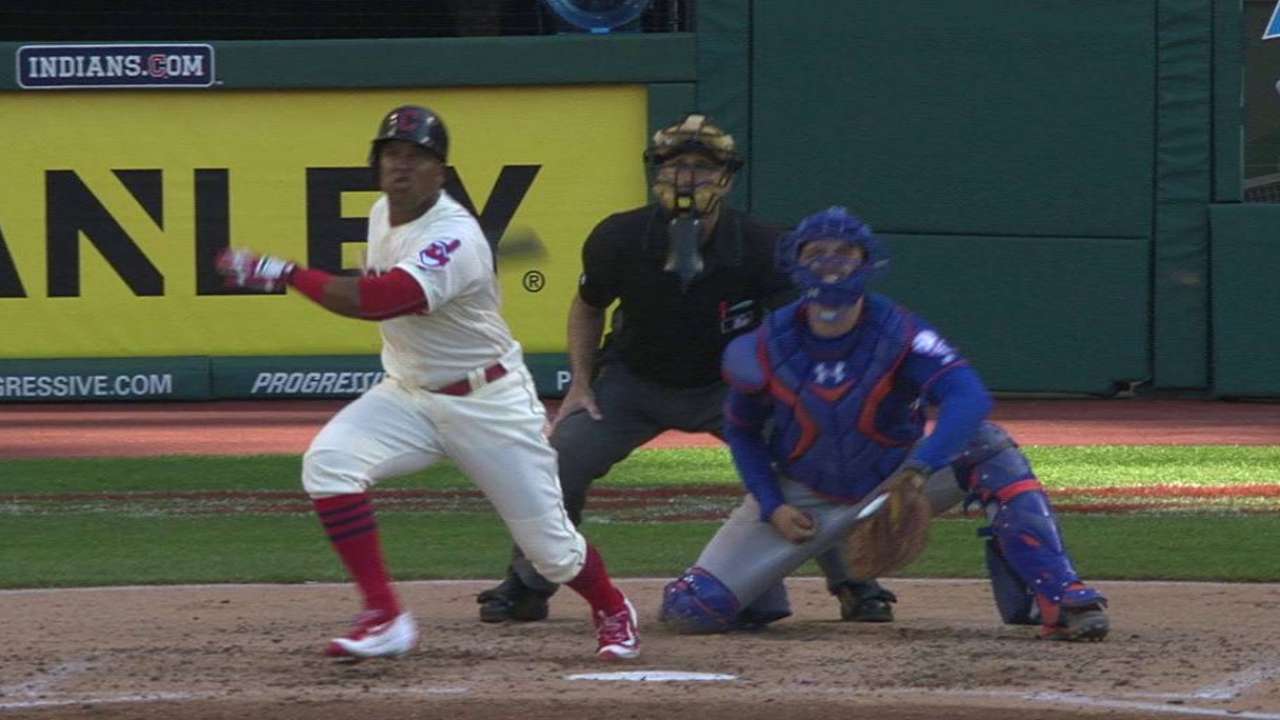 The Indians had their first hit. Now, it was time to push down on the accelerator.
"That's huge. That was a relief," Davis said. "And then you feel the energy of the fans just getting wild and crazy, as we were in the dugout. When you see that big hit, that's huge. That was a game changer."
Juan Uribe followed with an RBI single to left field that pushed the Indians ahead, 2-1. After Davis opened the sixth inning with a leadoff single, the trend against Harvey in the stretch continued. Kipnis came through with an opposite-field, run-scoring double. Mike Napoli brought Kipnis across the plate with a single up the middle. Santana drew another walk. Yan Gomes used a single to knock in another run.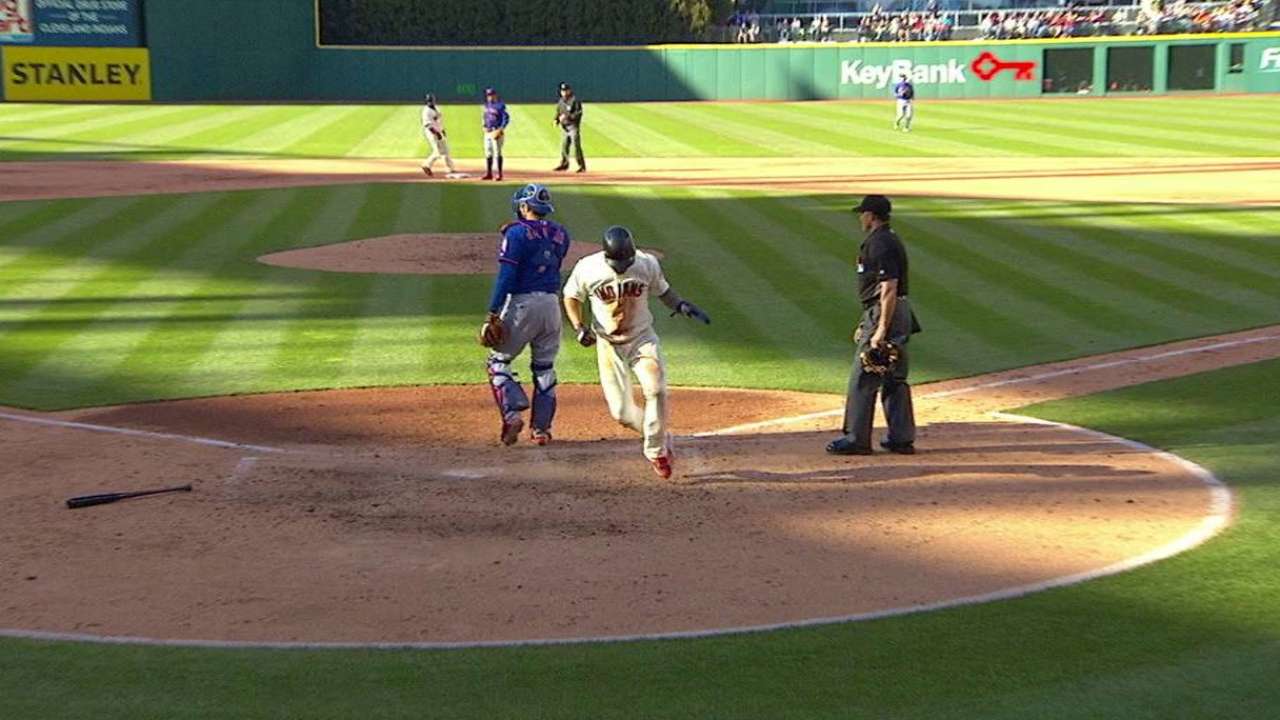 By the time the smoke cleared, Harvey went from flirting with a no-hitter to having allowed five runs in a span of 11 batters. The Mets' righty was sent to the showers after 5 2/3 innings and saddled with his third loss of the season for the reigning National League champs.
And it all started with Santana's walk, which could have easily gone unnoticed.
"Nothing gets lost," Francona said. "I was really proud of them today."
Jordan Bastian is a reporter for MLB.com. Read his blog, Major League Bastian, follow him on Twitter @MLBastian and listen to his podcast. This story was not subject to the approval of Major League Baseball or its clubs.