Can Bogaerts be a consistent power threat?
Shortstop hits first home run during win vs. Blue Jays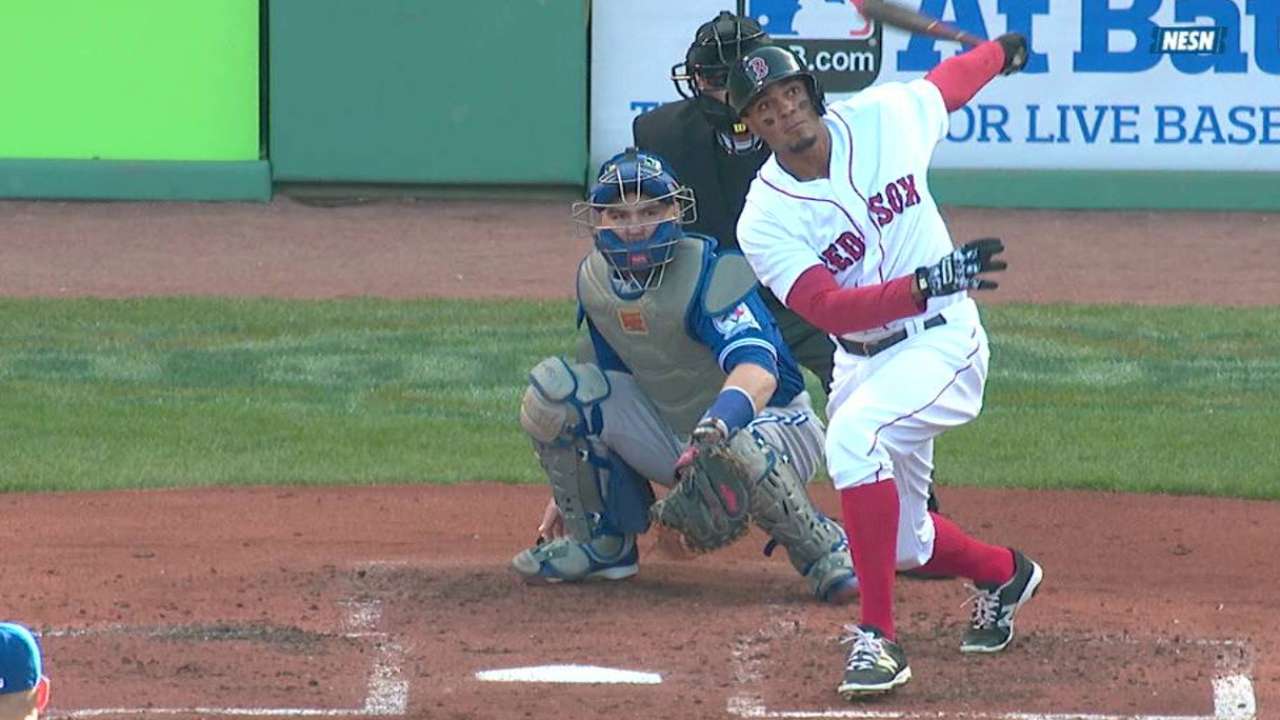 BOSTON -- Each time Xander Bogaerts sends a fly ball soaring over the wall like he did during a 4-2 win for the Red Sox on Saturday afternoon against the Blue Jays, you can't help but wonder if he'll eventually start to do it on more of a regular basis.
Bogaerts has such a fluid swing that his power looks easy when he connects.
His three-run shot over the Green Monster in the bottom of the third was the biggest hit of the day in the victory over the Blue Jays.
Bogaerts had a tremendous 2015 season, hitting .320 with 196 hits, 35 doubles and 81 RBIs while providing strong defense at the key position of shortstop. The one thing missing was power. He hit only seven homers in 613 at-bats.
Saturday's rocket was his first in 2016, coming nine days earlier in the calendar than last season.
"I think all that see Xander play, we know there's power in there," said Red Sox manager John Farrell. "He shows it in BP; he'll show it to you like that at-bat here today. But he's about plate coverage and using the whole field."
Keep this in mind, also: Bogaerts, it is so easy to forget, is just 23 years old.
"The power, everyone projects there's a certain number of home runs in there, and that will come in time," said Farrell. "I think Xander feels most comfortable with staying inside the baseball and hitting for an average, and I think that's why there was such a high number of RBIs last year. He was so good in RBI situations. In time he'll pick spots to be able to get something to the pull side."
Batting third for the Red Sox, Bogaerts takes pride in setting the table for David Ortiz and Hanley Ramirez.
"I just try to put the ball in play and have big guys behind me that can drive me in," Bogaerts said. "Ortiz can drive me in from first base, so [power] really doesn't matter. Just try to get on base and let those guys drive me in. That's what I've been trying to do as of now."
Bogaerts was told by one media member that some people think he could hit 20-to-25 homers a season.
"Good thinking," Bogaerts said. "I mean, we'll see what happens. It's a long season and we're just in April right now. We're 10 games in."
If Bogaerts does start swinging for the fences a little more often, he will at least wait until the weather warms up.
"A little [more] power? Yeah, but not in April," said Bogaerts, who hails from Aruba. "That was a good swing on that one. I wasn't looking for the home run. Just got to be tough and try to put good swings on balls."
Ian Browne is a reporter for MLB.com. This story was not subject to the approval of Major League Baseball or its clubs.