MLB.com Columnist
Barry M. Bloom
Slumping A-Rod sits series opener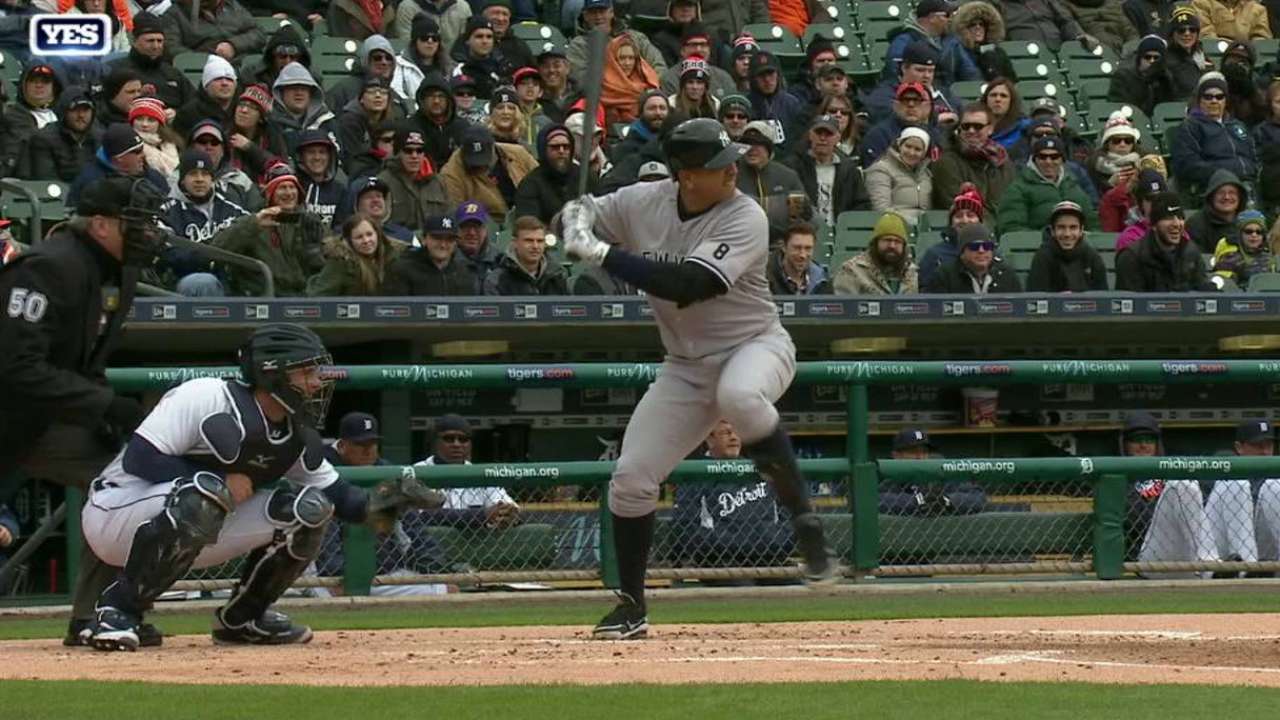 NEW YORK -- The Yankees claim they are not worried about the hitting slump that has plagued Alex Rodriguez since last August and persisted through Spring Training and the first eight games of this season.
But just in case, manager Joe Girardi decided to rest A-Rod on Friday against the Mariners. The Yanks lost anyway, 7-1, leaving 12 men on base. The middle of their lineup -- from third to sixth -- was 1-for-14. The Bombers had six hits in all, scoring only on Brett Gardner's first homer of the season.
Sounds like a systemic problem.
Mariners star right-hander Felix Hernandez with his 0.69 ERA is scheduled to pitch Saturday and Girardi wouldn't commit to playing A-Rod in that game, either.
"I'll make out the lineup in the morning," he said after Friday's game.
Girardi had a chance to hit the right-handed A-Rod at least once, but sent up Aaron Hicks instead for lefty-swinging Dustin Ackley with two outs in the seventh, the bases empty and Seattle leading, 5-1.
"There was nobody on base," Girardi said when asked why he chose Hicks over A-Rod.
The designated hitter is 3-for-25 (.120) with a homer and two RBIs this season, but has no hits in his last 14 at-bats. The lack of production for a 40-year old, who is going to be 41 on July 27, is long term. Since Aug. 1, A-Rod is hitting .183 with 10 homers and 27 RBIs. In last October's Wild Card Game loss to Houston he went 0-for-4.
This spring, A-Rod hit a homer in his first game on March 3 and not another one in the Grapefruit League. He finished with six RBIs and a .245 batting average (12-for-49).
His only other home run in this calendar year was hit last Saturday in Detroit and gives him 688 for his 22-year career. That was also his last hit.
Yet A-Rod seemed unconcerned after going 0-for-3 in a loss at Toronto on Thursday night. In that game, he was hit by a pitch and ultimately came around to score.
"I feel fine. I felt great today at the plate," Rodriguez said. "I thought I had good swings, swung at strikes, had my 'A' swing. Didn't like the results, but tomorrow's another day."
Asked his assessment of A-Rod at this point, Girardi said he wasn't really concerned.
"It's what hitters go through. They go through ups and downs," he said. "Like I've said, when you're 40, people are always going to question whether it's his age. And when it's early in the season, it's usually a lot more glaring. You go 0-for-14 with 400 at-bats under your belt and you're hitting .280, people usually don't say a whole lot.
"But when it's early in the season and you're 40 and you're Alex, you're going to be asked about it every day."
Barry M. Bloom is a national reporter for MLB.com and writes an MLBlog, Boomskie on Baseball. Follow @boomskie on Twitter. This story was not subject to the approval of Major League Baseball or its clubs.