Kershaw eyes more consistency on offspeed
Dodgers ace bests Bumgarner, but says 'a lot to get better at'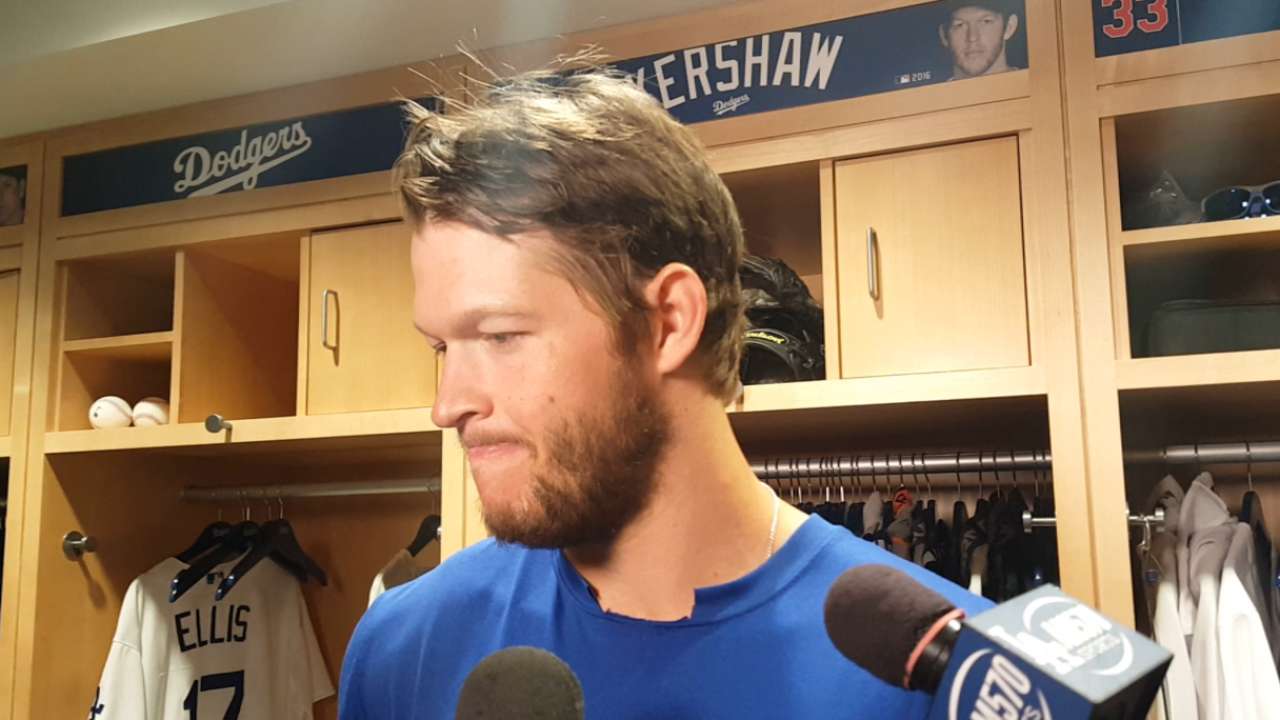 LOS ANGELES -- Clayton Kershaw might not think his offspeed pitches are there yet, but they were still enough to get him the win in Friday's 7-3 victory over rival ace Madison Bumgarner and the Giants.
The left-hander finished with an excellent showing up to his standards (7 IP, 5 H, 2 ER, 0 BB, and 6 K), but he said after the game his secondary offerings still weren't at the level he wanted three starts into the season.
"Some of them were OK, I think they were a little bit better today than they were in San Francisco," Kershaw said. "Overall, I still have a lot to get better at. The consistency of it, I want to throw a good one every time, it's definitely not there right now. It's why you play, just keep working."
Kershaw's biggest trouble of the game came in the top of the sixth inning when Angel Pagan and Joe Panik led the inning off with singles, then advanced to second and third on a Buster Posey groundout.
Both would score in the next at-bat, Pagan on a wild pitch and Panik on a Hunter Pence single. Those would be the only runs in the inning for the Giants, though, as Kershaw induced weak contact to down the next two batters.
"He gave us seven strong innings, you know what Clayton does," manager Dave Roberts said. "He didn't have his best stuff and I think he'll be the first to say that. Towards the middle of the game, he really started to get a feel for that slider and threw a couple really good sliders. That's just the special thing about him, when he's not at his best, make a play earlier and it could have been a shutout. I think for him, to not even have his best stuff, he can still dominate a baseball game."
The largest symptom of Kershaw's offspeed struggles came during a pair of wild pitches that allowed runs to score, something the left-hander has never done in his career. One came off a slider that hung well high, the other off a grounded curveball. Kershaw didn't make any excuses.
"Just bad pitches. That's usually what happens, just bad pitches," Kershaw said.
Even though his arsenal is still a work in progress, the Dodgers ace is now 2-0 in three starts on the season with a 1.64 ERA and 8.18 strikeouts per nine innings.
Jack Baer is an associate reporter for MLB.com. This story was not subject to the approval of Major League Baseball or its clubs.