Green will always have a soft spot for Hale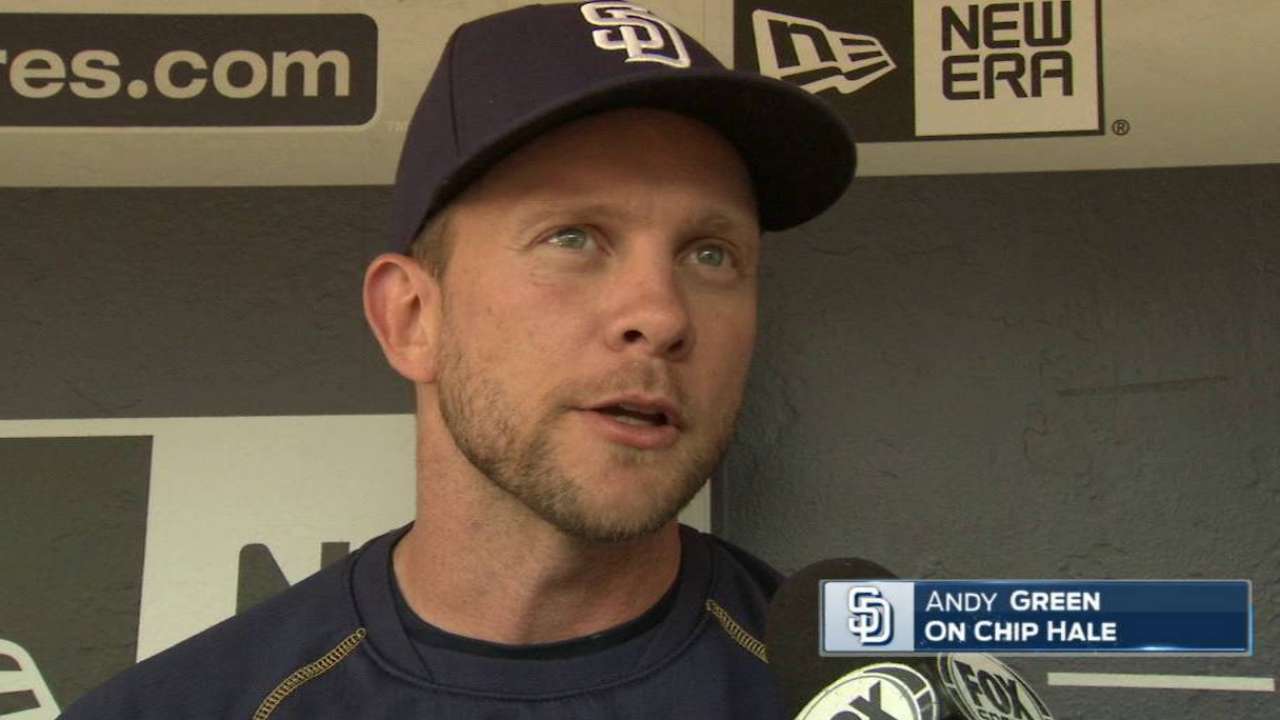 SAN DIEGO -- It's a good story, even if a white lie is involved.
When Andy Green left the D-backs as a coach to become the Padres manager in October it gave Arizona payroll flexibility. The way Green tells it, with the money the D-backs got off the books when he exited allowed them to sign pitcher Zack Greinke.
Not exactly a net-neutral transaction, as we doubt Green was working off a six-year, $206 million contract.
But with Arizona making its first visit to Petco Park on Friday, it marked the first time in the regular season Green faced his old team.
"You want to say it's just like every other game but when you have relationships on the other side of the field, ones that go way back in some instances, guys that you really love and care about, it adds an extra layer on to the game,'' Green said.
Green was a 24th-round Draft pick of Arizona's in 2000. He played parts of three seasons with the D-backs, before finishing his career with the New York Mets. It was after his career that Green was invited back into the Arizona organization as a coach. Among the coaches he played for was Chip Hale, the D-backs manager.
"Chip has always been very good to me and done a lot of things for me in my career,'' Green said. "He opened doors for me that otherwise wouldn't have been opened. If he wasn't around I probably would have never got out of Rookie Ball but he believed in me in the very beginning. Then he managed me in Triple-A, coached me in the big leagues and then brought me on his staff.''
Last year, Green, in his 12th year with the D-backs, was Hale's third-base coach.
"He has done more for me than probably anyone else in this game and that won't be forgotten,'' Green said. "At the same time he knows we are going to try and beat him tonight.''
Hale will be doing the same, although it's different with Green on the opposite top step.
"It's hard, it's always difficult because you're always wishing him a lot of good luck,'' Hale said. "He's a good guy.
"When they got off to the 0-3 start and didn't score any runs I gave him a call to encourage him. He's a friend of mine, he played for me in Rookie Ball, Triple-A and he was a great coach for me last year. You wish him well, but once the game starts, you're trying to win the game.''
Jay Paris is a contributor to MLB.com This story was not subject to the approval of Major League Baseball or its clubs.