CarGo extends career-best hit streak to 20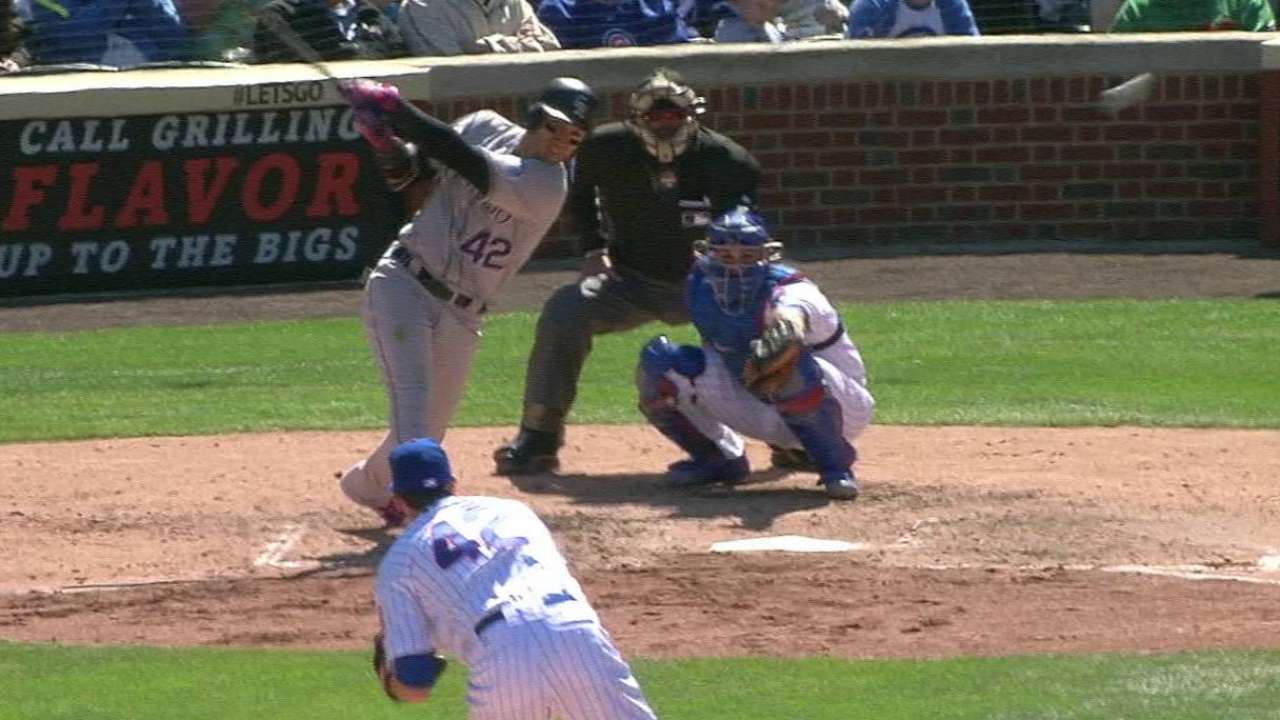 CHICAGO -- Rockies right fielder Carlos Gonzalez, who extended his career-high hit streak to 20 games by going 2-for-4 in Friday's 6-1 victory over the Cubs, believes the key to smart hitting is turning off the brain.
Gonzalez can hit for power, as evidenced by his 40 home runs last season. He's taken advantage of Wrigley Field with eight home runs and 13 RBIs in 17 games. But Friday, he hit opposite-field singles in the sixth and ninth inning. The latter hit was soft.
With the wind in his face and not gusting toward the currently dormant sepia ivy covering the outfield walls, power was out of the question. After 16 extra-base hits in their last two games, the Rockies won on the strength of 10 singles vs. the Cubs. Plans like the one Gonzalez employed lead to such success.
"I'm just looking for a strike," said Gonzalez, whose 10-game hit streak to start this season also is a career best. "I always make it that simple. Even when I'm going bad, I don't have to worry about my swing. I don't have to worry about anything. I just look for a good pitch to hit and if they make a mistake, take advantage. If they don't, just wait for my pitch and take what they give me.
"You saw me going the other way a couple of times. You see me going away a lot early in the season. But it's not like I'm trying to do that."
Gonzalez is hitting .400 (32-for-80) during his streak, which started last Sept. 23. This year, he is at .390 (16-for-41) with three home runs, eight RBIs, a .732 slugging percentage and .444 on-base percentage.
Thomas Harding is a reporter for MLB.com. Follow him on Twitter @harding_at_mlb, listen to podcasts and like his Facebook page. This story was not subject to the approval of Major League Baseball or its clubs.