Stanton reveres symbolic No. 42 jersey
MIAMI -- Major League Baseball's annual recognition of Jackie Robinson Day hits close to home for Marlins right fielder Giancarlo Stanton. Raised in Southern California, the three-time All-Star grew up well aware of all Robinson accomplished and went through to break baseball's color barrier in 1947.
As part of MLB's tradition, all players on Friday donned Robinson's retired No. 42 number.
With great pride, Stanton put aside his No. 27 jersey for a day to sport the number Robinson immortalized.
"That's the symbol," Stanton said. "That's what started the ability for me to play, and other [minority players] before me to start playing."
Stanton, who attended Notre Dame High School in Sherman Oaks, Calif., was raised surrounded by reminders of Robinson's legacy.
"When I was younger, one of the teams I played against, their home stadium was the old Jackie Robinson Stadium, right by the Rose Bowl," Stanton said. "Things come together a lot more when you're near Pasadena."
As a child and even today, whenever Stanton is on UCLA's campus, he sees Robinson's presence. The university's baseball field is named after Robinson. In high school, Stanton was recruited to play football at UCLA.
"Being from Southern California is actually a little extra pump for me," Stanton said. "He grew up close. You go to UCLA games, even if it's football or baseball games, [Robinson's legacy] is big."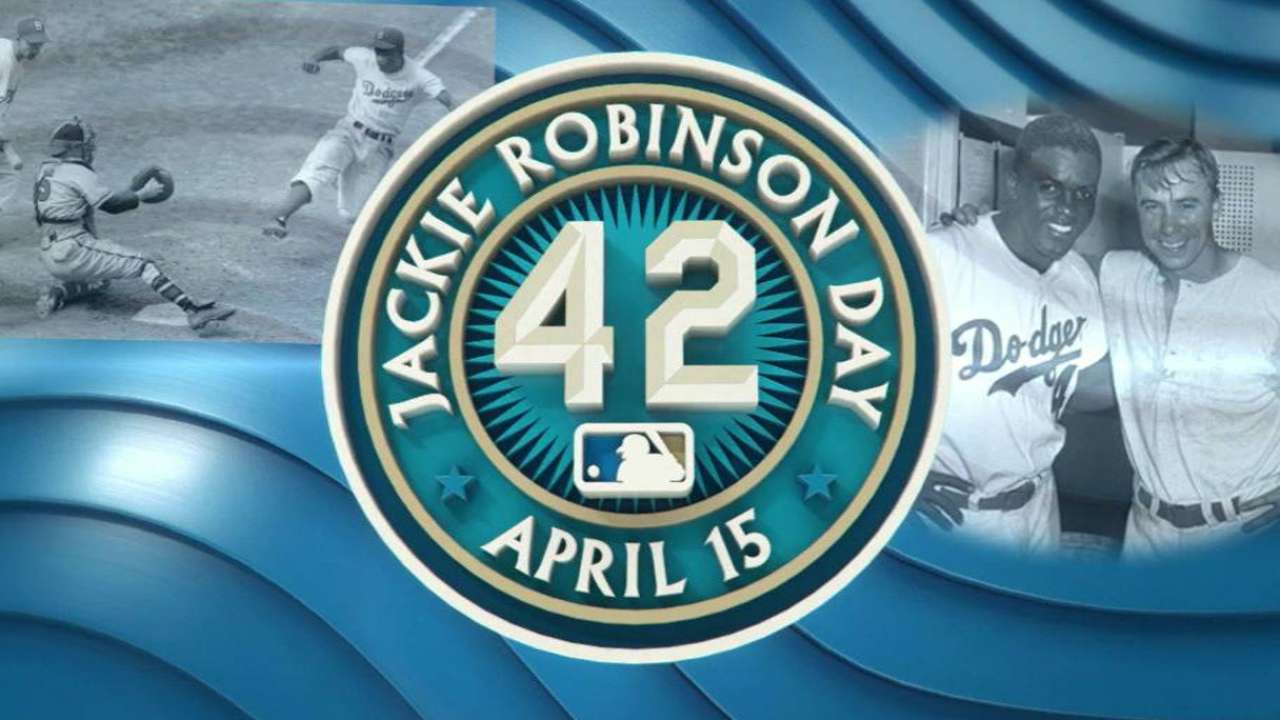 To honor the night, the Marlins offered fans a Jackie Robinson Night special event package, which included a game ticket and a commemorative Jackie Robinson-themed Marlins hat. The Marlins Foundation also awarded two gifts totaling $9,200 to the Jackie Robinson Foundation.
Manager Don Mattingly is mindful of the social impact Robinson made.
"Jackie was a big part of that," Mattingly said. "I'm glad baseball does this."
All that Robinson endured to clear the way for minorities has not gone unnoticed by Stanton.
"The patience and the focus he had to go through, with all the negativity he had to deal with," Stanton said. "People giving him death threats and all that, it was big. It took someone with a big heart and a lot of courage to go through.
"Everything he had to go through is really huge. It's special for all players, let alone players of color."
Joe Frisaro is a reporter for MLB.com. He writes a blog, called The Fish Pond. Follow him on Twitter @JoeFrisaro and listen to his podcast. This story was not subject to the approval of Major League Baseball or its clubs.