Nats' Ross, Phils' Goeddel share close bond
High school buddies face each other during weekend series
PHILADELPHIA -- Off the top of his head, Tyler Goeddel can still recall his batting line from a game his senior year of high school.
Why? It was his first time facing longtime travel ball teammate and childhood friend Joe Ross.
"I was 2-for-3 that game," Goeddel said Friday, five years later. "I guess I got him pretty good."
With the Nationals' Ross on the mound Friday night for his first start against the Phillies, the right-handed-hitting Goeddel, because of his platoon arrangement with Cedric Hunter in left field, was not in the starting lineup. However, Goeddel faced Ross as a pinch-hitter in the third inning of the Nationals' 9-1 win and reached on a throwing error by Nationals shortstop Danny Espinosa.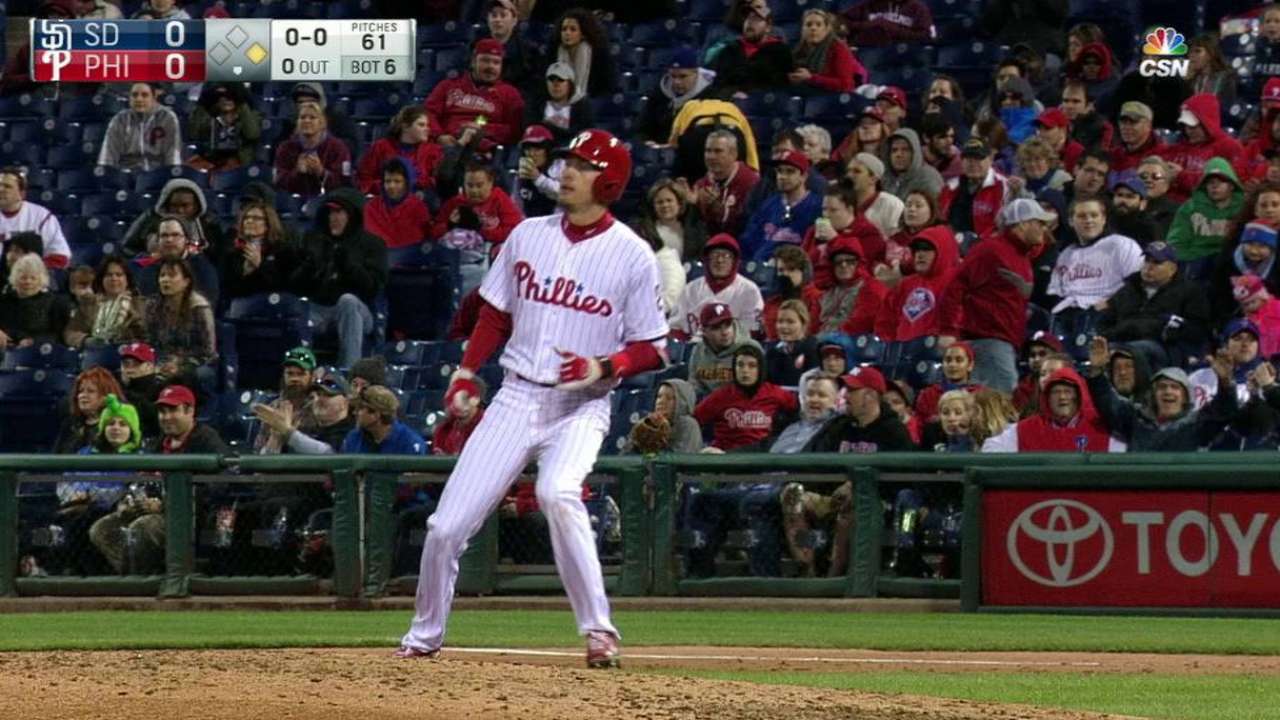 The two Northern California natives still get together in the offseason, and Ross texted Goeddel on Thursday asking if he'd be in the lineup Friday. Although he didn't know Thursday night, Goeddel was disappointed when he had to tell Ross that he wasn't.
After playing together since they were in grade school, the pair committed together to play college ball at UCLA. Goeddel said they decided independently, but took their official visits and went through orientation together.
Both, however, had to rescind their commitments when each was a first-round Draft pick in 2011. The Padres took Ross with the 26th pick, while the Rays selected Goeddel with the 41st, in the supplemental round.
"I remember, sophomore year of high school, [Ross] was throwing 78 mph," Goeddel said. "Then the next year, he came back throwing 94. We were just like, 'What happened?'"
That velocity increase helped Ross post a 0.92 ERA in his senior season and led to him becoming a first-round Draft pick. Last season, Ross' heater averaged 93.4 mph and in his first start of 2016 averaged 92.7.
Goeddel now trains in the offseason with Ross and his older brother, Tyson, who started on Opening Day for the Padres. San Diego visited Philadelphia for the past four games, but Tyson landed on the DL just days prior and Goeddel didn't get a chance to see him.
Evan Webeck is an associate reporter for MLB.com. This story was not subject to the approval of Major League Baseball or its clubs.