Dunn needs more rest for strained left elbow
Workhorse reliever attempted to return from injury too soon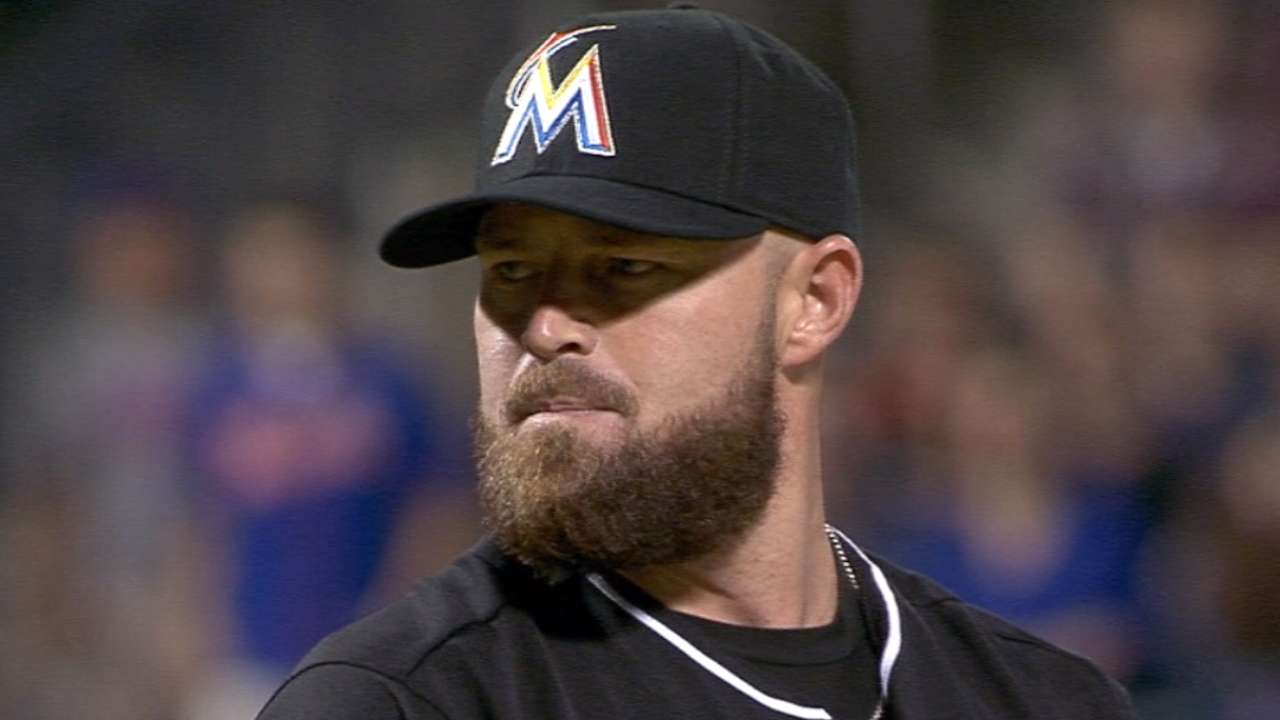 MIAMI -- As a precaution, Mike Dunn had a second MRI taken on Monday, and after consulting with the Marlins, their medical staff and his representative, the recommendation is the left-hander simply needs to rest his strained elbow.
The timeline for a return is unclear, but looking at the big picture, Dunn's elbow remains structurally fine. He's just waiting for all the inflammation to clear before he resumes throwing.
"Right now, we're just giving it some rest," Dunn said. "It wasn't like a setback that made anything worse or anything. We were going in the right direction. We just didn't give it the right time. So let's slow it down, and make sure we give it the right time."
Dunn opened the season on the 15-day disabled list, retroactive to March 25, with a strained left elbow. Initially, the hope was he would be reinstated on Friday for the series opener with the Braves. The first MRI was taken in late March.
But while throwing off the mound last Saturday, Dunn felt something grab in his arm. He threw 23 total pitches, and if that session went well, he was lined up to face hitters in a Minor League setting on Monday.
Dunn, however, felt some discomfort on pitches 20 and 21, but still threw two more before shutting down the session.
"I was able to play catch leading up to the whole thing," Dunn said. "I felt it on two pitches."
Dunn was examined by team physician Dr. Lee Kaplan, and the results of his MRI were sent to Dr. James Andrews for a second opinion.
"The fact an MRI came back and it didn't really show anything different [is encouraging]," manager Don Mattingly said. "It was basically that he was trying to go a little too fast. After talking with everyone, we're pretty confident it's just a matter of time before he's back out there."
Marlins head trainer Dustin Luepker, as well as the team's medical staff and Dunn's agent, Tom O'Connell, all are involved in the next course of action.
"We had everyone talking," Dunn said. "We're trying to figure out what the best step is. Ultimately, it was just I tried to come back too soon, because I was being stubborn about it. I'd never been on the DL. I was like, 'Look guys, I feel good. Let's go.'"
Dunn has been a workhorse in the Marlins' bullpen since he was acquired from the Braves in 2011. Last year, the lefty appeared in 72 games.
His 354 games with the Marlins are second in franchise history to Braden Looper's 368.
Due to missed time, Dunn expects to throw in a few rehab games before he is reinstated.
Joe Frisaro is a reporter for MLB.com. He writes a blog, called The Fish Pond. Follow him on Twitter @JoeFrisaro and listen to his podcast. This story was not subject to the approval of Major League Baseball or its clubs.