Herrera's slider firing on all cylinders
Royals setup man masters third pitch, striking out more than 14 per 9 innings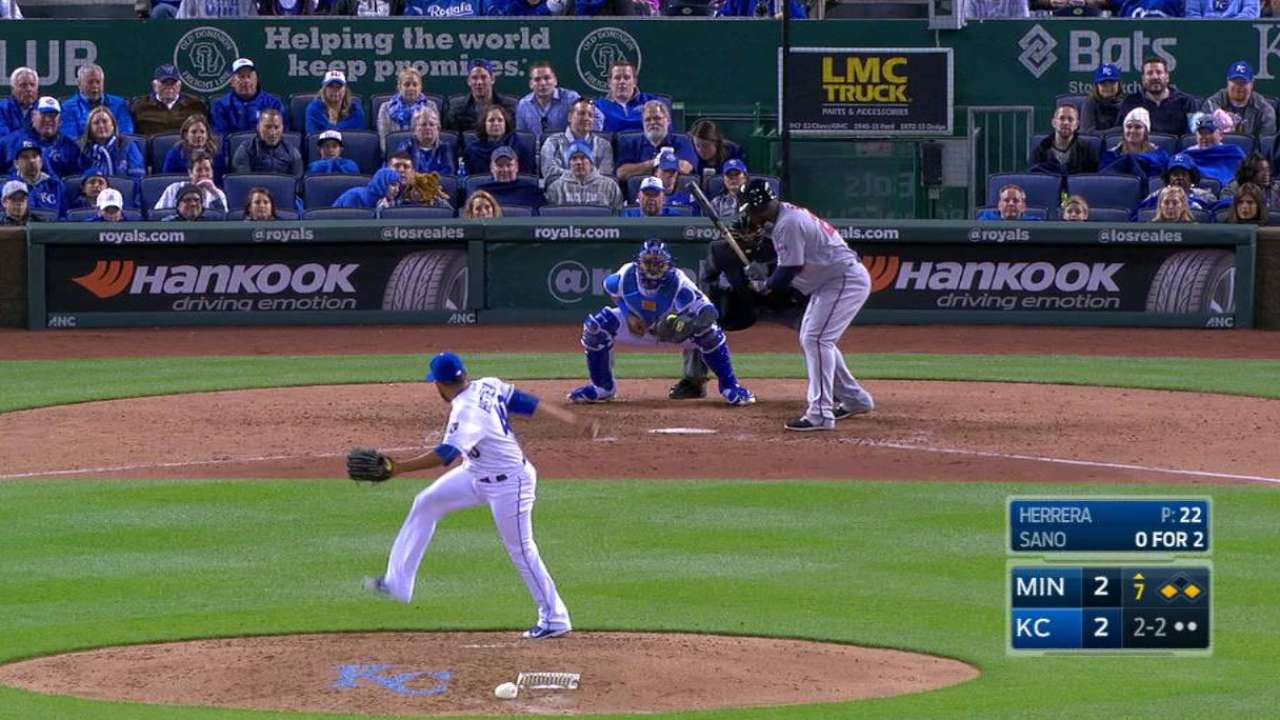 HOUSTON -- When reliever Kelvin Herrera truly emerged with the Royals in 2012, he basically was a two-pitch pitcher: a power sinking fastball and a changeup.
In 2013, Herrera tried to introduce a curve to his repertoire, with little to no success.
In the 2014 season, Herrera began experimenting with a slider. Last season, Herrera and pitching coach Dave Eiland made a determined effort to make that slider work. And it did.
"Him and Dave started working on it hard last year," manager Ned Yost said. "He tried to throw a curveball but never had any consistency. So they tightened it up into a slider. They worked hard and it's been great."
Herrera always has been a strikeout pitcher, averaging 8.8 strikeouts per nine innings through the first four seasons of his career.
This season -- small sample size, just five games -- Herrera already is averaging 14.4 strikeouts per nine.
"He's got confidence in that slider now," Yost said. "Gives him a third pitch, another great pitch."
Worth noting
• Paulo Orlando started in right field over Reymond Fuentes for the third straight game Thursday and the fifth time in six games. Is Yost simply trying to get Orlando (.267) jump-started at the plate?
"No, Rey right now is a little bit more offensive," Yost said, "and Paulo is a little bit more defensive."
• Yost said he likely will give catcher Salvador Perez his first day off of the season on Saturday, a day game in Oakland.
Jeffrey Flanagan is a reporter for MLB.com. Follow him on Twitter at @FlannyMLB. This story was not subject to the approval of Major League Baseball or its clubs.