Velasquez gets job done with furious fastball
Pitcher's philosophy was simple: 'See if they can hit it'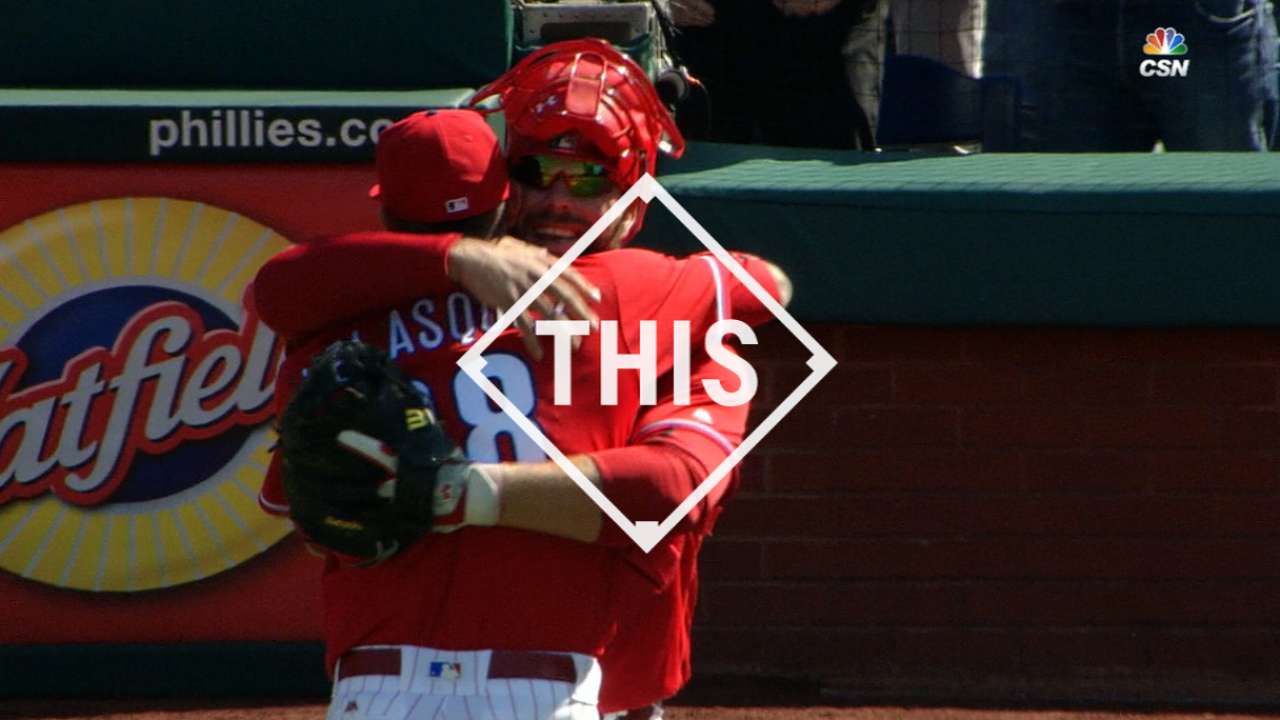 PHILADELPHIA -- Vince Velasquez finished a stellar Thursday afternoon with a 96 mph fastball, a 16th strikeout and a couple of emphatic fist pumps.
Oh brother, what a day.
"Man, gosh," Velasquez said after a historic performance in a 3-0 victory over the Padres at Citizens Bank Park. "It's still hitting me."
Velasquez, 23, dominated the Padres in the second start of his Phillies career. He allowed just three hits and struck out 16 for his first career shutout. Impressive? On its own, yes. But consider where it puts Velasquez in baseball history. He joins Roger Clemens, Randy Johnson, Luis Tiant, Max Scherzer, Kerry Wood and Dwight Gooden as one of only seven pitchers to throw a shutout with 16 strikeouts and zero walks.
The only Phillies pitchers to strike out more batters in a game are Chris Short (18 in 1965) and Art Mahaffey (17 in 1961). But nobody has struck out more batters in his first two Phillies starts than Velasquez's 25. Hall of Fame right-hander Jim Bunning held the previous mark with 20 strikeouts in 1964.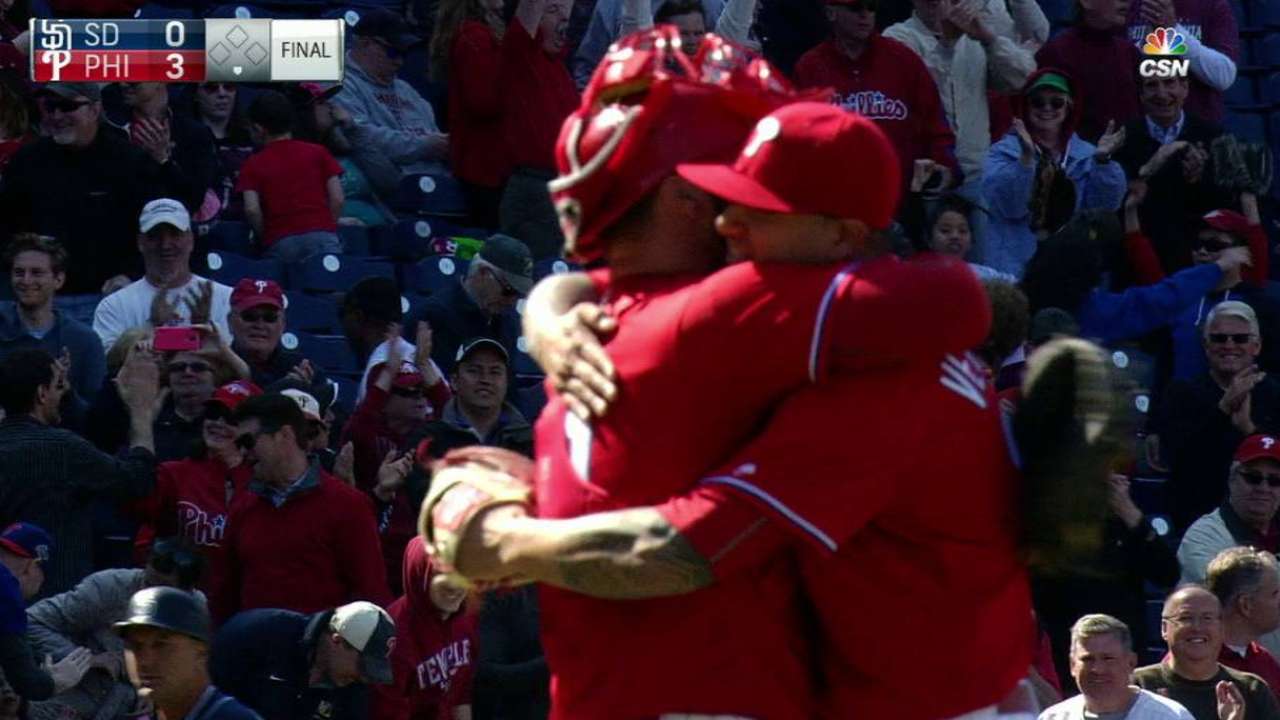 "That was awesome," Phillies right-hander Charlie Morton said. "Are you kidding me, 16 punchies? Are you kidding me?"
Velasquez struck out the side in the first inning on 16 fastballs. He hit 97 mph twice.
"You want to establish that fastball command," Phillies catcher Cameron Rupp said of the fastball-only diet in the first inning. "But then it got to a point where I was thinking to myself, 'I kind of want to mix in a breaking ball here, but I don't need to.' He was blowing everybody's doors off with it."
"See if they can hit it," Velasquez said.
The Padres could not. They have been shut out a Major League-record five times in 10 games, but that does not make Velasquez's performance any less impressive.
He was legit.
"There's riding life in the zone with his fastball," Padres manager Andy Green said. "It was explosive, reminds me of when I saw Scherzer going as well as he goes, and that fastball is literally exploding through the zone."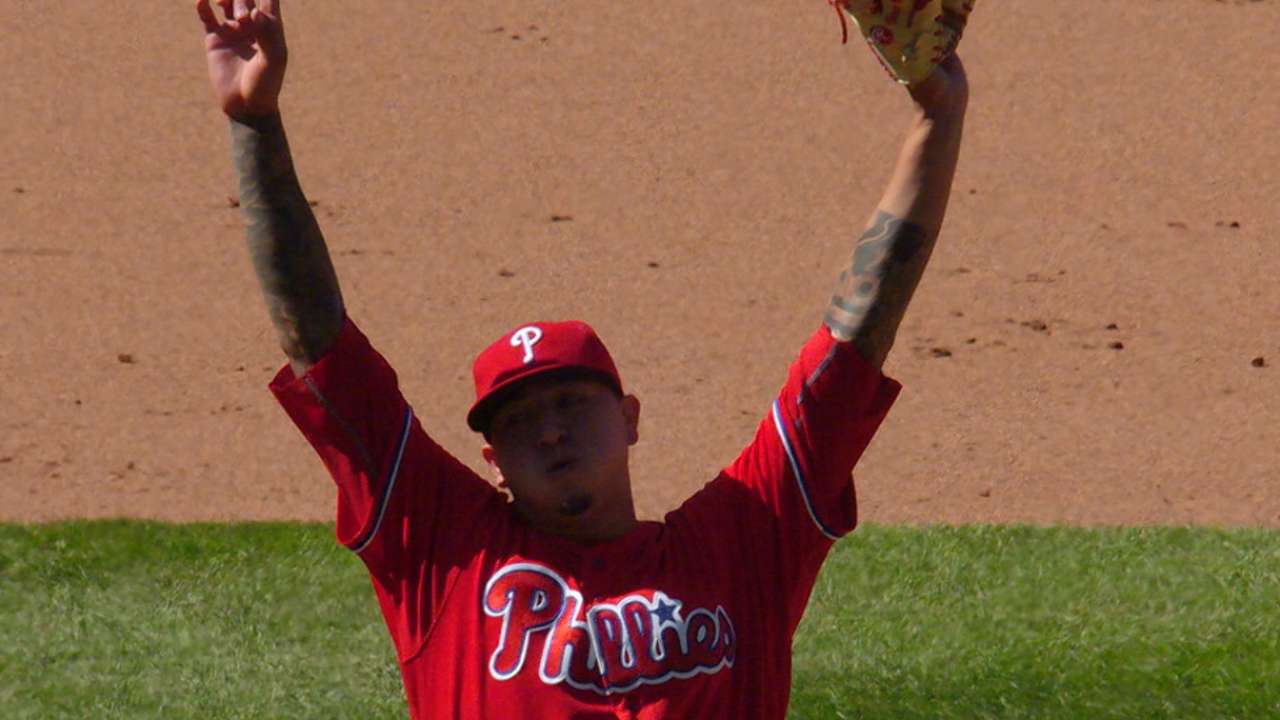 "I really liked how he was just challenging guys with this fastball," Morton said. "One, the ball is coming out hot. Two, it looks like he's hiding the ball really well. And just challenging guys. When you see guys take almost defensive swings like that, even after three or four at-bats against a guy, you know the guy they're facing is overpowering. They were just overmatched."
Velasquez walked onto the mound in the ninth and proceeded to strike out Jon Jay on a 95 mph fastball, get Cory Spangenberg to pop out on an 86 mph changeup and strike out Wil Myers on a 96 mph fastball to end the game.
"I kind of bent back a little bit, reached back a little bit and tried to get it," Velasquez said about the last strikeout. "I wasn't really looking at the radar gun. I was just trying to get a last strikeout and celebrate."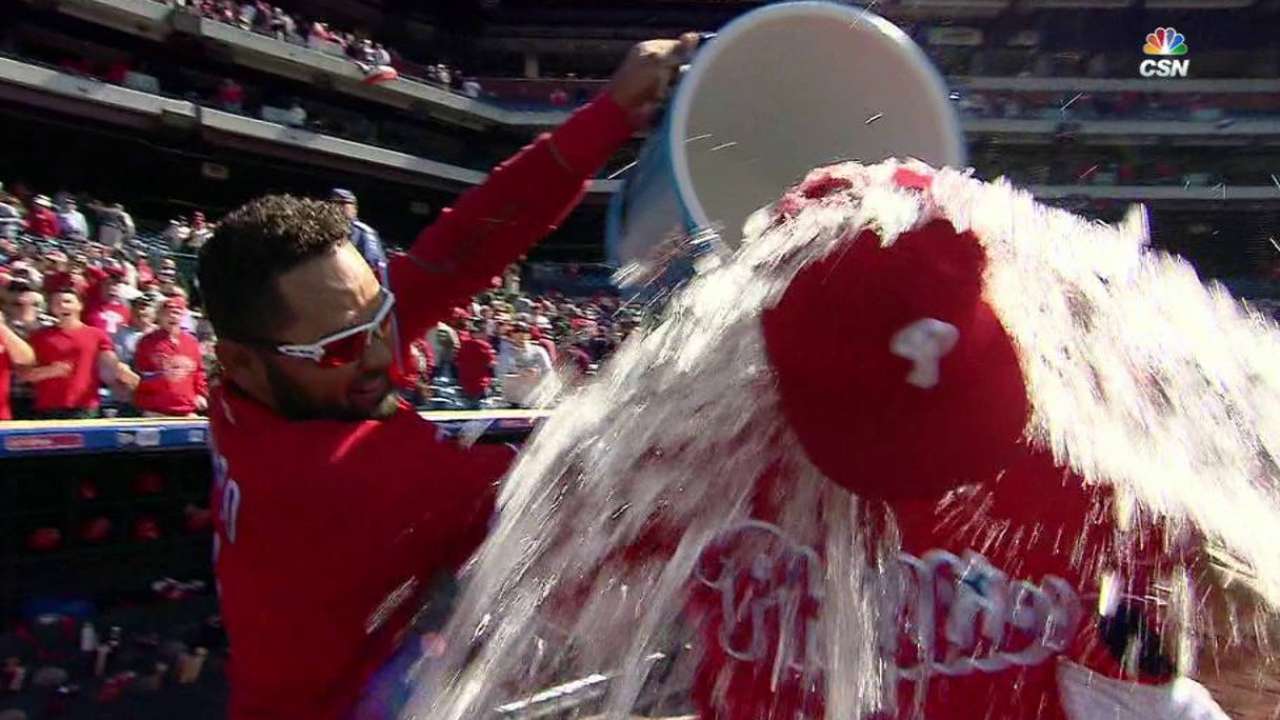 The Phillies seemed perfectly giddy about Velasquez's dominant performance. They hoped for starts like this when they acquired him from Houston in December as part of the Ken Giles trade. But in just his second start? No way. "It looks like we made a pretty good trade," Phillies manager Pete Mackanin said with a smile.
"I don't even think of that," Velasquez said. "My job is to pitch for the Phillies and the Phillies only. They traded me, so my job is here. This is home for me, this is my home."
Todd Zolecki is a reporter for MLB.com. Read his Phillies blog The Zo Zone, follow him on Twitter and listen to his podcast. This story was not subject to the approval of Major League Baseball or its clubs.