Inbox: Will A's recall Hahn to the rotation?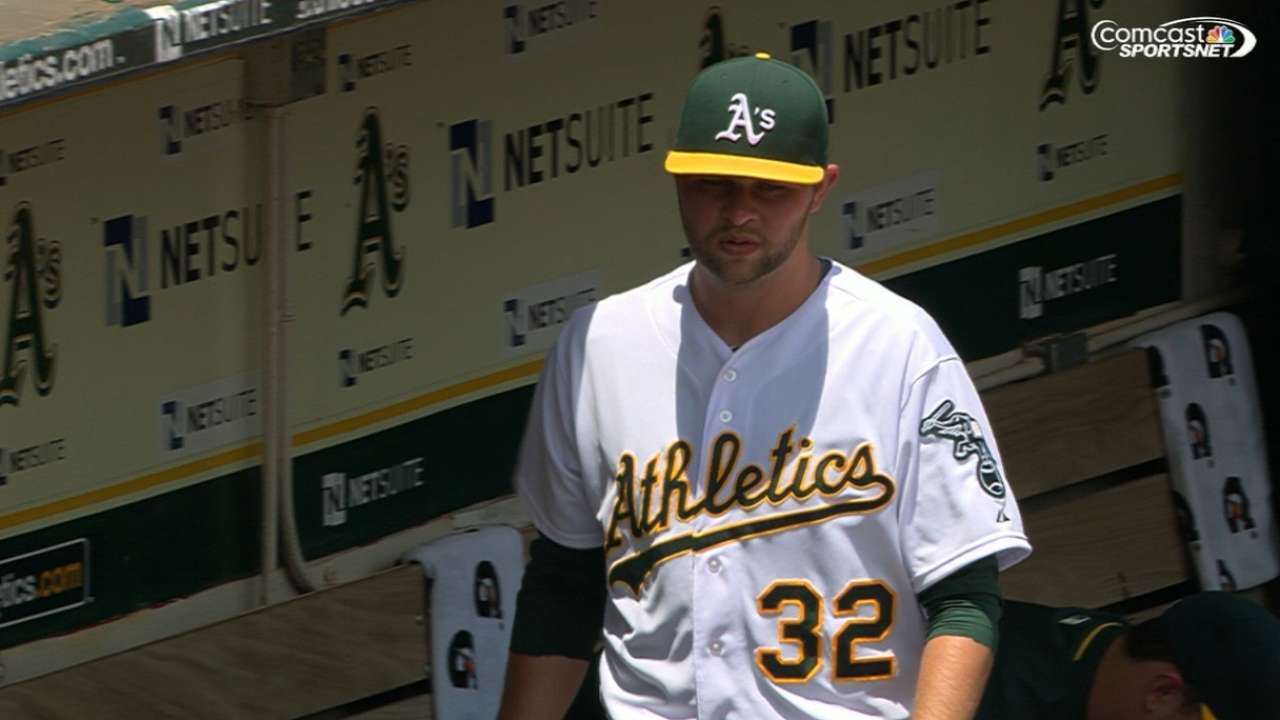 When do you expect Jesse Hahn to be recalled?
-- Joe P., Marin County, Calif.
My guess is he'll be back by the end of the month. Already in two outings with Triple-A Nashville, Hahn has posted excellent numbers, and the reports manager Bob Melvin is getting from the Sounds' staff are encouraging. Fifth starter Eric Surkamp has been mediocre at best for the A's. If he's unable to go deep into the game in his next start -- he's yet to complete five innings -- the A's would likely be inclined to turn to Hahn, if not sooner.
Which A's prospect do you think we are going to see in the big leagues first this season?
-- Matt V., San Jose, Calif.
Sean Manaea, who is the team's No. 2-ranked prospect, according to MLBPipeline.com. Pitching staffs are constantly in a state of flux because of injuries and inadequate performances, and while the A's remain hopeful that rehabbing right-hander Henderson Alvarez will be with them by the end of May, Manaea is seemingly still on track to get his shot at some point this season -- it's simply a matter of when.
• Submit a question to the A's Inbox
Why are the A's collectively hitting so poorly when they have runners in scoring position? Generally, shouldn't the hitters be thriving in those situations?
-- Michael C., Castro Valley, Calif.
Just as hitting often seems contagious, the opposite effect can occur, and that may very well be what's going on in Oakland right now. It's not like the A's are trying to put together poor at-bats in these situations; truth be told, they're not hitting well in any situation right now. This is an offense that should and, arguably will, be better than the numbers are showing right now, and there's still a lot of season left.
How do you see Tyler Ladendorf fitting into the A's plans going forward? He's versatile and talented. How does he return to the Majors?
-- Nick B., Livermore, Calif.
The A's value Ladendorf and certainly his versatility, but there's simply no place on the roster for him at the moment. Rather, they have a veteran with not only several years of experience but a productive left-handed bat in Chris Coghlan essentially serving that same role. Ladendorf will have to wait his turn once again, and he can only hope he gets an extended opportunity for a chance to prove his worth on the big league roster. But first, he must continue performing well at the Triple-A level.
What's the latest on Eric Sogard?
-- Janine S., Santa Cruz, Calif.
Sogard is on a Minor League rehab assignment, but it's going to take more than health to get him back to Oakland. Given the current roster makeup, with Coghlan acting as the primary backup infielder, there's no room for Sogard, who will likely be optioned to Triple-A upon the conclusion of his rehab stint unless an injury at the big league level happens before that time. Sogard is arguably the A's best defensive middle infielder, but the team sacrificed that for a bigger bat when it reeled in Coghlan from the Cubs this spring.
Jane Lee is a reporter for MLB.com. This story was not subject to the approval of Major League Baseball or its clubs.