Mariners' vets stress that skid, too, shall pass
'I trust what we have as a team,' Cruz says after 5th straight loss
SEATTLE -- Nelson Cruz has been on playoff teams, World Series teams, contending teams that played to the last day of the season. He's not about to let his Mariners club get sidetracked from that goal just eight games into a frustrating start to what was supposed to be a new beginning.
"We have a good team," Cruz insisted after the Mariners fell, 8-0, to the Rangers on Tuesday night, their fifth straight home loss. "I trust what we have as a team."
But something clearly hasn't been right since the Mariners, now 2-6, arrived home at Safeco Field. They've been outscored, 26-7, in the five home games and look a far cry from the club that tallied 21 runs in taking two-of-three at Texas to open the campaign.
"We've got to find a way to get back on our game," first-year manager Scott Servais said. "It's the same team that played five or six days ago [in Texas]. I'm pretty sure our roster hasn't changed. We have to pick ourselves up and we have a lot of games left to play. It's a long season ahead."
Those words echoed with the 25 players who gathered after the game to talk about things in an attempt to regroup before Wednesday's series finale. No other Mariners team in franchise history has ever lost five straight home games to open a season and this club doesn't want to let that streak go any further.
"We just have to keep playing," said veteran lefty Wade Miley, who took the loss on Tuesday. "If you get tied up and worrying about what's happened over the homestand, it's just going to get worse. You've just got to clean the slate, flush it and move on. That's all you can really do."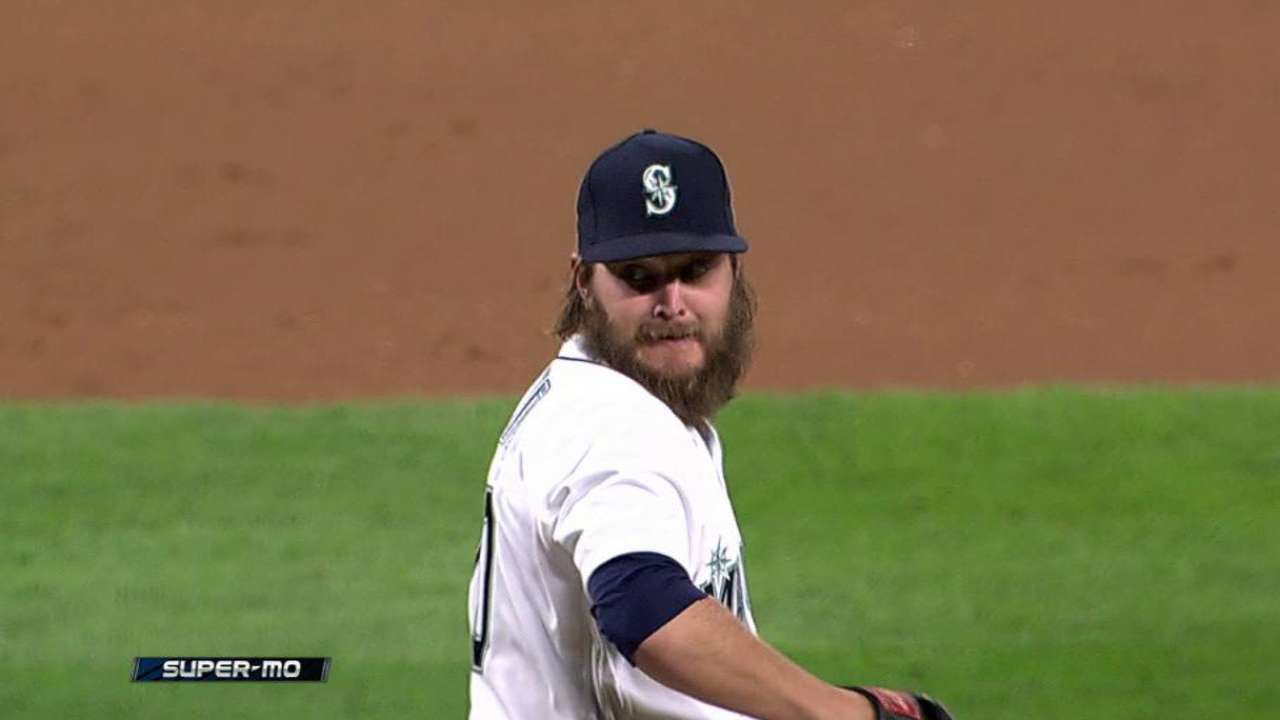 Said Cruz: "You just keep your head up, you know? I don't think the other team feels sorry for us. So I'm not going to go out there and cry about it. Just be tough, handle it like a man and go out there and do what we're supposed to do."
Hitting would help. The Mariners' offense has gone moribund the past five games. After torching four homers and seven RBIs in the three games in Arlington, second baseman Robinson Cano has gone 2-for-20 with no runs or RBIs while seeing his average plummet to .182.
But Cano is far from alone. Kyle Seager is 2-for-17 with three walks in the homestand, his average sitting below Cano's at .179. Catcher Chris Iannetta was hot in Texas, but he's 2-for-14 at Safeco. Cruz had a couple good games in a row before going 0-for-4 on Tuesday when the Mariners managed just four singles and saw their team batting average fall to .208 on the season.
But while Mariners fans think they've been down this road too many times in the past, Servais vows things will improve.
"We have a different team than we've had in the past," he said. "I know it's easy for fans and everybody alike to say, 'Oh, here we go again.' But it's the same team that was in Texas just a few days ago.
"I'm pretty confident. I like our team. I like our guys. I like the makeup of our team. We do have a veteran club, guys that have been through it before. I don't think you'll see a lot of panic, but they also realize we have to get things turned around here quick. We don't want to dig ourselves too big a hole."
Which is why the veterans spoke to the younger players after Tuesday's loss.
"We are the ones that don't get it done, so we are the ones to step up and say something," Cruz said. "Just to remind the young guys that we'll be OK. Don't lose the focus of what we're here for, which is to win games. And at the end, we'll be okay."
The early losses are magnified, of course. There's no cushion to fall back on, no previous wins to counter the losing skid.
"This happens in June and we're 25-14 and lose five in a row, it's not that big of a deal," Miley said. "But it's the first homestand and it's looked at a little different. But it's baseball. It's part of it."
Said Cruz: "You want to start good. You want to start on the right foot. It's a shame we didn't do it that way. But tomorrow we should start doing what we're supposed to do."
Greg Johns is a reporter for MLB.com. Follow him on Twitter @GregJohnsMLB and listen to his podcast. This story was not subject to the approval of Major League Baseball or its clubs.