Betances' hammer leads day's top GIFs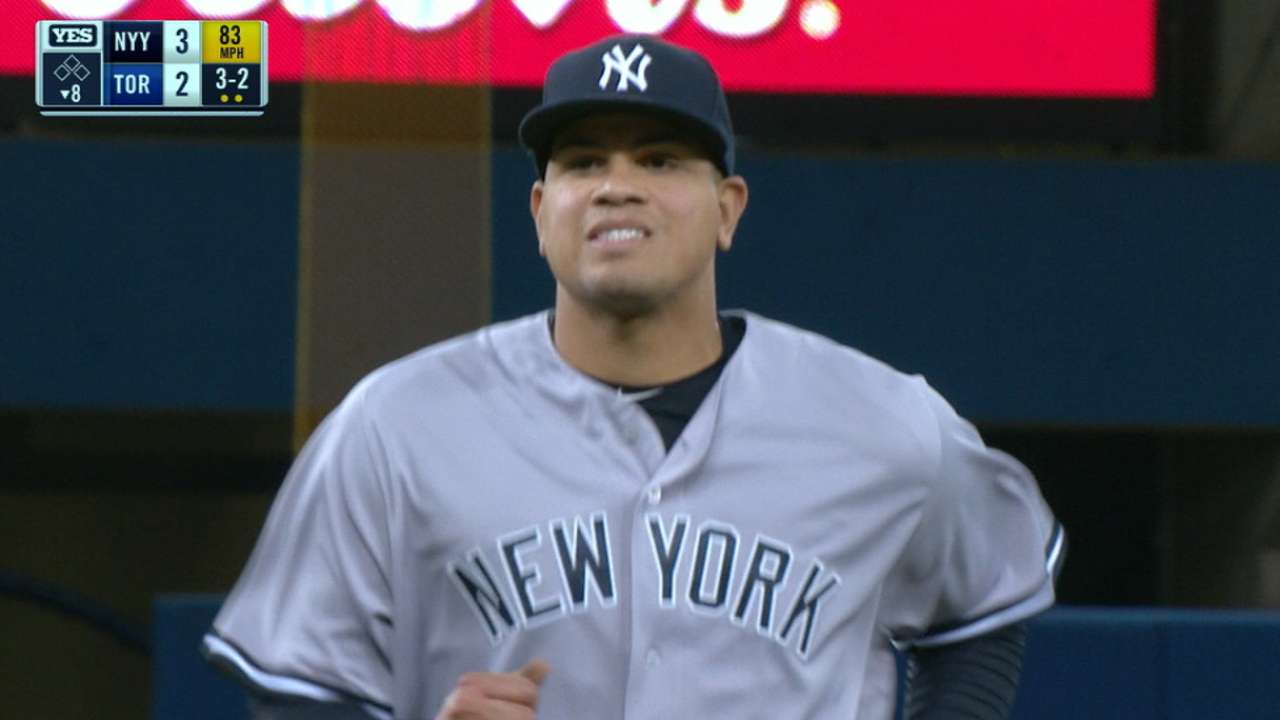 Here are the top GIFs from Tuesday's games, courtesy of @MLBGifs:
1. Betances' bender freezes Joey Bats
Yankees reliever Dellin Betances is known most of all for his high-powered fastball, but he also knows how to drop a nasty hook. Just ask the Blue Jays' Jose Bautista, who could only stare at this one.
2. Do a little dance
Despite a dominant start from the Mets' Noah Syndergaard (seven innings, one run and 12 strikeouts), the Marlins managed to steal a 2-1 win on a cold night at Citi Field, inspiring Dee Gordon and Adeiny Hechavarria to try out a few dance moves.
3. Go ahead, get pumped
Bryce Harper was excited and wasn't afraid to show it after hitting a go-ahead two-run double in the eighth inning of the Nationals' 2-1 win over the Braves.
4. Cleanup in center field
There's a reason Carlos Gomez is the Astros' center fielder and not their head groundskeeper.
5. Take this, pass it on
One lucky baseball mingled with an impressive collection of Dodgers royalty during a ceremony honoring legendary broadcaster Vin Scully ahead of the team's home opener.
6. Any way Puig can
This was not what you would call a textbook slide by the Dodgers' Yasiel Puig, but it managed to get the job done as he craftily stretched a single into a double.
Andrew Simon is a reporter for MLB.com. Follow him on Twitter @AndrewSimonMLB. This story was not subject to the approval of Major League Baseball or its clubs.