Goeddel notches first Major League hit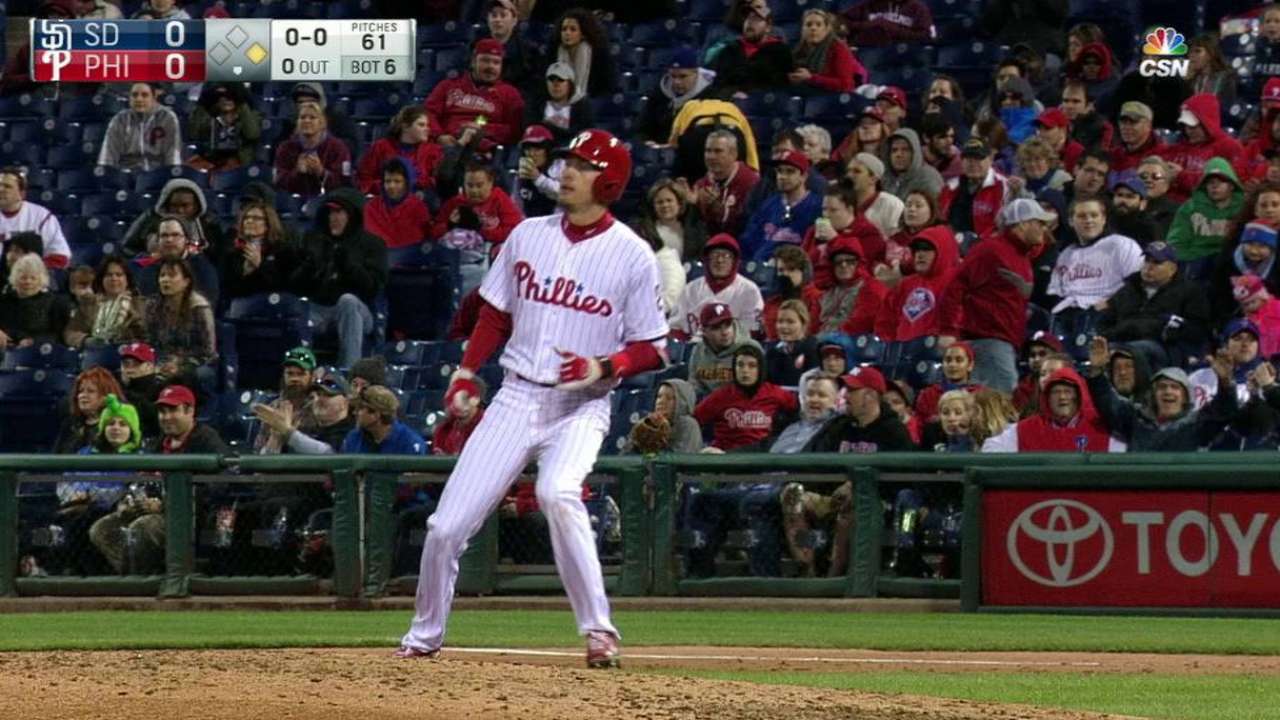 PHILADELPHIA -- Sometimes life has a way of working itself out. Other times, it can be bittersweet. In the case of Tyler Goeddel's first Major League hit, it falls closer to the latter.
Goeddel's family traveled with him through the Phillies' opening road trip, six games in Cincinnati and New York. They saw his first five Major League at-bats. His first Major League start. But no first hit.
That came in the sixth inning of Tuesday's 3-0 victory over the San Diego Padres -- without his family on hand.
It was Goeddel's hard single into left field and subsequent baserunning on Odubel Herrera's triple that gave the Phillies their first run of the game -- all they would need on the back of the shutout effort led by Charlie Morton.
"I'm glad I got it out of the way," Goeddel said. "[Alexei] Ramirez had a good effort on it. I thought he might snag it, so I was definitely happy when it got through."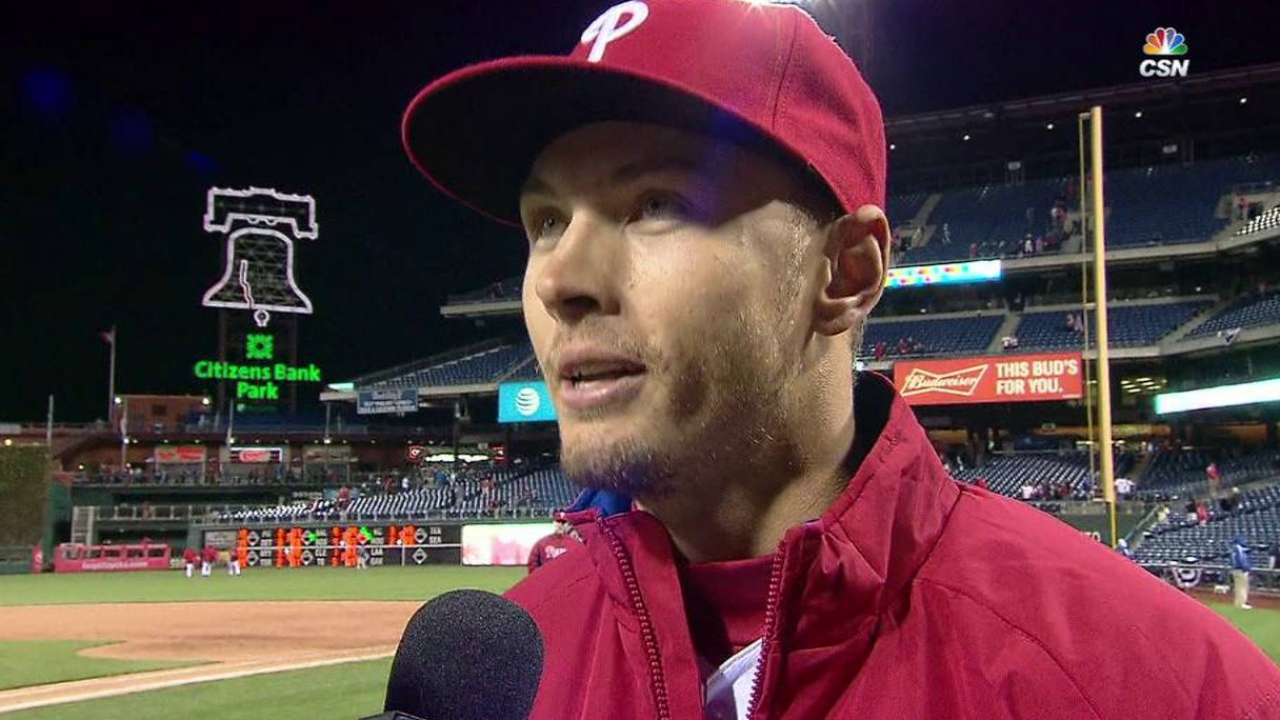 Although there was no one but teammates in the ballpark to celebrate the milestone with, that didn't stop others miles away from congratulating Goeddel.
"I'm sure they wish they were here," he said. "I peeked at [my phone]. I haven't checked everything yet, but a lot of texts, a lot of calls."
It was somewhat fitting that Herrera, last year's Rule 5 selection, was the man to drive home this year's Rule 5 choice.
Herrera, like Goeddel, started his first Major League season 0-for-5. But after he got that first hit out of the way, Herrera went 27 for his next 76 (.355) and entrenched himself as the Phillies' starting center fielder.
"I felt amazing to get that off my shoulders," Herrera said through a translator. "When I hit my first single, my first home run, it felt awesome because you're in the big leagues and that's what you hope for."
While Herrera quickly became the Phillies' everyday center fielder, manager Pete Mackanin said there are no plans -- at least presently -- for Goeddel to follow directly in his footsteps.
"We're gonna bring [Goeddel] along easy," Mackanin said. "He played Double-A last year."
That, however, doesn't mean the 23-year-old outfielder can't play himself into a starting job. Because of his superb defense, Mackanin said, he can stomach having Goeddel in the lineup more often, even while his bat continues to come along.
As for the ball he got his first hit with? "I don't have it yet," Goeddel said, hoping his teammates haven't put a ransom on it.
Evan Webeck is an associate reporter for MLB.com. This story was not subject to the approval of Major League Baseball or its clubs.