Finnegan shows no-hit stuff into 7th inning
Reds lefty allows lone single with 5 walks, 2 runs vs. Cubs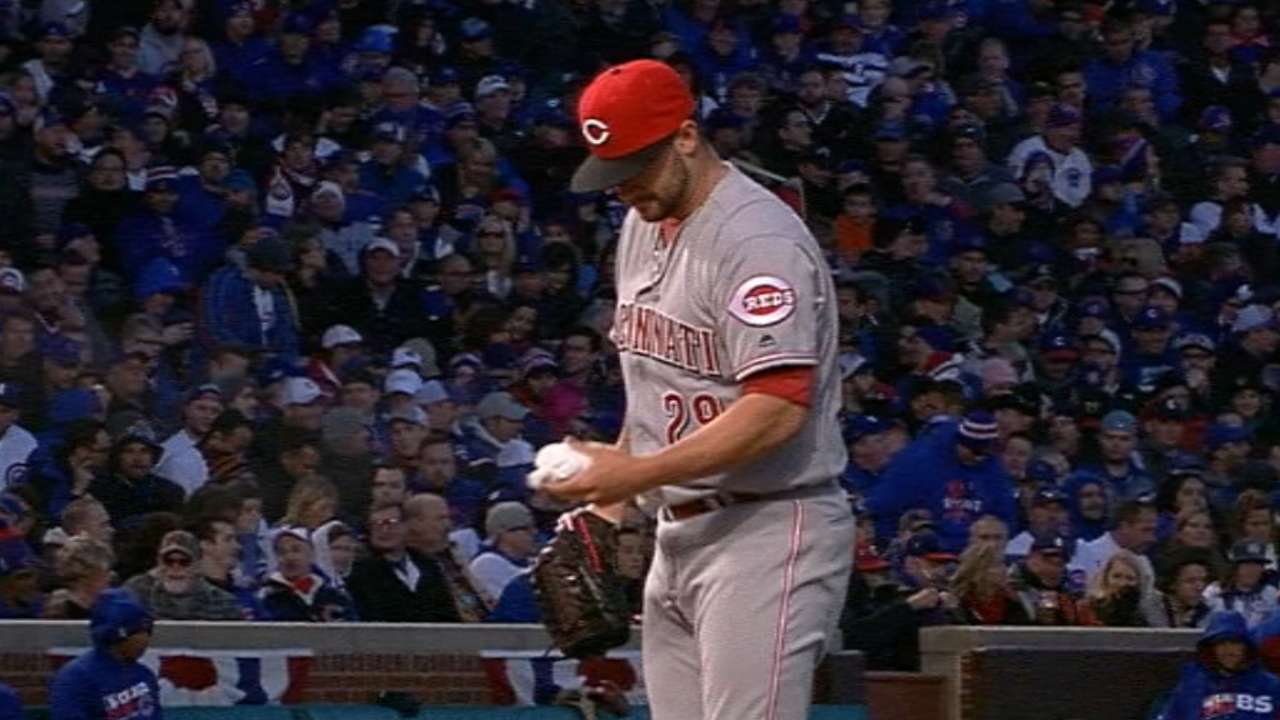 CHICAGO -- Brandon Finnegan will turn 23 years old on Thursday and has all of six Major League starts on his resume. The Reds left-hander proved on Monday against a formidable Cubs lineup that he's not too young, nor too inexperienced, to flirt with a no-hitter.
In a 5-3 Reds loss, Finnegan carried a no-hitter for 6 2/3 innings and threw a career-high 111 pitches -- trouncing his previous high of 88. The bid -- which came during the Cubs' home opener -- was foiled in the seventh inning by David Ross' clean two-out single lined into center field. All of Finnegan's good work on the night was undone when the bullpen faltered behind him.
"I was definitely feeling fatigued but I wasn't going to stop," Finnegan said of pitching into uncharted territory as a big leaguer. "I definitely was not going to come out of the game like that. I just had to battle through it. Without our defense, I wouldn't have thrown as good as I did tonight."
The final line was 6 2/3 innings with two earned runs, one hit, a career-high five walks and five strikeouts.
Finnegan threw a four-pitch bottom of the first inning, all fastballs, and was aided by a nice diving catch from Adam Duvall that robbed Jason Heyward of extra bases.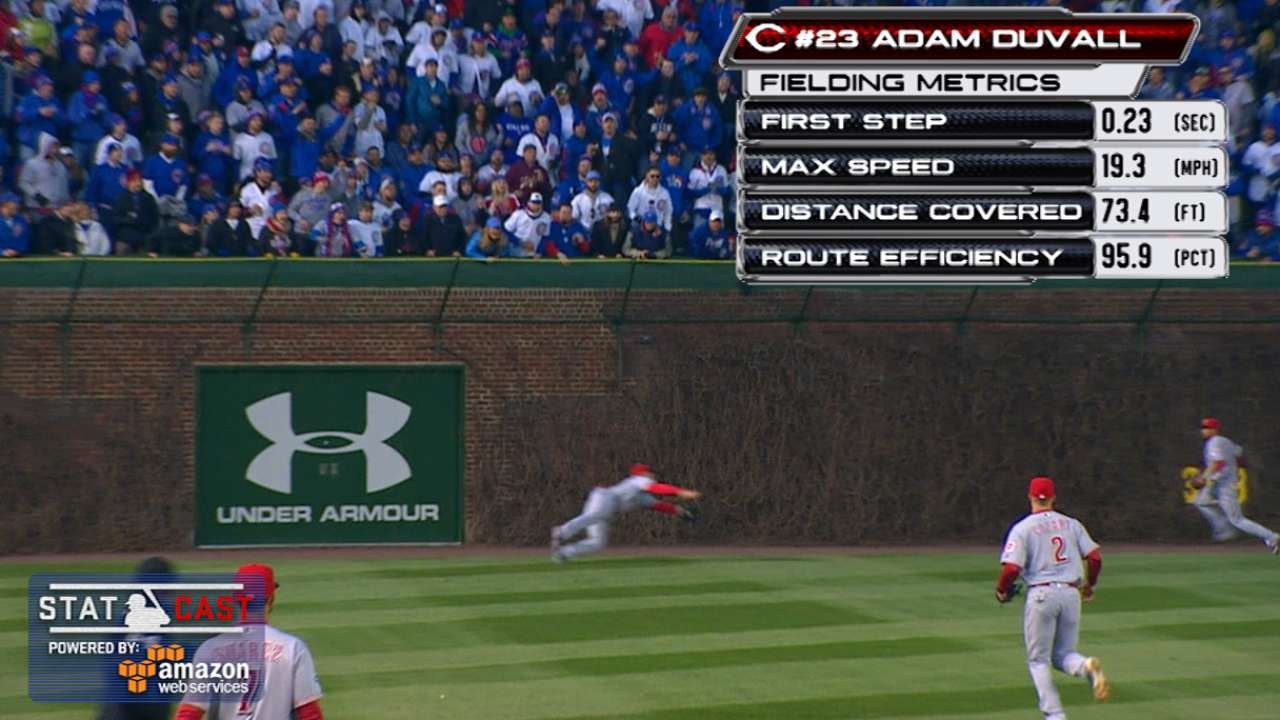 Finnegan and catcher Devin Mesoraco worked in changeups as the lefty retired the first seven batters he faced.
"I was very impressed with him, he just seemed to have everything he needed with that mix of pitches," Reds manager Bryan Price said. "I think the changeup was the difference maker for him. He had to battle with some guys on base, and he did a really nice job tonight."
Finnegan was at 92 pitches after six innings, making it unlikely he would get to finish the game -- even with a no-hitter on the line. He batted for himself in the top of the seventh and bunted. Even when he went to the mound for the bottom of the inning, Price elected to not have anyone warming in the bullpen.
"He had a 20-pitch, 20-something cushion," Price said. "He wasn't one hit from coming out of the game. If the first guy got a hit, that wouldn't have been the end of his night. That wasn't -- there was no probability of a no-hitter tonight due to the pitch count. He's throwing a good ballgame, we're not trying to cover the kid that's throwing a good ballgame there."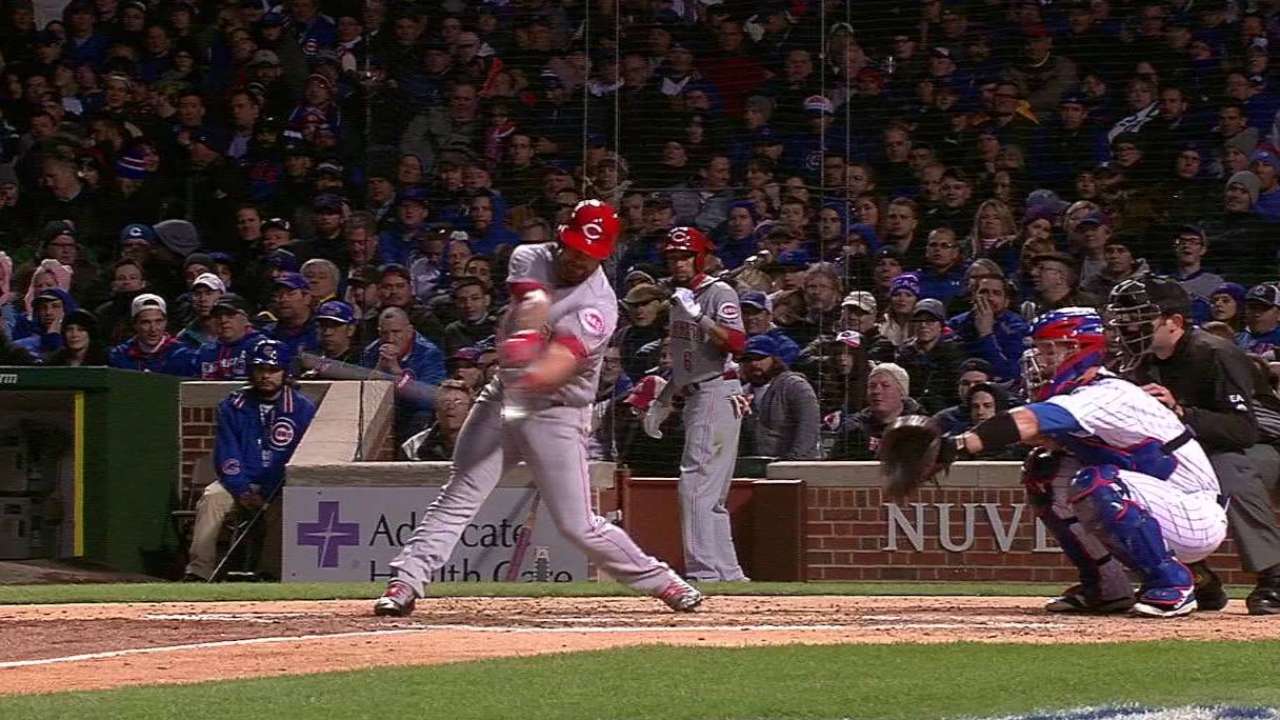 Ross' hit came with two outs, which brought pitching coach Mark Riggins out to the mound as the bullpen warmed. Finnegan walked pinch-hitter Matt Szczur on four pitches, moving Price to summon Caleb Cotham. A walk by Cotham and a two-run single by Heyward off Tony Cingrani followed. Jumbo Diaz gave up a three-run homer in the eighth.
Reds starters allowed more than two earned runs once in seven games, giving the starters a 2.82 ERA.
"Every time I came up to the plate, I was told [about the no-hitter going]," Finnegan said. "It's something that happens. Hopefully it's something I will get to experience again and actually get to go through with it. It was a fun game."
Mark Sheldon is a reporter for MLB.com. Read his blog, Mark My Word, follow him on Twitter @m_sheldon and Facebook and listen to his podcast. This story was not subject to the approval of Major League Baseball or its clubs.