Phanatic, baserunning quirks highlight top GIFs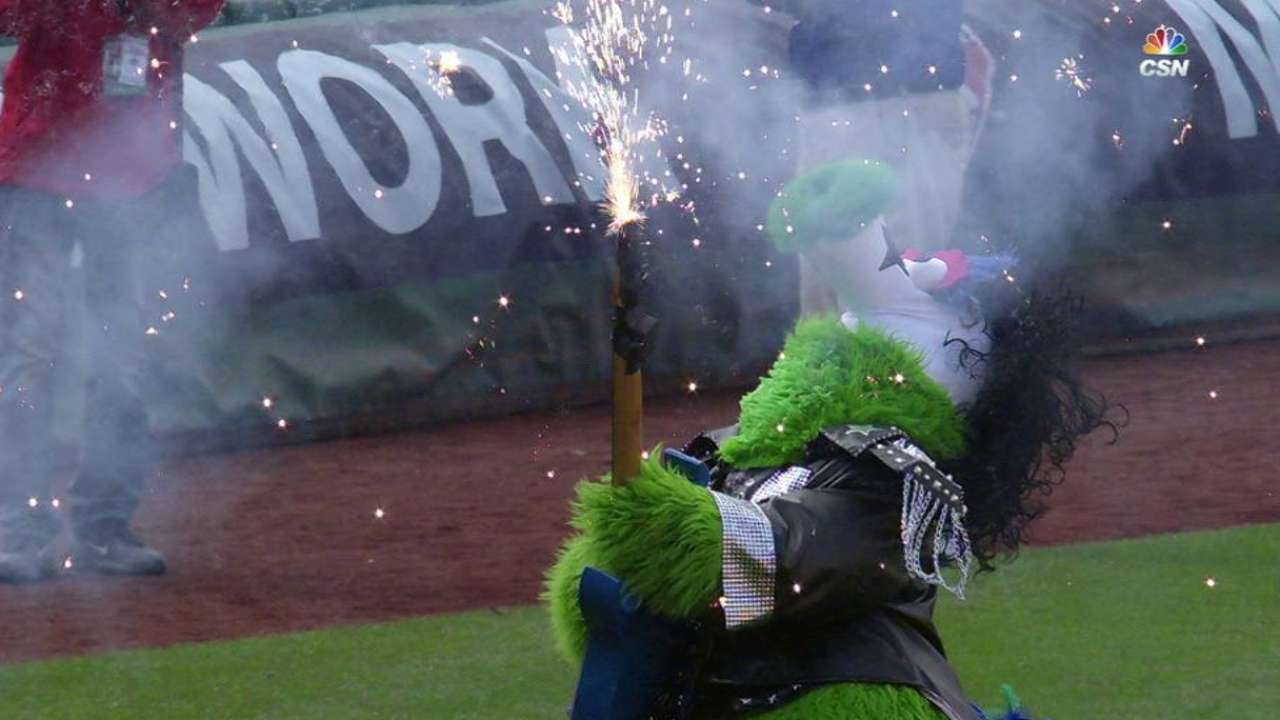 Here are the top GIFs from Monday's games, courtesy of @MLBGifs:
1. Altuve slips going around second base
A rare slip-up on the basepaths by Jose Altuve, who leads the Majors with six stolen bases this season.
2. Harper steals second with batting gloves in mouth
A new first for Bryce Harper -- stealing a base with a mouthful of batting gloves.
3. Phanatic rocking out with sparkling guitar
The Philly Phanatic adds some pyrotechnics to Monday's game vs. the Padres.
4. Red Sox don't let Pedro talk into microphone
Pedro Martinez is denied the mic by his former teammates as several Red Sox greats were on hand at Fenway Park for Monday's home opener.
5. Ortiz hugs daughter, gets emotional in final home opener
Some father-daughter bonding at Fenway Park: An emotional David Ortiz hugs his daughter after she performed the national anthem prior to Monday's game.
6. Foul ball makes cotton candy fly
A stray foul ball dished out some free cotton candy at the Rangers-Mariners game in Seattle.
7. Trout crushes his first homer of the year in Oakland
Mike Trout goes deep for the first time in 2016 with a mammoth two-run shot in Oakland.
8. Tigers fan rakes in foul balls
One lucky Tigers fan was a foul-ball magnet, hauling in five throughout Detroit's game against the Pirates on Monday.
Chad Thornburg is a reporter for MLB.com. This story was not subject to the approval of Major League Baseball or its clubs.